'Tis the season to be jolly, and what better way to spread the holiday cheer than by throwing an unforgettable office Christmas party? It's a fantastic opportunity to let loose, bond with colleagues and celebrate the year's achievements. But how do you organise a Christmas extravaganza that strikes the perfect balance between fun and professionalism? Fear not, because we've got you covered! Get ready to sleigh your office Christmas party with our ultimate guide to spreading festive joy in the workplace.
Why Should I Throw a Christmas Party at Work?
A Christmas party at work is an excellent opportunity to unwind, relax and socialise outside the confines of the usual office environment. It allows employees to connect on a personal level, strengthening relationships and encouraging camaraderie. Who wouldn't want to see their boss attempt a jolly Santa impression or witness the usually reserved coworker rocking an ugly Christmas jumper?
A well-planned office Christmas party shows appreciation for your hardworking team. It's a chance to acknowledge their efforts and achievements throughout the year. By throwing a festive extravaganza, you show that their contributions are valued and recognised, boosting employee morale and job satisfaction.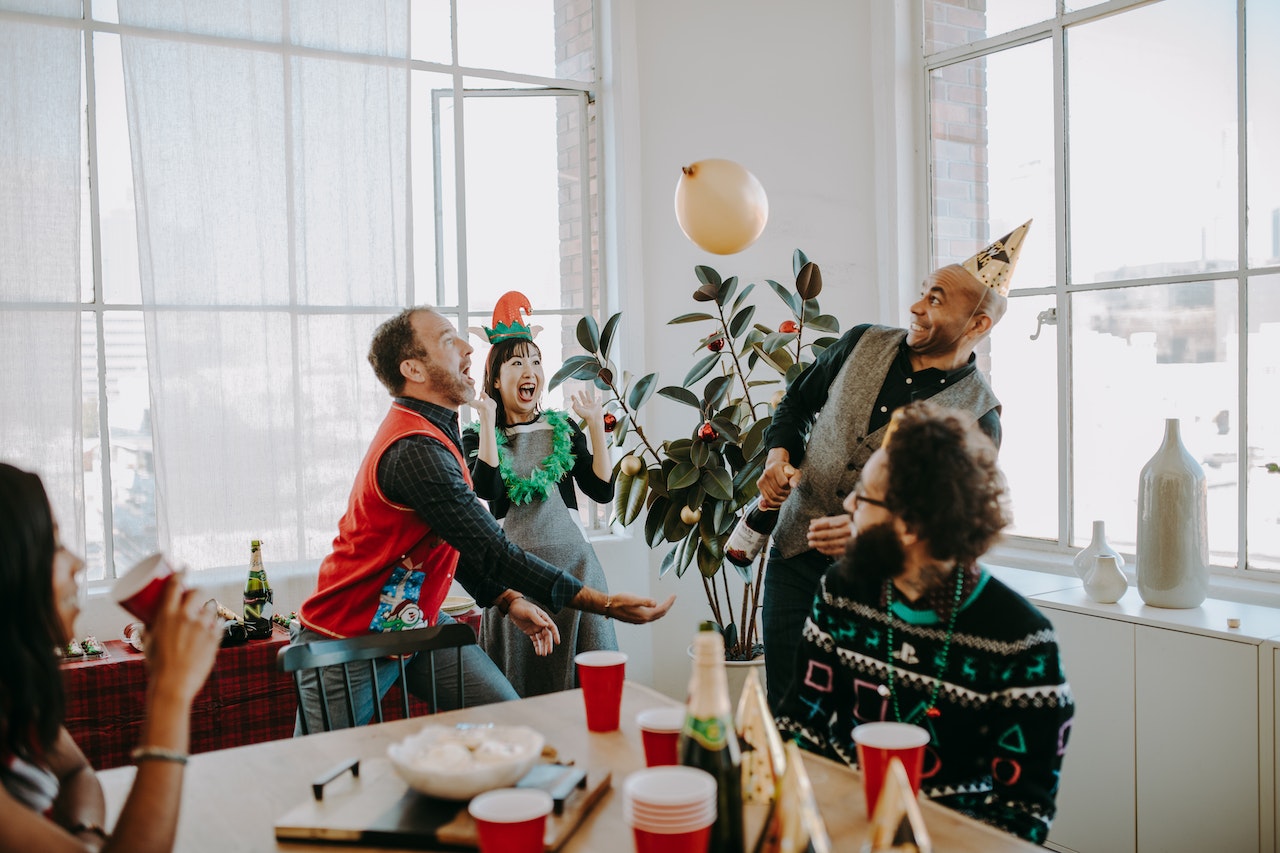 A work Christmas party also provides an opportunity for creativity and fun. Whether it's decorating the office, organising entertaining activities or Christmas party ideas or indulging in delicious treats, the festive atmosphere sparks joy and excitement. It breaks the monotony of daily work routines and injects a dose of holiday magic into the office.
Finally, a workplace Christmas party can improve teamwork and collaboration. It gives employees an opportunity to interact with colleagues from different departments and levels of hierarchy, helping cross-functional relationships to grow and deepen. As co-workers bond over festive games and activities, barriers disappear and a stronger sense of unity is created, leading to better collaboration and productivity in the long run.
Choosing a Christmas Party Date
First, setting the date for your office Christmas party requires careful consideration. Aim for a date that accommodates most employees and avoids conflicting with personal commitments or holidays. Consider sending out a survey or conducting a poll to gather input and ensure maximum participation. Once you've identified the ideal date, announce it in advance, allowing everyone to mark their calendars and make necessary arrangements.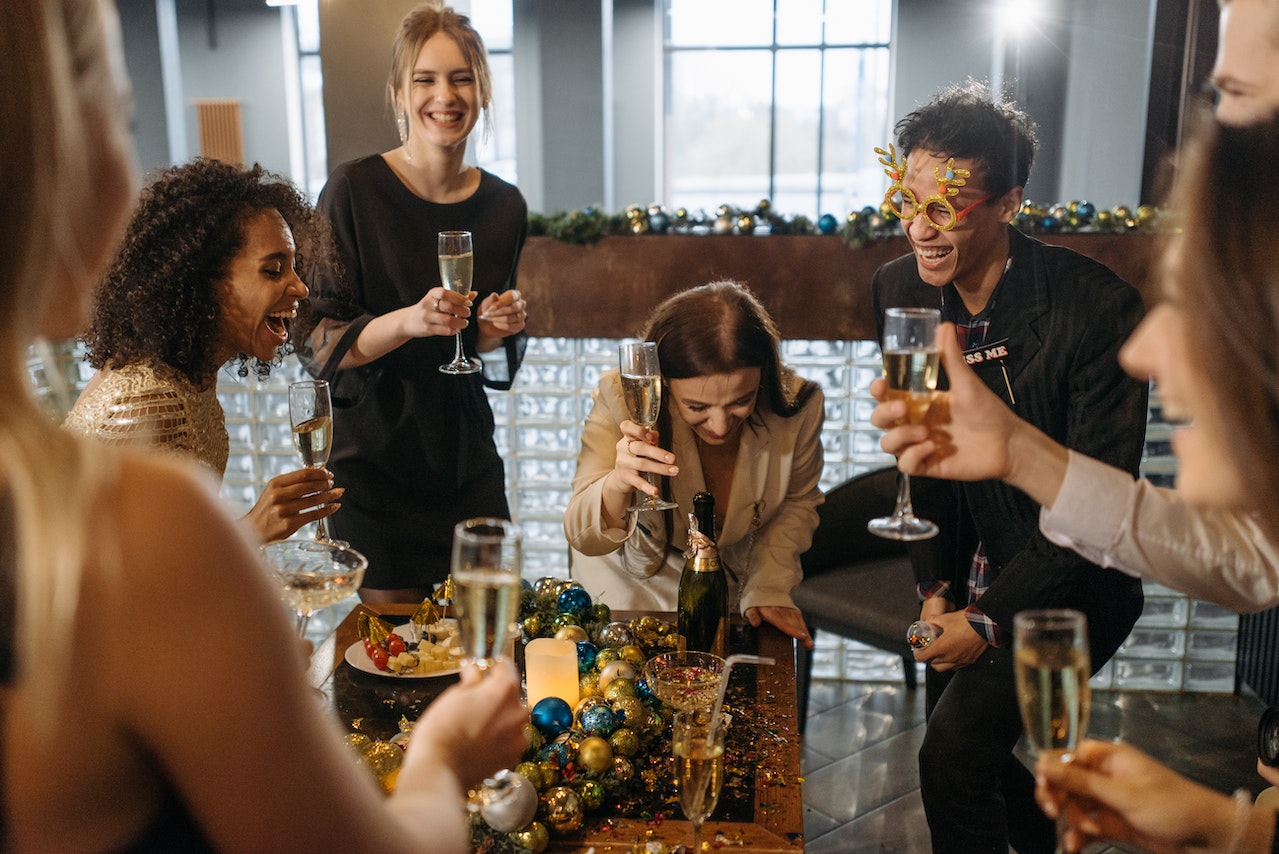 Planning What to Do
To ensure everyone's interests are represented, consider forming a planning committee consisting of employees from different departments. This will help gather a variety of perspectives and ensure a well-rounded event. Encourage the committee to bring forth creative and fun ideas, but also keep in mind the need to maintain a professional environment. Choose activities that encourage interaction, foster team building and spread Christmas cheer.
Christmas Party Activities
We've got a huge range of work Christmas party activities and ideas that'll have your whole team rocking around the water cooler!
Christmas Parties: Take your Christmas party to the next level by booking a hotel or function room that offers a complete work Christmas party package. You'll enjoy a three-course dinner with delectable festive cuisine, a free-flowing drinks menu to keep spirits high, a talented DJ spinning holiday tunes and a disco to get everyone on their feet until the early hours. It's a guaranteed way to create a night of merriment and joy that your colleagues will talk about long after the mistletoe has been taken down.
Christmas Cocktail Making: Indulge in an exciting and interactive experience as you learn the art of cocktail making alongside a professional mixologist. Discover the secrets behind crafting delicious drinks by mixing, shaking and stirring a variety of festive flavours and garnishes. This hands-on activity not only encourages creativity but also encourages team bonding as colleagues engage in friendly competition to create the best concoctions. As the lively atmosphere fills the air, sip on your own masterpieces while toasting to a memorable Christmas party.
Festive Meals Out: Treat your team to a mouth-watering festive meal at a restaurant known for its holiday-themed cuisine. There's so much choice when it comes to having a meal out this Christmas with your colleagues. From traditional roast turkey with all the trimmings to gourmet winter delicacies, meaty options to veggie and vegan delights, indulging in a festive feast is a sure-fire way to satisfy appetites and create a cosy, celebratory ambiance.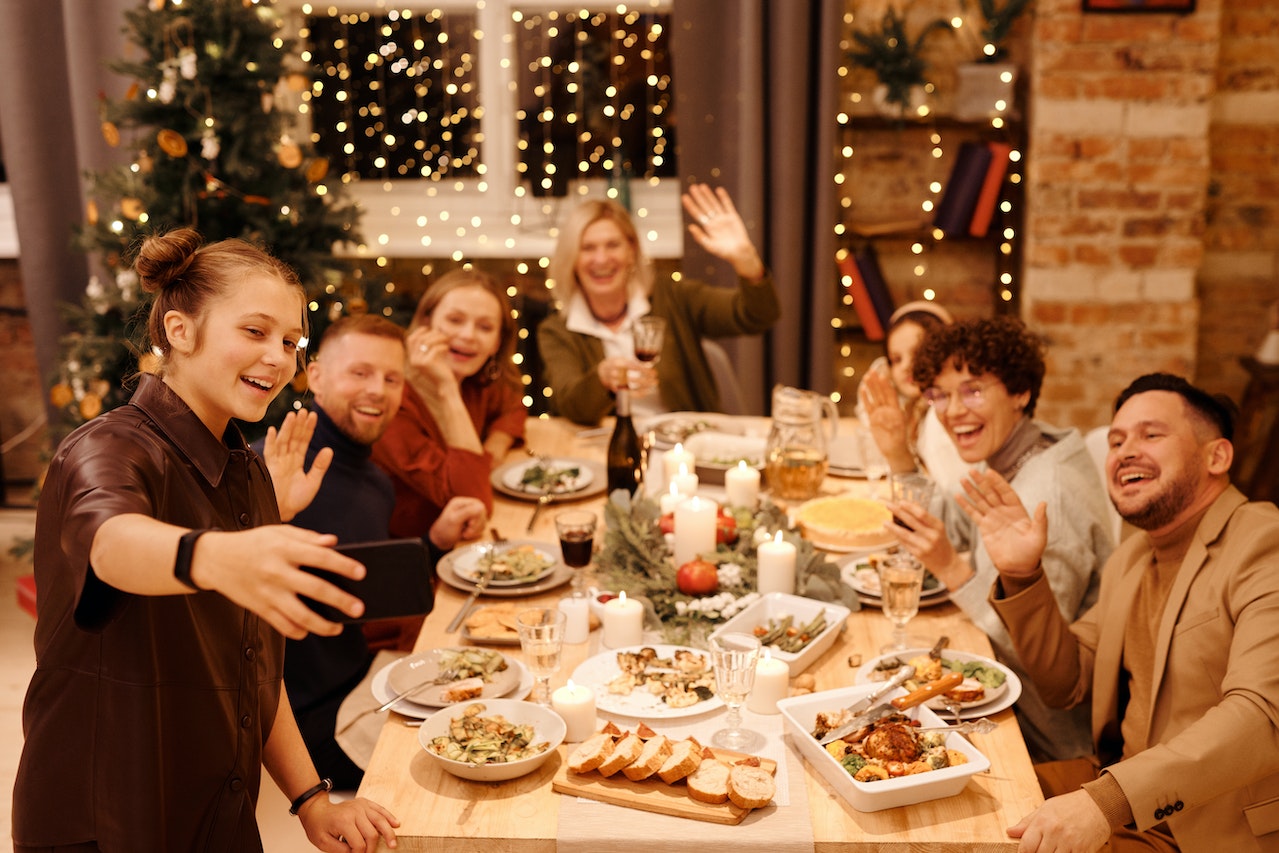 Christmas Themed Dance Class: Shake off the winter chill and let the holiday spirit move you with a Christmas-themed dance class. From jazzy jingles to hip-hop moves, learning a dance routine with a festive twist is a great way to get everyone involved and laughing together. A professional dance teacher will take you under their wing and help you to put on a show-stopping final performance. So put on your dancing shoes and boogie your way into the holiday season!
Festive Escape Rooms: Challenge your colleagues' problem-solving skills and teamwork by organising a Christmas-themed escape room. It's an exciting and immersive activity that'll have your team working together to crack codes, solve puzzles and escape before time runs out and Santa's sleigh takes off. It's a fantastic way to bond, strengthen communication and have a thrilling adventure together. It'll also help you to identify strengths, limitations and future leaders in your team.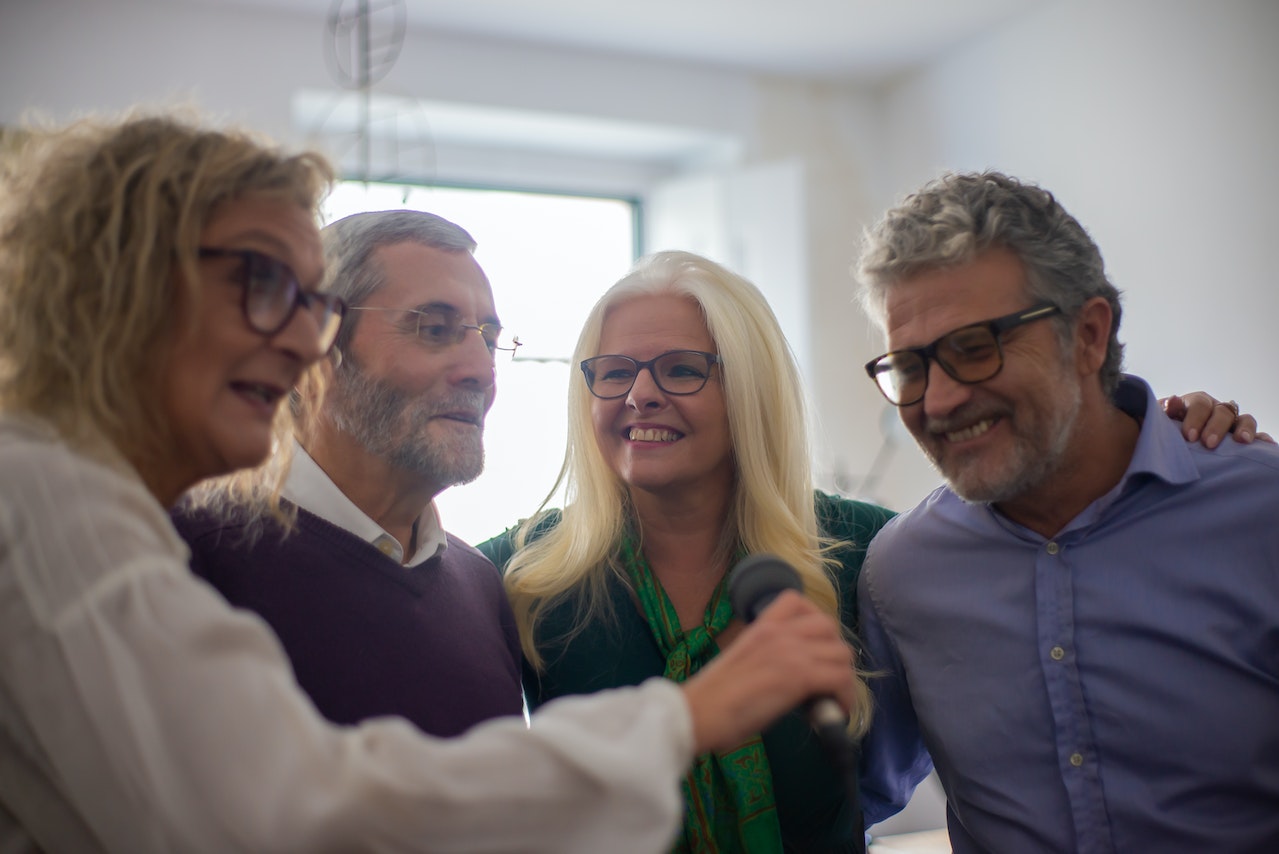 Christmas Karaoke: Get ready to unleash your inner superstar as you take the stage and belt out your favourite Christmas tunes and classic hits at the top of your lungs. With a supportive and fun-filled environment, colleagues become cheerleaders, encouraging and applauding each other's performances. The karaoke session encourages a sense of togetherness as everyone showcases their vocal talents (or lack of!). From soulful renditions to comical interpretations, these musical moments will create unforgettable memories that'll be shared and reminisced about long after the Christmas party has ended.
Festive Murder Mystery: Step into a world of mystery and intrigue as you immerse yourself in a thrilling Christmas-themed murder mystery. Uncover clues, solve puzzles and work together with your colleagues to crack the case and catch the culprit. This interactive activity brings out the detective in everyone, fostering teamwork and communication skills as you collaborate to piece together the puzzle. As tension builds and suspicions rise, laughter and excitement fill the air, creating a memorable and engaging experience for all. The murder mystery adds an element of suspense and intrigue to your Christmas party and an unforgettable sense of accomplishment as you unravel the truth behind the crime.
Party Boat: If you're looking for a unique and memorable Christmas party experience, consider a party boat cruise along the water. You'll sail along scenic waterways while enjoying festive decorations, delicious meals and live entertainment. Some party boats even include games, hosted by the reps. It's a fun and quirky way to celebrate the season and take in the enchanting sights of your chosen city by night. Just imagine cruising down the River Thames for your London Christmas party!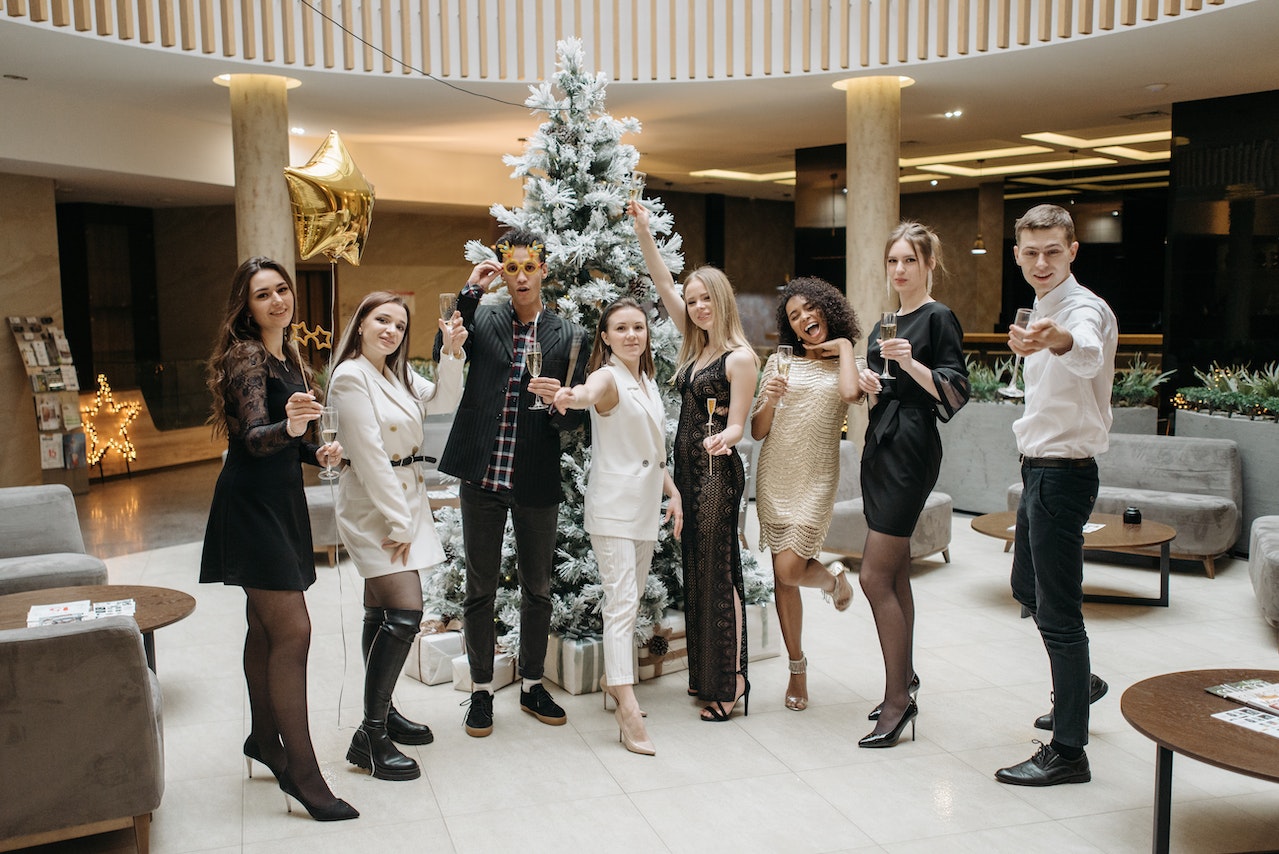 Work Christmas Party Decorations
Transform your office space into a winter wonderland by decking the halls with boughs of holly (or at least a lot of tinsel, garlands and twinkling lights). Hang colourful ornaments and festive decorations on walls and desks, bringing a cheerful and vibrant vibe to the surroundings. Simple touches can make a big difference in creating a festive atmosphere that gets everyone in the holiday spirit. Encourage employees to add their personal touch to their workstations by incorporating Christmas-themed accessories. From Santa hats to mini trees or cute festive desk ornaments, let their creativity shine while still maintaining a professional environment.
Don't forget to bring the holiday magic to your meeting rooms. Spruce them up with holiday-themed tablecloths and centrepieces. Adding these decorative elements will instantly uplift the mood during important discussions and team gatherings, infusing them with the spirit of the season. Finally, make a memorable entrance with delightful door decorations. Hang wreaths, bows, and hanging ornaments to welcome guests and set the tone for a joyful celebration right from the moment they step into the office.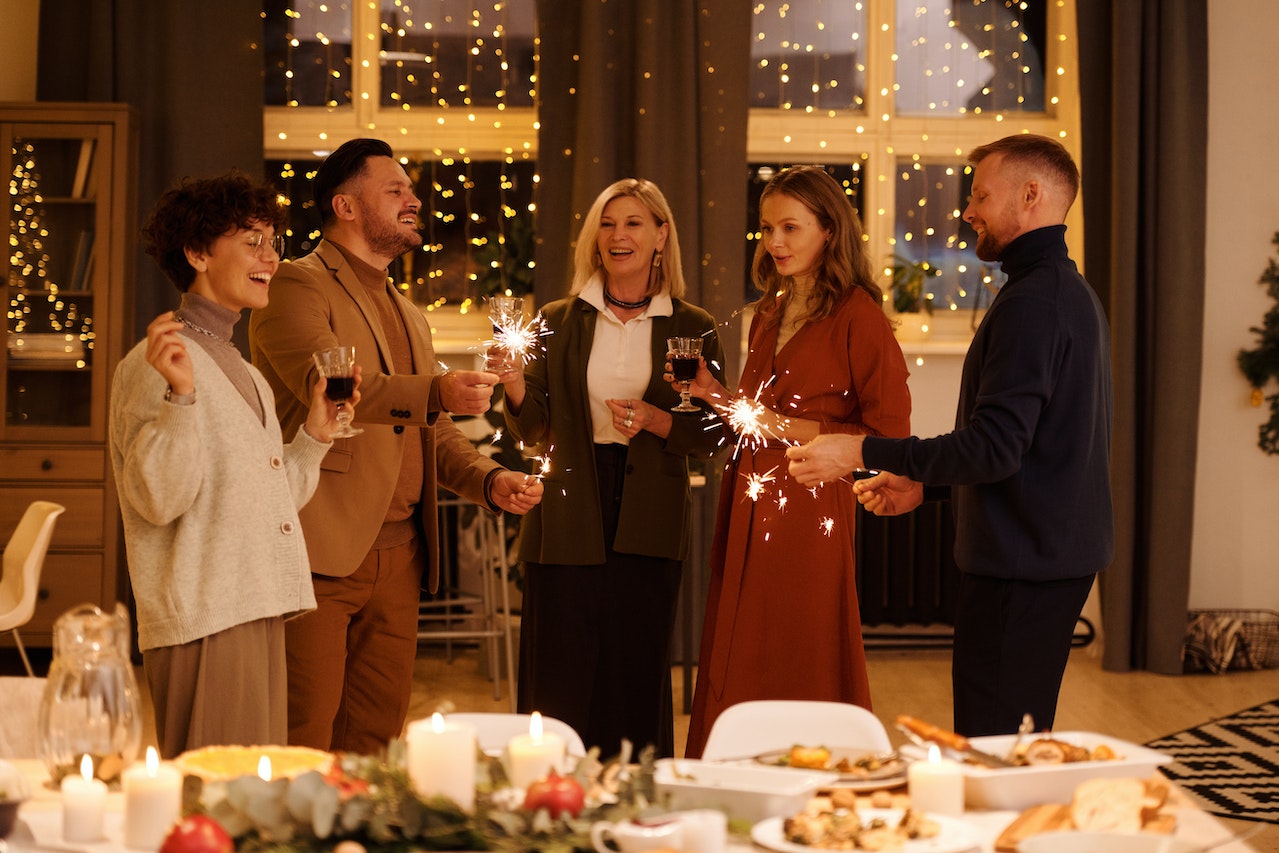 Christmas Party Themes
A party without a theme is like a reindeer without its red nose; it's but lacking that extra pizzazz. Consider hosting a themed Christmas party to inject an extra dose of excitement. Consider themes like a Winter Wonderland, where shimmering snowflakes and icy decor create a magical ambiance. Ugly Jumper Extravaganza is always a crowd-pleaser, bringing out the quirky and humorous side of your colleagues. Another option is a North Pole Adventure, where guests can dress as their favourite holiday characters and embark on a journey filled with Santa's workshop and reindeer games.
Whatever theme you choose, let your creativity soar, creating a joyful and professional atmosphere that will leave everyone in awe of your holiday spirit. You could theme your celebration around the city that you live in. For example, Oxford Christmas parties paying homage to famous Oxford University alumni and serving up Banbury cakes and Oxford blue cheese. Other popular themes include James Bond and Hollywood, and that's just the tip of the iceberg.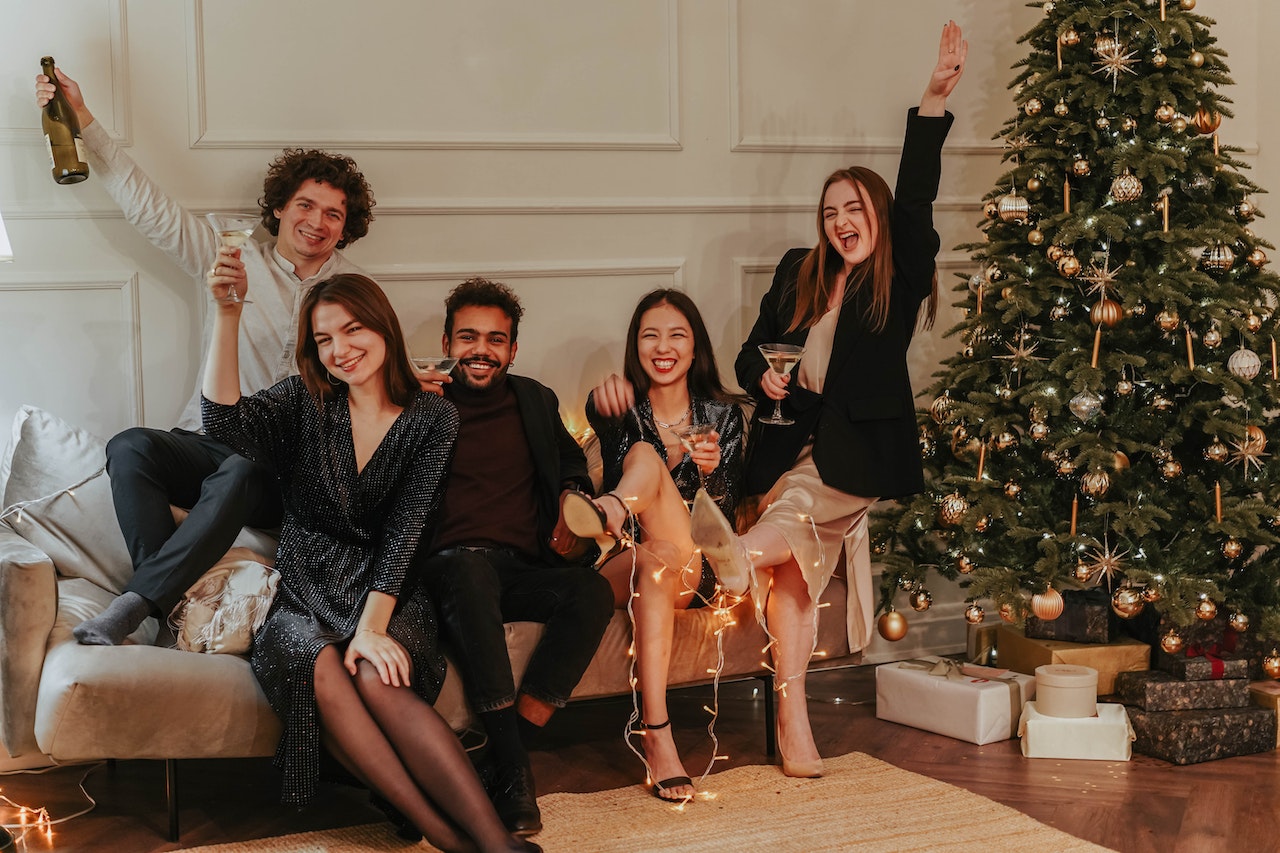 Reindeer Games
To keep the holiday spirit alive, plan some entertaining games in the workplace. Set up a photo booth with props and let the laughter flow. You could even organise an office talent show, where colleagues can showcase their hidden talents or perform a hilarious skit. It's bound to be a memorable highlight! And you can't forget about Secret Santa. This anonymous gift exchange is essential. To make it a success, start by setting a budget and establishing clear guidelines to ensure fairness and professionalism. Encourage participants to get creative and thoughtful with their gifts, while also considering the recipient's preferences. Host a fun reveal event where everyone can unwrap their surprises and enjoy the excitement together. Remember, a touch of fun and lightheartedness is essential, so encourage playful clues or riddles to add an element of mystery.
Festive Food and Drink Ideas
What's a party without some delectable treats and drinks? Arrange a festive buffet with a variety of finger foods, including mini quiches, cheese platters and delectable desserts. Make sure to include meaty, veggie, vegan, gluten free and dairy free options so that everyone can enjoy the food. If your budget allows, consider hiring a food truck or catering service to elevate the culinary experience. To toast to the occasion, consider serving a signature holiday cocktail or mocktail that captures the essence of the season. For added fun, set up a hot chocolate or mulled wine station with an array of toppings and spices. Don't forget traditional goodies from the city your business is located in. For example, for Glasgow Christmas parties you could serve Scottish food such as haggis or Scottish salmon. Yum!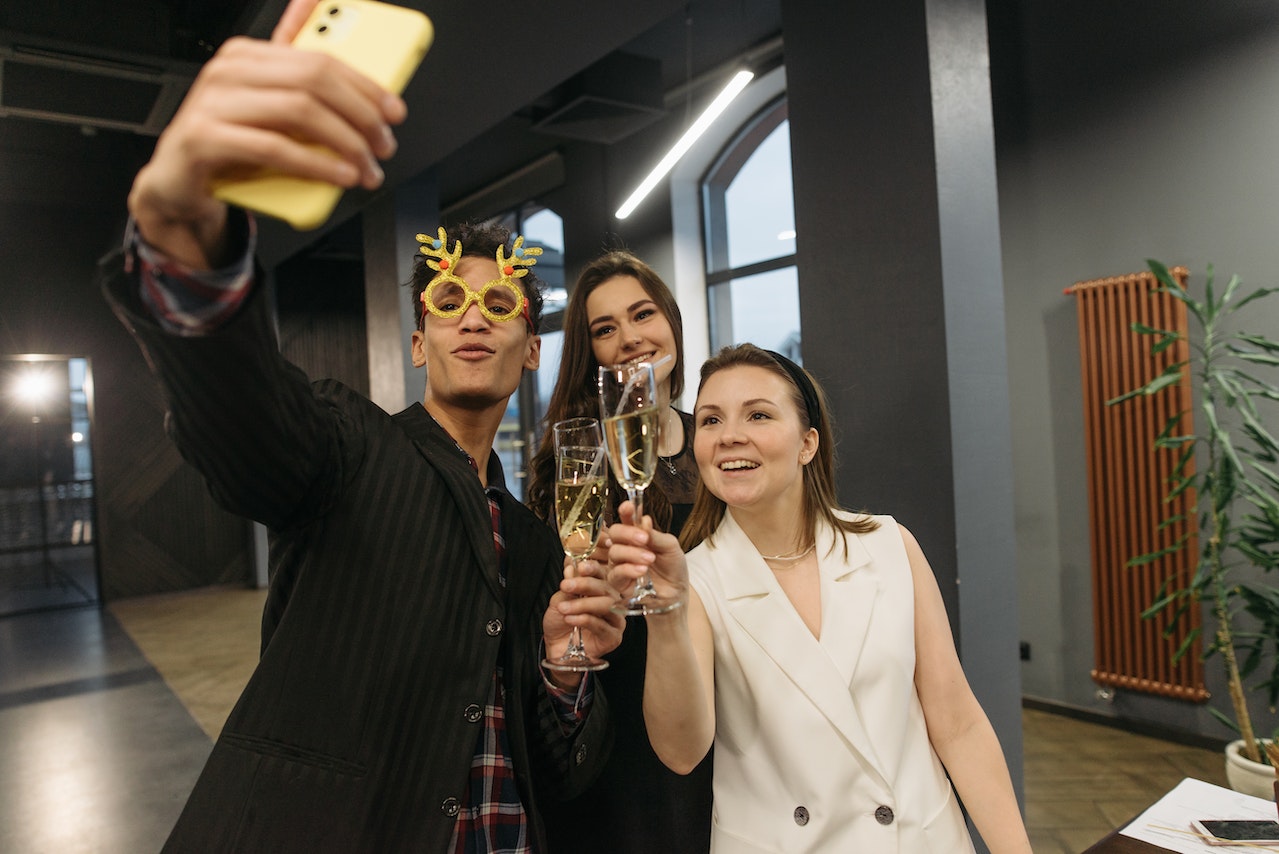 Book Your Christmas Party at Work Today
With these tips and ideas, you're well on your way to throwing an epic party that'll have your co-workers talking about it for years to come. So, don your Santa hat, jingle those bells and start planning that unforgettable Christmas party at work. It's a win-win situation that brings joy, boosts morale and strengthens the bonds within your team. After all, a little holiday cheer can go a long way in creating a fun, productive and harmonious work environment. Let the festivities begin!