Virtual hen parties are taking the world by storm right now. With loads of great platforms, games and activities to choose from, there's no reason why it can't be just as much fun as meeting your buddies in person. But with this being a relatively new craze, it can be tricky to know where to start. If you're wondering how to host a virtual hen party to remember, read on for our complete guide to help your online celebrations go with a bang!
What is a Virtual Hen Do?
Simply put, a virtual hen do is a celebration with the girls before the upcoming wedding. It takes place online via video chat rather than face to face outside your home. You'll get together in a virtual room and chat, drink, play games, whatever takes your fancy really!
Online hen do benefits include the fact that you can invite people who might not be able to come ordinarily due to living far away or having childcare constraints. You'll also actually be able to hear each other talk as there'll be no pesky loud music, plus you'll save loads of money by not having to pay those bar and club drink prices or forking out for a taxi at the end of the night.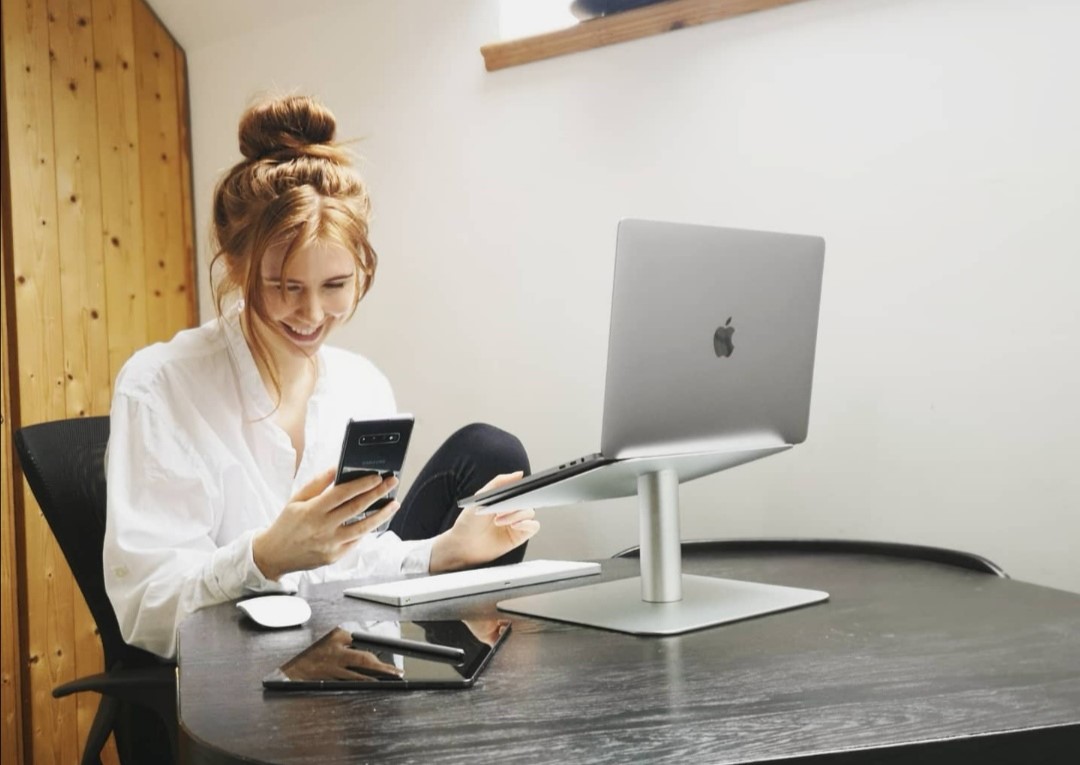 How to Host a Virtual Hen Party
Whether you're the bride-to-be, her maid of honour or one of the hens, arranging a hen do can be stressful but don't worry, Fizzbox is here to help with our top tips:
1. Create a guestlist – This can be done by or with the bride-to-be or privately if you'd like to surprise her. Just check with her family or significant other who she'd want there if you're not sure.
2. Sort out the date and time – Starting a Whatsapp group is a great way to check people's availability and keep everyone in the loop. Go with the date most people are free.
3. Research and pick activities and games – What would your betrothed bestie enjoy doing the most on her virtual hen party? Browse our virtual activities to see what takes your fancy.
4. Choose the platform – Make sure to select a platform or app that'll be cheap (preferably free) and easy for everyone to download and allows you to do what you want to do and invite however many people you like.
5. Make a virtual hen party itinerary – You should have a good idea of what's going to happen on the night. Make sure everything works and that people know what to expect, wear and arrange beforehand to ensure the night goes with a bang!
The Best Activities for a Virtual Hen Do
If you're looking for the best virtual hen party activities, you've come to the right place. We've got activities that'll suit any hen group, whatever you taste or budget but here's a round up of some of our favourites: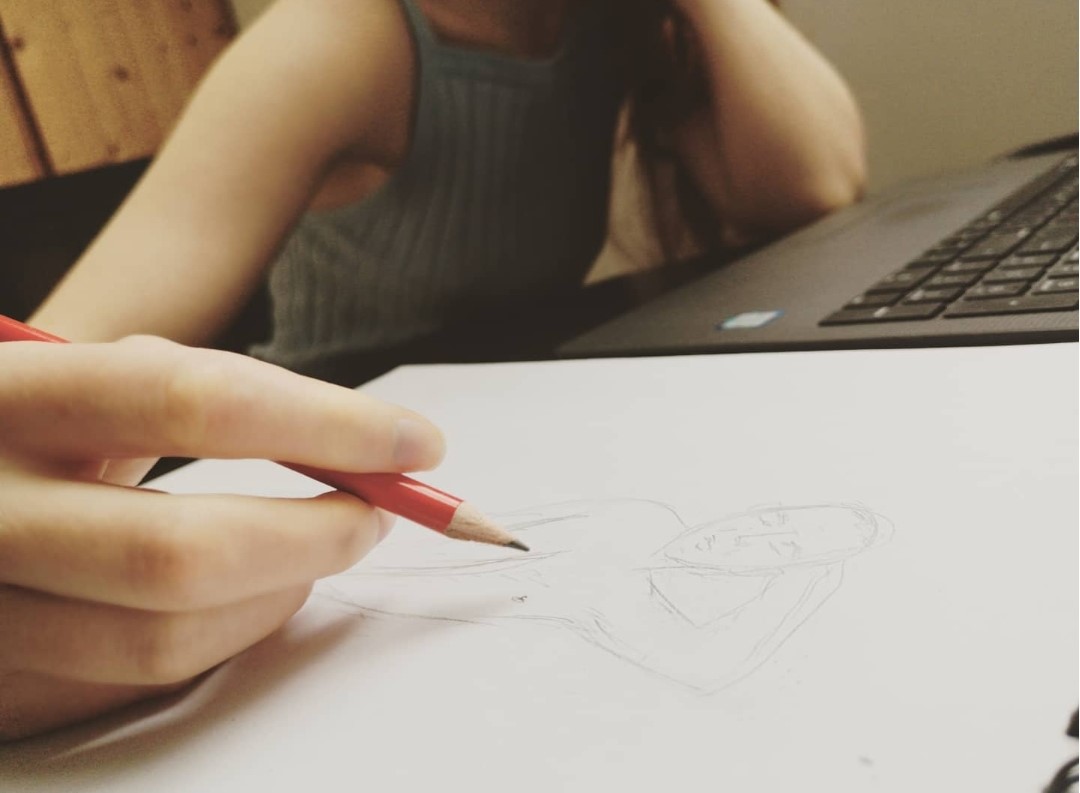 Virtual Nude Life Drawing
Price: £169.50 per group | Duration: One hour
This cheeky virtual hen party activity is just as fun online as it is in the flesh! Your 60-minute art class is led by a professional nude male model. They'll strip off and share their top drawing tips as you get everything you see down on paper. And we do mean everything, ladies! Expect loads of blushing and laughter as you compare your masterpieces with each other. A big benefit of online hen party life drawing is that some of your guests are likely to feel way more relaxed in the comfort of their own home without the model being so (ahem) in their face, meaning everyone can let their hair down.
Price: £90 per group | Duration: 45 minutes
Fancy hosting a zen do? Then a virtual yoga class is a must do! You'll all join a professional teacher over video call and learn simple breathing exercises and yoga sequences that'll help you tone, strengthen and stretch. Whether you're a yoga addict or have never tried it before, there'll be plenty to challenge you in a totally chilled out environment. This relaxing 45-minute class ends with guided meditation that'll leave you feeling a million dollars. Trust us, you deserve it.
Price: £50 per person | Duration: One hour
Try a relaxing virtual hen activity where you'll get to make and keep something you'll love. All materials will be sent to you for virtual candle making and are ethically sourced, eco-friendly, 100% natural and cruelty-free. A candle making expert will teach you all about fragrances and the healing therapies of essential oils as you learn how to make your own 165ml aromatherapeutic candle. You'll heat up soy wax, blend essential oils (with a fragrance of your choice) and set up the wick with the expert guiding you every step of the way.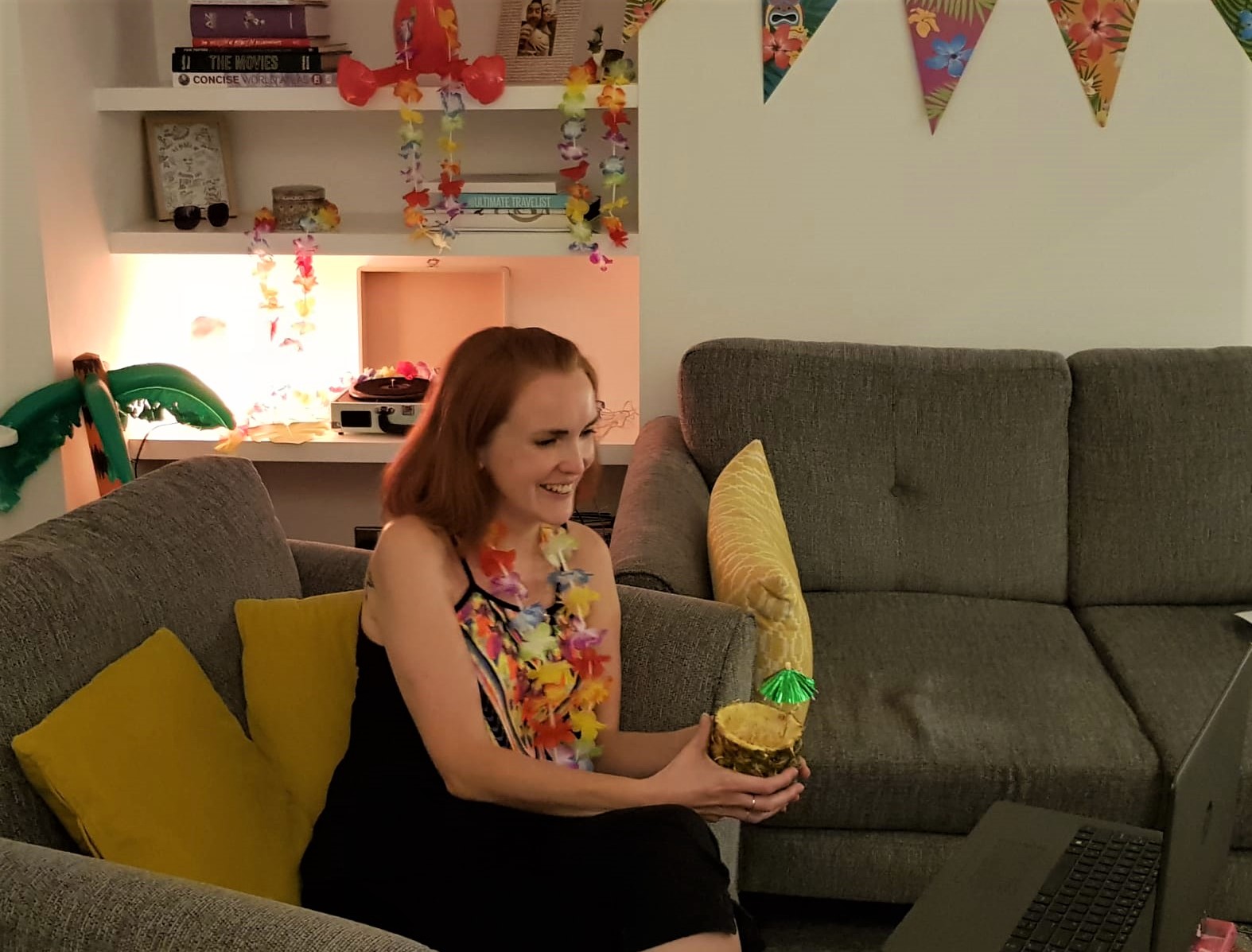 Price: £37.50 per person | Duration: 90 minutes
If you want to learn how to make the most delicious drinks at home, you've got to try some virtual hen party cocktail making! You and your friends will join a professional mixologist online who'll guide you through the wonderful world of cocktails. You'll have received all the ingredients and equipment beforehand, with a choice of two show-stopping cocktail making kits, and will learn how to whip up at least two drinks each, step by step. Best of all, because you'll be in the comfort of your own home, you can drink everything you make without having to share! We bet everyone will want to have pre-drinks at yours from now on.
Price: From £795 per group | Duration: 45-60 minutes
Get ready to LOL, ladies! You won't have to traipse outside to watch this comedy show because it's going to come straight into your living room via Zoom. You'll all watch a hilarious show that lasts around an hour with two comedians performing and hosted by a resident MC. You might even see someone you recognise from the telly! Get ready for witty one liners, funny anecdotes and punchlines that might even make you blush!
Price: From £350 per group | Duration: 1.5 hours
Imagine a human version of Cluedo with some comedy thrown in for good measure! Professional actors will host this activity online, encouraging you to unleash your inner Sherlock Holmes as you try to solve the murders in two exciting stories. After some killer clues, it's up to you to figure out whodunit! Do you think you'd be able to crack the case? You'll have a couple of lines to read out (don't worry, nothing too taxing) and will receive a pack beforehand so you know what to expect.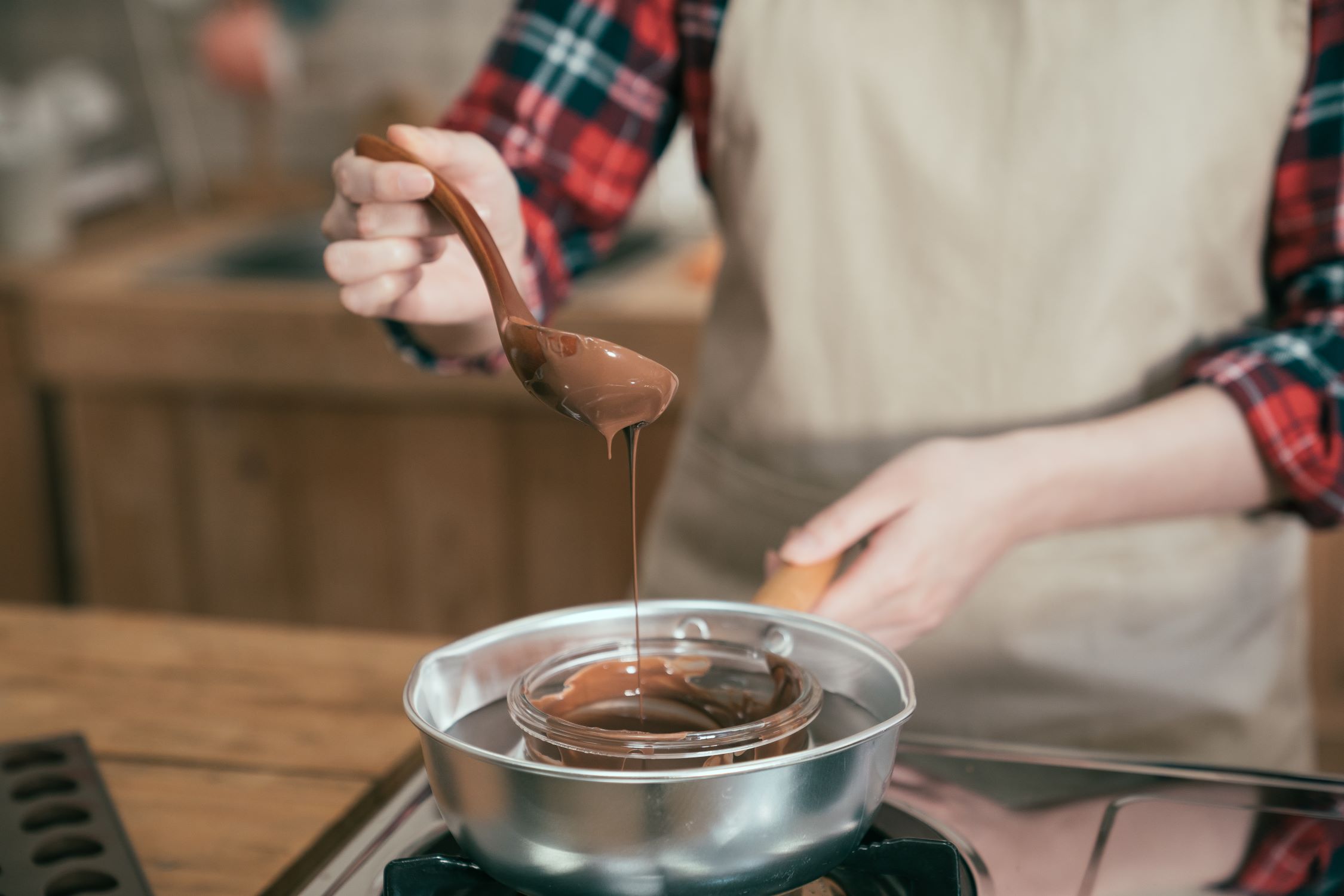 Price: £40 per person | Duration: One hour
Chocolate making has got to be the dream activity for chocoholics on the hunt for indulgent virtual hen do ideas. A goody bag with ingredients will be sent to you beforehand then all you need to do is get online with your girls and learn how to make sweet treats. A professional chocolatier will show you the ropes over this one-hour lesson where you'll master a range of techniques to help you create truffles and ganache. You can eat everything you've made and best of all, once the video call ends, no one will see you lick the bowl!
Price: From £12 per person | Duration: One hour
Fancy a challenge? This virtual escape room gathers all the hens together no matter where in the world they are. Your dedicated event manager will join your group via video link to set the scene before it's up to you to work together to unlock codes, crack clues and decipher riddles. Augmented reality and image recognition scans objects and unlocks fun tasks and challenges. You'll be on different devices so remember to communicate to help each other escape. This is a great way to harness some escape room fun remotely.
Price: From £32 per person | Duration: Two hours
Do you fancy learning to cook from the comfort of your own kitchen? You'll be in safe hands with a chef from the Jamie Oliver Cookery School who'll lead this virtual cookery class. You'll each be sent an ingredients and equipment list before the class, so you've got time to prepare everything you need. Then, once the day comes around, it's time to learn how to whip up something totally tasty on your virtual hen do. The chef will share their top tips, making sure everyone can follow the recipe and have fun doing it over the course of two hours.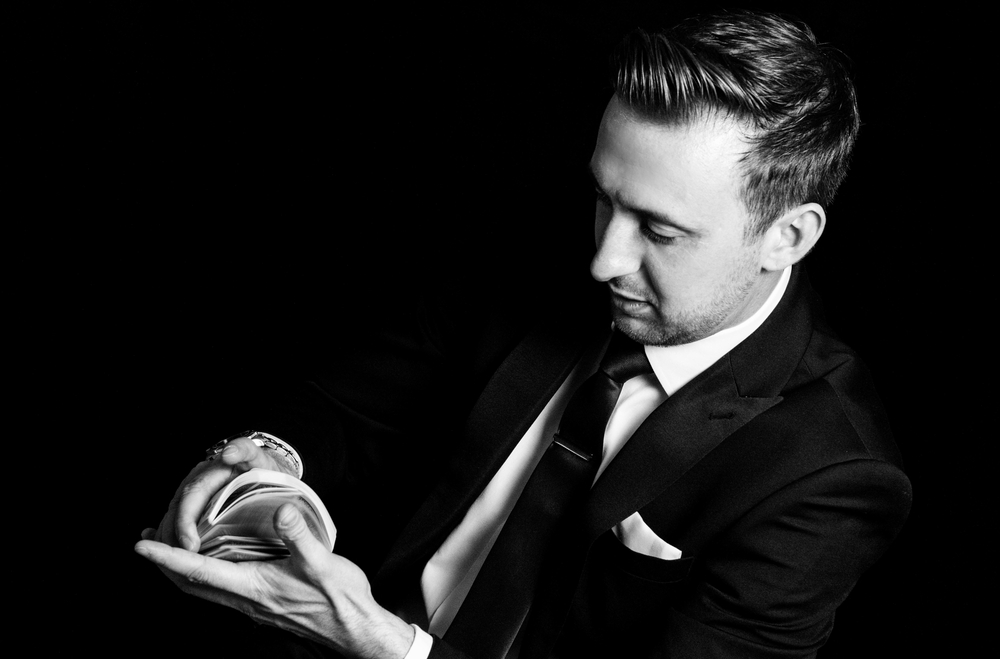 Virtual Magic and Mind Reading Show
Price: £450 per group | Duration: 45 minutes
Sit back, relax and prepare to be wowed by this virtual magic and mind reading show. Top magician, Paul Fowler has performed all over the world from the UK to New Zealand and now it's your turn to be dazzled by him. He'll perform a range of tricks that'll have you wondering how he did it for ages after your virtual hen do. This show is fully interactive, so he'll talk to you via video chat and even get some of you to take part.
Pyjama Party Virtual Wine Tasting
Price: £60 per person | Duration: 90 minutes
We love the dress code for this virtual hen party experience! Forget spending hours getting dressed up; you can stay in your PJs for a laid-back wine tasting with the girls. You'll each be posted a kit including bubbles, face masks, chocolates, tasting notes and, most importantly, three 100ml bottles of wine. Your session will last around 90 minutes and be hosted by a wine expert who'll guide you as you enjoy each different wine, sharing interesting facts and how to enjoy the flavour. This is the ultimate girls' night in!
The Dress Code
One of the best things about a virtual hen party is that you've got freedom to wear whatever you like. You don't have to worry about fitting in with what everyone else in the bar is wearing or the bouncers turning you away because you don't meet a strict dress code. Whatever you wear is totally up to you; you can dress to impress or stay in your onesie or even sneakily dress up the top half and keep your joggers on the bottom. We won't tell anyone!
Virtual Hen Party Themes
Again, this is completely up to you. You can dress up like your favourite movie characters or wear the bride-to-be's favourite colour. You could even decorate the room you're video chatting in or ask everyone to buy little accessories like head boppers and badges. The choice is yours.
The Perfect Playlist
Once you've sorted the theme out, it's time to make a matching playlist. Pack it with the bride-to-be's favourite songs and tracks that'll bring back memories from school, holidays and nights out as well as some cheesy classics to get everyone in the party mood. Tip: If you use Spotify, you can share the playlist with the other hens.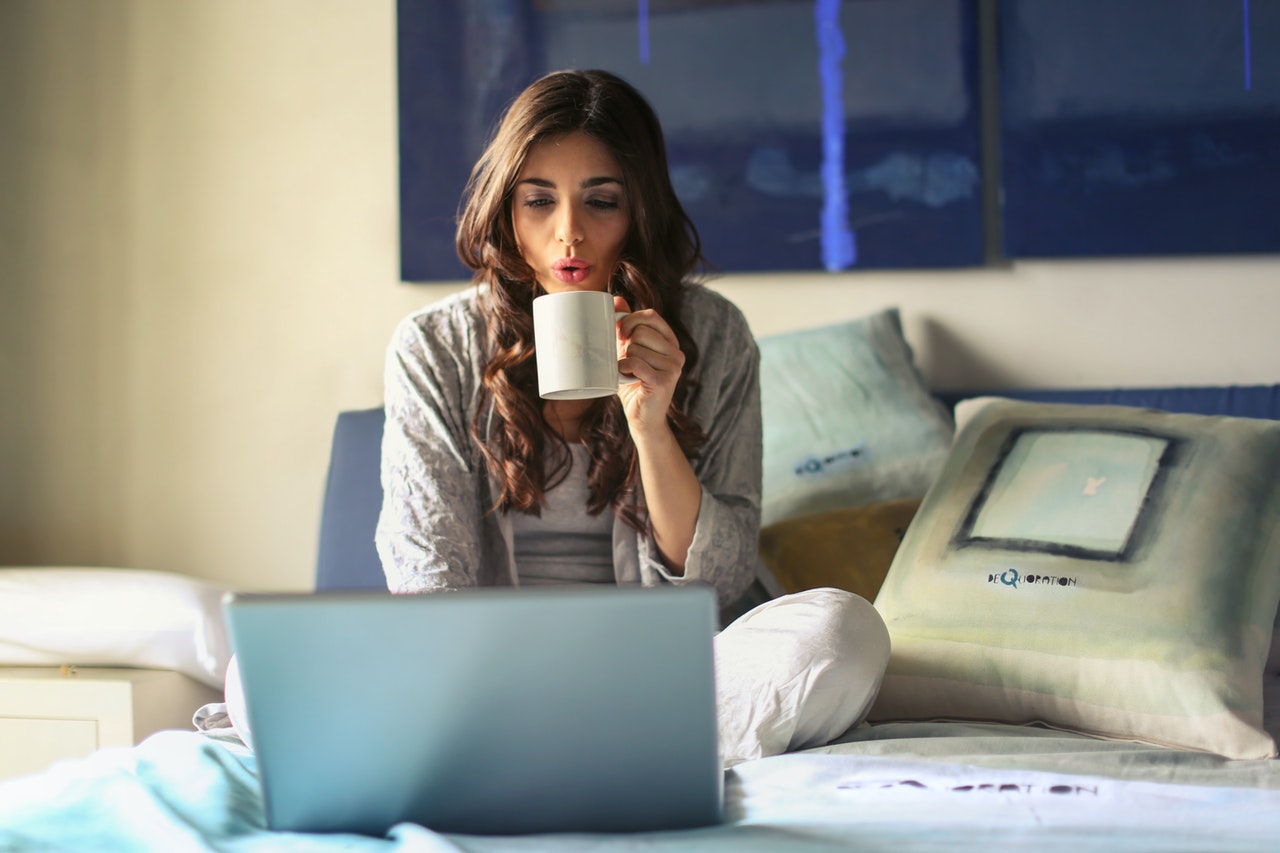 The Best Virtual Hen Party Games
You're spoilt for choice when it comes to games to play over video chat. Here's a few we think you might like:
Mr and Mrs
This hilarious game inspired by the TV show always gets everyone laughing and it can easily be done on video chat, making it ideal for an online hen do. The premise is simple, all you need to do is ask the bride-to-be light-hearted and fun questions about her other half to see if they're a match made in heaven and even get some juicy gossip! Don't forget to take a look at our blog for our list of 100 top Mr and Mrs questions that are sure to put the bride-to-be's knowledge to the test.
Never Have I Ever
The best thing about a good old game of Never Have I Ever is that it can be as tame or wild as you like! You'll take it in turns to say: "Never have I ever…" followed by a statement of your choice. Whoever in the group has done this thing has to take a swig of their drink. This classic hen party game helps everyone get to know each other better and is fantastic for breaking the ice. Plus, there's always giggles galore when someone stitches up a friend by revealing a cheeky secret of theirs. Just remember, what happens on the virtual hen party, stays on the virtual hen party!
Two Truths, One Lie
How well do you know your mates? Find out with this fun game where each of you will have a turn to tell the group two true things about yourself and one lie. The rest of you must figure out which one's the lie. If you like, you can turn this into a drinking game or even up the fun factor by dishing out funny forfeits to any liars who get rumbled. You better get practicing your poker faces, ladies!
You Can't Say That
This one's super simple; choose a list of banned words for the night and every time someone says one of them, they're punished. You can choose the punishment; they could take a sip of their drink, reveal a secret or even complete a dare of your choosing. Make sure to pick words that are tricky to avoid saying so you can catch each other out.
Pictionary
Hen do Pictionary gets everyone's creative juices flowing as they draw a range of objects and scenarios with the rest of the group left to guess what's actually been drawn on the paper. Unless you're a budding Van Gogh, this game always leads to confusion and laughter. Another big bonus is that it's nice and easy to set up; all you need is paper and a pen.
Porn or Polish?
From Yank My Doodle to Finish Me Off, have you ever noticed how bonkers some of the names of nail polish are? Then you'll appreciate this naughty little game where you'll be sent a list of names and then have to decipher whether it's the name of a porn film or a nail polish. It's harder than you might think; pun not intended!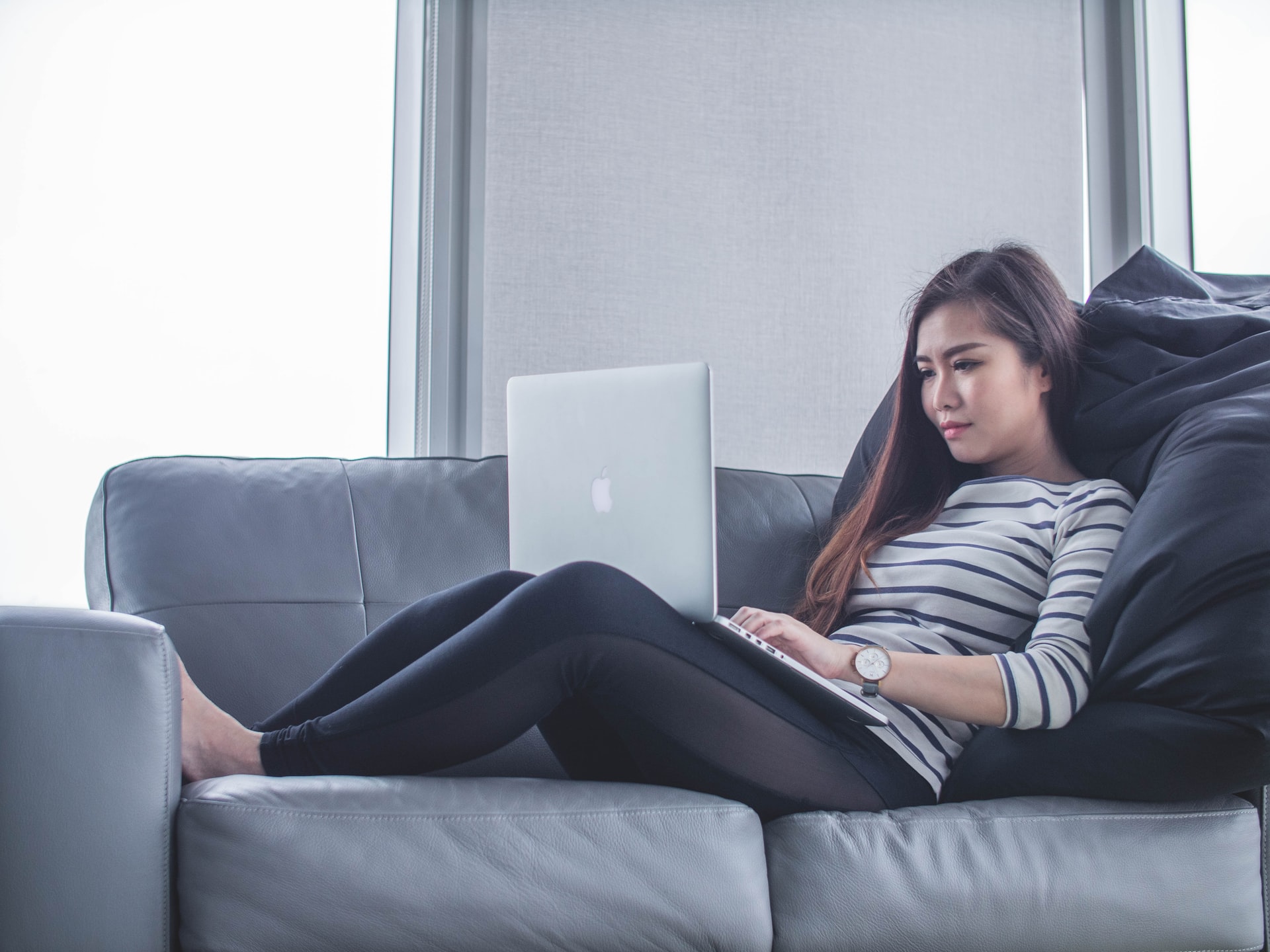 Who Should you Invite to a Virtual Hen Party?
Whoever you like! Because you're hosting a remote hen do, you don't have to worry about guests living in different places in the country or even the world. The internet will bring you all together for a celebration you'll never forget. Guestlist-wise, it's always a good idea to consult the bride-to-be or her nearest and dearest if you're planning to surprise her. Just think, what kind of night will this be? Would she want her mum or mother-in-law to be involved? Then go from there.
What's the Best Platform for a Virtual Hen Party?
There are so many platforms and apps for virtual hen parties nowadays. Let us walk you through some of the most popular ones:
Zoom
Price for basic use: Free
Number of guests: Up to 100
Time limit: 40 minutes for free
What is it? Zoom is a video and audio conferencing and chat app.
What we like: Zoom virtual parties let you see up to 49 people at once on one screen, then you can swipe to see any additional guests. You can also screen share.
What we don't like: The 40-minute time limit is a little irritating but once that time's up, you just have to re-invite your friends and carry on the fun.
Houseparty
Price for basic use: Free
Number of guests: Up to 8
Time limit: N/A
What is it: Houseparty is an video chat app that lets friends hop in and out of rooms to connect with each other. It's more of an open platform than Skype or Zoom that require invites.
What we like: You can make inexpensive in-app purchases to play games such as Trivia, Quick Draw and Heads Up.
What we don't like: You can't invite more than 8 guests to your Houseparty hen do.
Skype
Price for basic use: Free
Number of guests: Up to 50
Time limit: N/A
What is it? Skype is an app for video chats, calls and instant messaging.
What we like: During Skype virtual parties, you can record conversations and also add subtitles and share screens if needed.
What we don't like: Some people have complained about the video quality.
Facebook
Price: Free
Number of guests: 50
Time limit: N/A
What is it: Facebook is a video chat app from the social media giant.
What we like: Your complete friends list is already at your fingertips. Plus, there are fun filters you can use.
What we don't like: Other friends can see you're online which could be potentially awkward if they're not invited or waiting for a reply to their message.
Tele Party
Price: Free
Number of guests: Up to 50
What is it? A browser extension that allows your group to watch the same film on Netflix and Disney+ at the same time.
What we like: It's great for laid-back virtual hen parties. The chat bar at the side lets you talk to each other as you stream your fave flick.
What we don't like: No video chat option.
Whichever platform you use, make sure you've got a good wifi connection and plenty of battery life on your phone or laptop.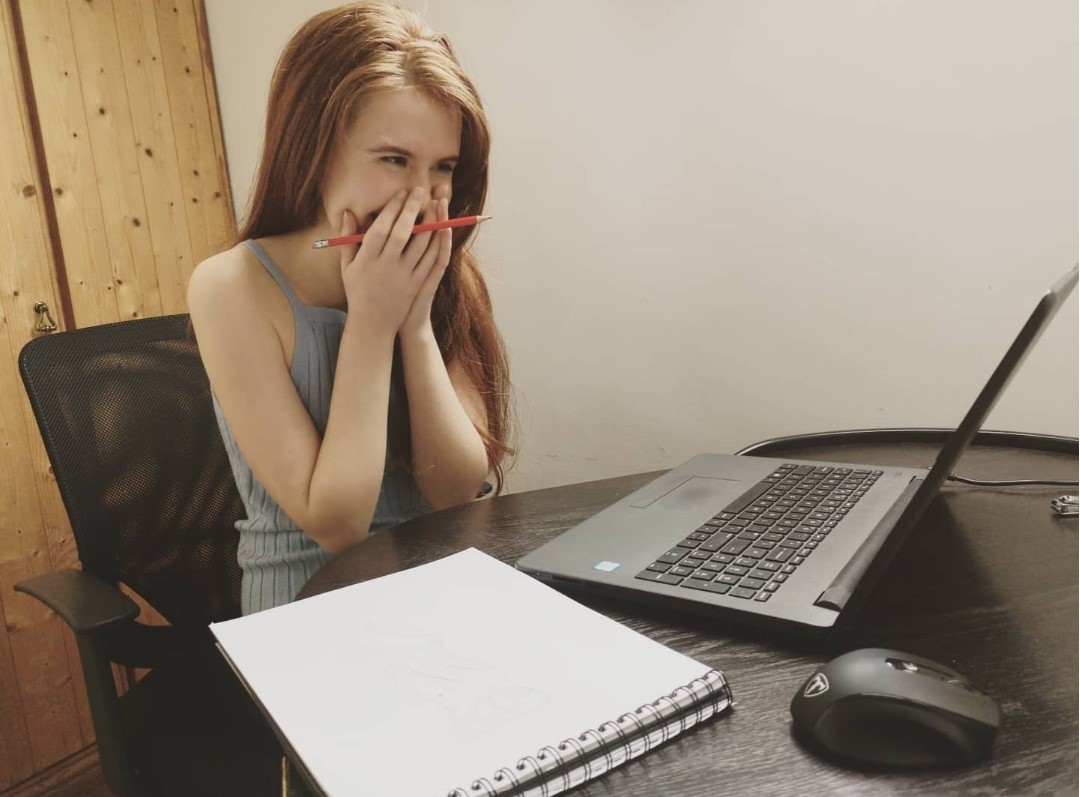 Virtual Hen Party Do's and Don't
Follow our top tips for virtual hen party success!
DO break the ice early – If you've never video chatted before, it can feel a little bit strange for the first few minutes, especially if some of the hens don't know each other that well. Break the ice right away with one of the fun games suggested above.
DO make sure it's all about the bride-to-be – Just because you're sat at a computer or phone screen instead of opposite your friend, doesn't mean your betrothed bestie is any less important. Make sure to make her feel super special throughout.
DO read the room – If a game's going down like a lead balloon, don't be afraid to move on to the next thing. See what your engaged pal and the other hens are enjoying and play it by ear.
DON'T be late – No one likes waiting around so make sure to login into the video chat on time. If you've been asked to prepare anything, make sure it's done so nothing gets in the way of the fun.
DON'T cram in too much – The evening should naturally flow with conversation and fun things to help celebrate the bride-to-be's last night of freedom, but you don't want it to be too hectic by over-filling the evening. A fun activity and a couple of games should be plenty.
DON'T ignore people – This is especially important if you're inviting hens that don't know each other like a combination of close friends, uni friends and workmates. Make sure you check in with each other and make sure everyone's involved.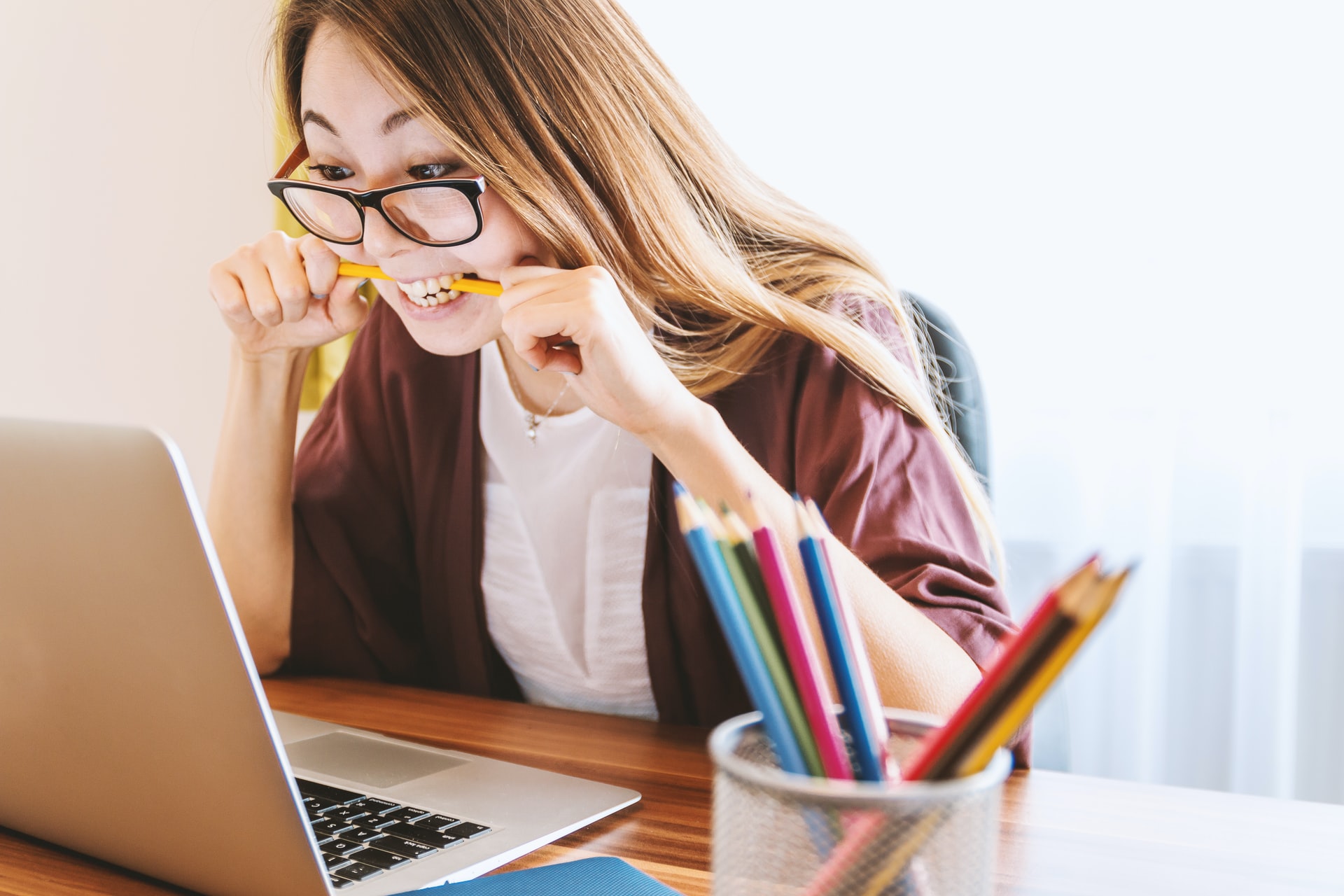 When's the Best Time for a Virtual Party?
What are your plans for the remote hen party? If you're going to get a takeaway dinner together, kick things off around 6pm but if your plans involve drinking and games, around 8pm is probably a better start time. Whatever time you choose, just make sure that all the hens know when to login.
It might initially seem like a lot less effort to sit at home when attending a virtual hen party but be mindful that people might find it a bit awkward to leave the video chat without the excuse of needing to head home like they would in 'real' life. Because of this, it's nice to give everyone a rough end time so they know what to expect.
As always, completely avoid the risk of the bride-to-be being hungover on her wedding day! Trust us, celebrating a week or so before the big day is a much better idea.
How Long Should a Virtual Party Go on for?
This varies but around three-five hours is a good amount of time. You don't want to wear everyone out by keeping guests up too late or leaving anyone feeling bored so keep an eye on the time. Think how long you'd spend together if you were meeting up for a night out face to face and that should be a good guide.
Book Your Virtual Hen Do Today
Whatever you plan to do, we hope you have an awesome virtual hen do. Want more inspiration? Browse our virtual activity listings for even more virtual hen party ideas now. Then get ready to grab your laptop or smartphone and have some fun!