It's official, we're a nation of afternoon tea lovers! We just can't get enough of those feather-light finger sandwiches, refreshing glasses of fizz and scones oozing with clotted cream and jam! There's so much choice for foodies in this Scottish city with a massive range of venues from historic castles to casual dining cafés. This quintessentially British tradition is fabulously fun for any occasion, whether you want to celebrate a birthday party or hen do or just have a little treat with a loved one. If you're thinking about indulging but not sure where to start, here's our lowdown on the best afternoon tea in Edinburgh whether you want something traditional or modern, quirky or luxurious, affordable or veggie.
Best affordable afternoon tea in Edinburgh
· Address: 30A Chambers Street, Edinburgh, EH1 1HU
· Duration: 90 minutes
· Drink: Cocktail each
· Price: From £15 per person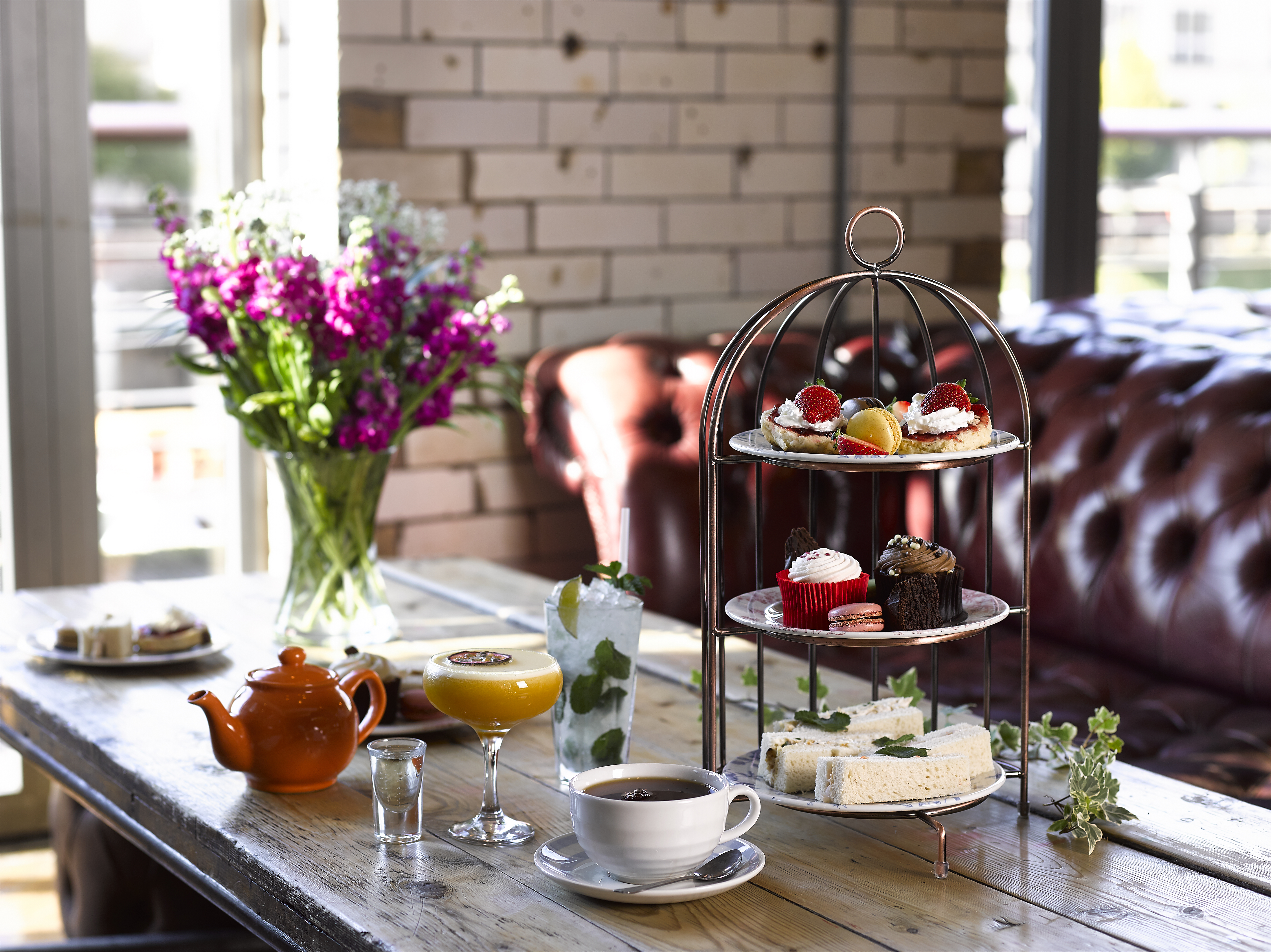 This cheerful and cheap afternoon tea in Edinburgh is perfect for anyone looking for a treat without breaking the bank! You can always expect a good atmosphere in laid-back yet vibrant Revs. Soak it up as you tuck into a range of sandwiches with fillings including Salt Beef, Prawn Bloody Mary, Avocado and Coronation Chicken. Yum! Of course, you'll also get sweet treats. We couldn't leave those out! Indulge in Fruit Scones with Strawberry Jam and Cream, Macaroons, Poppin' Chocolate Brownie, Honeycomb Cheesecake and Woo Woo Jelly.
Your food will be accompanied by one of Revolution's famously delicious cocktails to add a touch of something special to your fun day out or daytime celebration. What's more, when you finish, you'll be smack bang in the centre of the city, a great place to carry on the fun. At just £15 per person, it's surprisingly tasty and filling. You can't really go wrong with that price, can you?
Best traditional afternoon tea in Edinburgh
Edinburgh Castle
· Address: Castlehill, Edinburgh, EH1 2NG
· Duration: Over two hours
· Drink: Glass of prosecco and unlimited tea
· Price: From £40 per person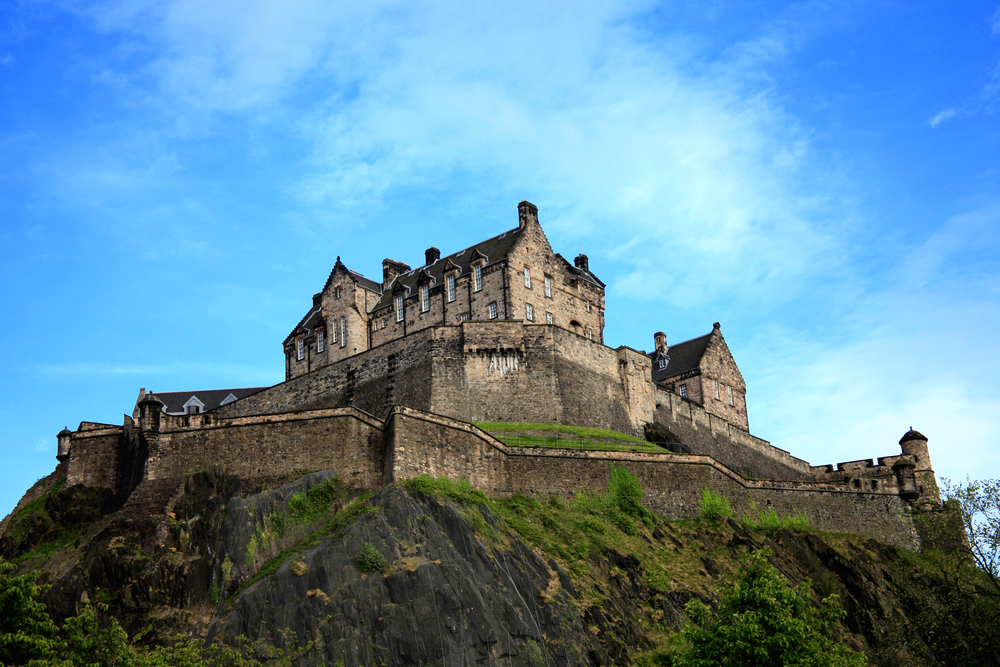 A traditional afternoon tea at this legendary fortress is fit for royalty, giving all diners an unforgettable experience in a historic location with amazing views over the city. You'll get your hands on finger sandwiches with lashings of filling from Coronation Chicken to Smoked Salmon, Cream Cheese and Cucumber to Egg and Watercress. Sweet treats include Pistachio Macaroons, Banoffee Pie, Carrot Cake and Strawberry Tart, not forgetting those all-important Plain and Fruit Scones with Galloway Jam and Clotted Cream.
Wash it all down with a glass of prosecco each plus a big range of teas including English Breakfast, Earl Grey, Peppermint, Chamomile, Mango and Strawberry and Oriental Sencha. What's more, you can explore the castle after your afternoon tea. Who doesn't love the combination of sightseeing and delicious food? Edinburgh Castle was home to kings and queens for centuries so prepare yourself for a right royal treat!
Best contemporary afternoon tea in Edinburgh
Brewhemia
· Address: 1A Market Street, Edinburgh, EH1 1DE
· Duration: 90 minutes
· Drink: Gin cocktail
· Price: From £26 per person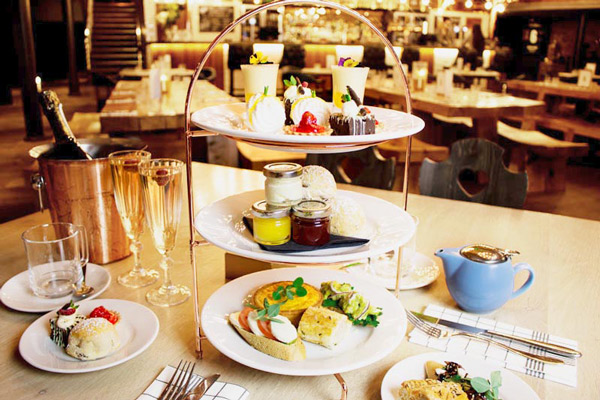 This relaxed afternoon tea takes place in Brewhemia's modern café in the Old Town where you'll savour some Scottish delicacies with this Edinburgh afternoon tea that boasts a mouth-watering menu that features Scottish Crab with Homemade Mayonnaise on Crispy Lettuce, Haggis, Neeps and Tatties with Peppercorn and Whisky Sauce, Piggy Black Sausage Roll Slices with Mustard Mayonnaise, Clava Brie with Homemade Chutney and Watercress on Farmhouse Bread plus Plain and Loch Arthur Cheddar Buttermilk Scones with Clotted Cream and Scottish Preserve.
Sweet treats will also get your taste buds tingling and include Raspberry and White Chocolate Shortbread, Tablet and Salted Caramel Cheesecake, Chocolate and Glayva Honey Oat Truffle and Chocolate Strawberries. To top of all this deliciousness, you'll get a handcrafted gin cocktail each. This place has a chilled-out, hipster vibe about it that's just perfect for a catch up with friends or family. Sounds good, right?
Best alternative afternoon tea in Edinburgh
Wonderful Wizarding Tour
· Address: Bus Stop ZF, Waterloo Place, Edinburgh, EH1 3BH
· Duration: 90 minutes
· Drink: Unlimited tea and coffee, one Butterbeer
· Price: From £37.50 per person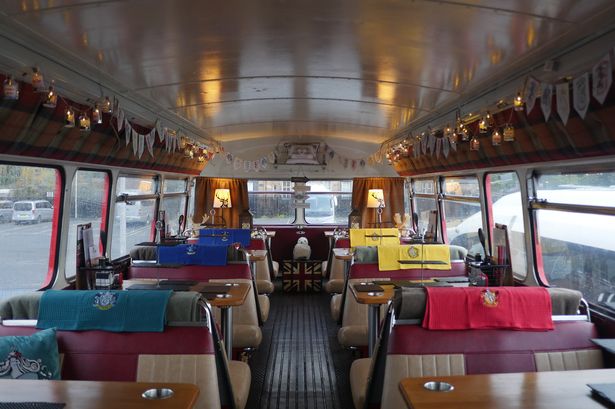 This Harry Potter themed bus tour is perfect for any fans of the wizarding world who fancy a quirky afternoon tea in Edinburgh! It might not be the Hogwarts Express, but this is the next best thing! You'll hop aboard a vintage, double-decker, Routemaster bus to tour the spellbinding sights of the city as you tuck into some tasty, themed treats including chocolate frogs and jelly beans (only the nice flavours!), washed down with unlimited tea and coffee and a cup of I Can't Believe It's Not Butterbeer made fresh from the cauldron.
As it's afternoon tea, of course you'll still get those scones with clotted cream and jam that we all love! You can also purchase a glass of wine or beer at the bar if you fancy one. The bus will drive around the locations that inspired J. K. Rowling to write the Harry Potter books including Greyfriar's Cemetery, Spoon Café and George Heriot's School with an informative and entertaining onboard commentary, so you know exactly what you're looking at.
Best luxury afternoon tea in Edinburgh
The Ivy on the Square
· Address: 6 St Andrew Square, Edinburgh, EH2 2BD
· Duration: Two hours
· Drink: Glass of Champagne
· Price: From £26.50 per person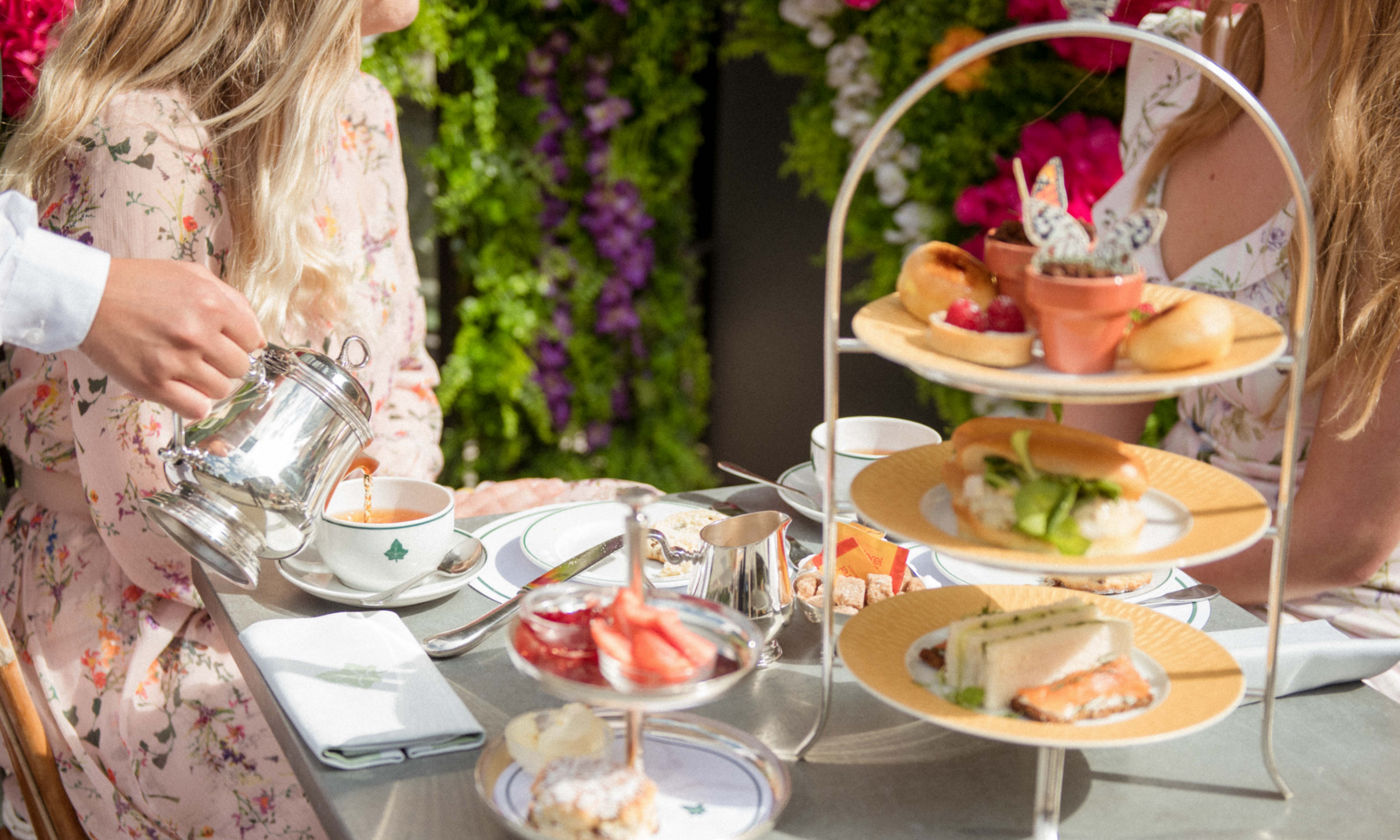 For those looking to dine in style, afternoon tea at The Ivy will give you the luxurious experience you're craving. Located on St Andrew Square in the heart of the city centre, this British brasserie has a mouth-watering menu that's packed with local and international classics. It boasts gorgeous art deco furniture and fittings, a tranquil yet sophisticated atmosphere and a Parisian-style outdoor terrace that's perfect for al fresco dining in the warmer months.
It's the sister of famous A-list hotspot, The Ivy in London so you know you're going to dine in style! Sip on a delicious glass of Champagne as you tuck into some of the most indulgent nibbles you can imagine from Truffled Chicken Brioche Rolls to Smoked Salon on Dark Rye Bread with Cream Cheese, Marinated Cucumber and Dill Finger Sandwiches to Raspberry Cheesecake, Crème Brûlée to Warm Fruited Scones with Dorset Clotted Cream and Strawberry Preserve. You'll also have a choice of teas, infusions and coffee.
Best Instagrammable afternoon tea in Edinburgh
Las Iguanas
· Address: 141-143 George Street, Edinburgh, EH2 4JY
· Duration: 90 minutes
· Drink: Pot of rum tea
· Price: From £17.50 per person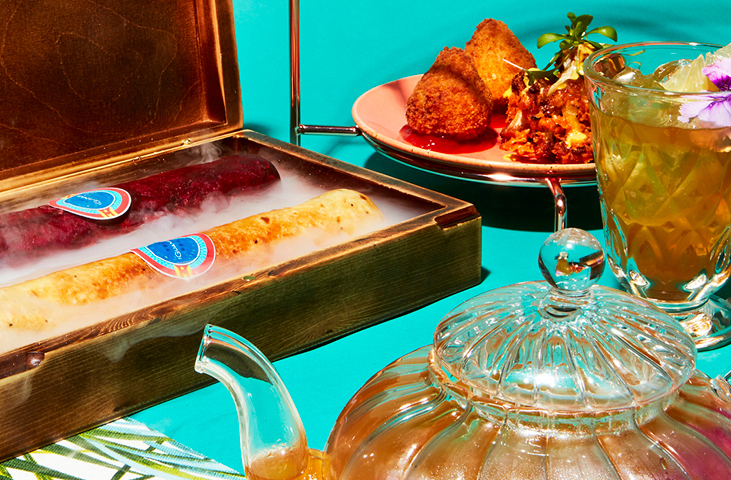 Do you fancy injecting a fun Cuban twist into this quintessentially British tradition? Las Iguanas in the city centre does just that! This vibrant Latin American restaurant presents you with a smoking cigar box that's just so Instagrammable and packed with Cuban sandwiches that look just like cigars! Choose either the Cuban Cigar with pulled pork, Wiltshire ham, Emmental cheese, smoked cheese, mustard and dill pickle relish wrapped in a toasted black pepper tortilla or the Veggie Cigar with garlicky mushroom, Emmental cheese, smoked cheese and mustard wrapped in a toasted beetroot tortilla.
That's not all, you'll also get to nibble on tapas, tacos and shortbread and dulce de leche cookies rolled in desiccated coconut to please those of you with a sweet tooth. But we can't forget to tell you about the best part. You'll also get a teapot full of Havana Club seven-year-old rum tea between two of you. It's just begging to be put on your social media feed. Your followers will go green with envy!
Best vegan afternoon tea in Edinburgh
Casa Angelina
· Address: 42 London Street, Edinburgh, EH3 6LX
· Duration: 90 minutes
· Drink: Unlimited tea
· Price: From £25 per person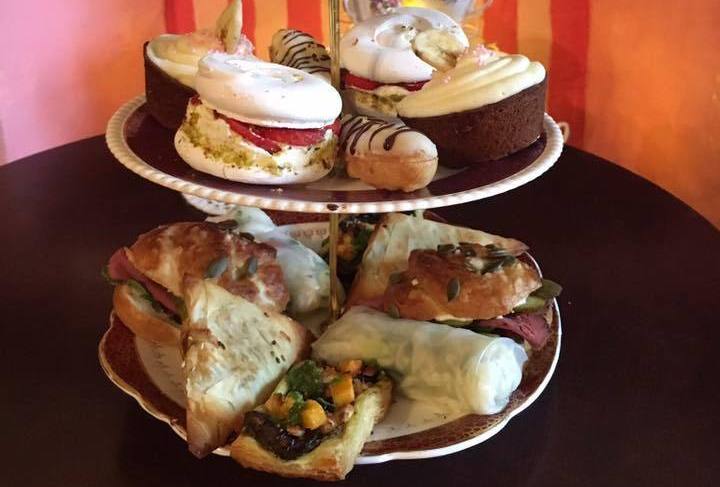 Who says vegans can't indulge in junk food? You don't need to feel left out watching everyone else eating delicious food with a visit to the Scottish capital. This vintage tearoom and patisserie is here to help and spoils you rotten with unlimited cups of tea and three tiers of decadent vegan delights. You'll tuck into Mini Bagels with Aubergine and Beetroot Hummus, Mini Pretzels with Pesto, Roasted Pepper and Rocket, Roasted Veggie Brioche, Vegetarian Haggis Roll, Vietnamese Spring Rolls and Mini Spanakopita (Greek spinach pie). Is your mouth watering yet?
Of course, we couldn't miss out the fluffy Scones with Clotted Cream and Jam plus other sweet goodies including Cherry and Orange Chocolate Cupcakes, Lime and Passionfruit Drizzle Cakes and Spiced Chocolate Cookies with Peanut Butter. They also have vegetarian and gluten-free options, so everyone's catered for at Casa Angelina. If you fancy toasting a special occasion, you can even bring your own booze which they'll cork for a fee.
Best boozy afternoon tea in Edinburgh
Café Rouge
· Address: 43 Frederick Street, Edinburgh, EH2 1EP
· Duration: Two hours
· Drink: Four glasses of prosecco each
· Price: From £30 per person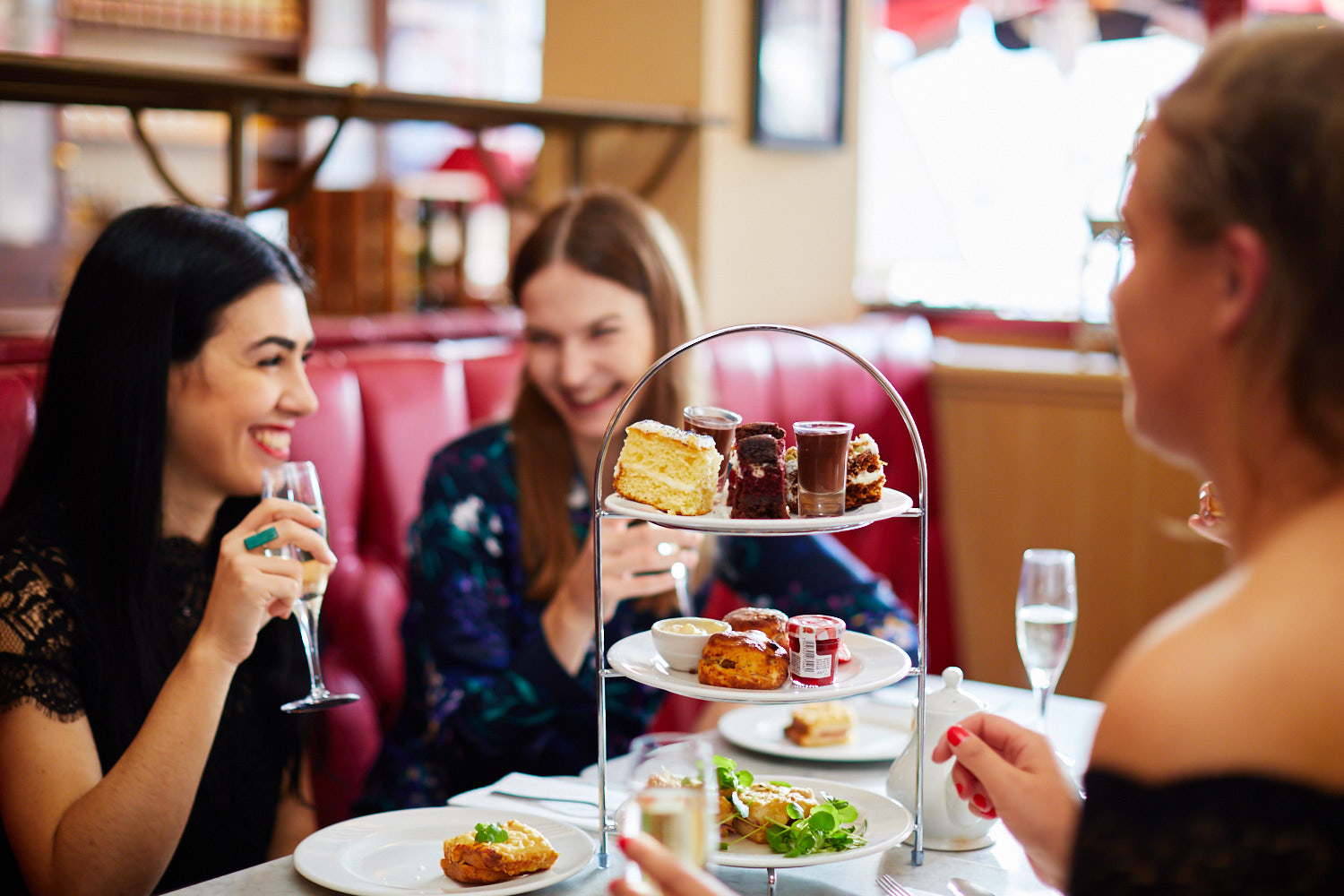 This purse-friendly, boozy afternoon tea in the city centre takes place at French restaurant chain, Café Rouge and offers customers a relaxed dining experience alongside a generous, three-tier cake stand that's rammed with goodies. The pièce de résistance has to be the Classic Croque Monsieur but other palate-pleasing savoury treats include Grilled Emmental Cheese and Smoked Ham Sandwiches on Sourdough with Bechamel Sauce as well as their Veggie Monsieur with portobello mushrooms, baby spinach, goats' cheese and truffle oil.
Of course, you'll also chow down on sweet treats including Mousse Au Chocolat, Scones with Clotted Cream and Jam and a range of cakes from Lemon and Poppy Seed to Red Velvet, Carrot to Coconut, perfect for those of you with a sweet tooth. And we did say this afternoon tea is boozy, so you'll be happy to hear you'll get four glasses of prosecco each! This is the ideal, boozy, Edinburgh afternoon tea for a laid-back and affordable treat with friends, family, workmates or a loved one.
Time for tea?
So, there you have it, our lowdown on the best afternoon tea in Edinburgh! We bet that's got your bellies rumbling and your eyes looking at the clock wondering if it's lunchtime yet. Whatever your taste or budget, as you can see, this cosmopolitan city offers something for everyone.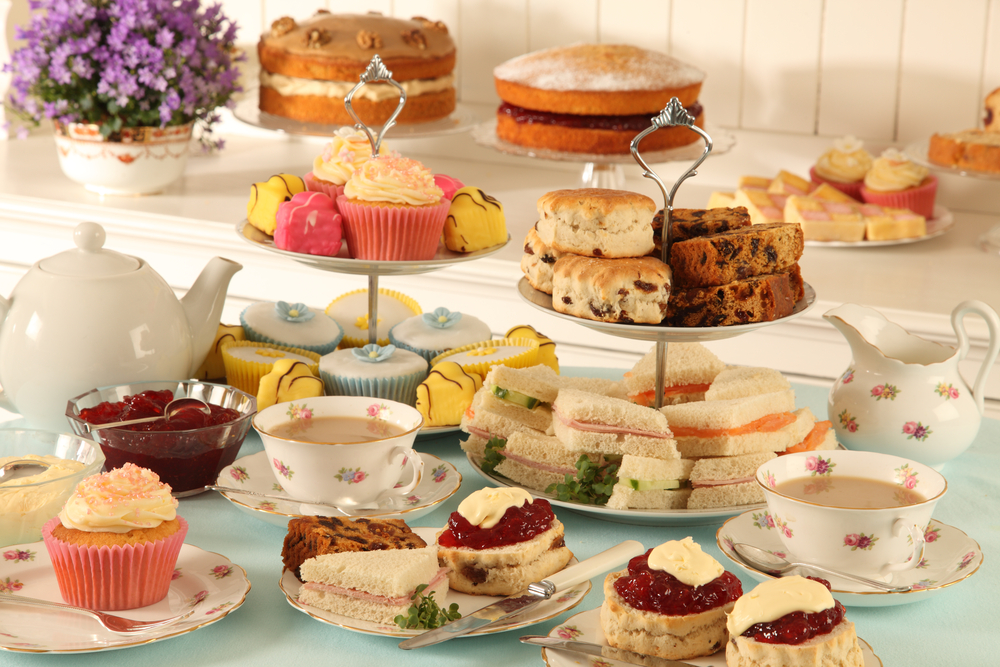 Want more inspiration? No problem, we're always here to help. Browse our complete listings for Edinburgh afternoon tea now.