Shake, stir and sip your way to a new skill with cocktail making in London! Whatever the occasion, whether it's a hen party, stag do, birthday celebration or just an excuse to get your mates together, everyone loves a lively cocktail class. After all, who wouldn't enjoy learning how to make their favourite drinks, trying loads of boozy samples and playing competitive games in a party atmosphere? If you're keen to explore this intoxicating world, read on for the 10 best cocktail making classes in London.
Duration: 90 minutes
Welcome drink: Tom Collins with a twist
Drinks you make: 2
Food: Sharing platters
Price: From £35 per person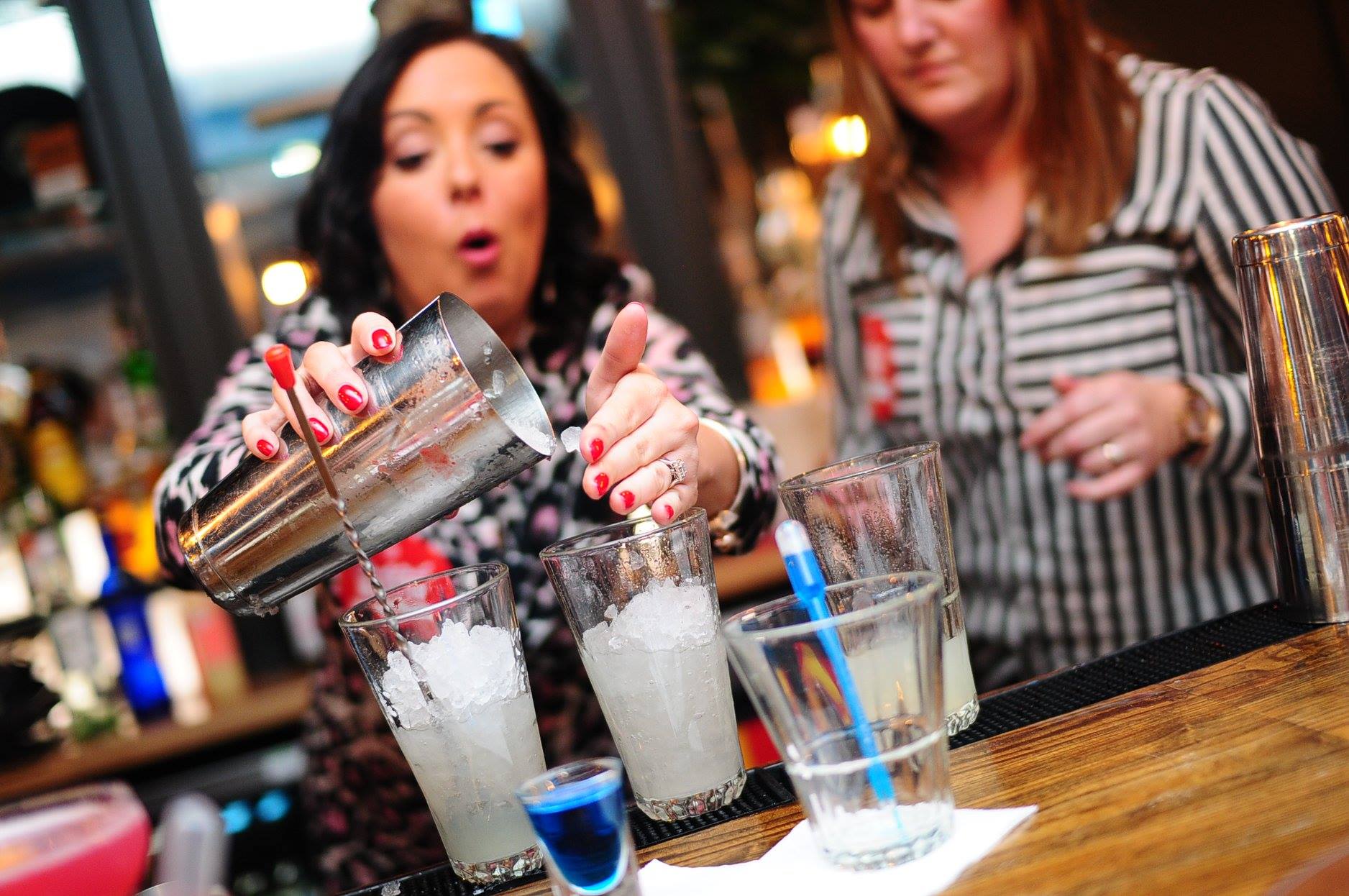 With a welcome drink, fun games, lively atmosphere and a hands on session with a professional mixologist, it's a no-brainer that cocktail making at Revolution is the first on our list. Start your class off by sipping on a Tom Collins with a twist before you saunter over to the bar to start your cocktail making masterclass in London. The expert mixologist will take you through the history of the cocktails you'll be making before showing you some impressive demonstrations. Make sure you're watching carefully as then it's over to you and your group to make them yourselves! Throw in some games throughout your session and this makes for one fun-filled and cocktail-packed 90-minutes!
Duration: 90 minutes
Welcome drink: Bellini
Drinks you make: 3
Food: No
Price: From £40 per person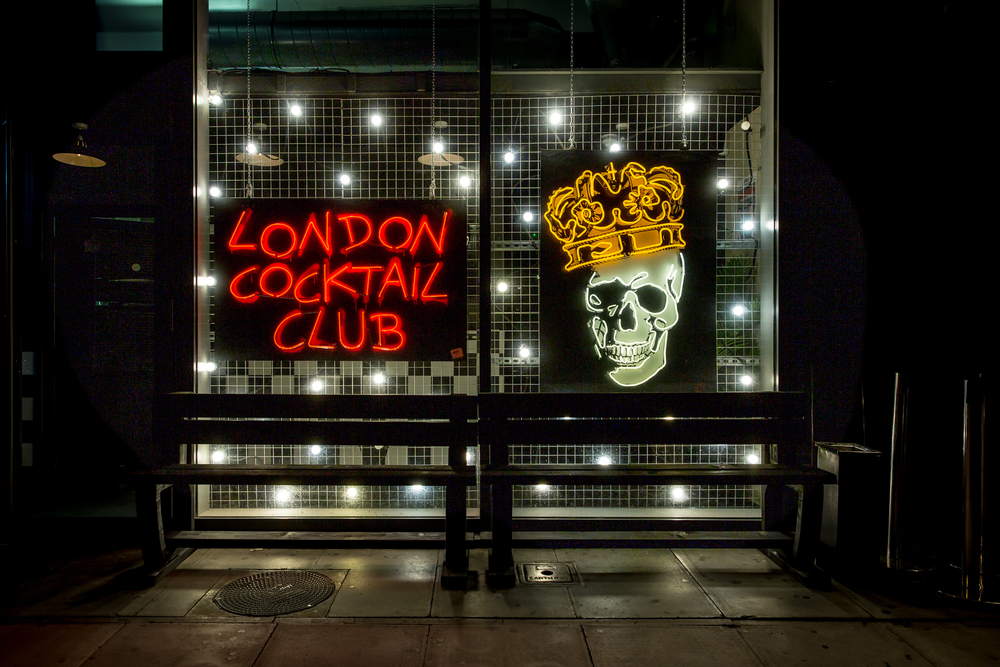 London Cocktail Club has many venues around The Big Smoke including Goodge Street, Shoreditch, Clapham, Bethnal Green and Oxford Circus so you can choose which location suits you best for a special occasion, after-work treat, corporate event or a get together with friends. You'll first receive a cocktail each upon arrival as you settle in and meet your dedicated bartender. They'll show you how to create three mouth-watering cocktails throughout this 90-minute class and teach you a little about the history of cocktails, sharing their insider knowledge and samples. You'll drink everything you create so ensure to make them extra tasty! They'll provide everything you need so you just need to turn up, ready to have a blast.
Duration: 1 hour
Welcome drink: No
Drinks you make: 3
Food: Bar snacks
Price: From £45 per person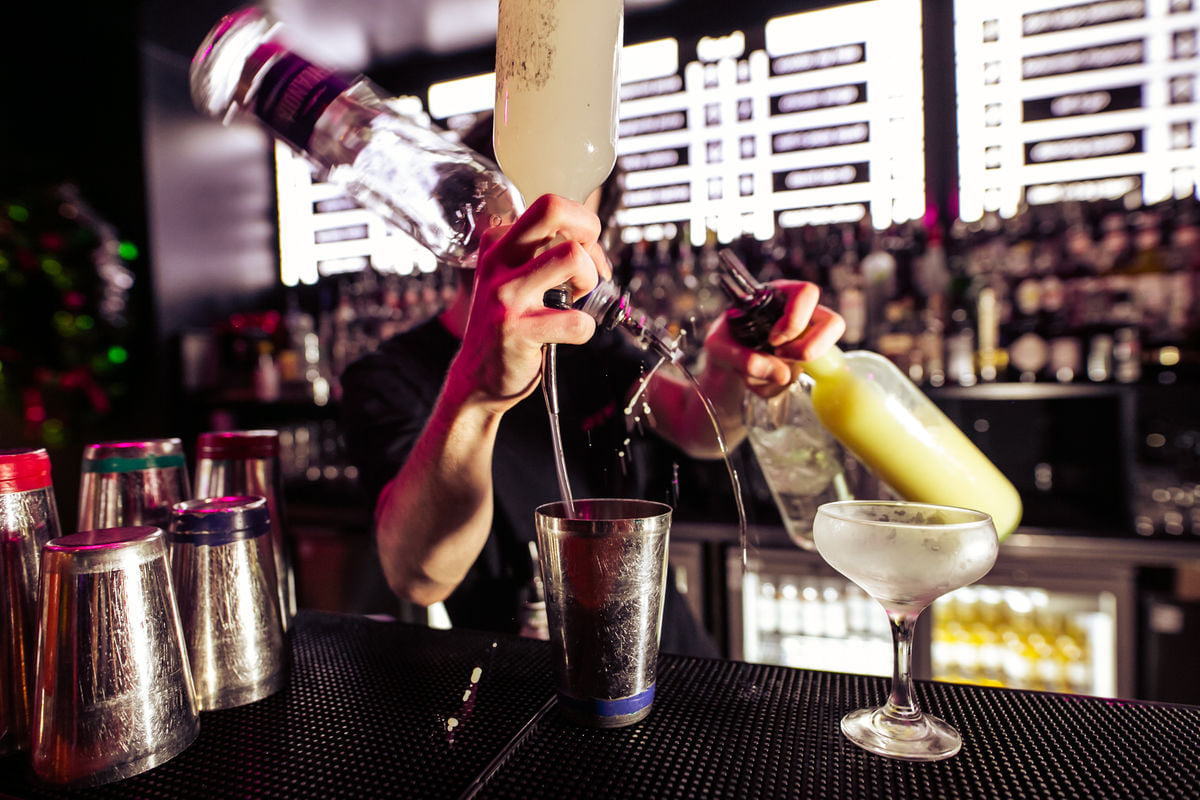 Are you ready to shake it like a Polaroid picture with a London cocktail making session at Lucky Voice? Choose whether you'd like to go to Holborn or Islington and head there for a fun-packed hour of shaking, stirring, mixing and muddling. One of their professional mixologists will lead your class, teaching you how to make 3 drinks and providing bar snacks. Some of Lucky Voice's cocktail masterclasses even include a karaoke room for your group where you'll belt out karaoke classics for a full hour. It doesn't matter if you can't quite hit those Whitney or Mariah high notes because you'll be in a private room, just for your group. What's your go-to song?
Duration: 1 hour & 45mins
Welcome drink: Magic wand cocktail
Drinks you make: 3
Food: No
Price: From £36.99 per person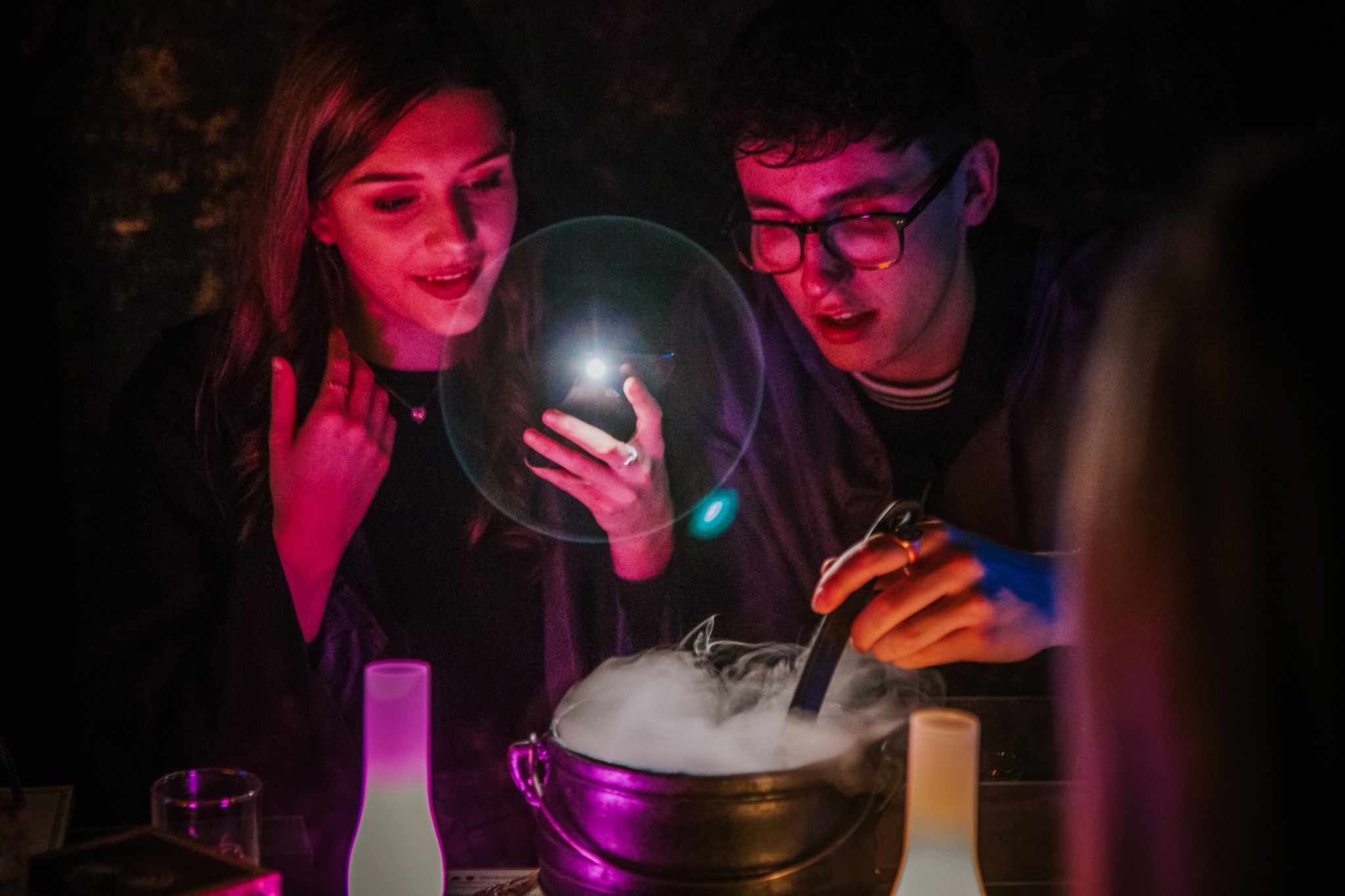 This is definitely one for any budding wizards and witches out there! Enter The Cauldron and feel like you've stepped into a fantasy novel or movie with magical décor that'll totally immerse you in the theme. Each of you will don a cloak and be handed your very own magic wand. Think of this cocktail making session as potion making as you learn how to create drinkable elixirs using molecular mixology and taught by a professional mixologist. Watch your drinks bubble, smoke and change colour before your eyes! Create three molecular cocktails each, sipping on everything you make soaking up this immersive theme. These impressive smoking drinks are just begging to be put on your Instagram!
Duration: 2 hours
Welcome drink: Gin cocktail
Drinks you make: 4
Food: No
Price: From £70 per person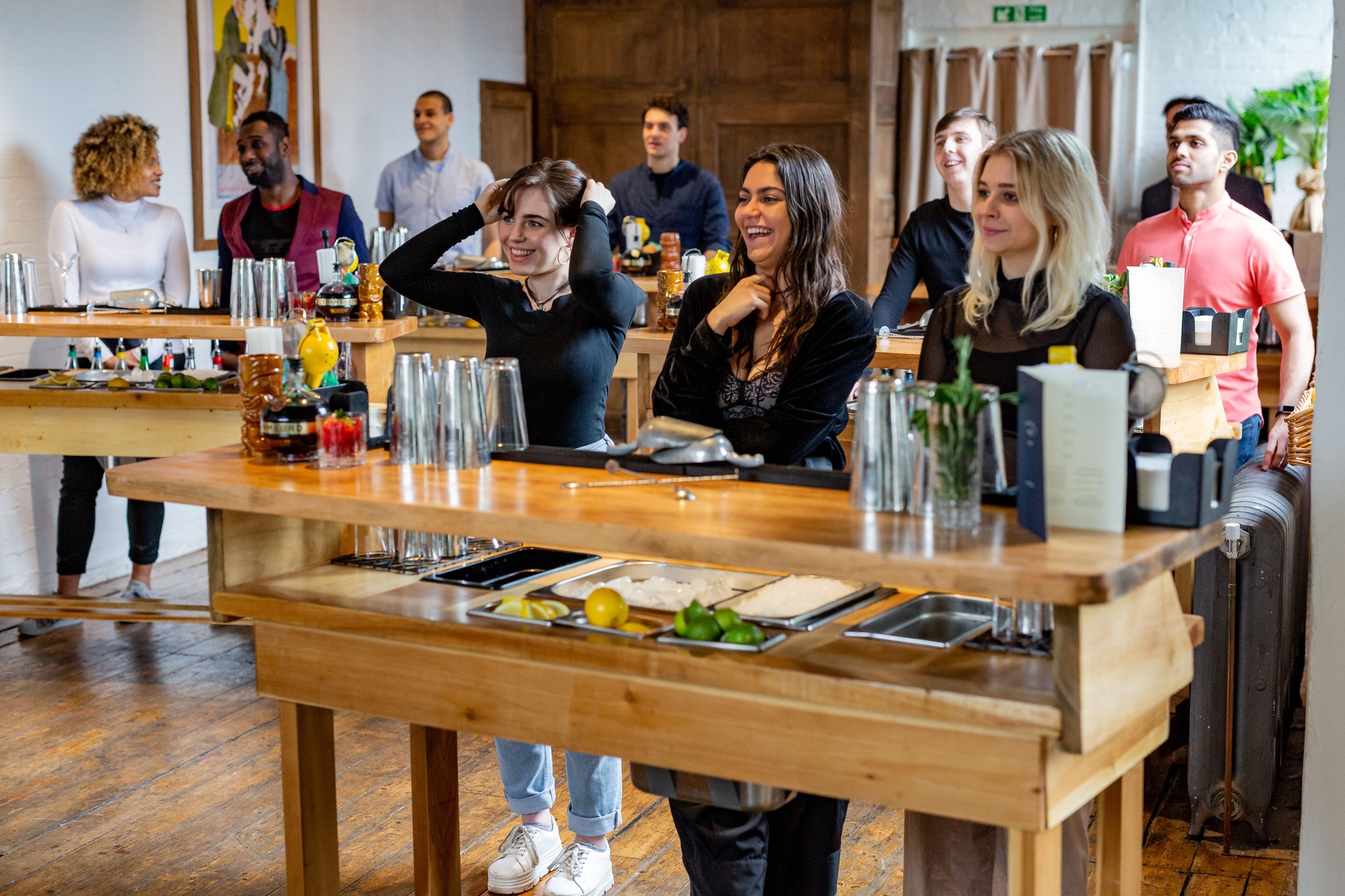 TT Liquor is based in Shoreditch and offers high-end gin cocktail making class in London where you'll create four mouth-watering cocktails each and even design your own drink. If you want to add a touch of sophistication to a special occasion, gin masterclass will do just that. Your dedicated gin expect will teach you all about the history of Mother's Ruin from its illicit background to present-day popularity. You'll have your own cocktail making station to get creative at with plenty of space. TT Liquor has an intimate cellar cocktail bar, a liquor store and a roof terrace with panoramic views across East London.
Duration: 2 hours
Welcome drink: No
Drinks you make: 3
Food: Nibbles
Price: From £40 per person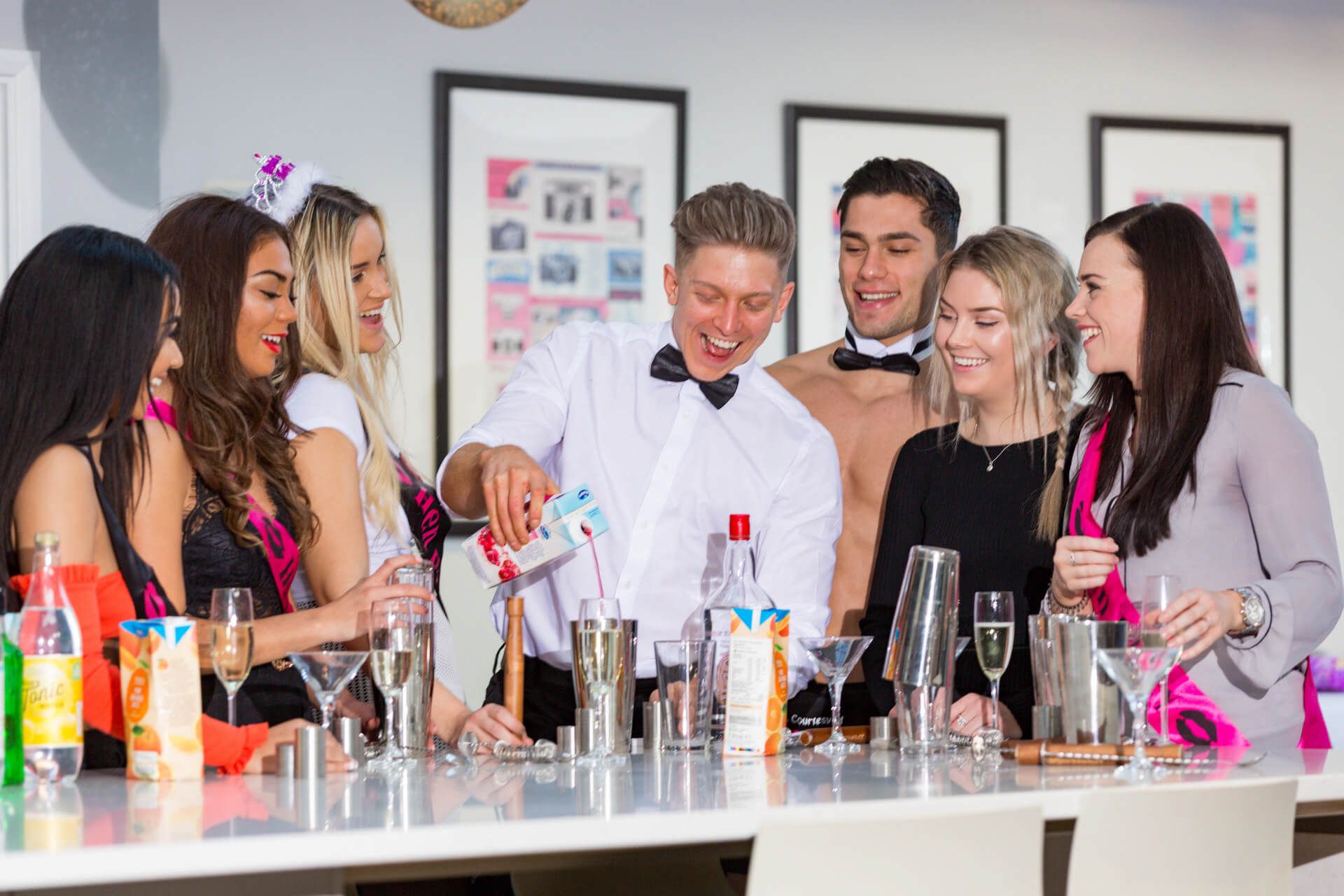 If you're celebrating a birthday or hen party in London, why not add a cheeky twist to cocktail making with the addition of a muscular mixologist? Your interactive masterclass will by led by a professional mixologist, wearing only a buff butler uniform. Think collar, cuffs, bowtie and bottom-baring apron! Once you finish blushing, it's time to learn how to whip up the tastiest drinks in town. You'll make (and drink!) three cocktails each. Don't worry if you're a bit of a lightweight as you'll also munch on a range of nibbles to help line those stomachs. Your mixologist will host games and pose for selfies to make this a party to remember.
Duration: 2 hours
Welcome drink: No
Drinks you make: 3
Food: No
Price: From £305 per group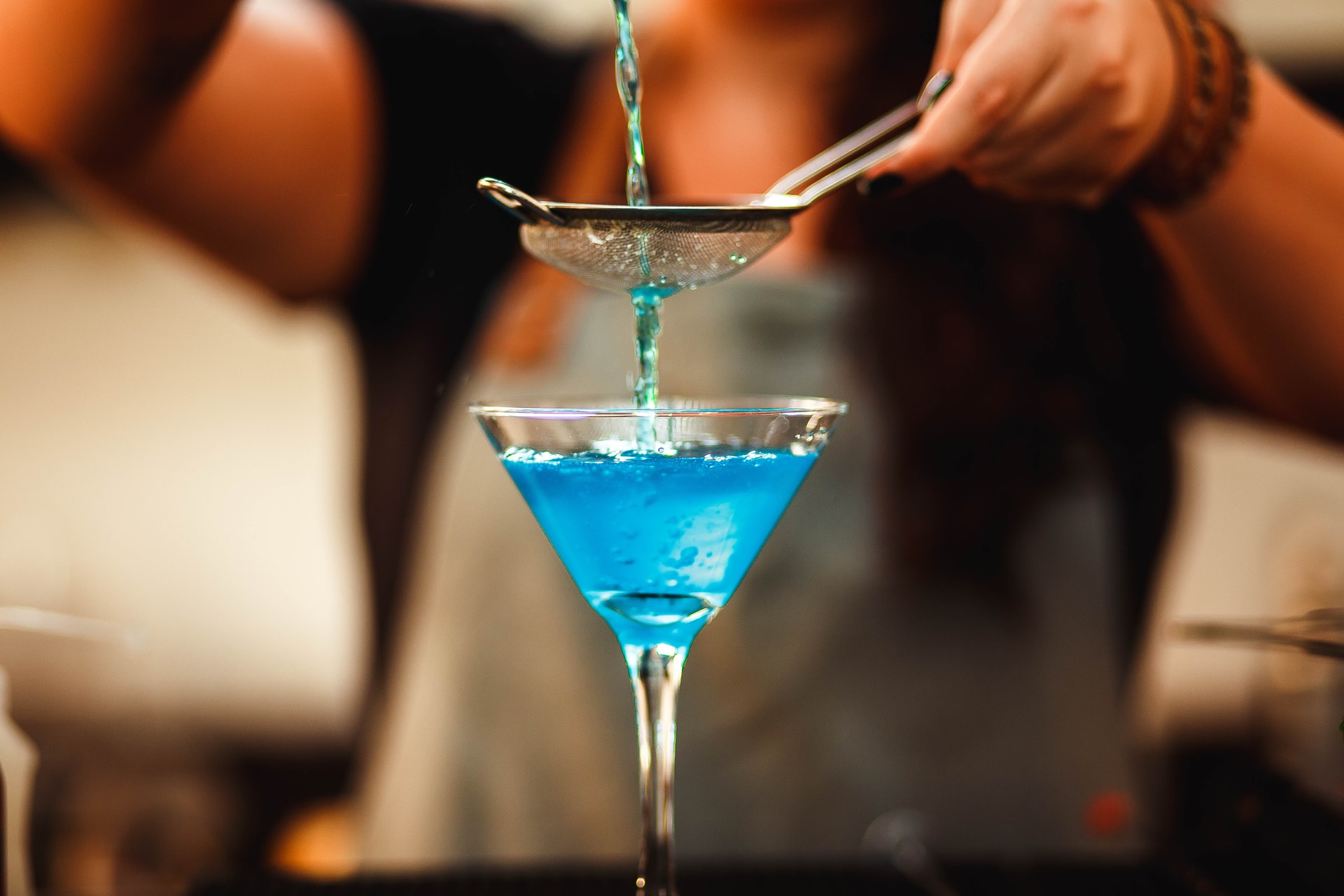 You might have heard lately that staying in is the new going out. If you agree with this theory, you'll be pleased to hear that you can try cocktail making masterclasses in London in the comfort of your own home! A professional mixologist from Tipsy Parties will come to your home, hen house or hired venue to guide you through the wonderful world of cocktail making, bringing all the spirits, mixers, garnishes, equipment and glassware you need to shake your way to drink perfection. You'll create three drinks each and can enjoy every sip in a laid-back atmosphere. Plus, because this is a mobile cocktail making experience, you can choose your dress code and decorate the venue however you like.
8. Dirty Martini
Duration: 90 minutes
Welcome drink: Bellini
Drinks you make: 2
Food: Sharing platters
Price: From £30 per person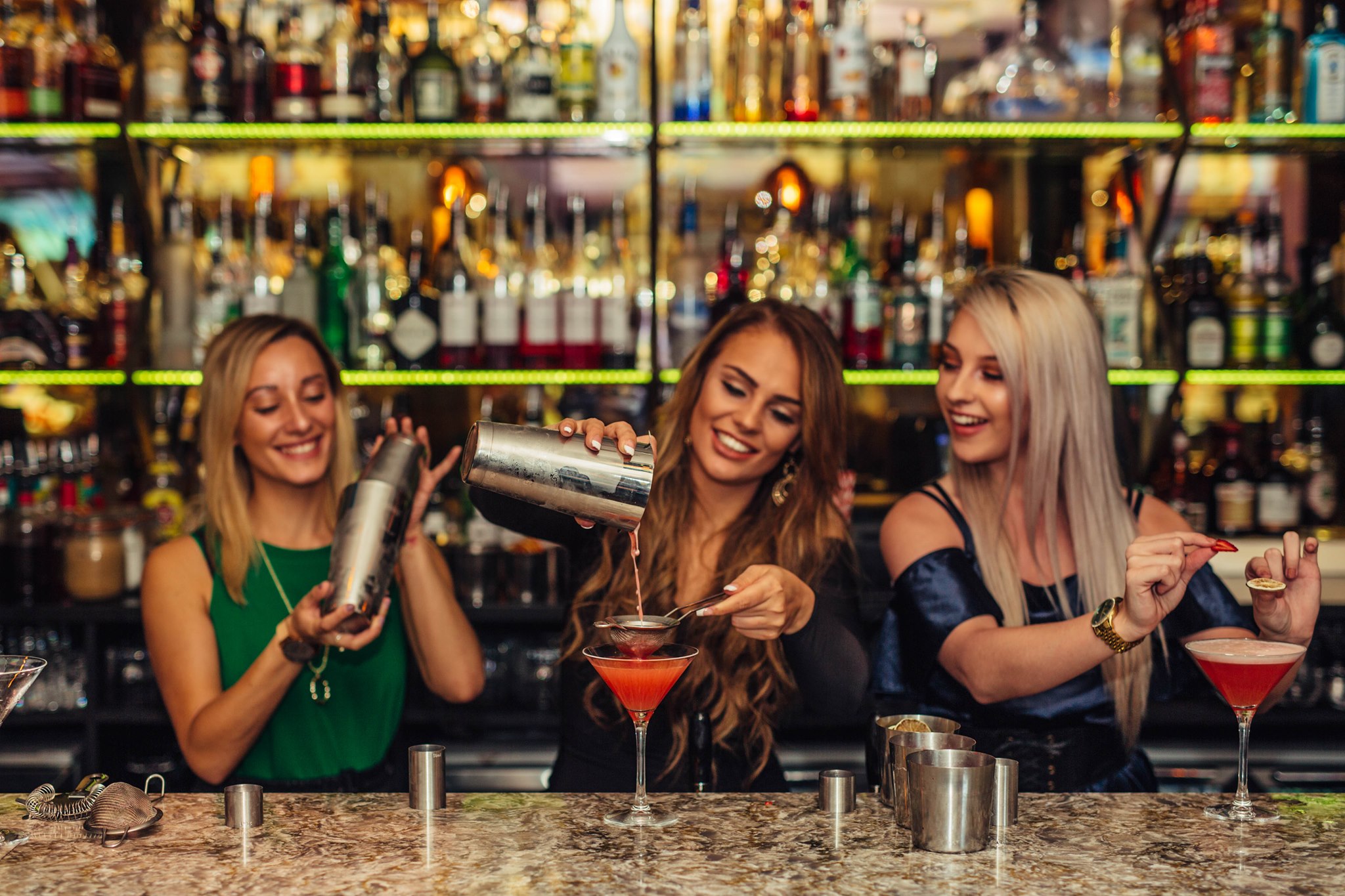 Dirty Martini has venues across London including Covent Garden, Islington, Monument and St Paul's. When you first arrive, you'll be given a Bellini cocktail each to set the mood before you start on the mixing, muddling and shaking yourself! The professional mixologist will lead your masterclass and give you all the right hints and tips on how to create the perfect drink. You'll make and sip on two cocktails each as well as tucking into some tasty sharing platters. A couple of you will head behind the bar to make your own creations whilst the others look on and see if they can fare any better when it's their turn! This is a great way to get your group together to try something new.
Duration: 90 minutes
Welcome drink: Prosecco
Drinks you make: 2
Food: Nachos & fries
Price: From £30 per person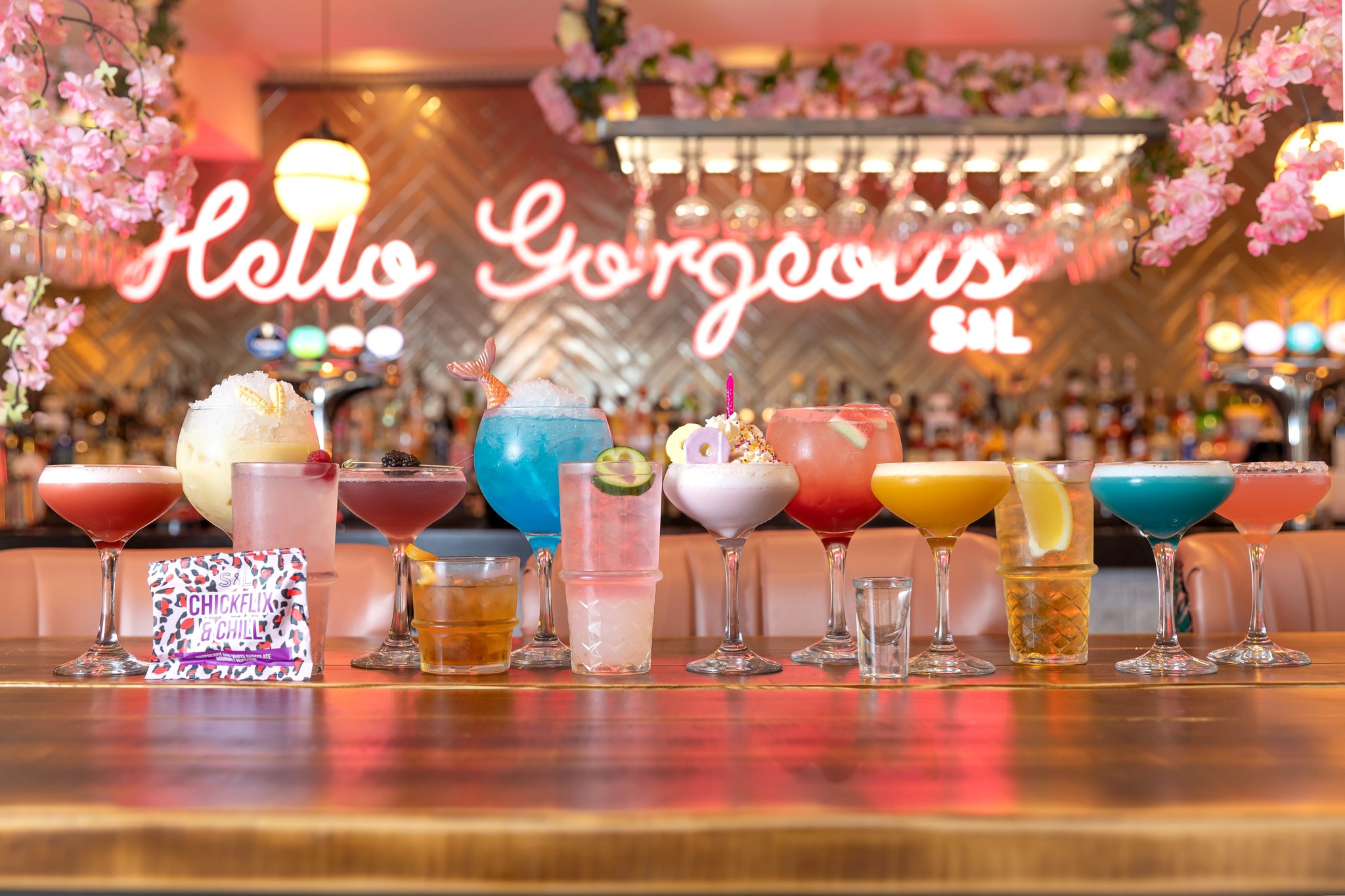 Slug and Lettuce hosts a fun London cocktail making class where you get to stir, shake and make two cocktails under the tutelage of the expert bartender. Learn how to make the classic cocktails we all know and love so you can recreate them next time you have friends over for drinks! With a glass of prosecco on arrival, you're truly spoilt here from start to finish. The bartender will show you how it's done, showcasing the tricks and tools of the trade, before you head to the bar yourself and have a go. You could make a Pornstar Martini, Espresso Martini, Bramble or a Mojito. You can find a Slug and Lettuce and Leicester Square, Tower Bridge, St Paul's, The O2 Arena, County Hall and more locations.
Duration: 90 minutes
Welcome drink: Caipirinha
Drinks you make: 3
Food: Tapas
Price: From £30 per person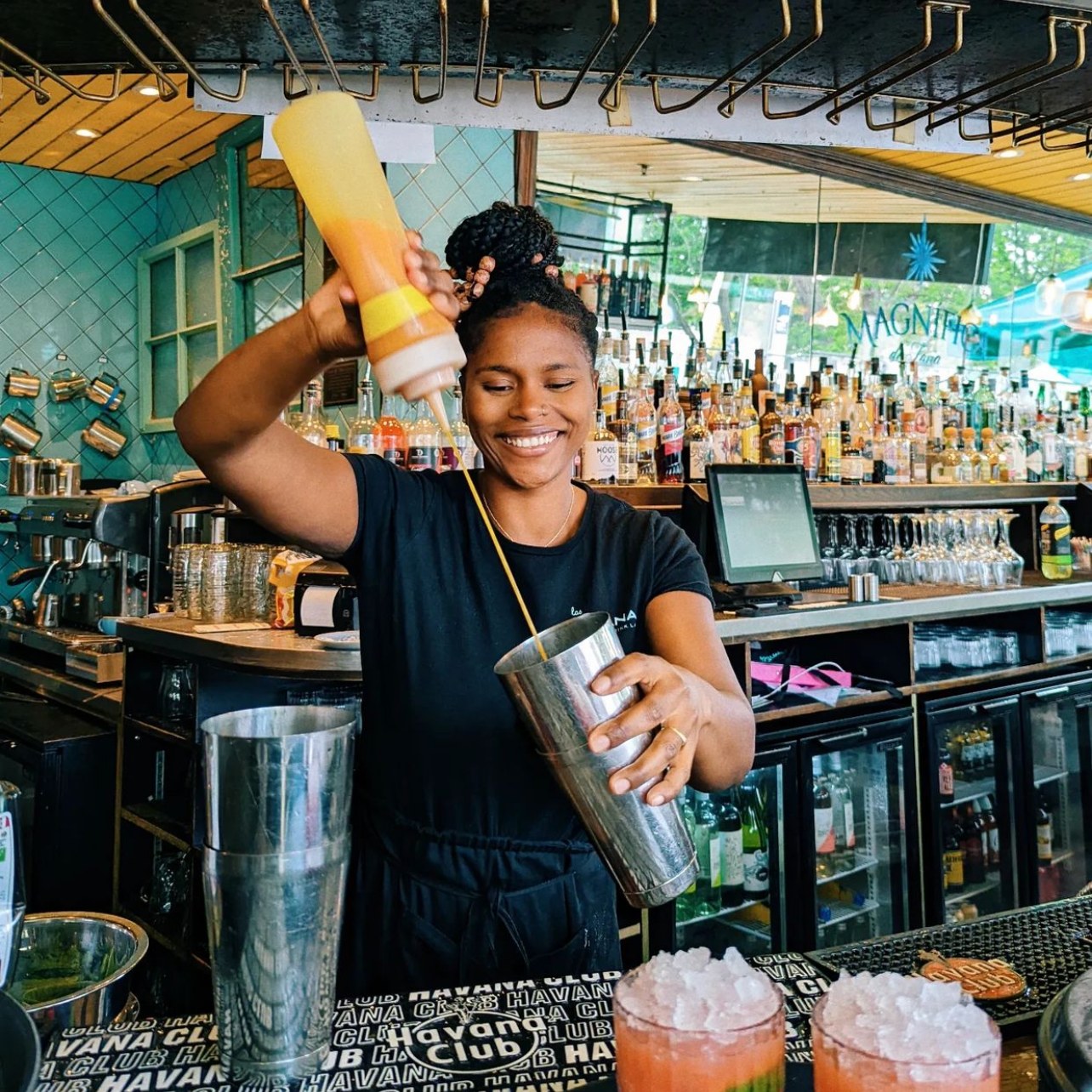 Enter this venue and celebrate Latin America spirit with their fun atmosphere, décor, food and, of course, cocktails! In this lively cocktail masterclass, you'll be greeted with a delicious caipirinha each (Brazil's national cocktail) before watching demonstrations from the expert mixologist. They'll give you a warm welcome before teaching you about the history of their famous cocktails and sharing a few samples. You'll make two cocktails each from scratch and will taste test everything you make. Fun games, such as cocktail making races and blindfold buddies, make things even more memorable. Once you're all shaken and stirred out, you'll enjoy one tapas dish each and a farewell cocktail to really sweeten the deal.
Book Your London Cocktail Masterclass Today
And there we have it, the 10 best cocktail making classes in London! Have a browse of our London cocktail making listings now, take your pick and create some crazy concoctions whilst you're there! With welcome drinks, games, food and expert knowledge to take home with you, you're guaranteed to have the best time whichever venue you decide to go with.