Planning a stag do is an exciting responsibility, but it can also be a bit overwhelming, especially when it comes to the budget. Fear not, fellow party planners! Fizzbox has got your back with a roundup of cheap and cheerful stag do ideas that won't leave your wallets feeling lighter than a feather. So gather the lads, put on your party hats and let's dive into a world of unforgettable stag do adventures that won't cost you an arm and a leg!
How to Throw a Stag Do on a Budget
With the help of Fizzbox, you can unleash all the stag do fun without breaking the bank. Remember, the key to an epic stag weekend is the company and the memories you create. By embracing our budget-friendly ideas, you'll throw a legendary party that the groom-to-be will cherish forever.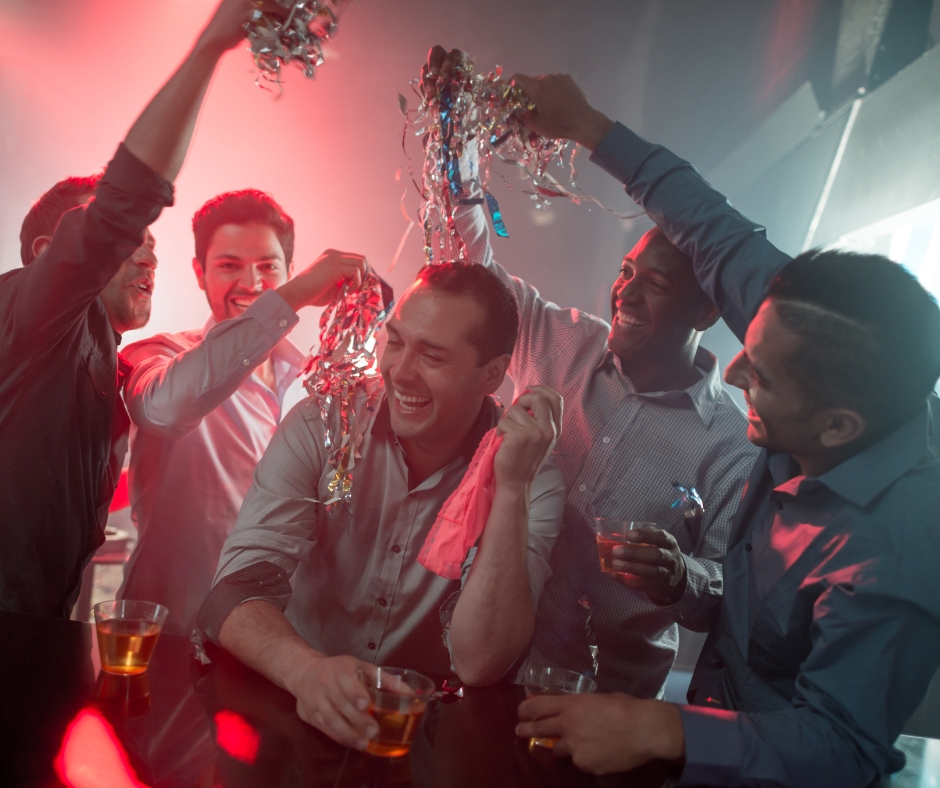 Let's start with the costs. The average stag do in the UK costs £199.72 per person and the average stag do in Europe costs £215.26 (minus flights). To help make things more affordable, it's a good idea to avoid the pricier cities. The most expensive European city for a stag do is Bratislava at an average cost of £279.25 per person and the most expensive UK stag do destination is Newquay at £221.88 per person on average.
The Most Affordable Stag Do Destinations
If you'd like to save money, why not check out these value for money stag do destinations? Below is a list of the average cost of a stag do per person in each of the destinations: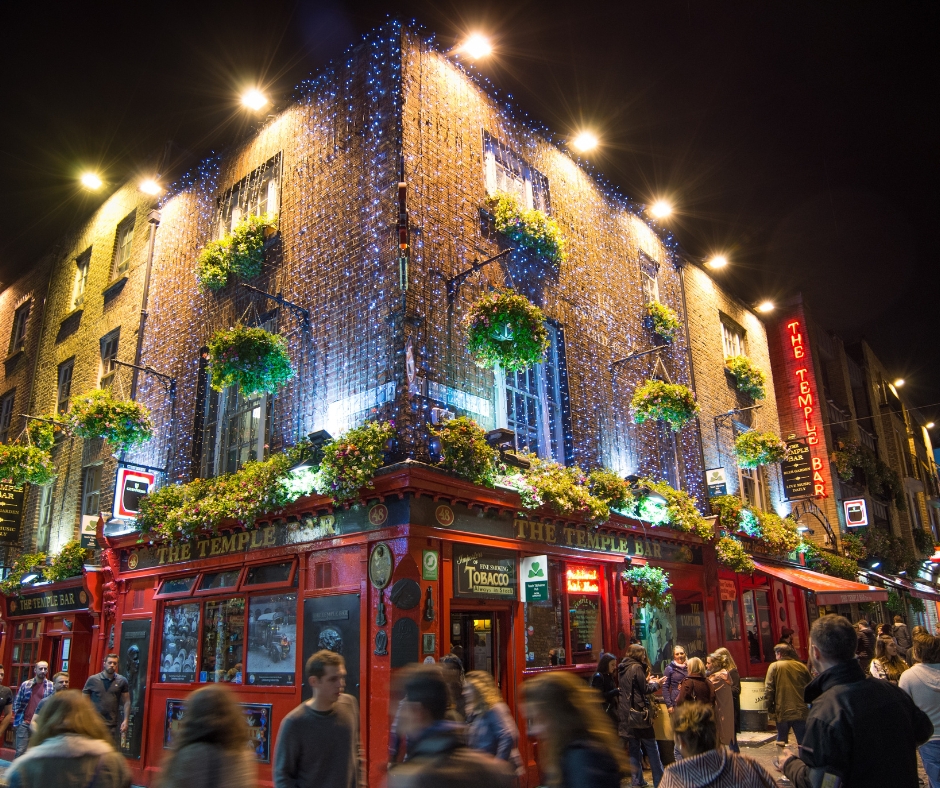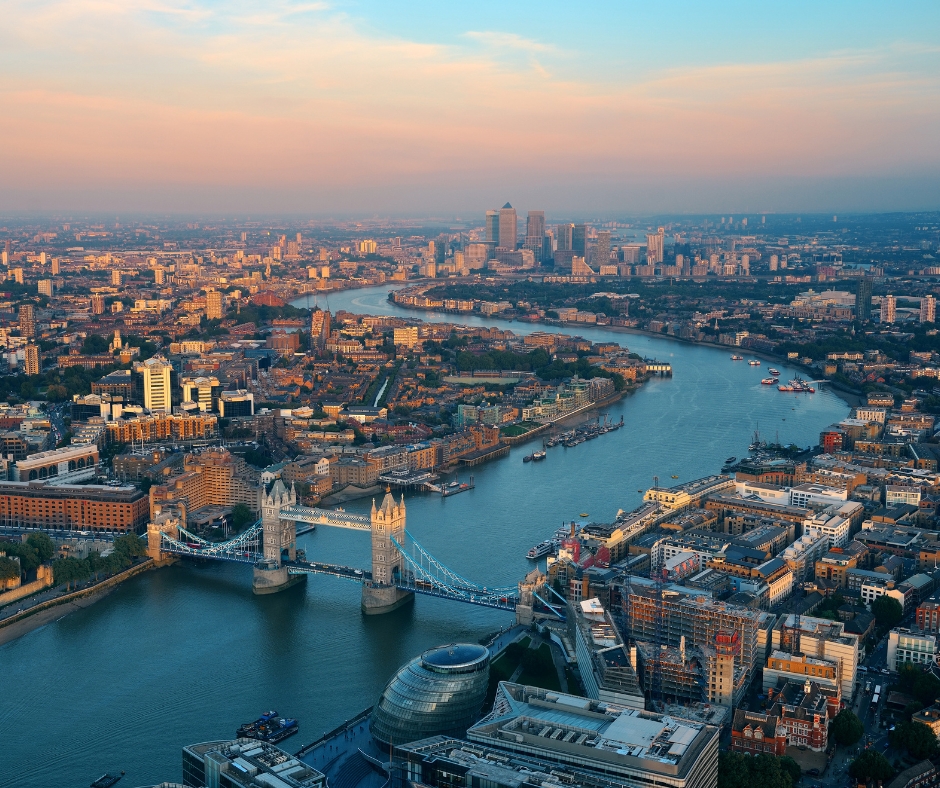 Top 10 Cheap Stag Do Activities
Want some cheap stag do activity inspiration? Here's some of the most popular activities that'll give everyone a great time without costing the earth:
1. Paintballing
Price: From £8.99 per person
Unleash your inner warrior as you don combat gear and get ready for an adrenaline-pumping day of paintballing! It's an epic way to bond with your mates while indulging in some friendly competition. You'll split into teams to go head to head, splattering each other with paint. Paintball is a great value for money activity, giving you all an exhilarating activity at a cost that won't break the bank. Who wouldn't enjoy saving some cash while dodging paintballs like a pro?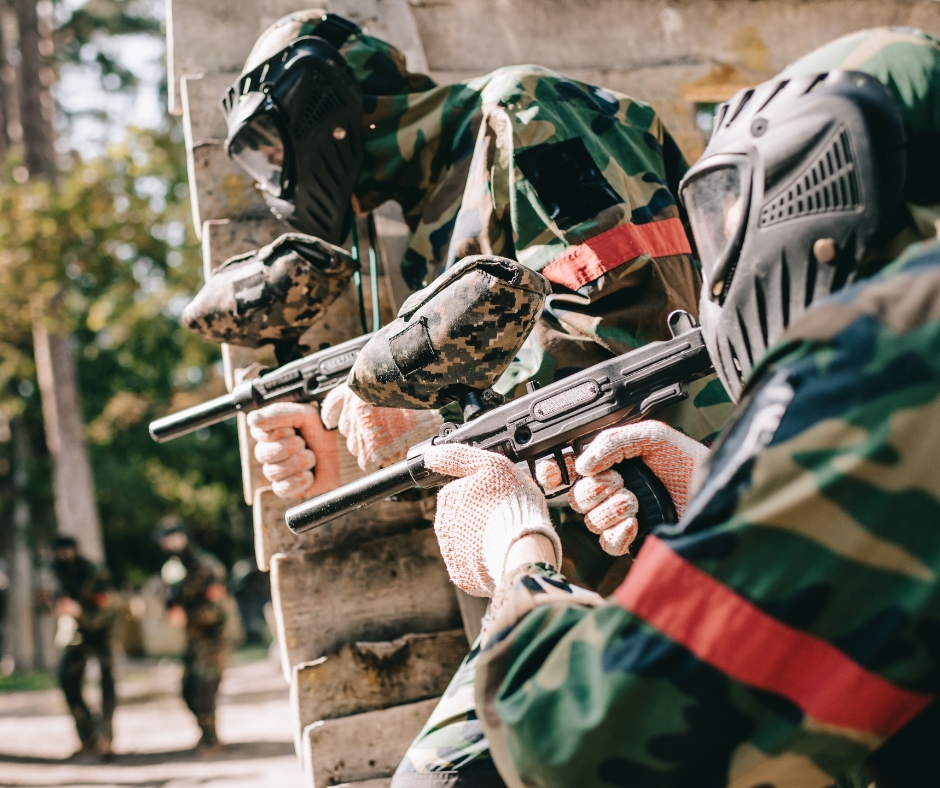 2. Bar Crawls
Price: From £8 per person
Embark on a bar-hopping adventure and explore the vibrant nightlife in your chosen city. A knowledgeable guide will take you on a route that includes the best pubs and bars in town with friendly locals and a fun atmosphere where you can really let your hair down. You can expect a range of watering holes from traditional boozers to swanky cocktail bars. Some crawls include drinks, happy hours and drink deals so you can get better value for money and enjoy the drinks flowing, instead of constantly keeping your eye on the budget.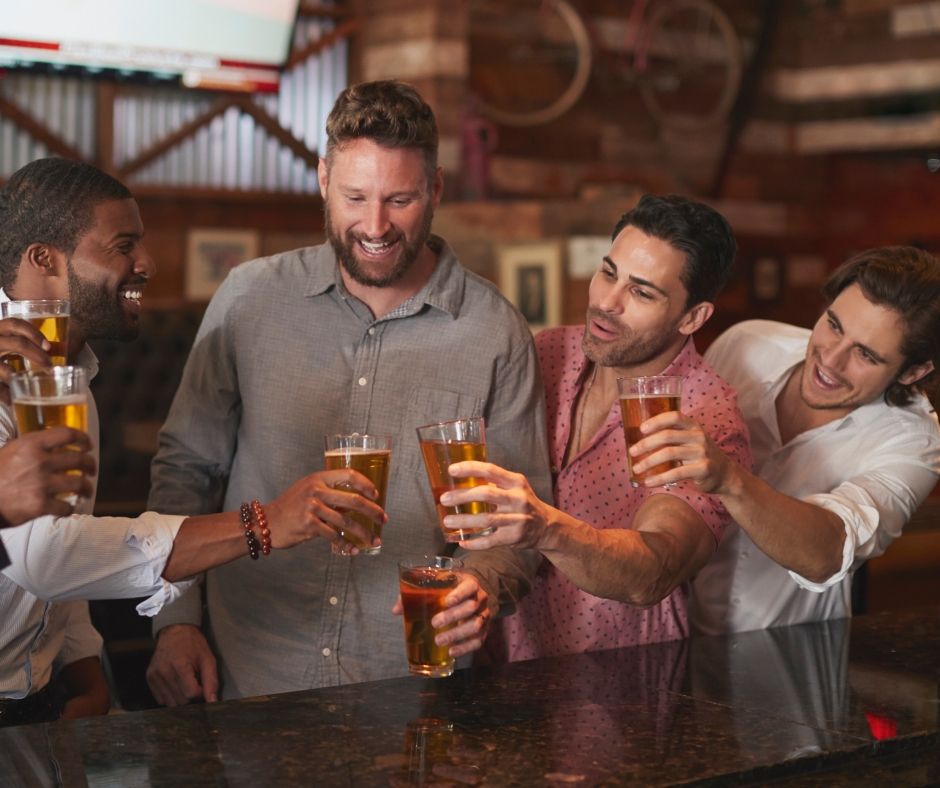 Price: From £7 per person
Looking to add some sizzle to your stag do? Get ready for a wild ride at a strip club or lap dance club! It's like stepping into a fantasy world where beautiful sirens take the stage, igniting the party atmosphere. The tantalising dances and seductive moves will have you and your crew cheering for more. It's all about celebrating the groom-to-be. You can even hire the female stripper to come to your home or accommodation! So unleash your inner party animals, raise a toast and dive into the thrilling world of exotic entertainment!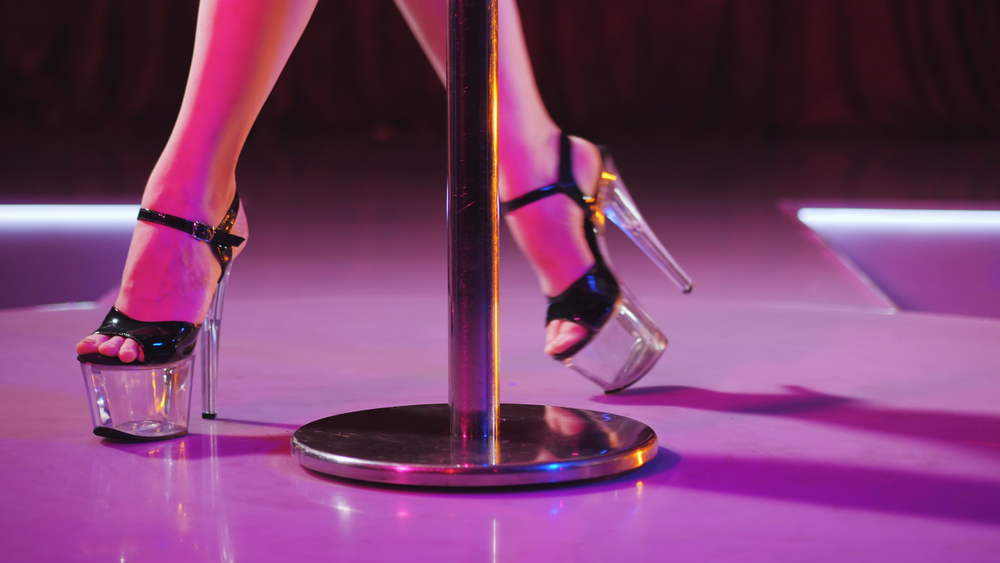 Price: From £25 per person
Kick, bounce and laugh your way through this wacky but wonderful activity that'll inject some hilarious banter into your stag do. Picture yourselves encased in giant, inflatable, one-man zorb balls, bouncing off your mates while trying to score a goal. You'll split into two teams to play this bonkers but brilliant game where you'll try to knock your friends flying like inflatable beach balls. This is a hysterical twist on the traditional game and an absolute blast without bursting your budget.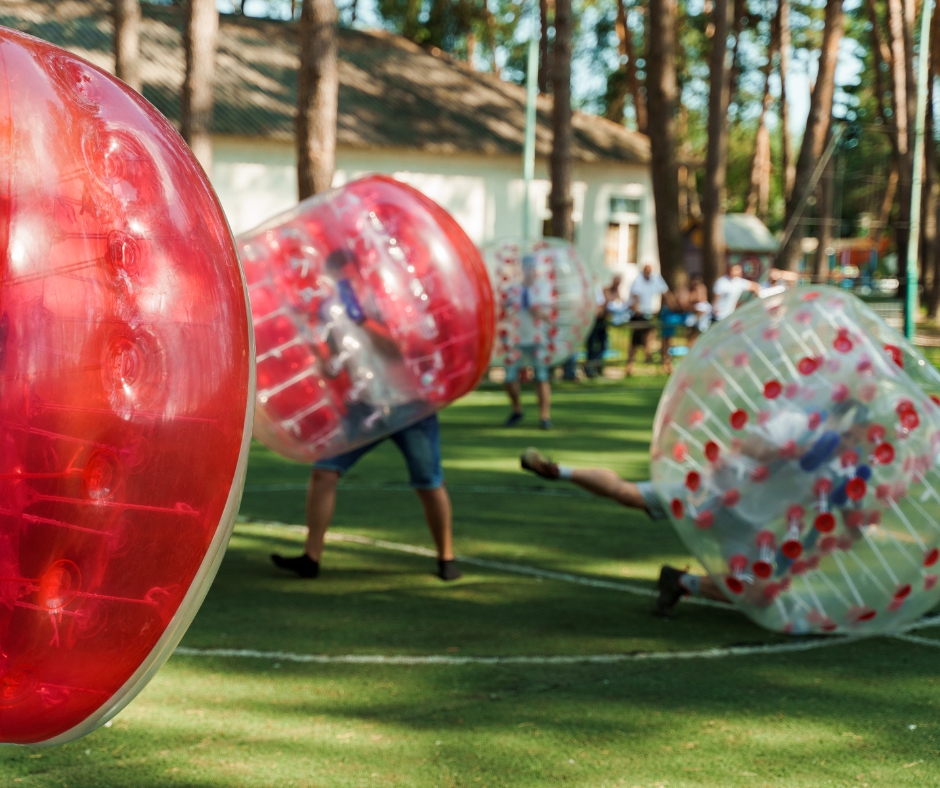 5. Beer Bike
Price: From £23 per person
Pedal-powered mayhem awaits on a legendary beer bike! As you explore the city streets, sipping ice-cold beer, the party vibes reach a whole new level of epic. It's like a pub crawl on wheels with each pedal stroke bringing you closer to the next refreshing pint. You'll even see some of your chosen city's most iconic sights as you pedal around. It's a hilarious, boozy adventure that'll have everyone laughing. So hop on, pedal hard and let the good times roll on the beer bike.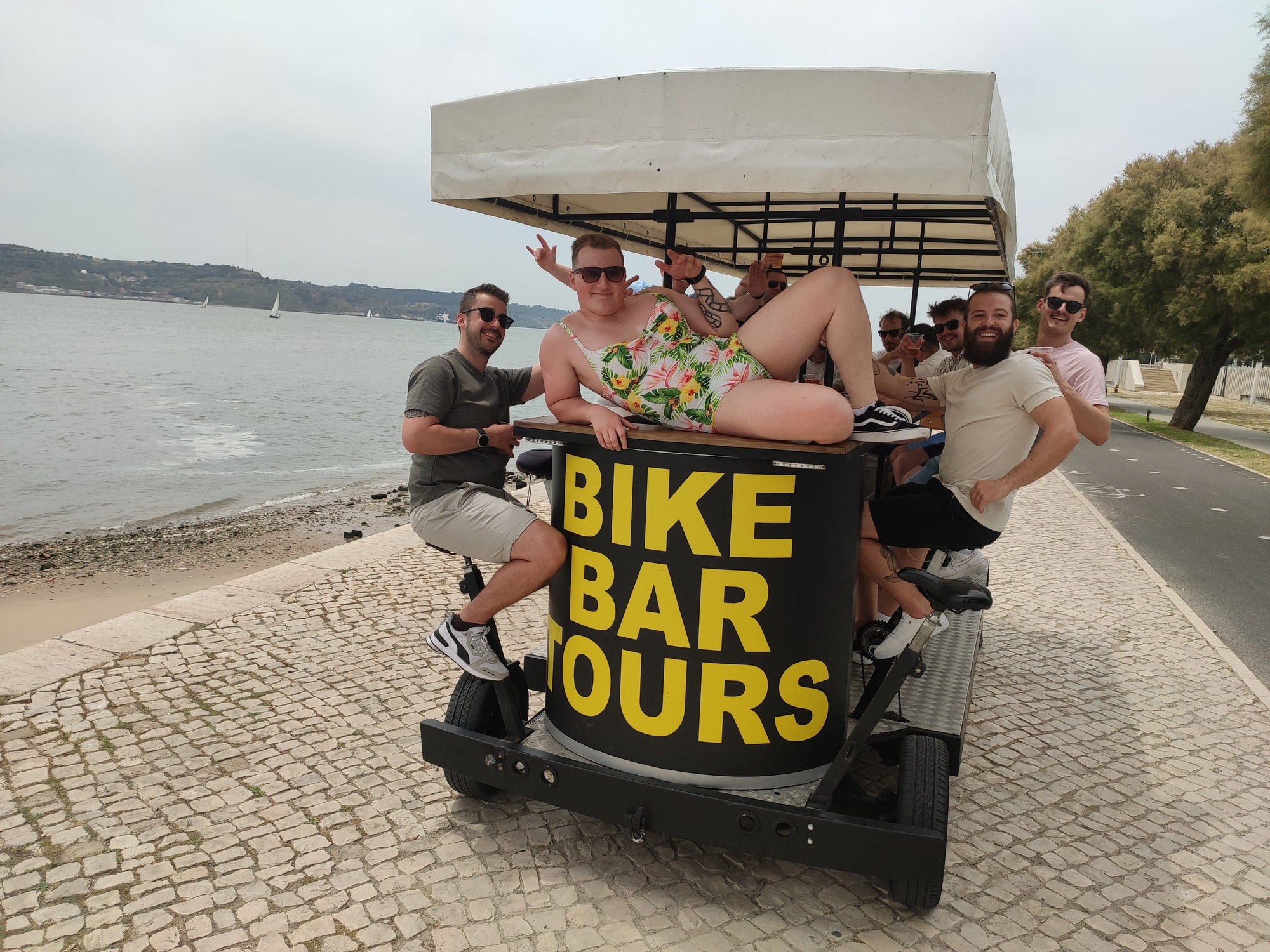 6. Comedy Club
Price: From £7.50 per person
We all know that laughter is the best medicine. If your group enjoys a good LOL, why not head to a comedy club? Enjoy a stellar line up of up and coming and famous comics who'll have you in stitches. Many venues have special offers for group bookings so you can enjoy a night of laughter without denting your wallet. Sit back, relax and let the comedians work their magic. It's a surefire way to create lasting memories and plenty of inside jokes.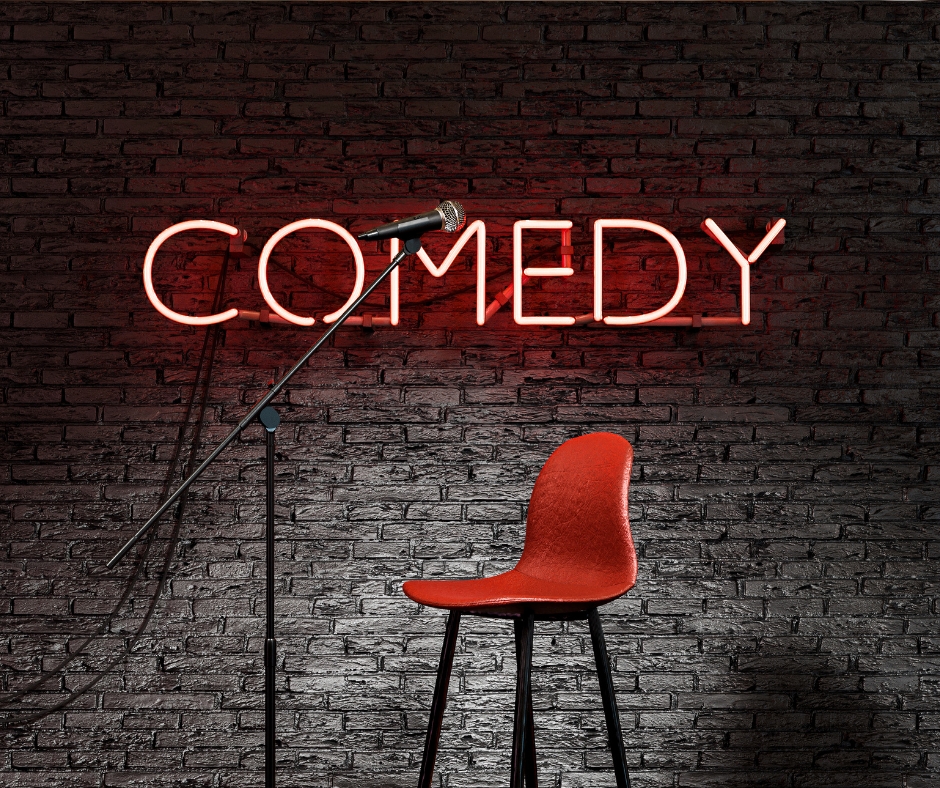 7. Footdarts
Price: From £25 per person
Looking for a stag do activity that combines two of the world's greatest sports? Say hello to footdarts! It's like a mashup of footie and darts where you kick a velcro football at a massive inflatable dartboard. The competition heats up as you and your mates aim for the bullseye, showcasing your accuracy and trick shots. It's a hilarious activity that'll have everyone laughing and cheering. So gather your football fanatics, unleash your inner Messi and get ready to score big laughs with footdarts!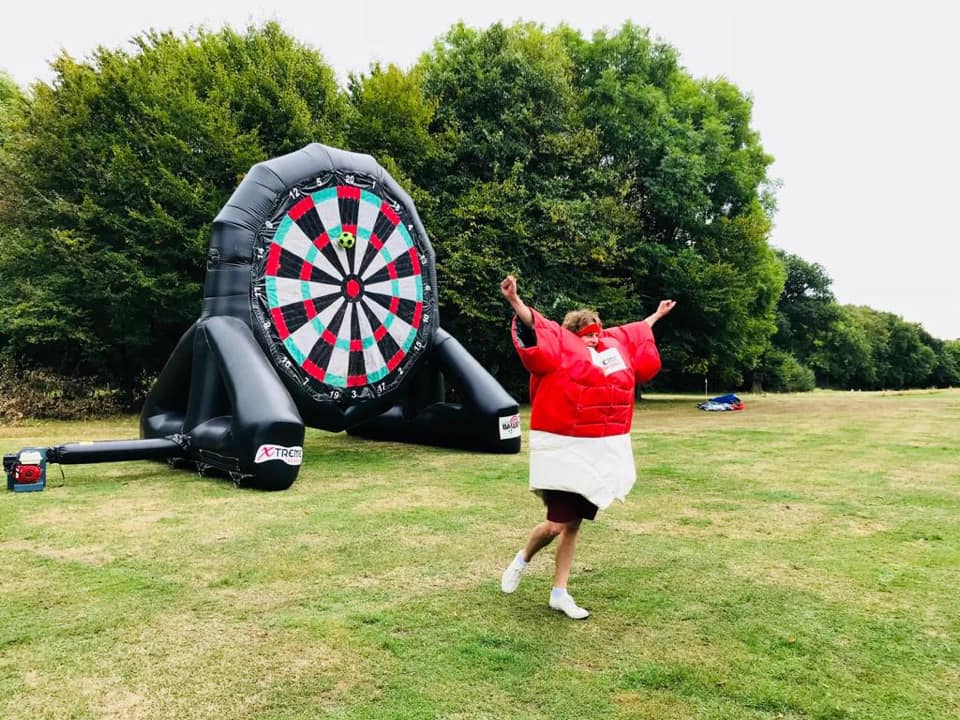 Price: From £23 per person
Fancy adding some cheekiness to your stag do on a budget? Then why not try nude life drawing? It's a hilarious and unforgettable activity that will have everyone channelling their inner artist while admiring the nude female form. A totally naked female model will undress for you and pose while you sketch everything you see on paper. If you're feeling naughty, you can even add a striptease! Get ready to embrace your artistic skills, have a laugh and create some unconventional masterpieces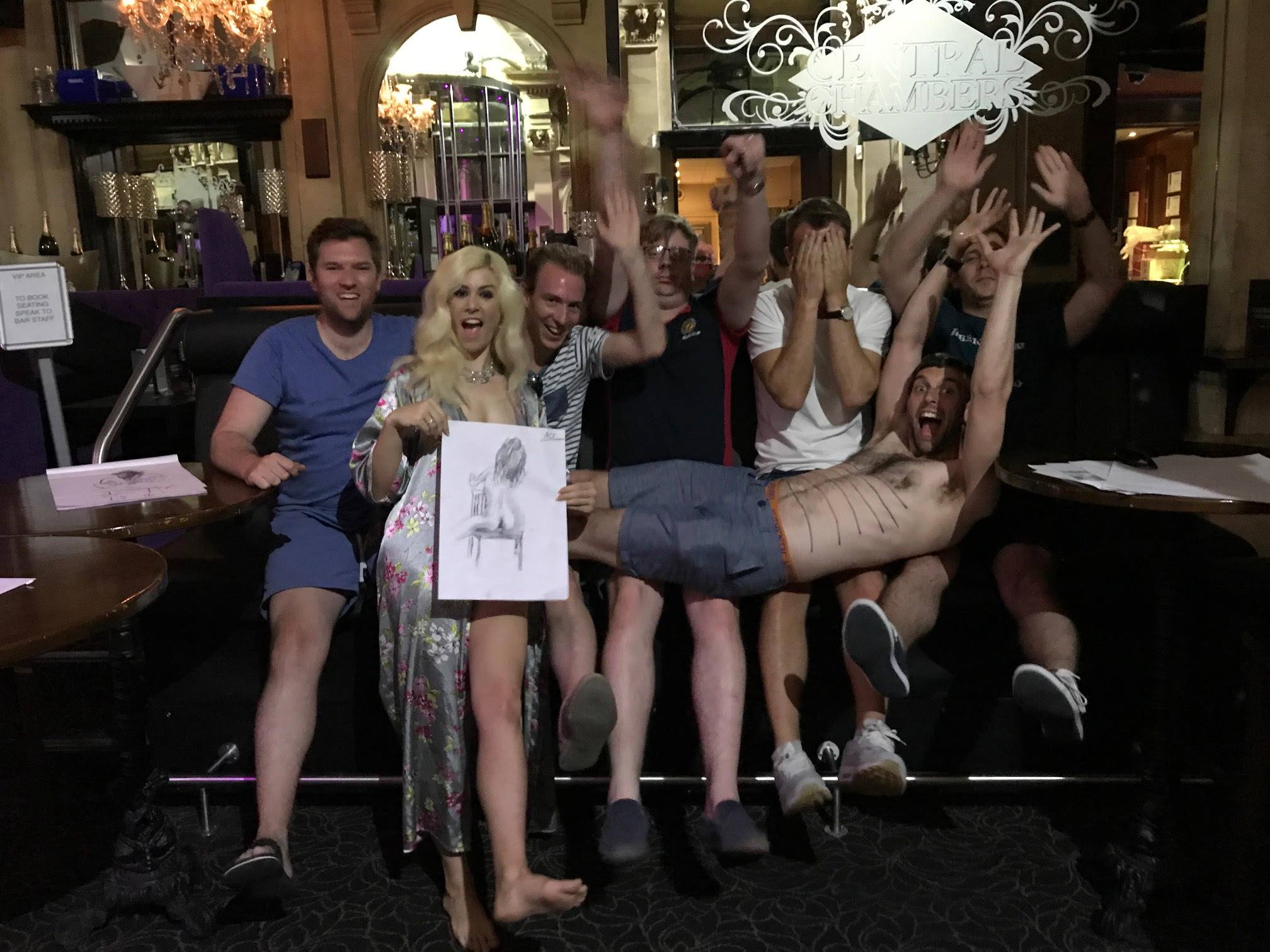 9. Casinos
Price: From £6 per person
Looking to level up your stag do? Look no further than a casino visit. You and the boy can get suited up like Bond and sip on fancy cocktails while Lady Luck winks in your direction. With games galore, from blackjack to roulette, the excitement is contagious. Bond with your buddies over high-stakes poker or cheer each other on at the slot machines. The thrill of winning (or losing) cash adds a rush like no other. So grab your groomsmen, roll the dice and let the good times roll!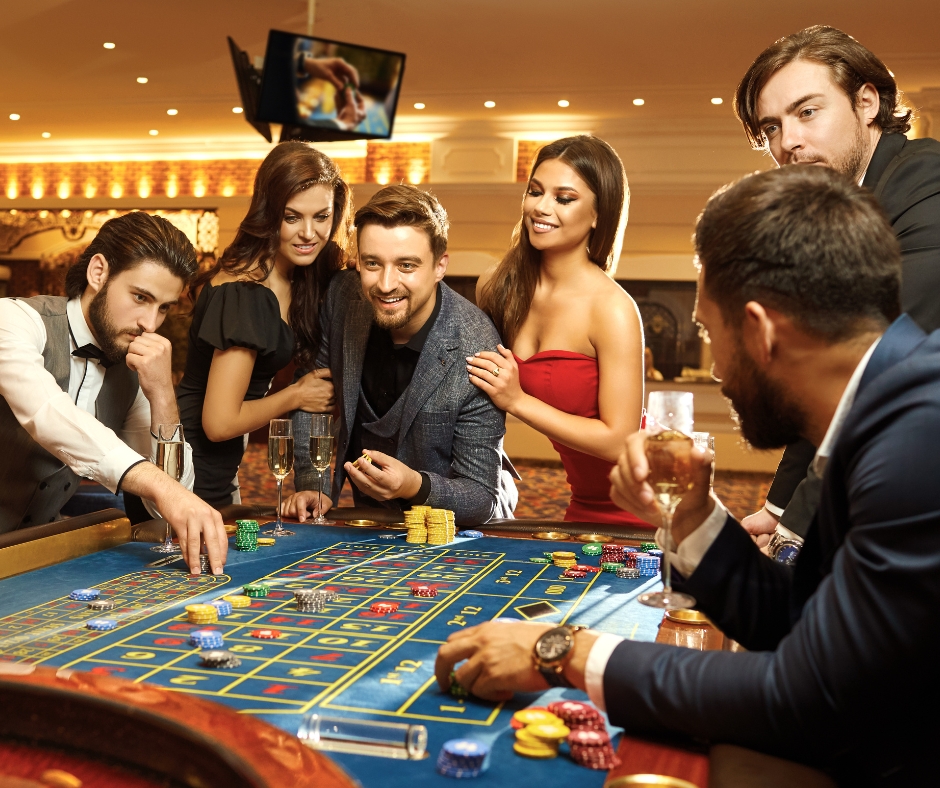 10. Beer Tasting
Price: From £17 per person
Sip and discover your inner connoisseur If your stag do crew consists of beer lovers, why not book a beer tasting session? You can visit local breweries or arrange a guided tasting with a knowledgeable expert. You'll learn all about how this delicious drink is made and what gives it that great flavour. And, of course, you'll get your hands on loads of samples. You can even use this activity as a warm up for a big night out. Cheers to a cheap stag do filled with good company and great brews!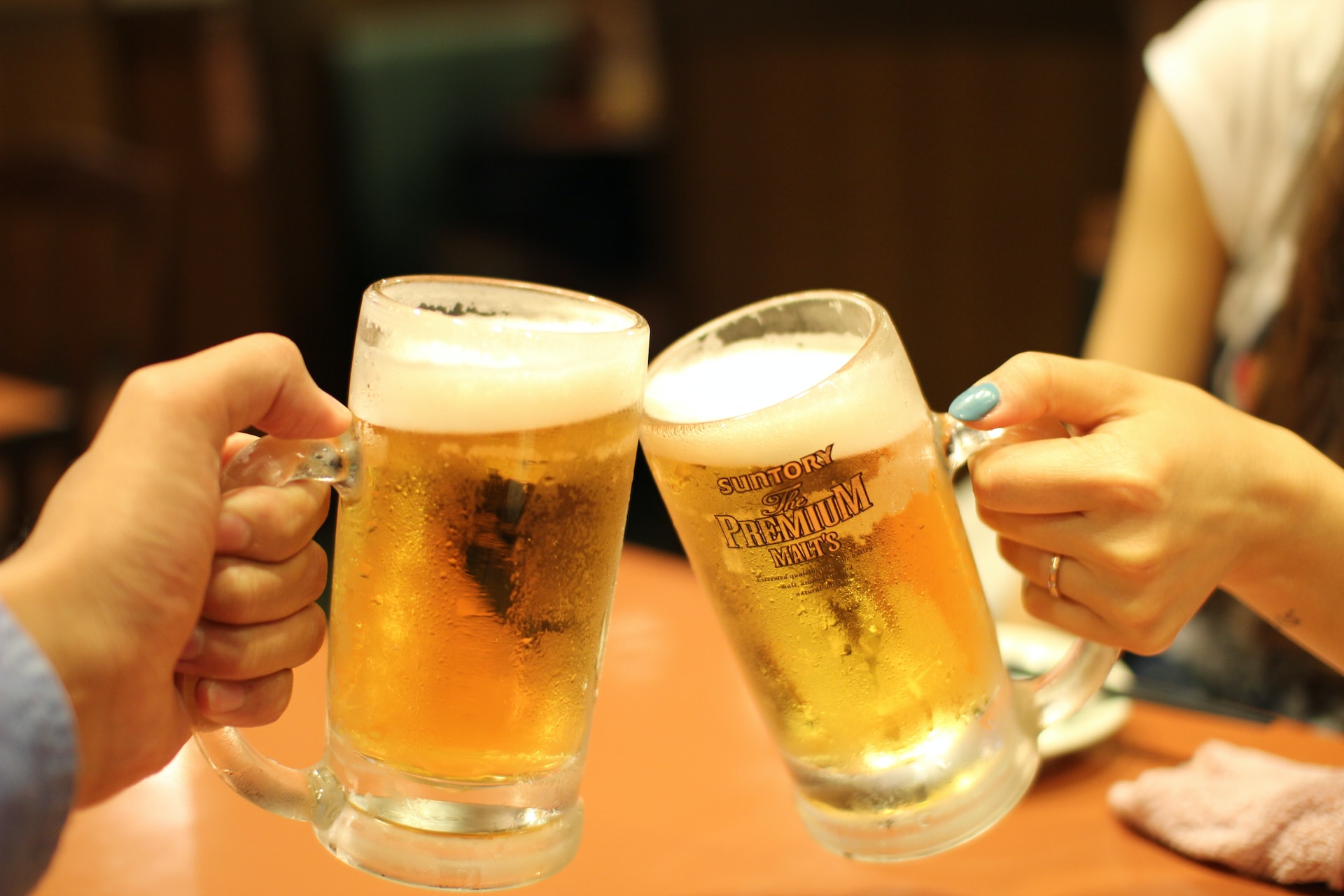 Planning a Cheap Stag Do
So, you're the chosen one to plan an epic yet cheap stag do but your wallet's feeling a bit light? Fear not, my friend, because we've got your back! Get ready to throw the most unforgettable bash without breaking the bank. Let's dive into the world of budget-friendly stag do planning:
1. The Guest List Gambit: First things first, make sure you have a solid guest list. Round up the groom's closest buddies and confidants and avoid inviting people who might drain your budget or kill the vibe. You should also prioritise quality over quantity.
2. Budget-Boosting Brainstorming: Gather the crew for a brainstorming session and unleash your creative powers. Discuss ideas for activities, themes and locations that won't cost an arm and a leg. Remember, it's all about the experience, not just the price tag and make sure to tailor what you're doing to suit the groom-to-be. It's all about him!
3. DIY Décor: Transform any space into a stag do wonderland with some DIY decorations. Get your hands on cheap banners, balloons and props. Think quirky themes like superheroes, retro gaming, football, 80s disco or whatever your boy is into. Let your imagination run wild!
4. Games Galore: No stag do is complete without some epic games. Opt for classic favourites like beer pong, darts, dares or a hilarious costume contest. These games will keep everyone entertained and won't cost you a fortune. Get ready for some serious laughter and friendly competition.
5. Food Frenzy: Who says you have to splurge on fancy dining? Keep it simple and cost-effective by organising a DIY BBQ or a pizza party. It's a great way to bond, satisfy those cravings and save some serious dough. Plus, nothing beats the camaraderie of grilling and cooking together. Just make sure not to burn the house down!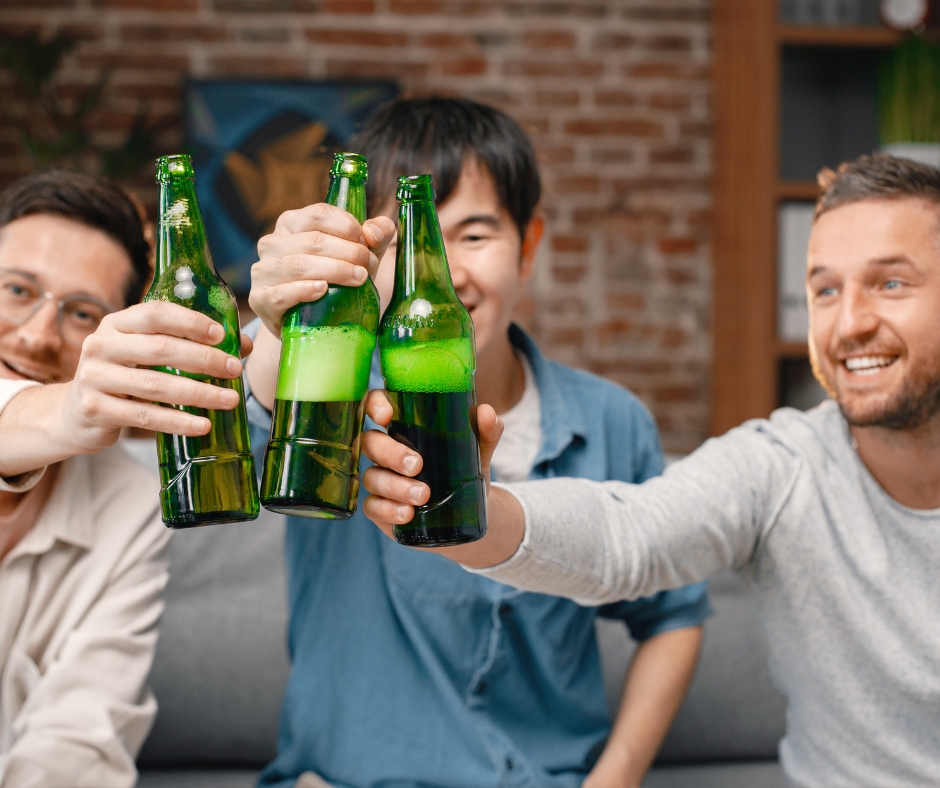 6. Booze Bargains: Stock up on your favourite tipples from the local supermarket where you can get some good deals. Buying from here instead of a bar will save you a bundle and you can even set up a makeshift bar at your stag do venue. Get creative with signature cocktails or a DIY beer tasting station. Cheers to cost-effective boozing!
7. Adventure on a Shoestring: Ditch the extravagant activities and opt for budget-friendly adventures. We've got a massive range of activities, starting at just £5 per person and helping everyone to make memories, from nightclubs to paintball, bubble football to strippers. Embrace the thrill and adventure without emptying your wallet.
8. DIY Photoshoot Fun: Capture the epic moments without hiring a professional photographer. Assign someone in the group as the designated photographer and let them snap away. Create fun props, silly poses and take loads of embarrassing photos to laugh at the next day. It's all about having a blast, not picture-perfect perfection.
9. Transport Tactics: Save on transport costs by carpooling or using public transport. If you're feeling extra adventurous, why not opt for a cycling tour around the city? It's a unique way to explore, burn some calories and keep the budget in check while you get where you need to go.
10. Surprises from the Heart: Nothing beats a heartfelt gesture. Encourage the crew to write funny or meaningful notes to the groom, sharing their favourite memories or well wishes. It's an inexpensive yet priceless way to show your love and appreciation to your mate on his last weekend of freedom.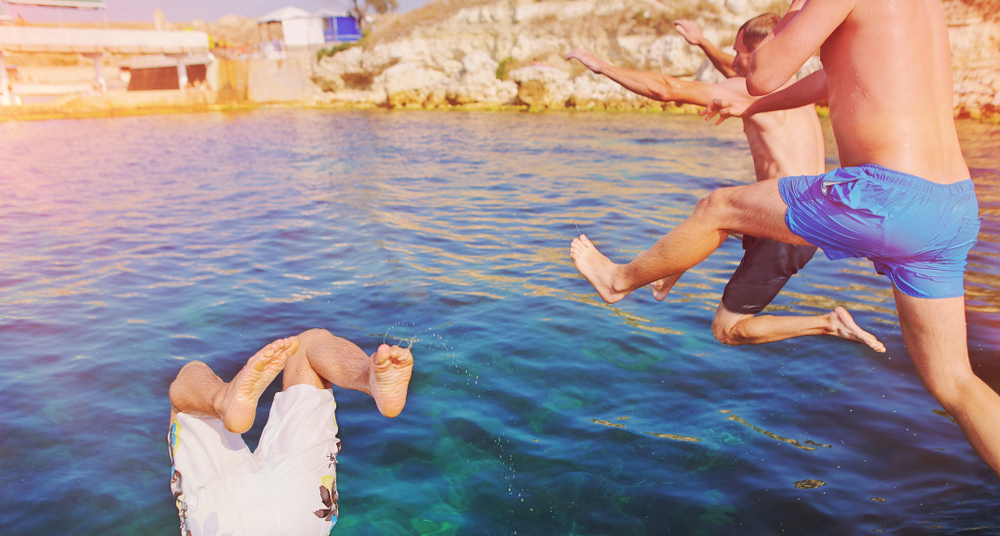 Top 10 Money Saving Tips for Stag Parties
Read on to find out how to save money on your stag in simple ways that'll make sure you all still have a great time:
Book in Advance: Many activities, venues and travel companies offer early bird discounts, so secure your bookings ahead of time.
Share Accommodation: Look for budget-friendly accommodations that can comfortably house your entire group, reducing individual costs.
DIY Decorations and Accessories: Get creative and make your own stag do decorations and costumes, saving money on pre-made items.
Pool Resources: If possible, ask each member of the stag party to contribute a small amount towards a shared pool of money, which can be used for activities and meals or paying for the groom-to-be.
Plan Transport Wisely: Opt for public transport or shared rides instead of expensive taxis, and consider group transportation options for longer distances.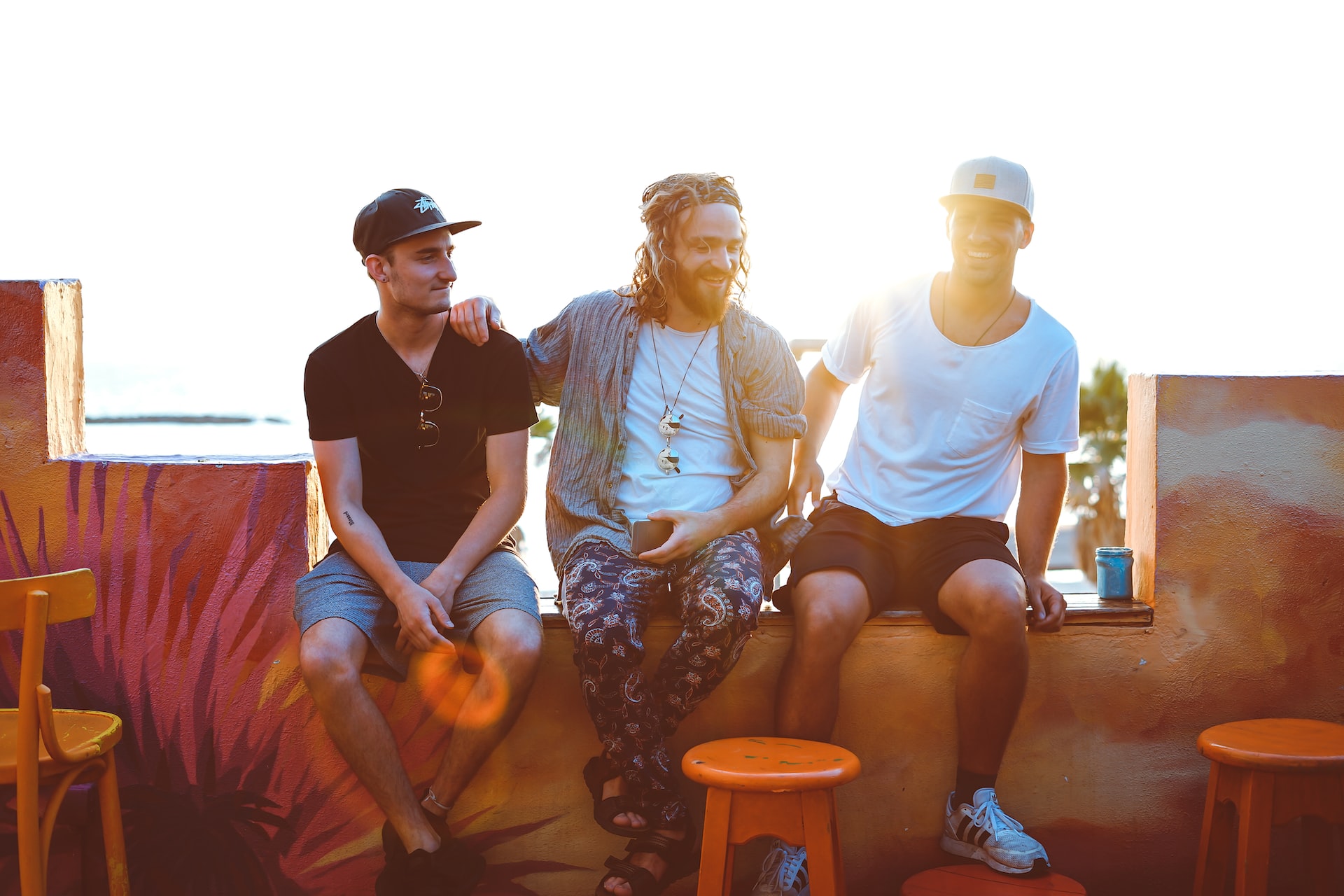 Avoid Bank Holidays: The cost of transport and accommodation rises considerably on bank holidays with people making the most of the three or four day weekend so avoid these if possible.
Book Activities with Fizzbox: By booking your stagtivities with Fizzbox, you'll benefit from deposit options, split the bill and no nasty booking fees, saving you money and hassle.
Hunt for Discounts: Many chain restaurants offer discounts on meals on their websites and apps that can save you money and give you freebies, such as Meerkat Meals and the Taste Card, both of which offer 241 dining.
Keep it Local: The further afield you head on your stag do, the higher the costs will be due to accommodation, transport and even flights. Staying local cuts these costs while still giving you an epic weekend.
Seek Out Hidden Gems: When it comes to accommodation, don't fall into the trap of booking the first fancy hotel you see. Explore the world of budget-friendly stag do ideas and look for quirky hostels, cheap and cheerful bed and breakfasts or even camping sites where you can pitch your tents and have a hilarious stag do under the stars. Who needs a five-star hotel when you've got your best mates by your side?
Book an Affordable Stag Do Today
Who says you need deep pockets to have an unforgettable stag do? With these wallet-friendly ideas and money-saving tips, you can create an epic celebration without draining your bank account. Remember, it's the company and the shared experiences that truly make a stag do memorable. So gather your lads, get your game faces on, and prepare for a budget-friendly adventure of a lifetime. Cheers to the groom-to-be and a stag do filled with laughter, camaraderie and priceless memories!