With the wedding day approaching, there's never been a better moment to think about what you'll be putting in your bridesmaid survival kit. Whether you're a bride gifting her bridal squad these emergency kits for the wedding day, or you're a group of bridesmaids collecting the items for the big day yourselves and need a little inspo, then you've come to the right place, because we're excited to reveal the top 10 most popular items!
In December 2022, we ran a survey to 500 bridesmaids about bridesmaid survival kit essentials and asked them to choose their top 10 items from a choice of 50, along with a series of other questions. Individuals were polled via online survey and were all previous Fizzbox customers. Remember, this isn't an exhaustive list, and we imagine there will be a few (or more) other useful items to add to your kit, some of which will be specific to your bridesmaids. So let's dive right in and explore these must-have bridesmaid survival kit essentials!
What Is A Bridesmaid Survival Kit?
First thing's first, it's probably a good idea to explain what a bridesmaid survival kit actually is, just on the off chance that you've not heard of them before. A bridesmaid survival kit is a bag of necessities given to bridesmaids for use during a wedding. The kit is composed of essential items such as make-up, toiletries and other items that will help bridesmaids with their role on the wedding day, and is usually gifted by the bride or put together by the bridesmaids.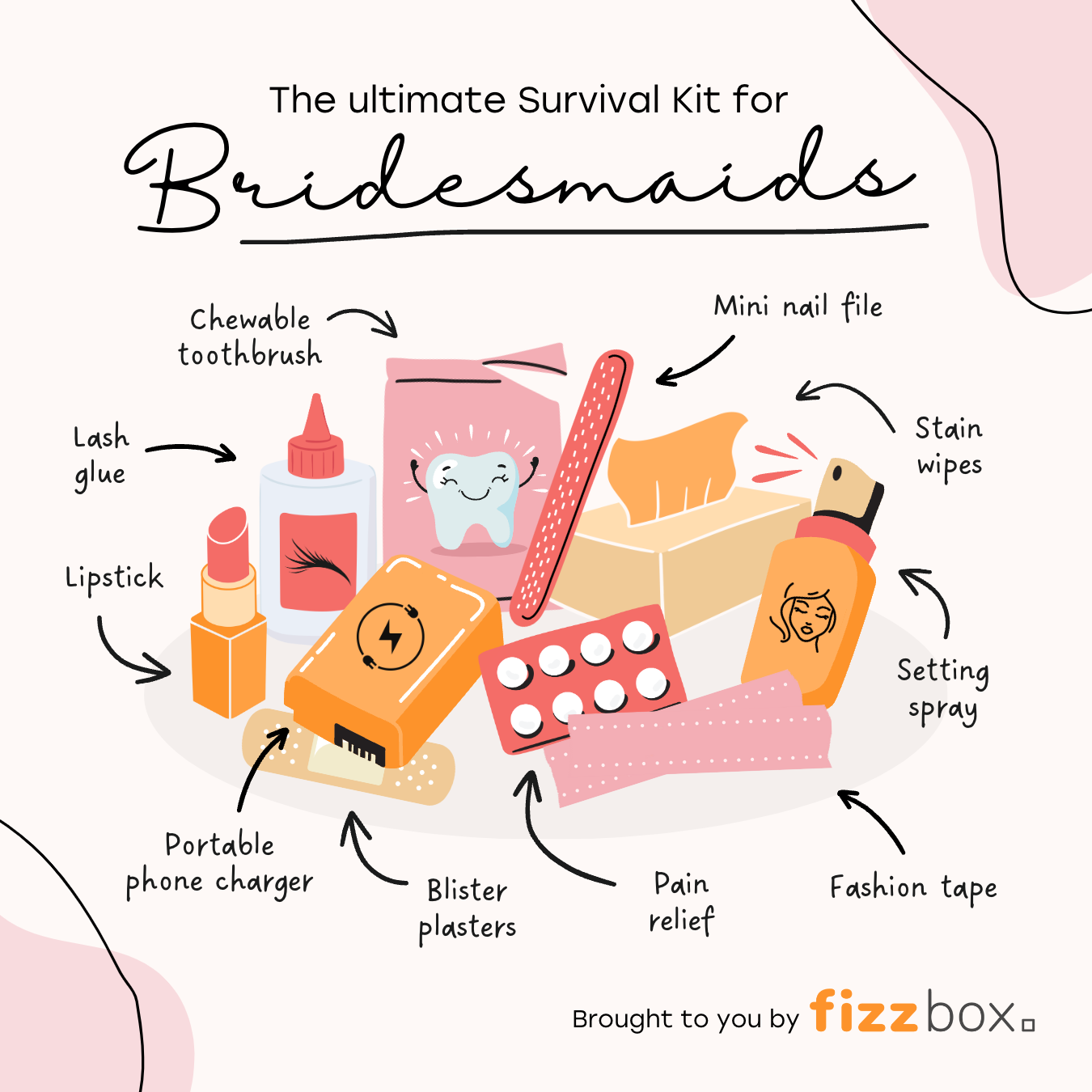 The 10 Bridesmaid Survival Kit Must Haves
1. Mini Nail File
Have you or the bride got a case of hangnail or damaged one of those perfectly manicured nails? Then just whip out one of these trusty mini emery boards to save the day.
2. Lash Glue
Avert any false eyelash mishaps and disasters by keeping a tube of lash glue to hand. You don't want to be that person in the photos.
3. Stain Wipes
What we love about weddings? Complimentary bottles of red wine on the table. What we don't love? Red wine stains around our mouths, on our teeth and accidental spillages. Avoid the inevitable with a pack of red wine wipes.
4. Blister Plasters
You will quite literally be standing for most of the day and if you're wearing heels, chances are you're probably going to get some kind of blister (sorry!). Make the pain more bearable with a handy blister plaster.
5. Lipstick
Thanks to its subtle, classy look and non-smudge nature, matt lipsticks are the preferred choice for big events such as weddings.
6. Portable Phone Charger
No more gut wrenching moments when you realise your phone's out of juice! Give it a charge with a handy mini charging bank and keep those cute selfies coming!
7. Fashion Tape
Whether for you or the bride, fashion tape is just one of those things that would be silly not to have on the big day. This clear, double sided adhesive tape is ideal for keeping bra straps in place and perfect for quick fix hemming and other emergency repairs!
8. Pain Relief
Headache, period pains or another ailment sprung up on the wedding day? No worries, just ensure there's some paracetamol to hand to assist with pain and discomfort.
9. Chewable Toothbrush
The perfect after dinner buddy for a freshen up and removal of food sprigs from your teeth - no water is required and they smell minty fresh too. Win win!
10. Setting Spray
Ideal for keeping your look fresher for longer and great for make up touch ups for the bride or bridal party.
The Stats
According to our survey, it was revealed that almost all bridesmaids (98%) wanted a mini nail file in their survival kit in the event of nail related incidents. And when it comes to oral hygiene, 61% agreed that although a chewable toothbrush was useful, they hadn't thought about including one in their survival kit until now. 54% of snap happy bridesmaids said they had run out of phone battery before the evening reception had concluded, meaning that they relied on other guests' cameras for the latter half of the day.
And while you may pack your bag with the absolute essentials for the wedding, 56% of bridesmaids have admitted to leaving key items back at the hotel on the big day. The most forgotten item is stain wipes.
21% of respondents mentioned that they regretted their choice of perfume on the day, therefore a good idea is to bring along a mini fragrance in case you have a change of heart.
Similarly, 59% said they wished they'd bought a snack to the wedding to keep them going, as one of the most difficult aspects of the day, whether for bridesmaids or attendees, can be the periods of time between eating.
As for concerns, 19% bridesmaids reported that their biggest worry on the day was food poisoning or a stomach upset, and packed Imodium or other diarrhoea relief in the event of illness.
Although tissues are generally considered to be a must-have item at a wedding, 68% of surveyed individuals assumed that these would be available in the venue's bathroom, and therefore not needed in their kit. Additional, useful items identified in the survey also included deodorant, clear nail varnish, perfume and mini bottles of alcohol.
Bridesmaid Survival Kit FAQs
Is there a limit on how many items should be included in a bridesmaid survival kit?
Nope, there's no limit on the number of items you can include, but you might want to think about a large box or bag if there's lots!
Who should put together the bridesmaid survival kit?
Typically, the maid of honour or the bride herself will put together the bridesmaid survival kit. However, it's always a good idea to consult with the other bridesmaids to determine what items you want to include.
I'm a bride gifting my bridesmaids the kit; should I give them individual bags or provide a large, joint box?
The choice is completely yours - a joint bridesmaid survival kit will work out cheaper, as you won't need to replicate every item for each bridesmaid. However, if you have the budget and are looking to add that personal touch, then you can create individual survival kits for each bridesmaid.
What items should be included in a bridesmaid survival kit?
The items included in a bridesmaid survival kit can vary depending on the needs of the bridesmaids and the wedding itself. However, we've found that some popular items to include were mini nail files, stain remover wipes, lash glue, pain relief, make up, blister plasters, setting spray, portable phone chargers, chewable toothbrushes and fashion tape.
Should the bridesmaid survival kit be personalised?
Yes! Adding a personal touch to the bridesmaid survival kit can make it even more special. Consider including a handwritten note or a small gift for each bridesmaid.
When should the bridesmaid survival kit be given to the bridesmaids?
The bridesmaid survival kit can be given to the bridesmaids at any time leading up to the wedding day. Some brides choose to give them out at the rehearsal dinner (if you're having one), while others give them out on the morning of the wedding before everyone starts getting during ready.
Can I buy pre-made bridesmaid survival kits?
Yes, there are plenty of pre-made bridesmaid survival kits available for purchase online or in shops. However, it's good to bear in mind that these kits may not be personalised to your specific needs and may be more expensive than putting one together yourself.
What if a bridesmaid doesn't need or want an item in the survival kit?
It's always a good idea to check with each bridesmaid to see if there are any items they don't need or want in their survival kit. You can also consider customising each kit to meet the specific needs and preferences of each bridesmaid.
Can I include alcohol in the bridesmaid survival kit?
You can include a little tipple in the survival kit if you like, but do be conscious that it may not be appropriate for all bridesmaids. You could always consider including non-alcoholic beverages or snacks instead.
What if I forget something in the bridesmaid survival kit?
Don't worry! The bridesmaid survival kit is meant to be a helpful tool, but it's not the end of the world if something is forgotten. You can always improvise with items you have on hand or ask a friend or family member for help.
Is a bridesmaid survival kit different to a hen do survival kit?
It certainly is! Check out our top tips and advice for what to include in your hen party survival kit!