Welcome to Croatia! Situated on the Adriatic Sea in the crossroads of Central and South Eastern Europe, Croatia is a great choice for any groups looking to celebrate a hen party abroad in total style. It's the perfect destination for those hens looking for something different from the usual Ibiza or Magaluf type experience. It's got everything you could want for an unforgettable time with your friends - beautiful beaches, amazing food and plenty of activities (including partying all night long!). We've put together our handy guide on the best Croatia hen do ideas, so you can decide which city is best for you and your girls. Get a nice cuppa and biscuit in hand, and prepare for some serious Croatia hen weekend inspiration!
Why is Croatia good for a hen party?
Croatia is a beautiful and varied country that makes for an unforgettable hen party. It may not be the first country that springs to mind for your big event, but this amazing location is emerging as one of the hottest new destinations to celebrate a hen party!
This country has so much to offer – from gorgeous sandy beaches in Hvar, to city breaks in Zagreb and Split, to stunning countryside and cities like Dubrovnik – there is literally something for everyone here! If you're planning a hen party abroad, you'll want to consider Croatia – it's ideal for those who want the whole package: great food, top nightlife and plenty of activities, all at an affordable price too.
The best places in Croatia for a hen do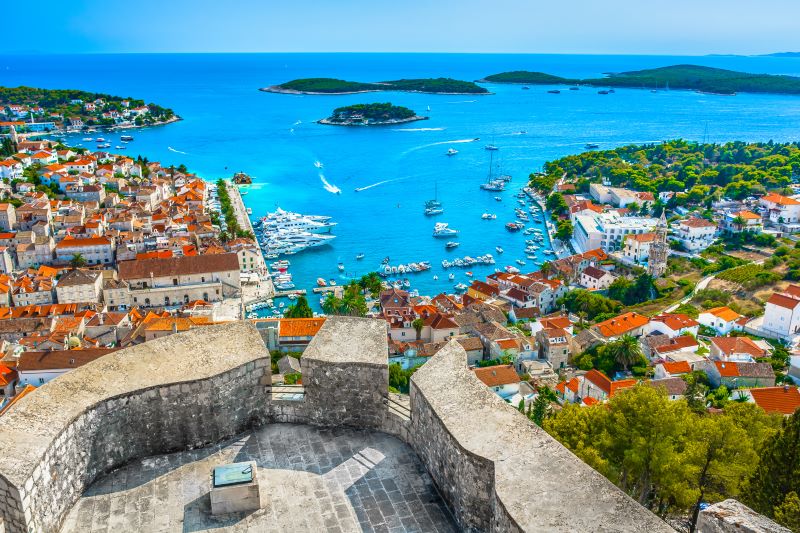 If you're looking for a hen weekend to remember, then combine a wild night out with a relaxing beach break in Hvar. With its vibrant bars and clubs, there's never a dull moment on Hvar, while the local beaches are perfect for relaxed days spent swimming and sipping cocktails. Whatever it is you're after, you'll find it right here on this beautiful island in the Adriatic Sea.
During the day, there's plenty for groups of hens to enjoy, from a day at the beach to exploring the town's quaint cobbled streets. You can also enjoy some of Croatia's finest wines at one of Hvar's vineyards and taste delicious seafood at its many restaurants. Some other great daytime activities include sailing trips, kayaking adventures, spa experiences and action packed activities like paintballing and quad biking!
As the darkness falls, the bars lining the streets come alive and here, you and the girls can look forward to experiencing Hvar's nightlife. Get set to try some of the country's best cocktails, before dancing to the sounds of live DJs, who will keep the big tunes coming all night long. Popular evening activities for hens also include private pub crawls, buff butlers, cocktail making and beach parties.
Split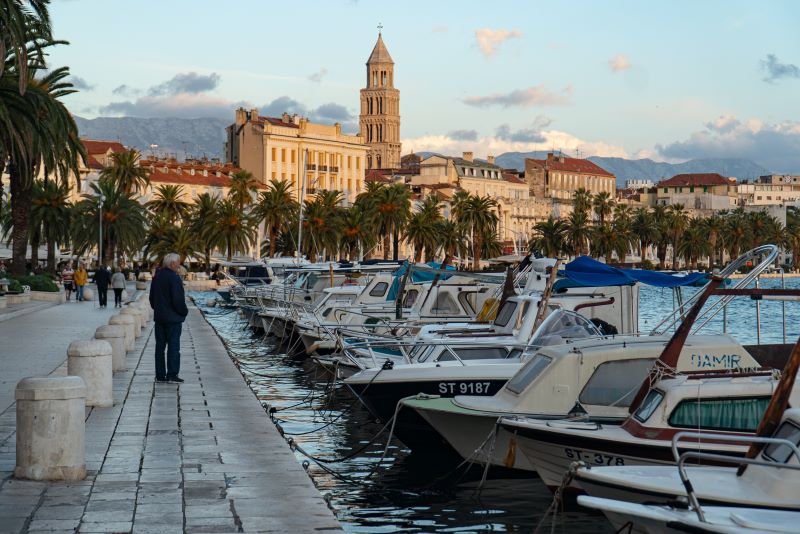 Split is an incredible location for a Croatia hen party! This stunning city is a fantastic place to spend a few days before the bride-to-be's big day, as it's got something to offer for everyone in your hen group. If you and the girls are after a destination where you can party all night long, then Split will be sure to cater for your every need - with plenty of bars and clubs on offer here, there's no excuse not to be dancing till dawn! Those hen groups looking for a more relaxed experience will love enjoying a leisurely glass of wine, catching up and watching the world go by.
This destination is also renowned for its gorgeous beaches. Whether you want to lounge on a sunbed, play volleyball or take a dip in the turquoise waters, there's beaches of all manners here! If you're looking to catch some sights, we'd definitely recommend enjoying a boat trip along the coast or hiking up one of many nearby mountains. Oh and don't forget about one of the many spas here, where you'll be able to recharge your mind, body and soul.
Photo by Avery Meeker on Unsplash
Dubrovnik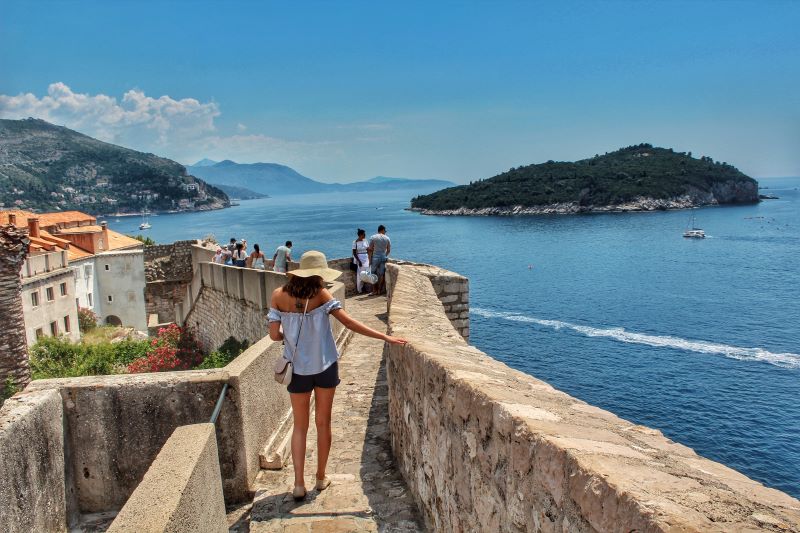 If you and the girls fancy a destination that boasts both a wild party scene, beautiful views, and glorious beaches, then look no further than Dubrovnik! This walled city overlooks the Adriatic Sea and is considered to be Croatia's most sophisticated and elegant location. The historic Old Town is a must-see for visitors who want to get a taste of and embrace the local culture. Here, you'll find loads of excellent restaurants, bars and shops, where you'll be able to relax and soak up the incredible sights with your favourite girls. As well as being a great place to visit in itself, Dubrovnik also makes a great base if you're looking to enjoy the best of Croatia and discover the neighbouring islands and towns!
Photo by Patricia Jekki on Unsplash
Zagreb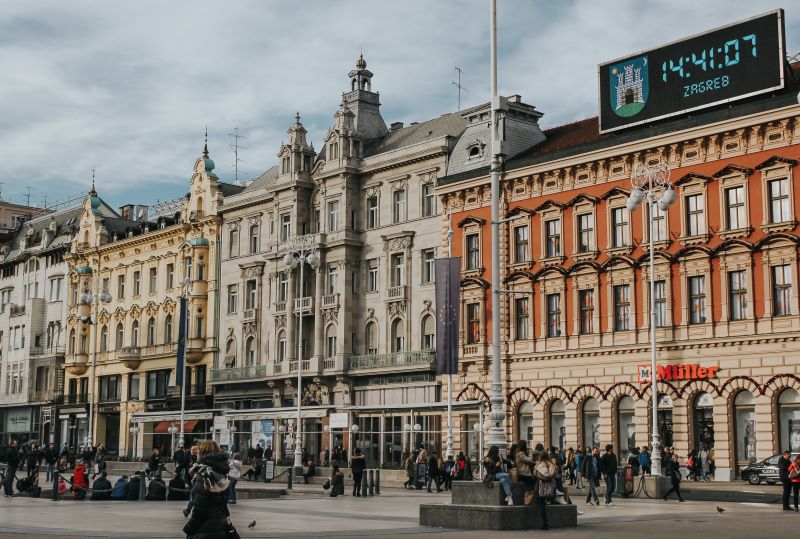 Zagreb is quickly becoming one of the most popular hen do destinations in Europe! This Croatian capital has everything you need to create a fantastic hen weekend and enjoy a memorable time together with your friends! It's the perfect location for all kinds of fun - whether you and the hens are looking to party or just wanting to relax. This amazing city is easily explored on foot or by bike - make sure to take a wander around its grand squares, museums and galleries or get an adrenaline fix at one of the many water parks on offer (there's loads here!). In the evening, you'll be spoiled for choice with a massive range of bars, pubs and clubs that will keep you dancing till the sun comes up! With plenty to do during the day and night in Zagreb, you'll never be bored!
Photo by Kristijan Arsov on Unsplash
The Top 10 Hen Party Activities in Croatia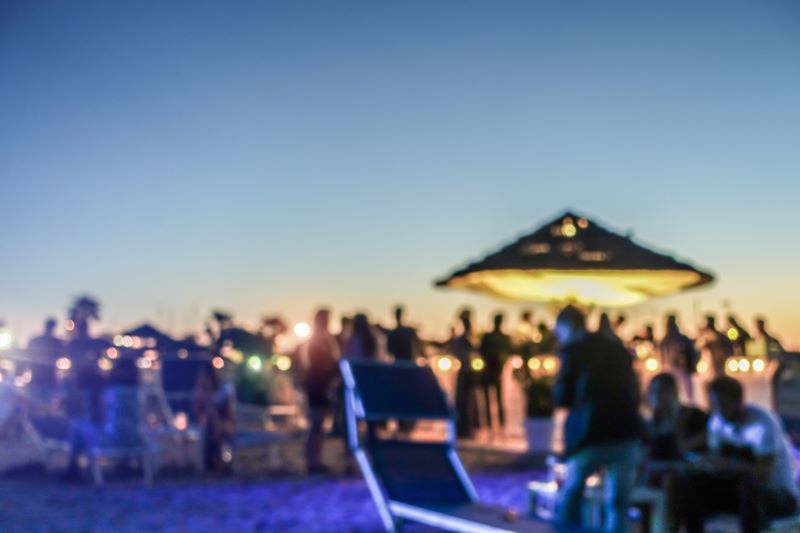 Forget what you know about beach parties, because this one in Hvar is a cut above the rest! It's a real luxurious experience as you and your mates party on the beautiful sandy beach, with live DJs providing the soundtrack to this beach session. You'll have your own private table for this one, and best of all, your group will enjoy a bottle of spirit and mixers to get those good vibes flowing! Ready for one of the best nights of your life? Then make sure you get this beach party booked for the hen weekend in Croatia.
Ooh er, is it getting hot in here, or is it just the buff butler that's ready to entertain you and the rest of the hens? Hiring a buff butler for your hen party in Croatia is the perfect, cheeky activity that will be sure to have everyone blushing. During this two hour experience, your cheeky butler will be on hand to serve you and the hen group drinks and snacks and will be wearing his saucy attire too! Don't forget to snap some pics with this hottie, so you don't forget this brilliantly naughty experience!
Cocktail making is one of our top hen do activities for a reason; it's great fun and you'll get to drink a load of delicious drinks throughout too! Your cocktail masterclass will be hosted by a friendly mixologist, who will teach you all their top tips and secrets to shaking up some truly tasty concoctions. They'll show you how it's done with some detailed drink demos, and then it'll be time for you and the rest of the hens to get mixing! You'll enjoy your yummy creations as you make them - we can't promise that you won't be feeling tipsy and fuzzy by the end of the experience!
No hen party in Croatia is complete without an unforgettable night out, and what better way to do so than with one of these epic bar crawls in Hvar? You and your squad will discover some of Hvar's best places to drink and party, and will be toured around by your party loving, English speaking guide.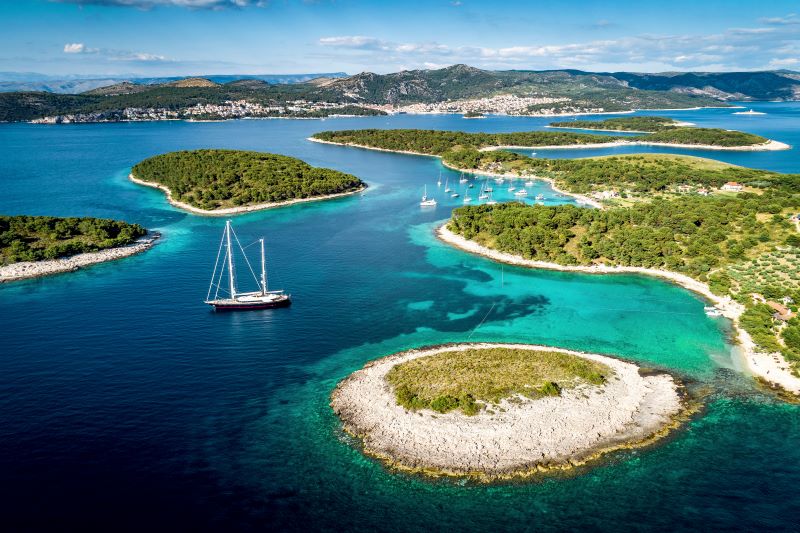 Are you looking to push the boat out? Quite literally? Then this luxury yacht experience is everything you and your girls need for a totally unforgettable time. It's a one of a kind activity and the perfect way to give the bride-to-be a truly unique hen do. Lasting for eight hours, this experience will see you and the group board this glamorous, luxury yacht for a private trip to Pakleni Island! You'll glide through the shimmering blue sea as your friendly skipper sails this impressive vessel. There will be plenty of opportunities for a dip in the sea before you reach your destination - just make sure you grab some pics for Insta or make a TikTok! Once you've arrived at Pakleni Island, the day is yours for the choosing, will you relax on the beach or go for a wander? Bubbles will also be provided for your group. Once you're back to Hvar the fun doesn't have to end, because you're invited to party at one of Hvar's hottest nightclubs!
Hen parties can be tiring, so make sure to include a little downtime during the weekend for you and the rest of the girls. A spa session is the ultimate way to unwind with your faves and with this experience in Hvar, you'll enjoy a day of pure indulgence with these incredible spa facilities. Take a leisurely dip in the pool, relax in the jacuzzi or sweat it out in the sauna and enjoy a bit of 'me time'. There's really no better way to kick back and relax!
Take some time to unwind and make some special memories with the girls onboard this beautiful half day sunset cruise. This experience begins in the afternoon, and will see you and your group glide through the glittering sea, sailing past the absolutely gorgeous coast to Pakleni Island. Onboard will be a friendly skipper who will be steering the boat, and a knowledgeable guide, who will be on hand to point out areas of beauty and provide you with interesting facts.
There will also be time to stop off for a dip in the water and bubbles will be included too. Once you reach this unique and beautiful island, you'll be able to unwind and soak up the stunning sights. Once you're back to Hvar, you'll have entry to one of the famous beach parties, where you can keep the good times coming!
Take to the beautiful and stunning waters with this fun sea kayaking tour! This one's perfect for those hens that love a bit of adventure and are looking to embrace the great outdoors during the hen party in Croatia. Led by an experienced guide, you and the rest of the hens will embark on a five hour experience where you'll kayak your way through the calming and tranquil waters. There will be a stop at a local beach for lunch and a dip in the water, making it the perfect, half day excursion for you and the girls.
Ready for some adrenaline packed thrills? Then you'll love a fast and furious session of paintballing, where you'll be split into teams and will splatter the opposing team with colourful balls of paint! You'll head to a great venue in Hvar for this activity, where all safety gear and equipment will be provided. 100 balls are supplied per person for the adrenaline packed experience, along with return transfers. Reckon you and your team have got what it takes to become victorious? Come and show us what you're made of!
Take in the stunning sights of beautiful Hvar on your very own scooter with this brilliant tour! You'll each ride a 50cc scooter for this experience and will be led by a fun and friendly English speaking guide; they'll be sure to show you the best views and locations of interest along the way. This region of Croatia is filled with absolutely gorgeous views and what better way to see them than on this scooter tour? It's time to feel the wind breeze through your hair as you and the rest of the hens enjoy a tour that's quite unlike any other!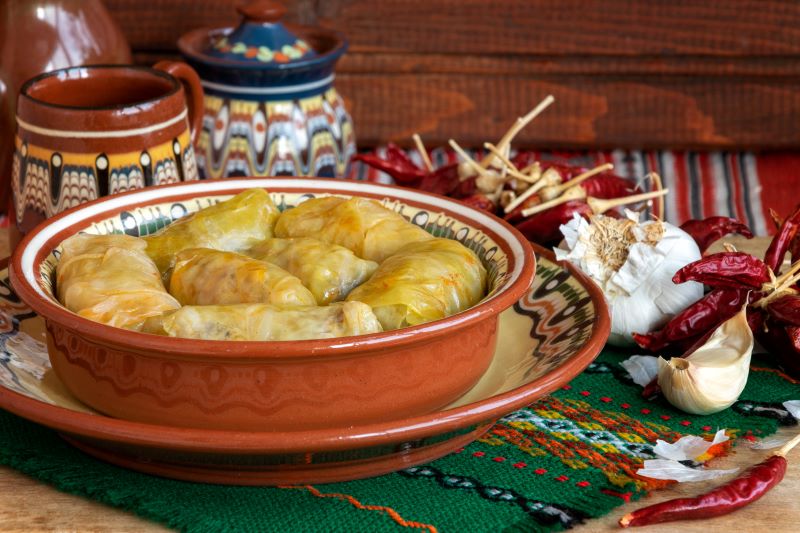 Eating out in Croatia
Croatia's such a vast country, and even more so when it comes to enjoying a meal out, with loads of great restaurants and cafes you can head to. Traditional Croatian food includes hearty soups and stews, stuffed peppers and cabbage rolls known as 'sarma'. We'd also recommend trying a 'pogaca', a traditional savoury pasty available in a variety of fillings, including cheese, olives and potatoes. There's also plenty of meaty main courses like roast lamb and pork.
But if you're looking for something different, there are many options that will appeal to your taste buds. One of the most popular dishes is a mixed grill - a selection of grilled meats served with salad and bread. You'll also find loads of great seafood restaurants offering fresh fish cooked in olive oil with garlic and lemon juice. And if you're searching for somewhere cheap and cheerful, look no further than the local fast food joints serving up burgers and fries alongside other, traditional Croatian fare.
Nightlife in Croatia
When it comes to nightlife in Croatia for the hen do, you and your girls won't have a thing to worry about, because each of the main cities on offer pack an impressive nightlife that's filled to the brim with great restaurants, brilliant pubs and bars and nightclubs, where you'll be able to party till the early hours.
If you are looking for a party-hard holiday in Croatia, Hvar is the place to be. This popular island has become one of the most stylish party destinations in Europe, with a huge influx of young people from all over the world who come here to let loose and have fun. Hvar's nightlife scene is action-packed, and there are plenty of places to choose from. You'll find beach clubs and parties galore, along with an abundance of bars and clubs where you'll be able to dance the night away.
The Croatian capital of Zagreb is big on its clubbing scene, and you'll find venues of all music genres here, including electro, jazz, funk, R'n'B and just about anything else you can think of. Some top club recommendations include Nightclub Kiss, Aquarius Club Zagreb and Boogaloo Club.
In Split, head to the Old Town and to Riva Harbor, where you'll find a bustling waterside promenade that overlooks the beautiful harbour. There's many bars which adorn the promenade, so why not enjoy some evening drinks or cocktails with the girls here after dinner? For clubs (or discotheques as they're also known) head outside of the Old Town for a wide variety of late night party venues.
As for Dubrovnik, this city is better known for its wide choice of bars - whilst there are a small handful of clubs here, there is less choice than Zagreb, Hvar and Split. However, don't be put off, because if you do visit one of Dubrovnik's clubs, you'll be in for a seriously good night. Many of the big clubs offer a totally unique experience and are situated in some of the city's most amazing bits of architecture - take Revelin Culture Club for example; an angular, 16th century fortress!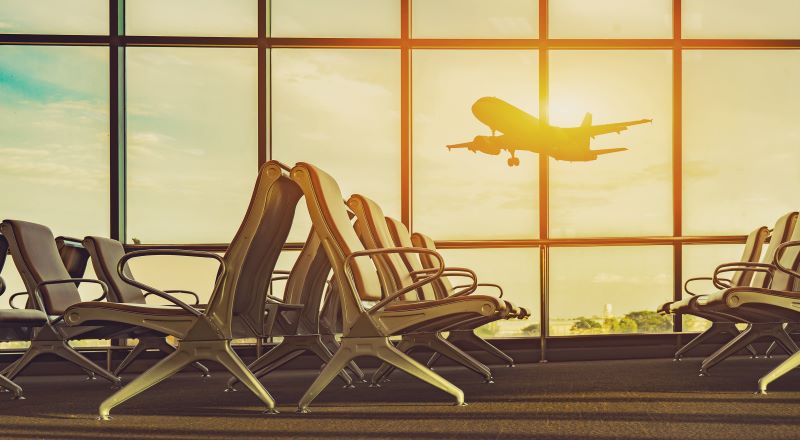 Getting to Croatia
If you're looking to head to one of the great cities in Croatia that we've mentioned, then you'll be able to grab a flight, which will take between two hours and 40 minutes to five hours from the UK, depending on your chosen departure and arrival city. Regular flights to Croatia are available from most major UK airports, including those in London, Manchester, Glasgow and Bristol.
Book your hen party in Croatia today!
Feeling suitably inspired for your hen do in Croatia? Then why not take a look at the top experiences and activities we offer in this amazing country and get your hen weekend booked today!