Global Hen Party Traditions
From throwing a mixture of eggs and flour (and pretty much whatever else is leftover in the kitchen cupboard) over the bride-to-be and then parading her around the town to a party dedicated to smashing porcelain objects in a bid to bring the almost newlyweds good luck.
In celebration of International Women's Day, we've decided to take a look at how women from across the globe traditionally come together to celebrate their impending marriages...
India - Mehndi Party
South Africa - Kitchen Tea
Germany - Polterabend
Scotland - Blackening the bride
England - Hen party!
Hen party ideas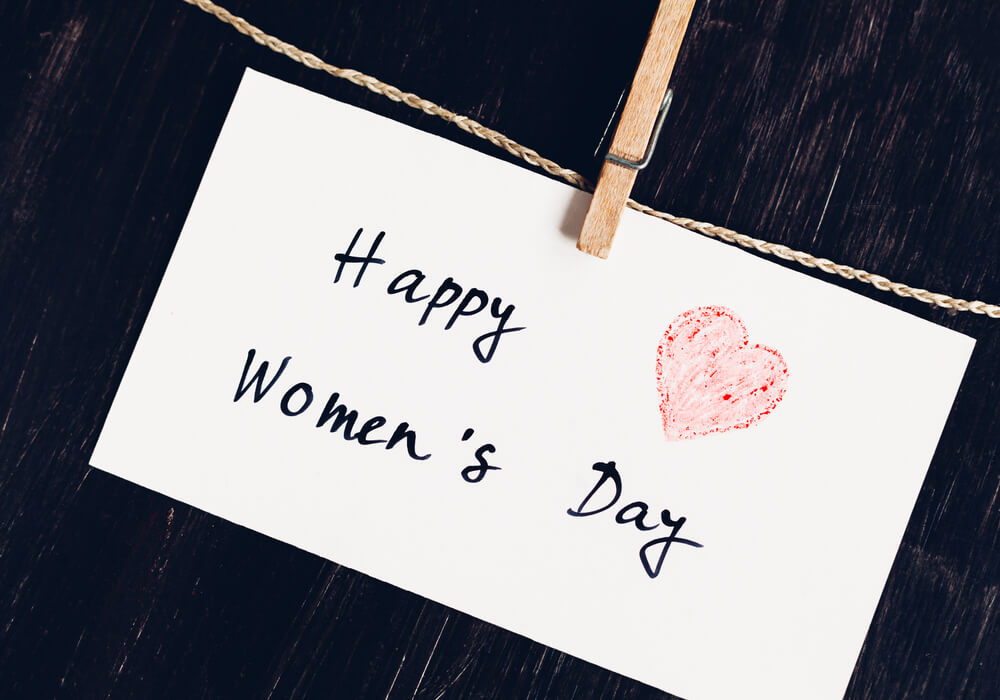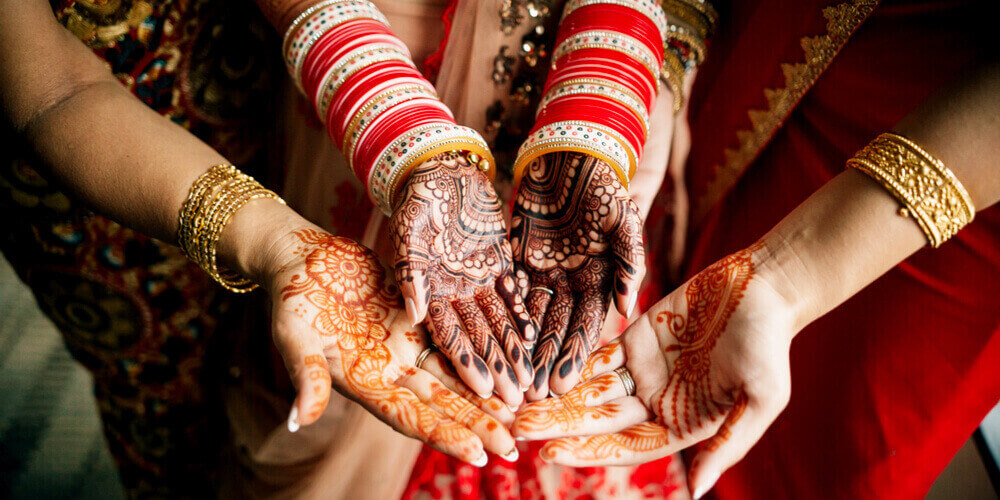 A Mehndi Party is traditionally thrown for a bride-to-be in celebration of her upcoming marriage. During the party, the bride has beautiful, intricate designs applied to her skin by an expert using the distinctive Mehndi 'stain' (also referred to as Henna). The Mehndi design can represent a variety of things but most commonly the design symbolises love, luck and positivity. The party is usually held the day before the wedding ceremony, or as close as possible, as tradition states that the deeper the colour of the Mehndi, the deeper the love and happiness between the bride and groom. Mehndi parties are often full of great food, dancing and entertainment.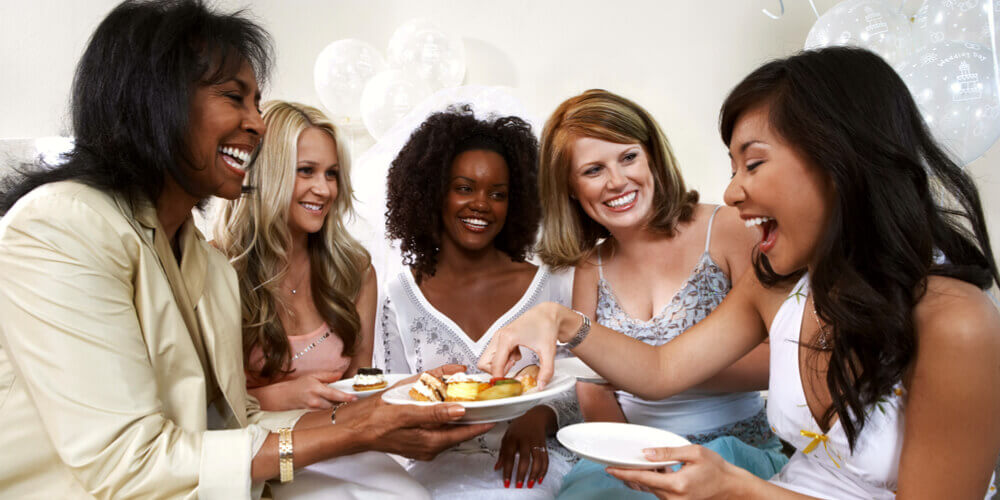 In South Africa, a Kitchen Tea is often arranged as a celebration for the bride. Traditionally, this is quite an intimate party that is attended by the bride's closest friends and family members. All guests invited to the Kitchen Tea must also be on the wedding guestlist. Those arranging the party often ensure that the venue is decorated with lots of lovely decorations and sometimes incorporate a colour scheme (this might be the bride's favourite colours or a scheme that links to the wedding ceremony). It is also used as an opportunity for guests to pass down their wisdom and advice to the bride on the secrets of a long-lasting and happy marriage. Lots of fun games are played and gifts are a requirement!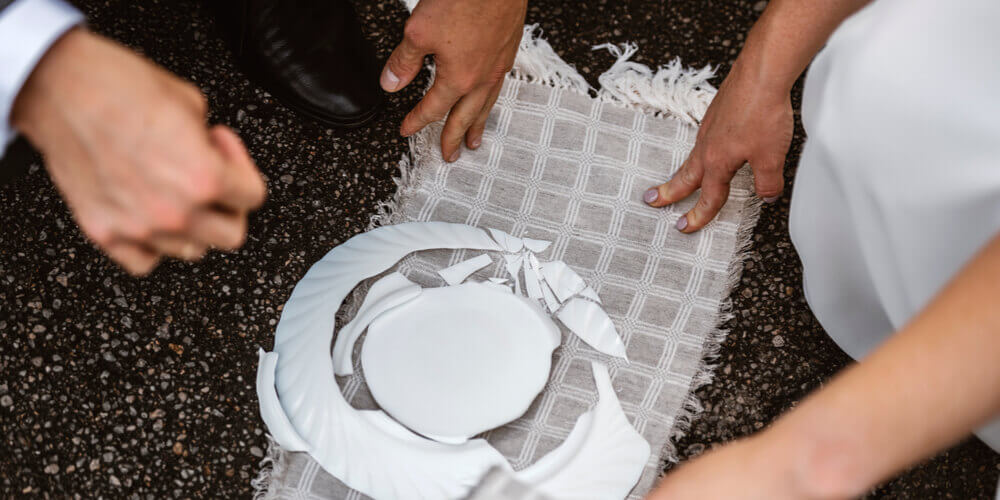 Traditionally, pre-wedding celebrations in Germany involved a party dedicated to smashing porcelain objects in a bid to bring the bride and groom good luck! This festivity is referred to as a 'Polterabend' and was often held the night before the wedding ceremony. The idea was that the bride and groom would clear away the shards of porcelain together which would instil the importance of teamwork in them both and get them ready for married life together.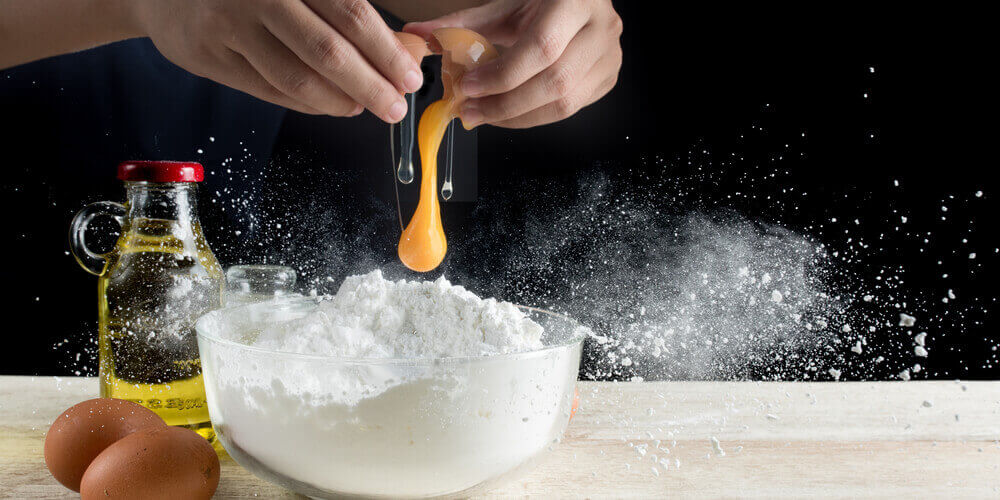 'Blackening the Bride' was once a popular custom in Scotland. The act isn't as sinister as its name suggests but it would be an understatement to say that it doesn't sound like the most enjoyable way to celebrate your upcoming wedding! Crowds would gather and throw buckets of eggs, sauces, flour and lots of other things over the bride. She would then be placed on the back of a tractor and paraded around the town (whilst on this journey, people would continue to throw things over her). Finally, she was taken out for a night out on the town and wasn't allowed home until the group had decided the night was over!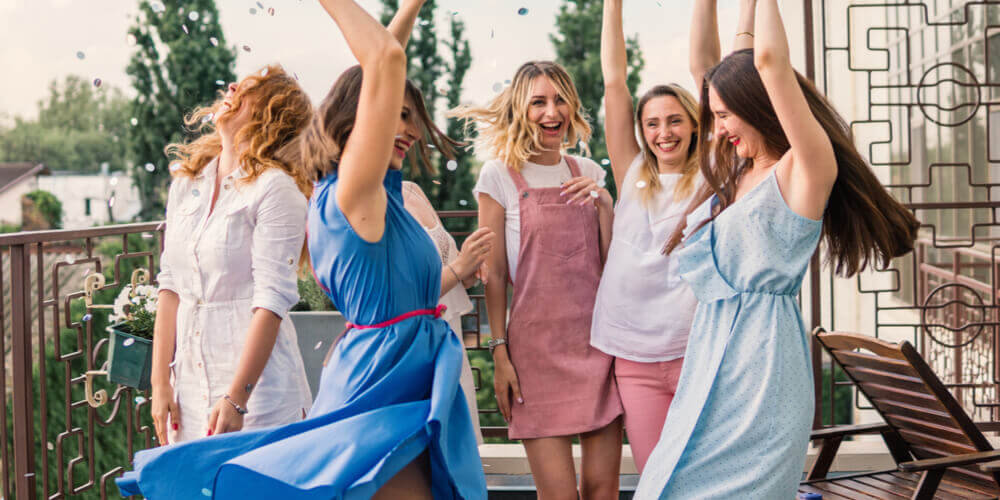 You're more than likely well aware that in England, we have a hen party! Similar to stag do's, hen parties can actually trace their heritage back to ancient Greece. The term hen party has actually been around before the bride hen parties were even a thing. The first mention of Hen on paper was in the early 17thC. By the 19thC there are reports and mentions of hen parties. However, these were not related to wedding ceremonies. Instead a hen party was simply a gathering of only women, often with tea, food and music. The tradition of celebrating a woman's wedding has been long set in history. Whether it is rejoicing the pass from childhood to womanhood, sexual awakening or beginning of a family, a variety of cultures from history have celebrated in one way or another. No one person can be attributed but because so much of our lives were made in Greece, the Greek tradition of Proaulia could be seen as the first instance of a hen party.
The true birth though appears in the workplaces of the 1970s with traditions and classic hen behaviour appearing. Much of the things on show, the dress up, the sexual innuendo, and slight humiliation can all be traced to what we have now. So, if we can say someone or something invented a hen party, let's say it was the decade of the '70s!
There are so many ways in which you can celebrate your special hen weekend. From** Cocktail Making in London** to a **Go Car City Tour in Barcelona**, Fizzbox have a wide range of **activities** you can choose from in a variety of locations across the **UK** and **Europe**! If you'd prefer to spend the weekend bonding with your closest girls, then one of our **hen houses** could be perfect for you. When you book a hen house, you're able to truly take the weekend at your own pace. Have the ultimate girls night in and bond with each other whilst you cook a great meal, share a bottle of bubbly and play games! You could also use the house as a base to get glam and have a glass of wine before you head out for a night on the town. Or, book more than one night and do both!
Special Offer Alert
What's even better, we're currently running a **special offer** in celebration of International Women's Day of up to 55% off on selected hen houses for a limited time only! So, if you've left your hen weekend planning to the last minute there's no need to panic! Get in touch and book your stay in one of our hen houses for the ultimate girls bonding weekend.
This offer is subject to availability, see full **terms and conditions** for discount, location and date restrictions.