Calling all Barbie girls and boys! Hold on to your tiaras because we're about to embark on a fantastical and delicious journey. Cocktails and Barbie are a match made in heaven! So we've decided to team up with the magical tavern, The Cauldron, to mix up some magic and create some beautiful and delicious Barbie cocktails. Here's how you can mix up some magic and make them yourself. Brace yourselves for the ultimate Barbiecore cocktail experience!

You won't find these dreamy concoctions just anywhere. The Cauldron in Brighton is well known for its innovation and whimsical creations, worked alongside us to create this mouth-watering collection of four, unique cocktails, each one a reflection of Barbie's pink glamorous world! These dreamy concoctions electrify taste buds and bring a touch of childhood nostalgia with every sip.
And guess what? The secret to these stylish drinks are now yours to keep, and you don't have to wait in long queues or search the ends of the earth to taste them! It's time to play mixologist as you shake up your very own Barbie inspired cocktails in the comfort of your own home. Whether you're celebrating a Barbie themed hen party, birthday, are having the girls round for the night or simply a quest for your new favourite cocktails, these drinks will fit the bill perfectly.
How to Make Barbie Cocktails at Home
Bar Equipment
• 1 x Cocktail shaker
• 1 x 25/50 double jigger (spirit measure)
• 1x Cocktail strainer
• 1 x Hawthorn strainer
• 1 x Cocktail Stirrer
• 1 x Cocktail muddler (for 1 drink only)
• Plenty of ice!
1. Glamour in Pink
"Glamour in Pink" shows off Barbie's signature look with its stunning pink hues and classy foam top. This refreshing rum, vodka cherry and vanilla concoction topped with edible glitter is perfect for channelling your inner fashionista.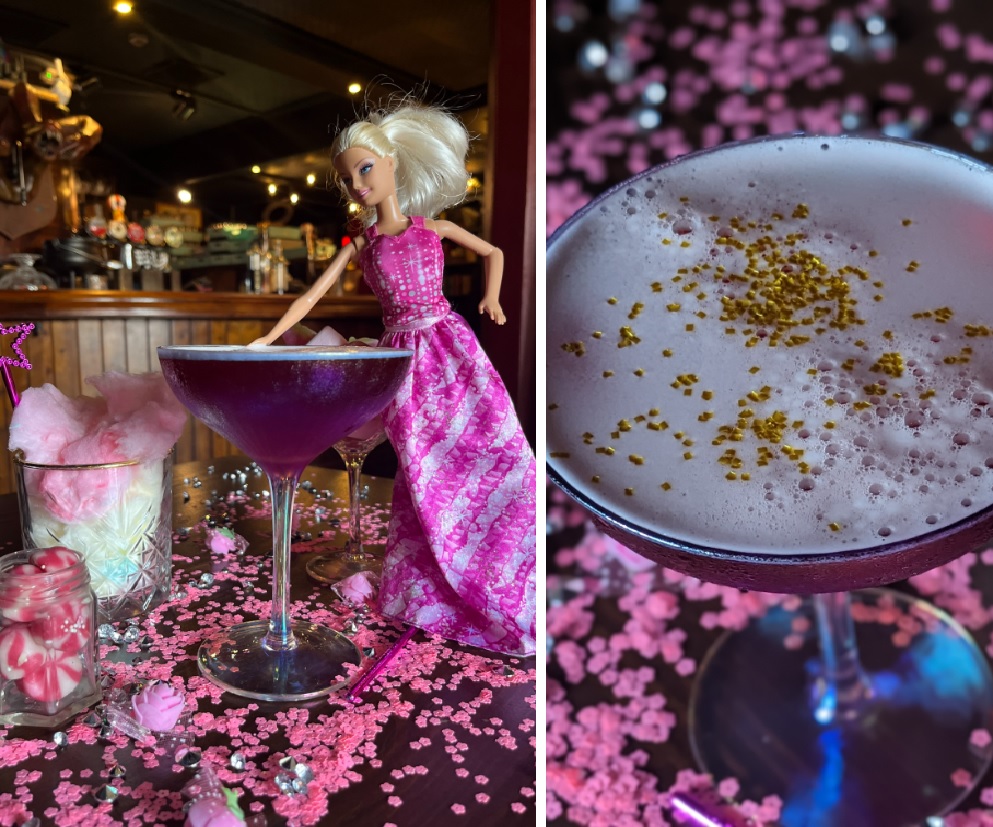 Ingredients
• 25m any Light Rum
• 25m Vanilla vodka
• 25m Supasawa Mixer (can use bartender lemon/lime juice as alternative)
• 100m cherry and vanilla syrup
• 1 x full pipette of Mrs Better's Bitters
Directions
• Measure out your ingredients and add them into your cocktail shaker.
• Dry stir the ingredients in your shaker for 30 seconds with your stirrer
• Add a handful of ice, add on your shaker lid and get shaking!
• Using your cocktail strainer and hawthorn strainer, double strain and pour into your chosen cocktail glass.
• Add a sprinkle of gold, edible glitter for the finishing touches!
• If you want to go all out, you could even serve with a Haribo giant strawb on the side
2. Plastic Fantastic
Those looking to experience the extraordinary will love "Plastic Fantastic", an innovative, bubbling cocktail that combines raspberry gin, cranberry and a splash of pink tonic that will be sure to wow!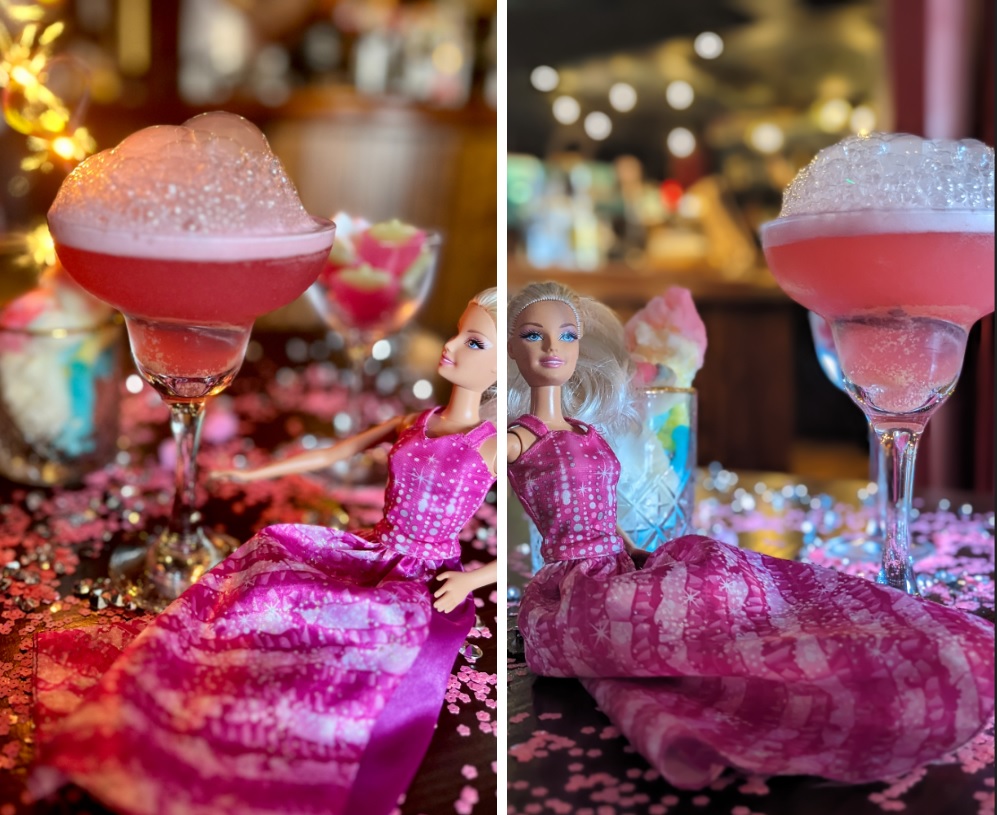 Ingredients
• 75m cranberry juice
• 25m kwai feh
• 50m raspberry gin
• 20m pink tonic
Directions
• Measure out all ingredients excluding the pink tonic into your cocktail shaker
• Add plenty of ice and get shaking!
• Then, double strain and pour into your chosen glass
• Top with pink tonic, and voila!
• Those seeking the bubbling version pictured will need to head to The Cauldron in Brighton for some added magic!
3. Mali-Barb
Next up, indulge in the allure of the "Mali-Barb," a cocktail inspired by Barbie's beach vibes. Featuring tequila, blackberry liqueur and ginger beer, this drink will take you on a delicious journey of the senses - it's definitely giving us all those summertime feels!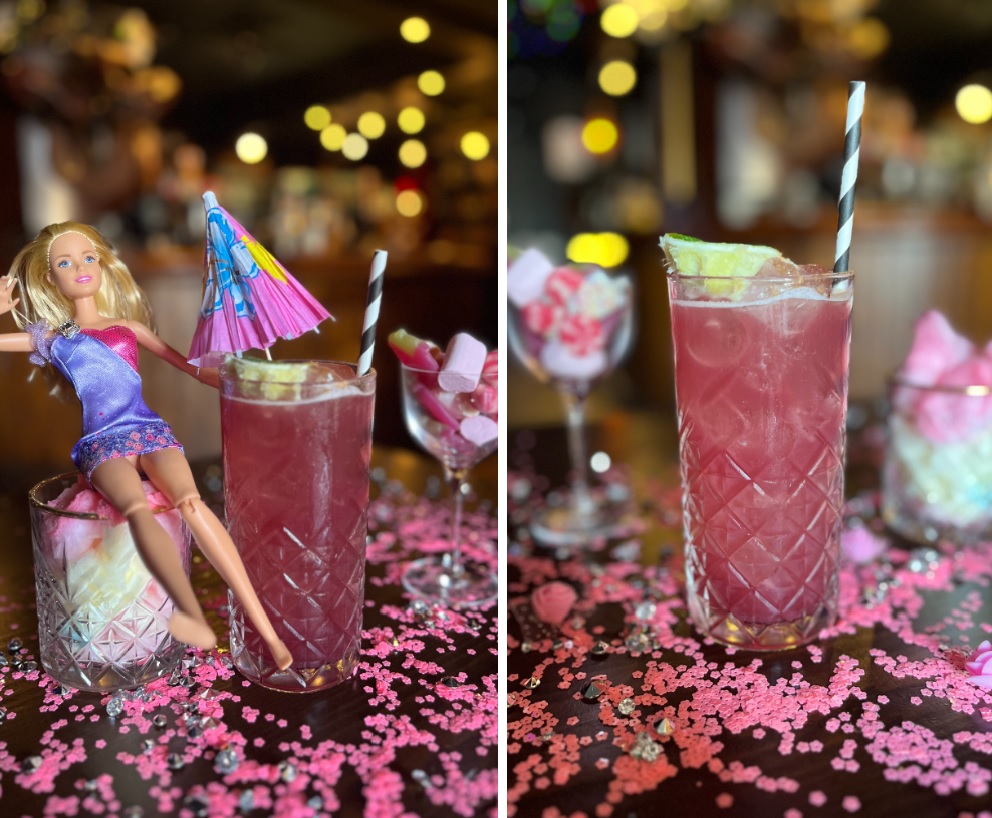 Ingredients
• 50m Tequila
• 50m Creme de mure
• 25m Lime
• 10m Blue agave
• 150m Splash of Ginger Beer
Directions
• Add all measured ingredients (excluding ginger beer) into a cocktail shaker and shake over ice
• Strain into a highball glass and top with ginger beer garnish
• Add some cinnamon on the table for effect.
4. Just Ken
Last but not least, discover the bold and confident "Just Ken" - we couldn't possibly leave him out after all! This cocktail pays homage to Barbie's charming companion and on-off boyfriend, providing the perfect balance of fun and sophistication. Look forward to a tasty mix of Bourbon, Blue Curacao, sugar syrup, mint and lemon.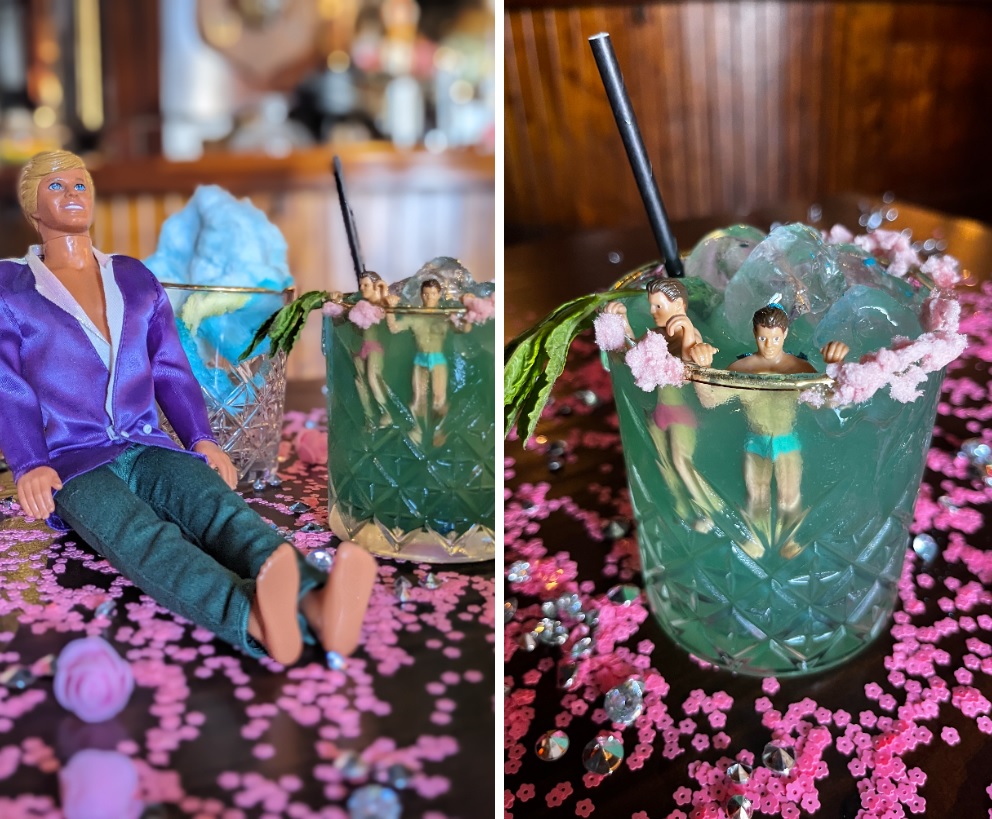 Ingredients
• 25m of simple syrup (made from equal parts sugar and hot water that you leave to cool - google is your friend!)
• Two 1/4 lemon wedges
• 1 to 2 sprigs of mint (depending on how minty you like things !)
• 75m Bourbon of choice (can go 50m if don't like such a strong drink)
• 10m Blue curacao (for colour)
• Lots of ice!
Directions
• Muddle the sugar syrup, the two ¼ lemon wedges and mint sprigs first of all into your cocktail mixing beaker
• Then add your Bourbon of choice, (use a 50m if you don't like such a strong drink) the blue curacao and plenty of ice
• Use your stirrer and dry stir for 30-50 seconds (taste as you go!)
• Then pour your cocktail through your strainer and into a chilled glass
• Add ice to your liking and some mint to garnish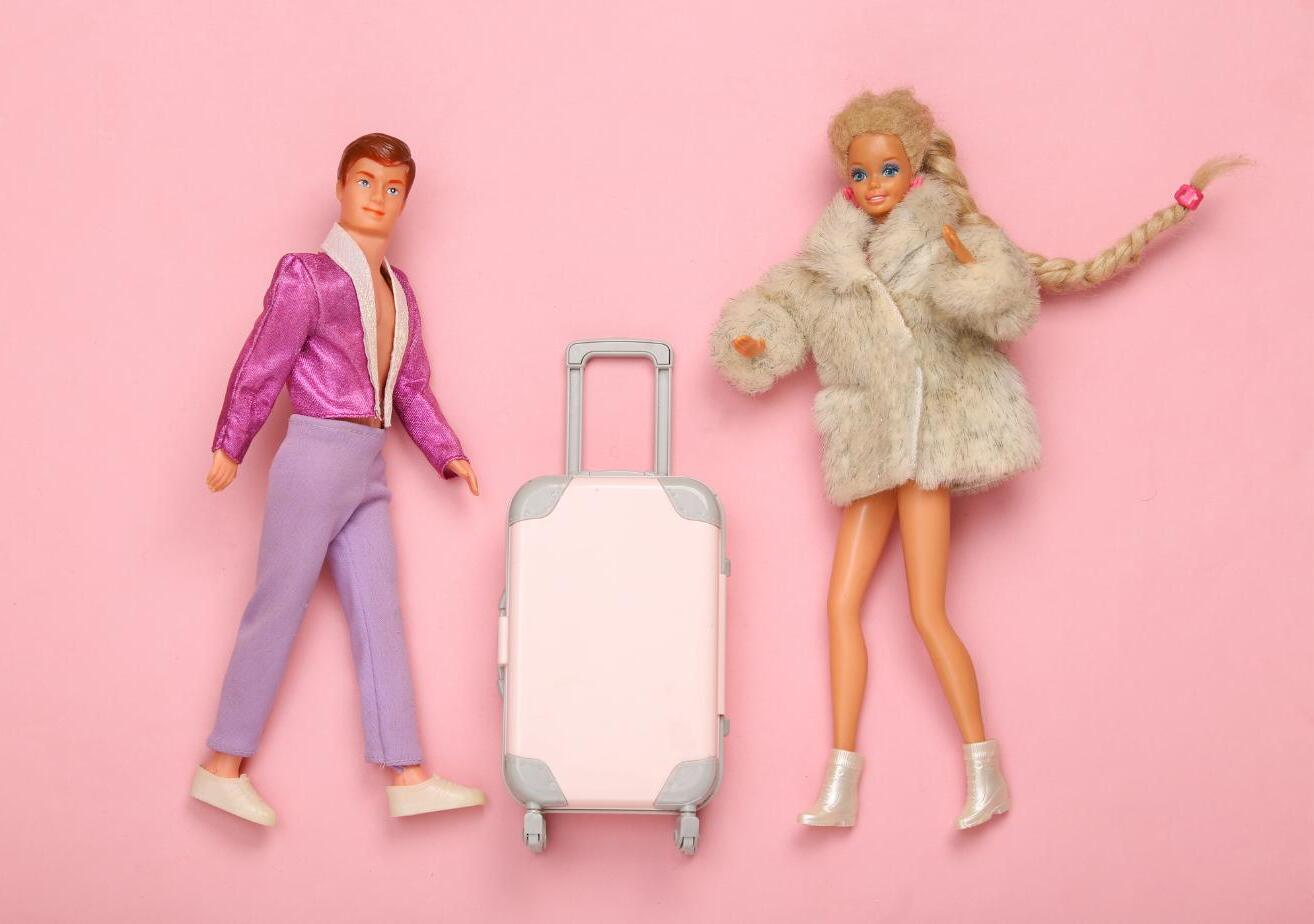 Why Are Barbie Cocktails So Popular Right Now?
Barbiecore cocktails are the hottest trend shaking up the drink scene right now. It's like Barbie herself took over mixology school and sprinkled her glam magic all over the cocktail universe! Their popularity is due in large part to the Barbie movie, released in July 2023 and starring Margot Robbie and Ryan Gosling, causing people all over the globe to go wild for Barbie and all things pink!
Let's also talk about the sheer nostalgia these drinks bring! Remember those days of playing with Barbie dolls, dreaming of glamorous adventures and hosting chic tea parties with your friends? Well, these Barbie cocktails are like a sip of pure childhood joy! They transport us back to the days of innocence and carefree fun, all while we're living our adult lives with a stylish twist.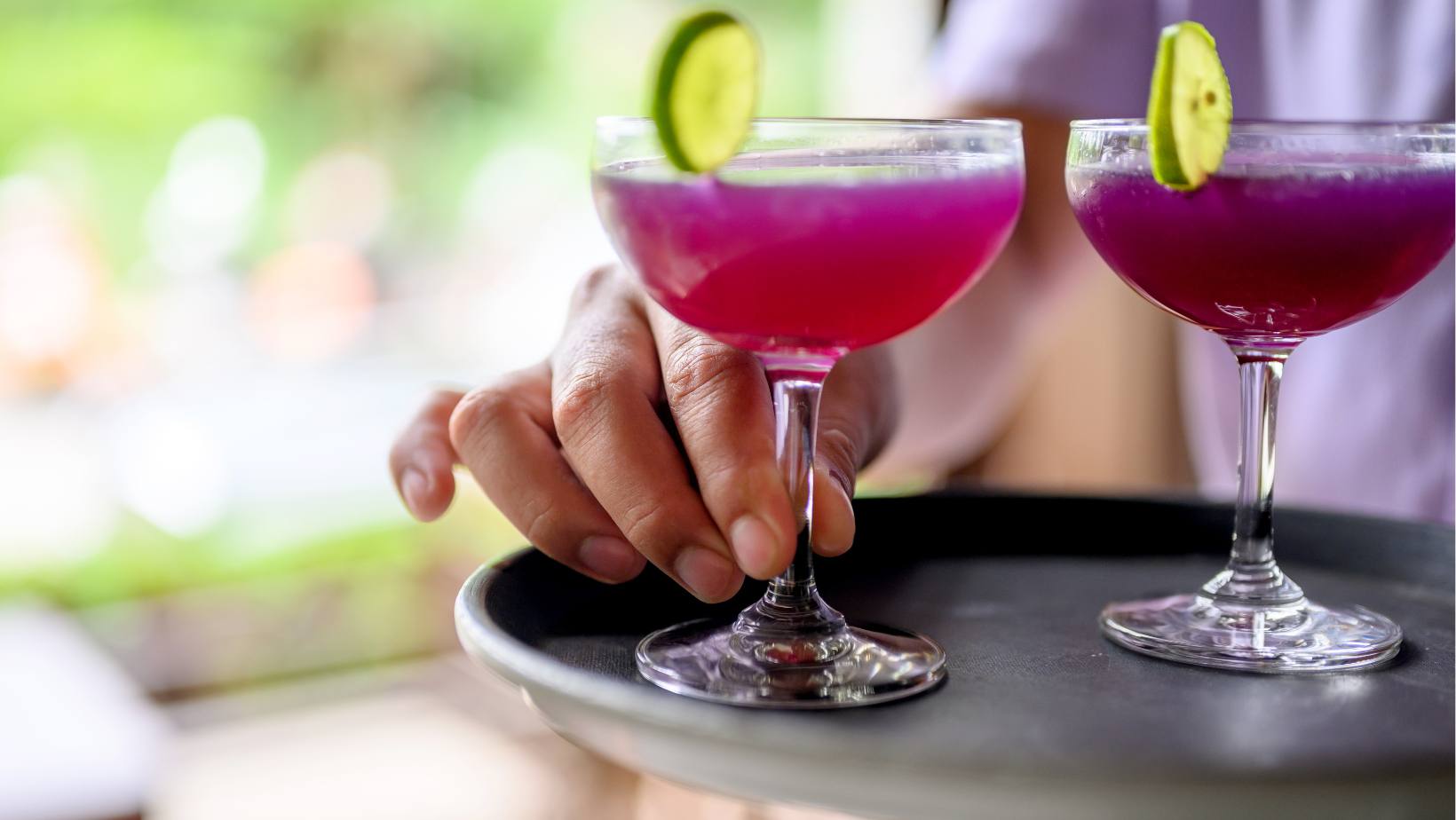 And who could resist the sheer pink-tastic aesthetic of these Barbie alcoholic drinks? Barbie has always been synonymous with all things pink and fabulous, and these cocktails are no exception! Whether it's a candy floss coloured concoction or a bubblegum-flavoured potion, each sip is like a sweet kiss from the queen of pink herself.
Finally, the creativity behind these drinks is off the charts! Mixologists and bartenders all over the world are having a blast inventing their own Barbie-inspired creations. From unicorn-themed sippers to sparkly, glittery potions, the sky's the limit! It's like a fierce competition of who can come up with the most fun and whimsical cocktail, and we are all here for it!
What Occasions are Barbie Cocktails Good For?
Barbie cocktails are like the life of the party, and they're perfect for so many fun occasions! Get ready to unleash your inner goddess and sip on these delightful concoctions that'll make any celebration sparkle. Barbiecore cocktails are perfect for hen parties. Picture a bunch of giggling girls dressed to the nines, ready to celebrate the bride-to-be's last hurrah before the big day. What better way to kick-start the festivities than with a round of Barbie cocktails? These drinks will set the tone for a night of glamorous fun and create memories that everyone will treasure forever. Check out our blog if you want more Barbie hen party inspiration. And stags, we haven't forgotten you! Get involved with the Barbie fun!
Let's not forget birthdays! Whether you're turning sweet sixteen or super 70, Barbie cocktails are a must-have on your special day. Toast to another year of slaying life and let the pink perfection of these drinks bring an extra dose of happiness. The best part? You and your guests will be Instagram-ready with these picture-perfect pink Barbie drinks in hand!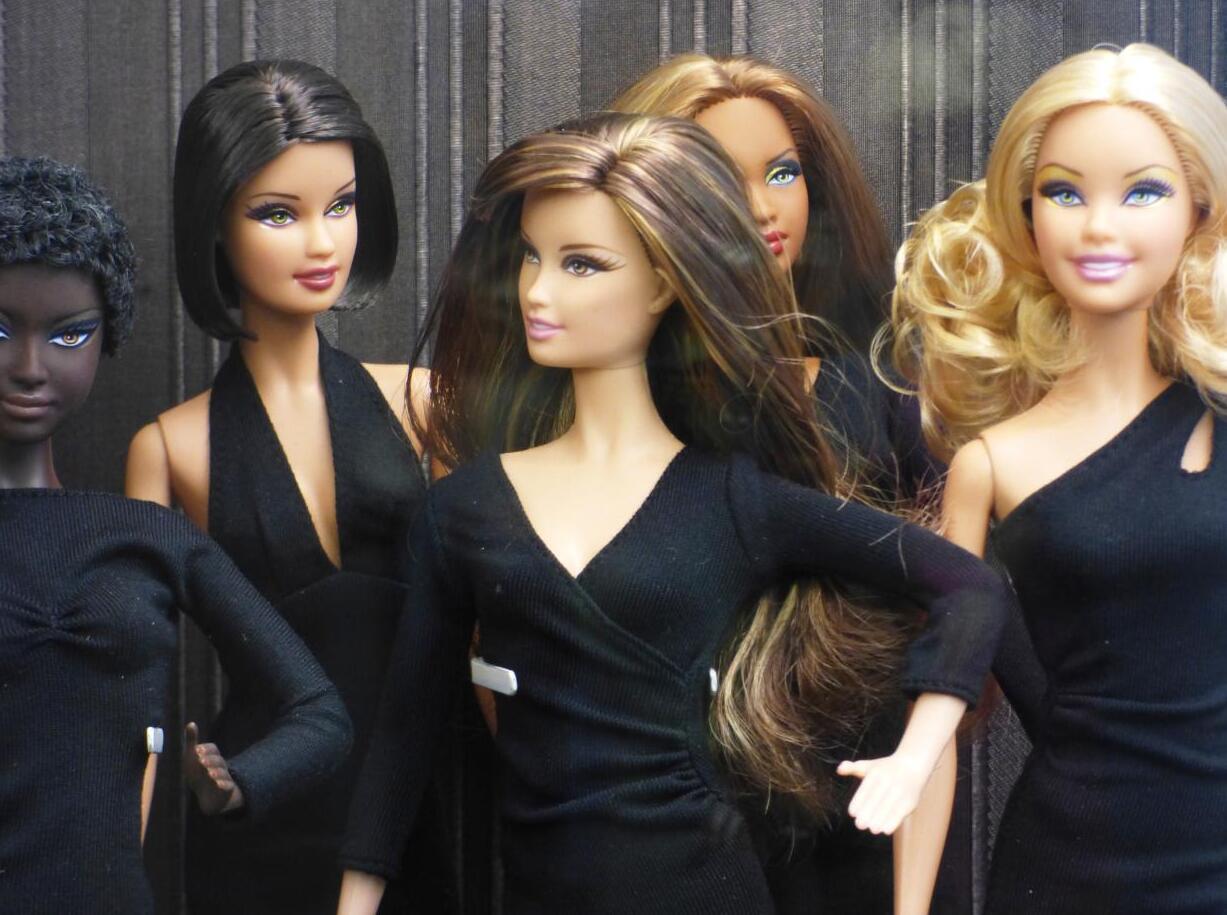 But the fun doesn't stop there! How about those epic nights out with your besties? You know, the ones where you own the dance floor and laugh till your sides ache? Barbie cocktails are your ultimate wingwoman or wingman! Sip, dance, and repeat as you paint the town pink. It's a guaranteed recipe for a night you'll never forget.
Alternatively, these cocktails are just as fun for cosy nights in with your squad. Movie marathons, pyjama parties, or just a casual get-together, Barbie cocktails add a touch of glamour and excitement to any gathering. Why settle for boring old drinks when you can serve up these enchanting potions that scream fun!
And if you're feeling extra creative, throw a Barbie-themed party just for the hell of it! Embrace the pink, deck out the venue with Barbie dolls and decorations and let the cocktails be the star of the show. It's like stepping into a real-life Barbie Dreamhouse that's fabulous, fun, and full of flair! Let's face it, there's no bad time to have a pink-tastic, top Barbie cocktail!
Try Barbie Cocktail Making Today
These Barbie cocktails combine a splash of childhood wonder with a sprinkle for grown-up fun. So, go ahead, gather your mates and let the magic of everyone's favourite doll infuse your celebrations with glamour, nostalgia and good times. If you want to learn more about cocktail making, why not book a cocktail masterclass? We've got hundreds of fun classes where you'll learn to shake up a storm in a range of UK and European cities. So, what are you waiting for? Check then out below.