Even though it's August, it's never too early to start having a think about what you'd like to do for your corporate London Christmas party this year. There's plenty of options available, but this coming festive season, why not get a themed party organised which will create an incredible atmosphere and provide some truly magical memories for all of your party guests? We've got the ultimate themed party for you, which comes in the form of a spectacular Après Ski themed evening! Here you'll enjoy your very own Alpine Ski Lodge, where you and your guests will be able to experience all the warmth, comfort and glamour of this much loved Christmas theme!
This month, we've compiled a list of five top reasons as to why this fantastic Après ski package in London is for you!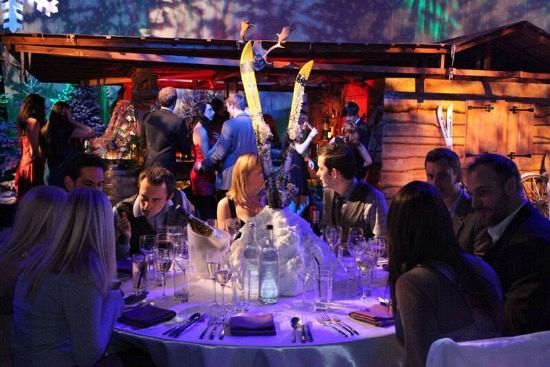 1) You'll get to enjoy an Après ski themed experience without the flights
That's right, you won't have to fork out on those pricey airfares to a snowy resort in Europe! You'll be met by a beautiful roaring fire and chairs that are draped in gorgeous faux-fur as you step inside this cosy ski-lodge party right here in London. As you take in the sights of the impeccably decorated venue, you'll notice the likes of faux-animal head trophies that protrude from the walls and stacks of logs which have been piled high for that authentic feel. Canapes will also be handed out to everyone on arrival to the party.
2)You won't have to rock up in thermals and big puffy jackets
Definitely not! The dress theme of this amazing Après Ski party experience is smart, so get ready to put on your finest attire and be prepared to dazzle. Rock your finest sparkly cocktail dress, some heels and give your hair a proper pamper and inject some volume into it for the night or go for a pretty updo. Gents, crack out one of those shirts that you keep for best, teamed with some smart trousers and wear a pair of classy brogues for a truly dapper look. There won't be any thermal base layers in the house at all tonight!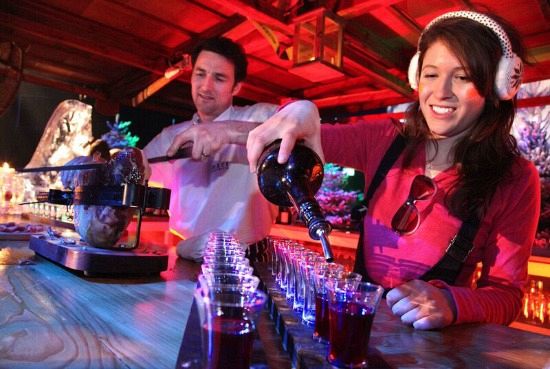 3) You'll be able to celebrate with drinks as soon as you get there
Make your way to the awesome log-cabin style bar, where you'll be able to purchase a whole range of different drinks. Whether you're after a delicious and tasty cocktail, towering steins of beer, or a warming cup of mulled wine, the venue will ensure that there's a great choice on offer for everyone.
4) A delicious three course feast will be on hand to keep your taste buds satisfied
It's not just about the drinking at this fantastic party – the venue's incredibly talented catering team will whip up an absolutely delectable three-course dinner for every guest. There's plenty on offer for everyone to choose between and there's something for the vegetarians of the group too, so there's no need to despair!
First, how about a tempting starter in the form of brown sugar and citrus cured Scottish salmon with a dill crème fraiche, heritage beetroot salad that's topped with toasted grains. For the main, why not opt for the butter poached breast of Cornish chicken served with a crunchy herb rosti potato, parsnip cream, sage roasted squash, savoy cabbage and a rich burgundy red wine sauce.
Round off the experience with the dark chocolate ganache served with a sensational salted caramel sauce and delicate mini meringues, complemented with sweet toffee ice cream. If you need a caffeine fix to perk you up, then coffee and tea will be served just after dinner, in addition to homemade truffles, cheese and biscuits.
5) You'll be able to party the night away
As far as after dinner entertainment is concerned, this venue really has got it right with a state of the art dance floor and a brilliant professional DJ who will create the perfect playlist for your evening. They'll create an amazing atmosphere where everyone will be able to let their hair down and throw some serious dance moves!