The festive season is almost here, and it's never too early to start thinking about planning your Christmas décor. With new trends popping up every year, there's always something fresh and exciting on offer when it comes to festive styling for office Christmas parties or at home. But if you prefer a more traditional look, don't worry – timeless decorations will always create that cosy, warm atmosphere we all love.
Whether you're decorating your home, workplace or party venue and are looking for a bit of festive décor inspiration, then you've come to the right place! We've curated the ultimate collection of ideas to make your Christmas décor for 2023 unforgettable! It's time to deck the halls with the most exciting, on-trend styles that will ensure your home or venue shines brighter than ever!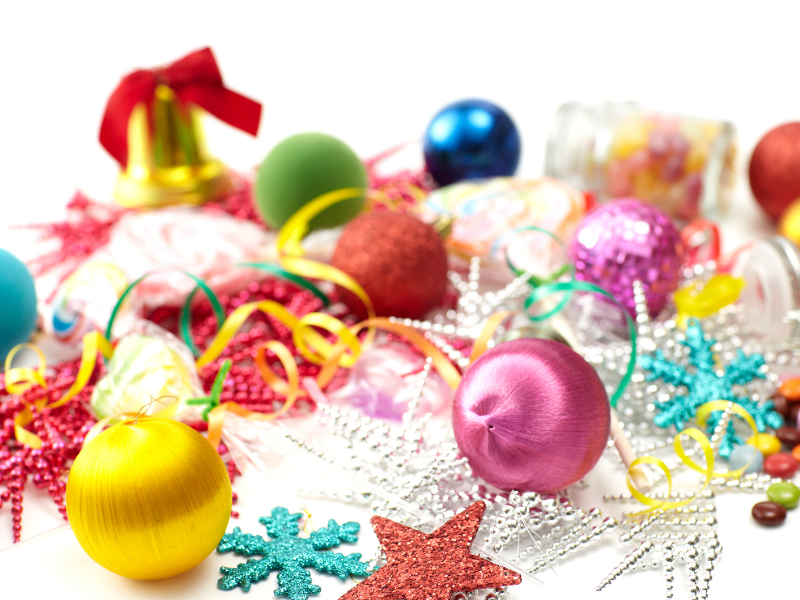 1. Rainbow Brights
This Christmas, it's all about embracing bright, rainbow-themed décor and introducing lively pops of colour to your scheme. If you're someone who's looking for a fun and cheerful Christmas theme, then this is the perfect style for you. To begin, ensure you dress your Christmas tree with a variety of ornaments, baubles and tinsel that reflect all the colours of the rainbow. There doesn't have to be a particular method when it comes to adding colour to your tree - just go with what feels right. And remember, you don't have to stop at your tree - why not add this colour scheme to other areas of your space? Consider the use of scatter cushions, table runners, festive ornaments, rainbow wreaths and anything else you can think of that will make your festive space stand out - it's time to brighten things up this Yuletide season!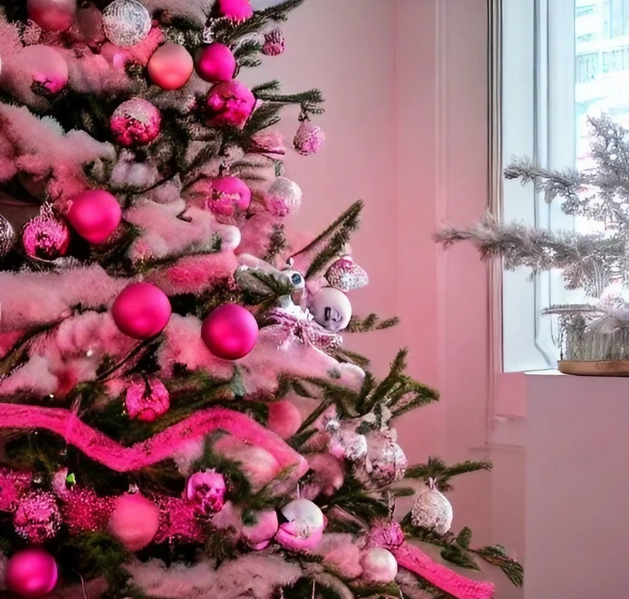 2. Barbiecore Christmas
Greta Gerwig's iconic Barbie movie was one of the highest grossing films of 2023, and with it, came the viral fashion trend, Barbiecore. For anyone that's been living under a rock this past year, Barbiecore is all about being bold, bright and unapologetic. And hey, if we can incorporate Barbiecore into fashion, then why not mix things up when it comes to Christmas styling too? With this fun and feminine theme, you'll discover a world of gorgeous pink hues and glittery magic that celebrates everything we love about the world's most famous doll.
When it comes to creating a Barbiecore Christmas theme, we say the pinker, the better! Experiment with tinsel, baubles, and ornaments in various shades of pink. You could even introduce feather boas, along with eye-catching pink or white lights. Oh, and don't forget to complete the look with a pink tree topper! Remember, you've got to keep that glam oozing! If you'd like to create a quirky feel, why not add a few Barbie dolls into the branches? And don't forget about that big ken energy, he deserves to make an appearance too! With this gorgeous and positively saccharine scheme, your home will become a pink den of style and sophistication. Best of all, it's fun! No one can possibly feel glum when they're in a Barbie inspired, festive paradise, right?
Blue Ice Wonderland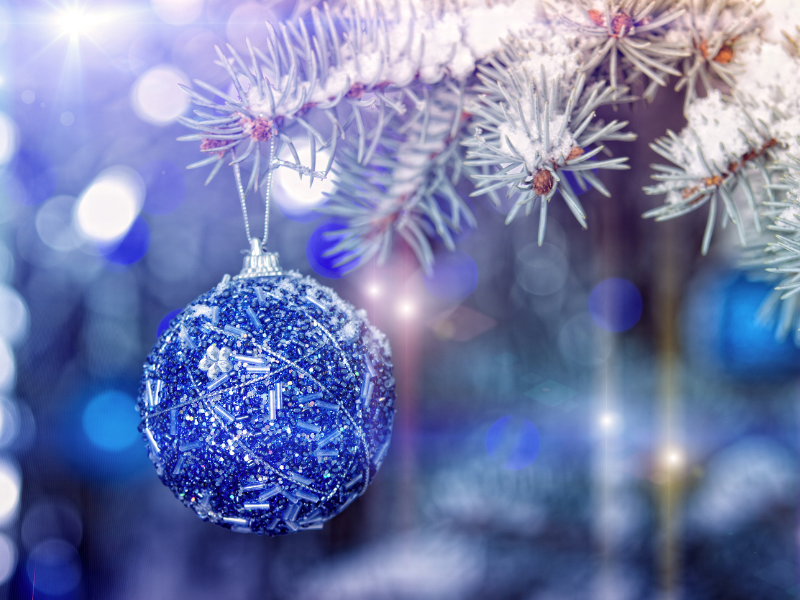 There's just something so magical about blue and white Christmas décor, so why not consider opting for a gorgeous Blue Ice Wonderland this year? You'll be able to transform your space into your very own Lapland, that kids and adults alike will adore. We absolutely love this stunning style that's inspired by shimmering icicles, snow-clad mountains and dark, glittering skies. Sure, it's a contemporary style, but it's one that also maintains that touch of classic Christmas nostalgia. So what are you waiting for? Get ready to sprinkle some seasonal joy into your home and embrace this frosty theme!
As you can imagine, this theme focuses around shades of blue, white and silver - basically anything that conjures up the image of a cool and crisp, December afternoon! Your colour scheme doesn't have to be completely bold though, have some fun with it by introducing metallic and glittery baubles, pretty snowflakes and striking icicles to really capture that essence of winter! Also, don't be afraid to experiment with accessories that add texture too. As for lights, look no further than ice blue and white fairy lights for your tree. The good news is that you don't have to stop there! Accessories other areas of your home with shimmery, glittery candle holders, table runners and festive wreaths?
To create an extra cosy feel, include fleecy blankets and faux fur accents to your sofas, so you can snuggle up with a good Christmas movie and a hot chocolate! You could even make Blue Ice Wonderland your theme for your Nottingham Christmas party (or wherever you're celebrating), and create a stunning wonderland that will have everyone feeling the festive merriment!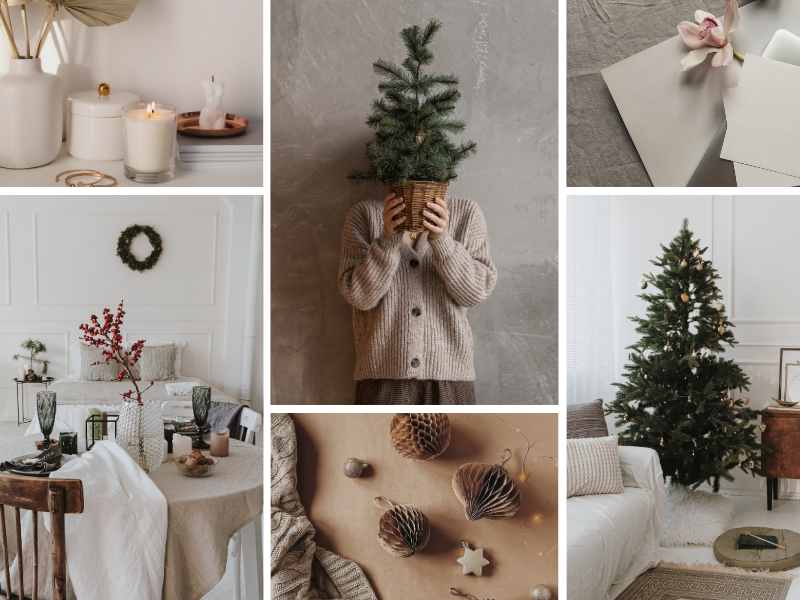 4. Natural Christmas
Ready to embrace the stunning beauty of the great outdoors? Then you'll love this natural Christmas theme that will be sure to create a calm and enchanting space. Go for a real Christmas tree or a green faux tree this year and decorate with rustic looking ornaments and organic décor that celebrates the beauty of nature. Think pinecones, wooden stars, dried orange slices and introduce some greenery too, such as ivy or holly. Don't forget to include some subtle string lights to your tree, which will introduce a soft and delicate twinkle.
When it comes to other areas in your home, you can't go wrong by adding festive wreaths to your doors. And if you're feeling creative, you could even craft your own festive wreath with dried flowers and twigs to make things even more authentic. Add a few cream candles or LED candles to your mantlepiece and create a warm, cosy ambience. Be sure to keep interiors neutral by opting for beige or grey colours to complement your natural scheme. With a natural Christmas décor theme, you'll create an inviting and peaceful environment that captures all the magic of the festive season - prepare to feel cosy!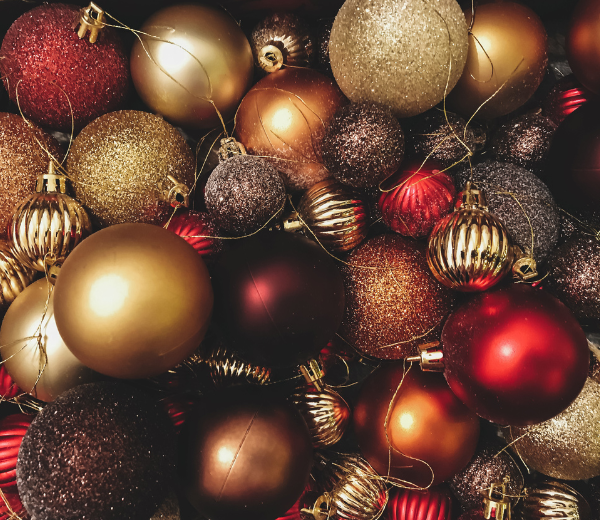 5. All The Metallics
Dazzle, shine and then dazzle some more with this gorgeous metallic Christmas theme that promises to add a whole lot of glamour! Choose a colour palette that consists of gold, silver and bronze, and don't be afraid to experiment with glitter baubles to complement your chosen metallic look. Add subtle fairy lights that offer a soft, warming glow, creating a cosy, calming ambience. Spread the metallic theme further by introducing a similar scheme to your dining table too, by opting for metallic napkin rings, cutlery and even table runners. Oh, and don't forget to add a little glitter on the table too for an extra bit of sparkle! This theme has a classy feel and will be sure to liven up your usual Christmas décor!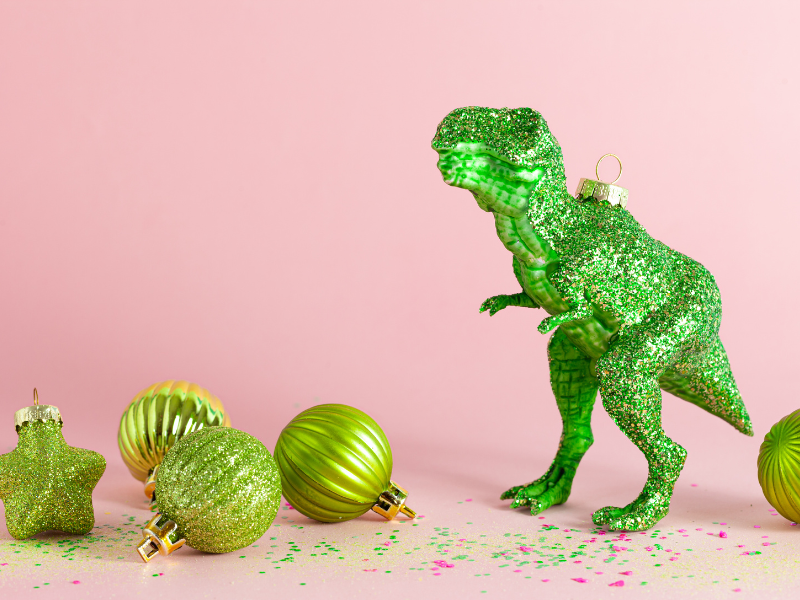 6. Quirky Christmas
Quirky Christmas décor is the perfect way to add a unique touch of fun to your festive celebrations. From random and offbeat ornaments to unusual décor pieces, opting for a quirky Christmas style is anything but ordinary. Let your creativity run wild with cheerful and playful pieces that will raise a smile. Think outside the box and consider bold patterns, unexpected colour combinations, and whimsical designs that will instantly brighten up any room. You could even create your very own decorations made from materials like felt, pom-poms and cardboard that are jolly and show off your personality.
Alternatively, there's a brilliant choice of non-traditional Christmas ornaments and decorations available in the shops these days, including festive dinosaurs, glittery fast food items such as pizza and burgers, parrots, mushrooms, dachshunds and even mini coffee machines! If you're hosting a quirky festive event this year, then you'll love our top choice of Christmas party themes which includes everything from tropical Christmas and Grinchmas, to land of the sweets and ugly Christmas jumper extravaganzas!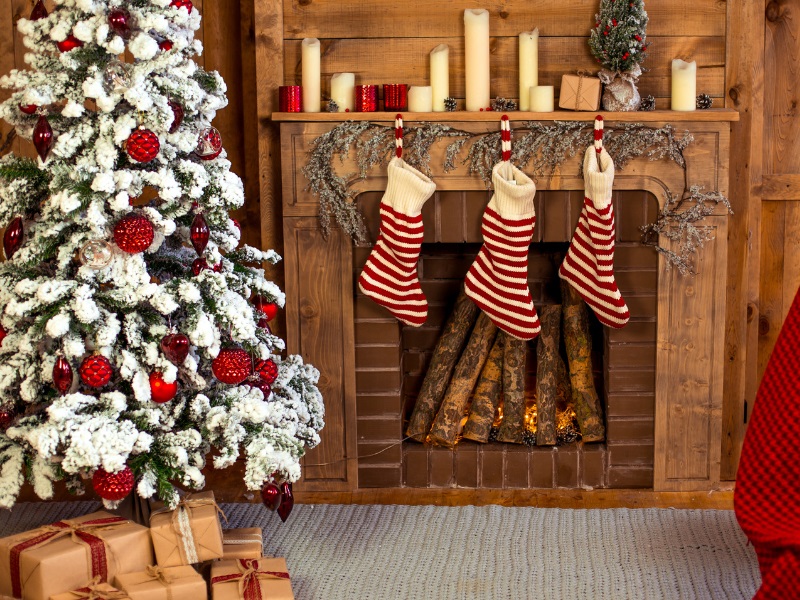 7. Traditional Christmas
Sometimes, you just can't beat tradition when it comes to Christmas. This style is absolutely timeless and a classic Christmas theme will be sure to provide all those nostalgic, whimsical feels. Think a green, red and gold colour scheme, with twinkling fairy lights, tinsel and a tree topper such as an angel or a star. Other traditional décor includes a nativity scene, wooden nutcracker ornaments or festive Gonks.
Don't forget to hang stockings on your fireplace and add beautiful festive wreaths to your doors - bonus points if you can craft the wreaths yourself! Use festive themed dinnerware if you have any to hand and incorporate the use of table runners and napkin holders to reflect the traditional colour scheme and bring a sense of comfort and joy to your space.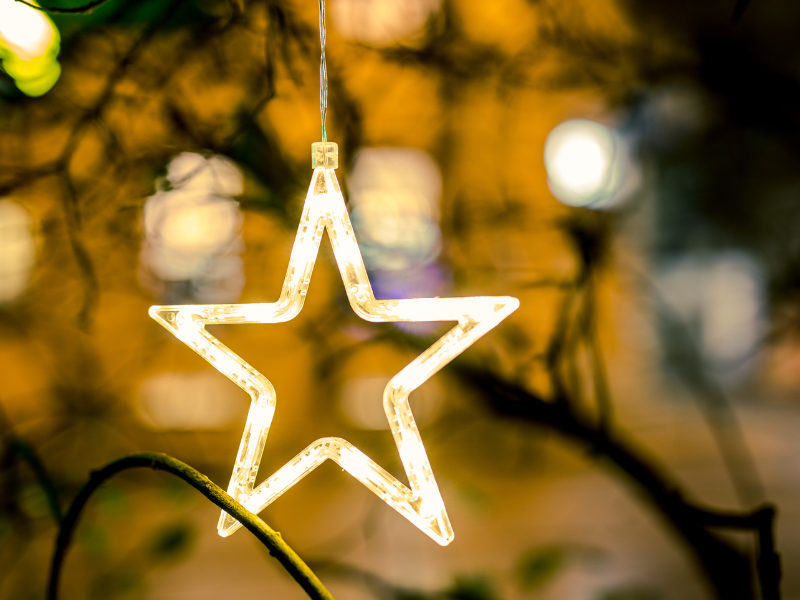 8. Neon Magic
If you're looking for something that's stylish and different this year, yet has a sense of fun about it, then how about opting for this bold Neon Magic theme? Neon Magic is all about making a statement with a modern twist and will allow you to unleash your creativity along the way. Use neon string lights, LED ornaments and glow in the dark baubles to illuminate your space and bring it to life! This futuristic décor trend is predicted to be a huge festive look for 2023, so get ahead of the game with this unusual and daring style that will make your home stand out!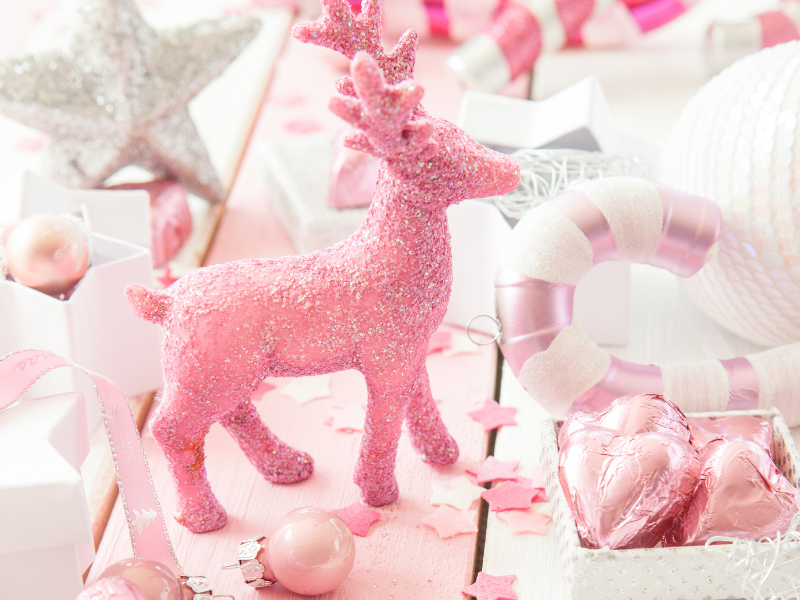 9. Pretty Pastels
It's all about those pretty pastel shades! Are you ready to step into your own perfect pastel wonderland? Then read on and learn more about this gorgeous theme that will create a dreamy and comforting style in your home or venue. A pastel theme is completely versatile and focuses on creating a tranquil yet elegant look that will transform your space into a realm of soft, delicate hues. Consider using gentle shades of blush pink, lemon yellow, mint green, soft lavender, and baby blue. Decorate your tree with pretty, pastel baubles and ornaments, along with white tinsel that will be sure to make your pastel theme pop.
You can also team your pastel shades with other elements such as glittery accents, and twinkling fairy lights to create a magical ambiance. If you'd like to continue the pastel theme at your dining table, then how about serving your indulgent festive feast on blush pink and white dinnerware?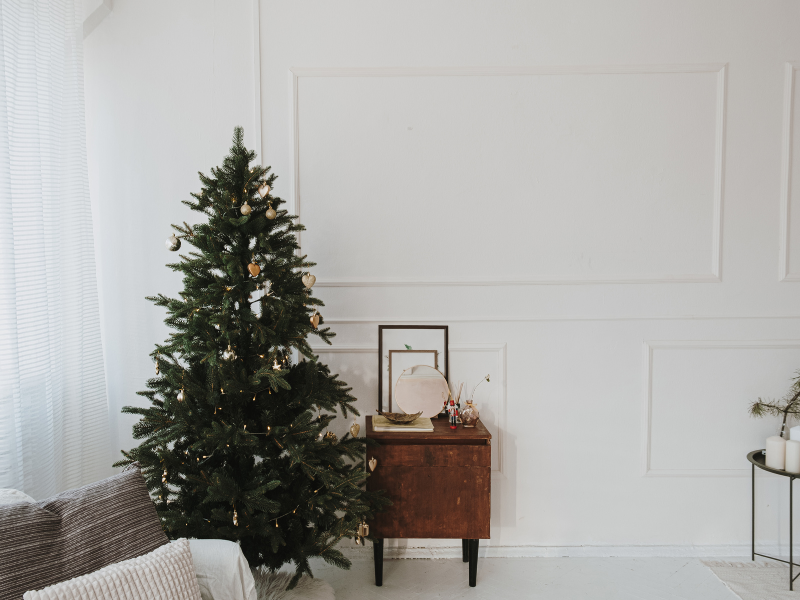 10. Minimalist
Minimalist Christmas décor is all about scaling back and choosing a small selection of decorative pieces for your space. This theme is a brilliant choice for anyone who doesn't want to go all out with their festive décor and would rather opt for a low key approach. However, don't be fooled into thinking that minimalist design is dull! Think of it more as a decluttered, streamlined vibe that works best with a neutral backdrop such a white, light grey or soft beige wall.
A modest Christmas tree is best for this look, and ensure you stick to one colour palette when it comes to the ornaments. Use your decorations sparsely - remember, less is more here. As for lights, we'd recommend very subtle tree lights in a soft glow to create a barely there look. It's a simple style, but one that's modern and humbling all the same.
Still Looking To Book Your Christmas Party?
It's not too late to book your festive celebration with Fizzbox! Whether you're looking for Bath Christmas parties an Oxford office Christmas party, or another top UK location, we've got loads of choice! So what are you waiting for? Take a browse of our incredible selection in your preferred locations and get set for the ultimate Christmas celebration!