The most wonderful time of the year is upon us, and that means it's time to start planning for the highly anticipated event on your office calendar, the work Christmas party! It's a chance to let loose, celebrate your achievements and spread the festive cheer with your colleagues. But before you start rehearsing your dance moves and your best party anecdotes, there's one crucial task at hand, deciding what to wear! Fear not, partygoer, we've got your back with a sleigh-load of tips and ideas to help you sleigh your Christmas party dress code!
1. Jingle Bell Chic: Dress to Impress
While the work Christmas party is a time to unwind, it's essential to remember that it's still a work-related event. So, the first rule of thumb is to maintain a level of professionalism in your outfit. Opt for attire that falls in line with your office's dress code, but don't be afraid to sprinkle some holiday magic into your ensemble. A classic knee-length cocktail dress for the ladies or a well-fitted blazer and smart trousers for the gents will set the tone right.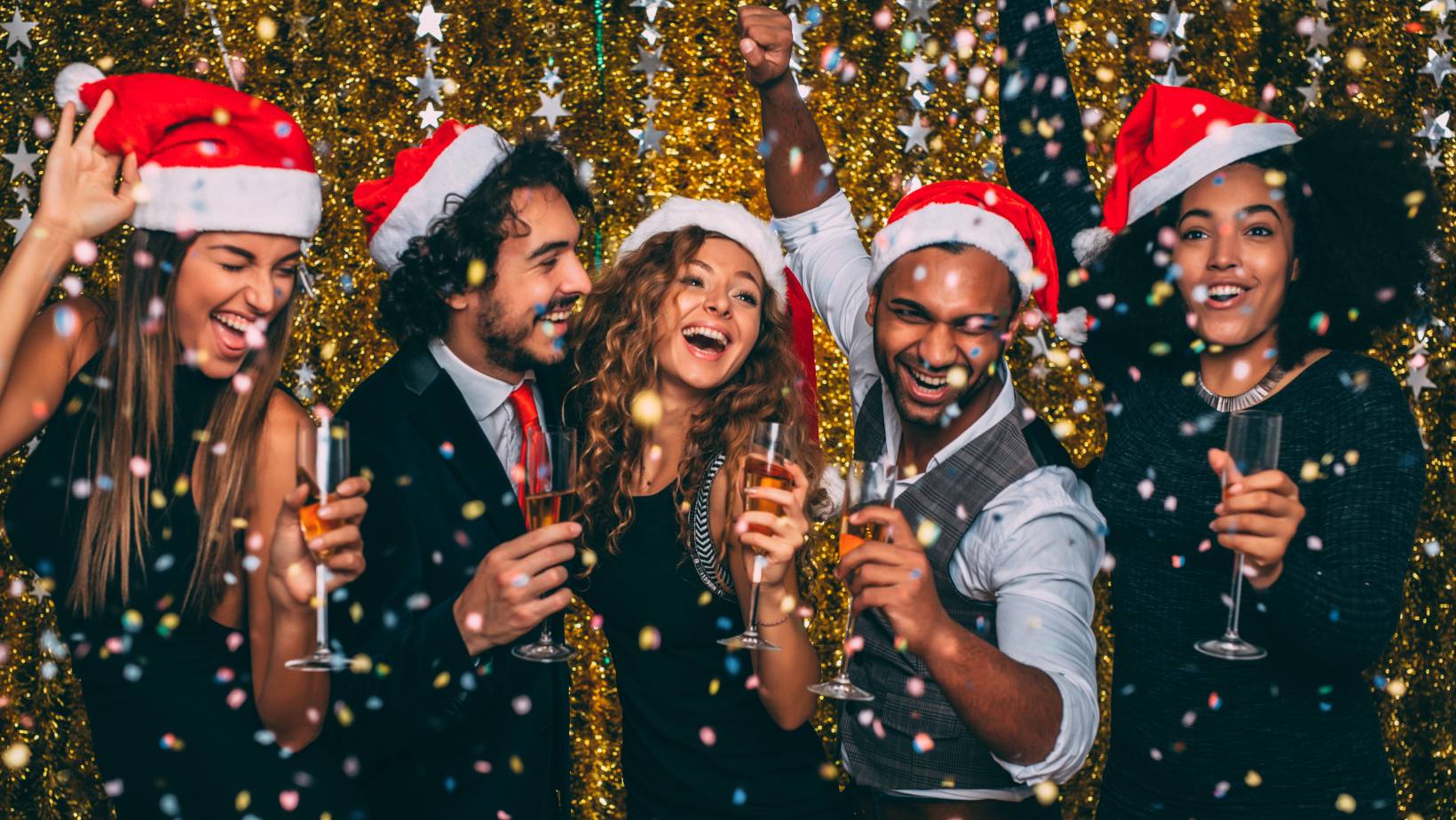 2. Tinsel Town Trends: Embrace the Festive Flair
This is your opportunity to get creative with your outfit! Incorporate elements that scream 'Christmas' while keeping it tasteful. Ladies can consider a dress with sequins, metallic accents or even a touch of red or green for that mega festive feel. For the gents, a festive tie or a Christmas-themed pocket square or cufflinks can do wonders to spruce up your look without going overboard.
3. Ugly Jumper Extravaganza: Go Bold or Go Home
Ugly Christmas jumpers have become synonymous with festive parties. If your workplace embraces a more relaxed atmosphere, why not fully dive into the festivities with an outrageously fun, tacky jumper? The tackier the better, we say! You can go for a classic pattern involving reindeer, snowflakes or a Santa hat or something wilder with 3D shapes, pom-poms, light up elements and over the top festive patterns. Remember, the key is to embrace the tackiness with a smile, as this can be a great icebreaker and conversation starter. This dress code is a fun accompaniment to all Christmas party ideas.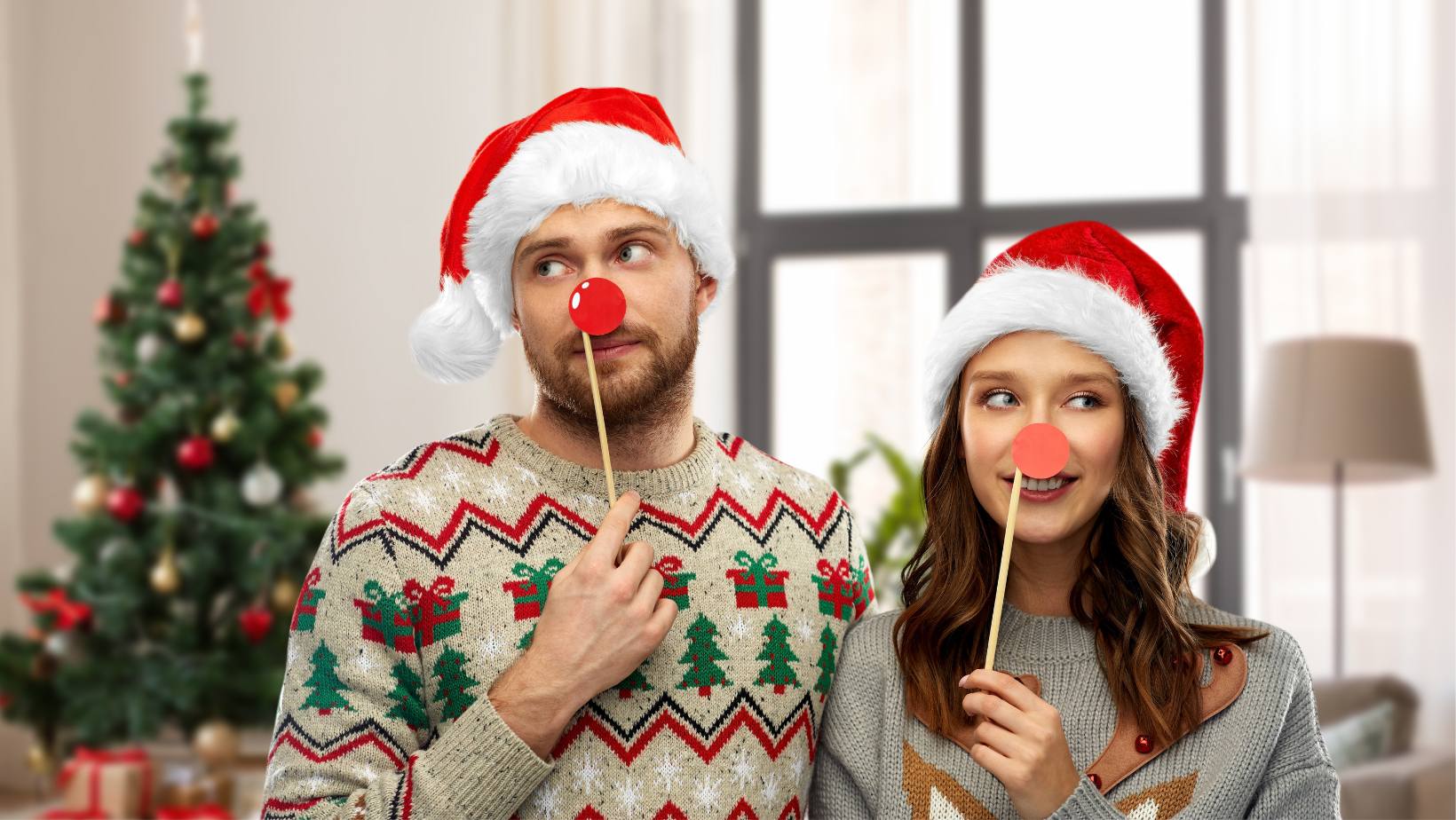 4. Mistletoe Magic: Opt for Elegance
If your office is throwing a more formal event, think elegant and sophisticated. Ladies, consider a floor-length gown in rich colours like deep red or emerald green, paired with statement jewellery. Gents, a well-tailored suit with a subtle Chrismassy tie or pocket square can strike the perfect balance between class and holiday spirit.
5. Festive Casual Fiesta: Comfort Meets Celebration
The festive casual dress code strikes the perfect balance between comfortable and celebratory. Ladies, think stylish yet relaxed outfits like a jumper dress paired with ankle boots or jeans and a nice top. Gents, a smart-casual shirt and dark jeans will ensure you're dressed to impress while still enjoying the laid-back atmosphere.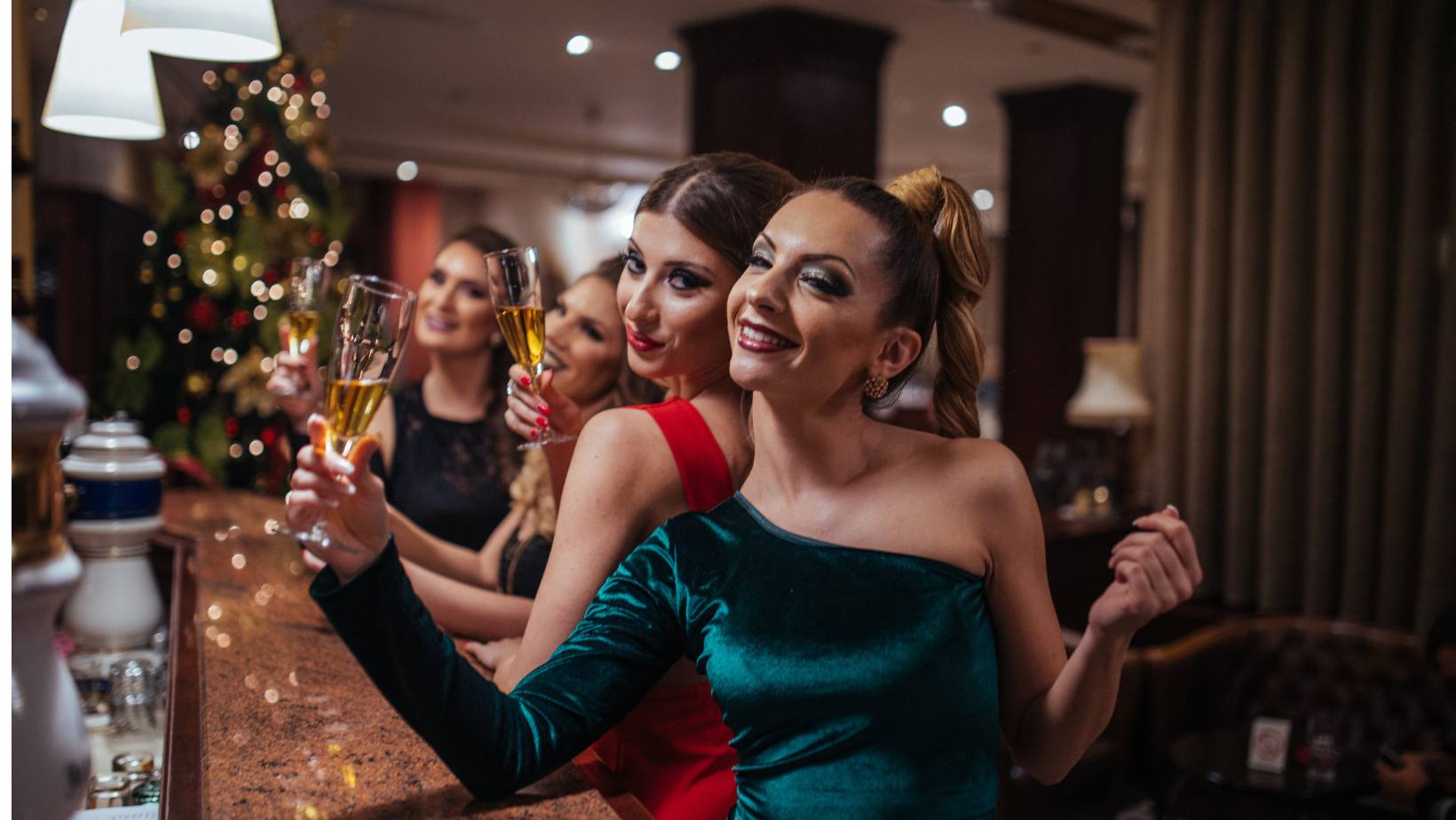 6. Masquerade Magic: Mystery and Glamour Combined
If your office is throwing a Masquerade-themed Christmas party, get ready for a night of enchantment and intrigue. Ladies, embrace the opportunity to wear a beautiful mask that complements your outfit, while gents can rock a dashing suit paired with a sleek mask. Think drama, elegance and a touch of mystique as you dance the night away in true masquerade style.
7. Winter Wonderland White Out: Let it Snow, Stylishly
For those lucky enough to attend a Winter Wonderland-themed party, it's time to paint the town (and yourself) white! This dress code is all about crisp, clean and chic party wear. Ladies, go for a white dress with shimmering accessories that evoke the sparkle of freshly fallen snow. Gents, a white suit or jacket paired with icy blue accents can have you looking as cool as an arctic breeze.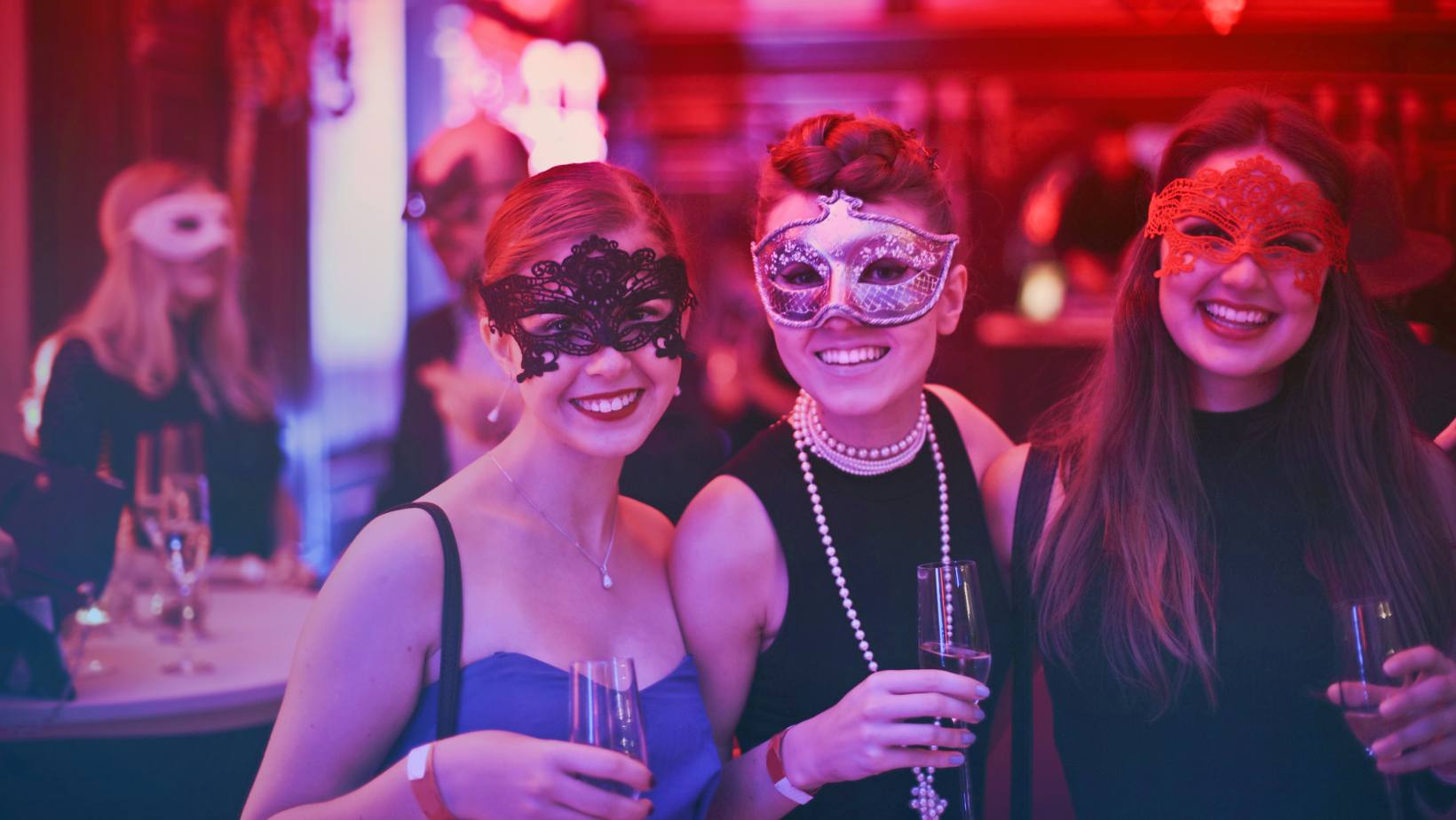 8. Festive Film Characters: Dress as Your Favourite Movie Icons
Lights, camera, action! Turn the party into a mini Hollywood with a festive film characters dress code. Attend your Nottingham Christmas party or celebration in a different city as your favourite movie character, whether it's Buddy the Elf, the Grinch, Mean Girls. Get creative with costumes and props that pay homage to iconic cinematic moments we all love and know. This dress code guarantees a night filled with laughter, bonding and plenty of photo opportunities.
9. Pyjama Party Extravaganza: Comfy and Cosy Wins the Night
This is a very quirky theme but definitely a fun one! Who says you can't wear your PJs to the office Christmas bash? The pyjama party dress code is all about comfort and embracing the cosiness of the season. Opt for cute, matching pyjama sets or throw on your favourite onesie for an extra dose of whimsy. Extra points if it's Christmas themed! Just make sure your pyjamas are clean, well-presented and festive enough to make Rudolph proud.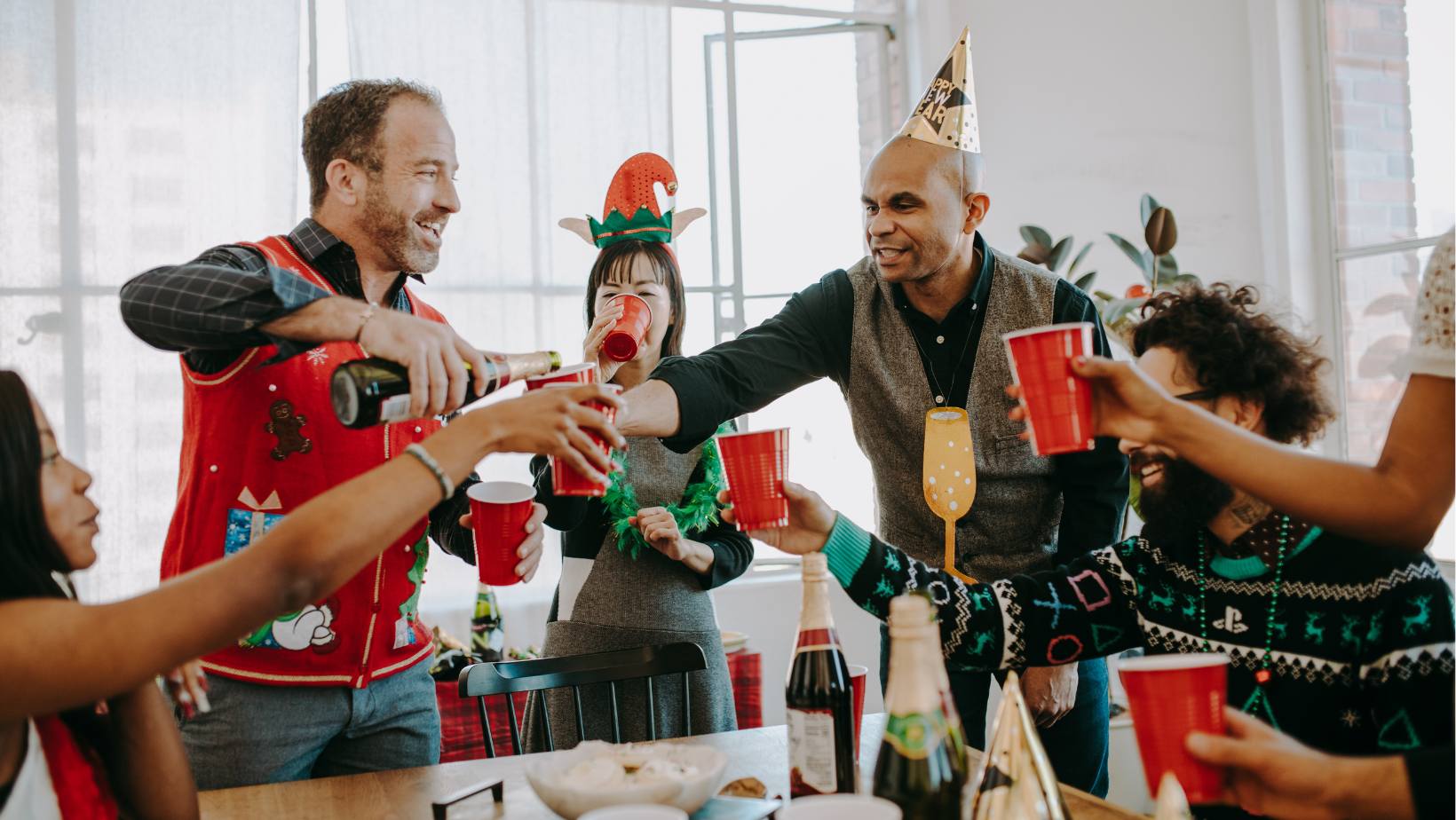 10. DIY Delights: Get Crafty with Your Outfit
If your office or workplace encourages creativity and hands-on fun, the DIY Decorations dress code is your ticket to an amazing Christmas party. This is the time to showcase your crafty side by incorporating handmade ornaments, tinsel, lights and other festive decorations into your outfit. Who knew you could turn a plain top into a holiday masterpiece?
Other Top Tips for Christmas Party Dress Codes
Now you've got the lowdown on what to wear for a work Christmas party, let's talk accessories and other cute little touches you can add to your outfit to make it look even more festive.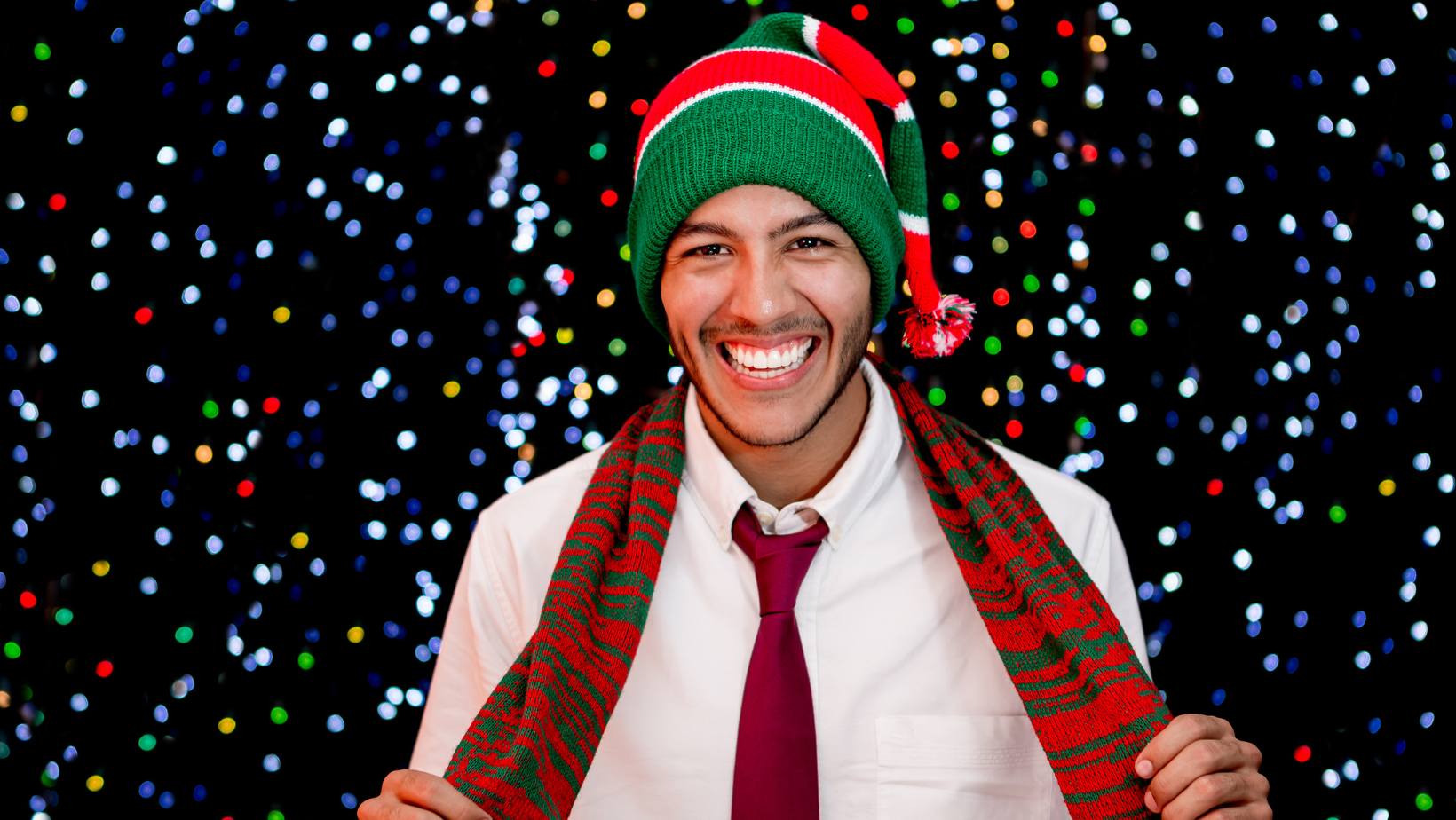 Snowflake Accessories: Little Touches Matter
Accessories can be your secret weapon to turn a regular outfit into a Christmas-ready ensemble. Think snowflake-shaped earrings, candy cane bracelets or even a brooch in the shape of a Christmas tree. These small touches can add a playful vibe to your outfit while maintaining professionalism.
Santa's Shoe Collection: Step Up Your Footwear Game
Don't underestimate the power of a good pair of shoes. Ladies can go for heels that match their outfit's colour scheme, or even opt for glittery or metallic shoes to add a touch of sparkle. Gents, a polished pair of leather shoes can instantly elevate your look. Remember, comfortable shoes are key, especially if your party involves dancing the night away!
Frosty Makeup and Hair: Glamour with a Dash of Festivity
Ladies, this is your chance to experiment with your make-up and hair in ways you might not do during regular office hours. Think shimmery eyeshadows, a bold lip colour or even a bit of glitter to capture the festive spirit. For your hair, loose curls, a chic updo or even a festive hairpin can tie your entire look together. And let's not leave out the men; feel free to create a glam look for yourselves however the mood takes you.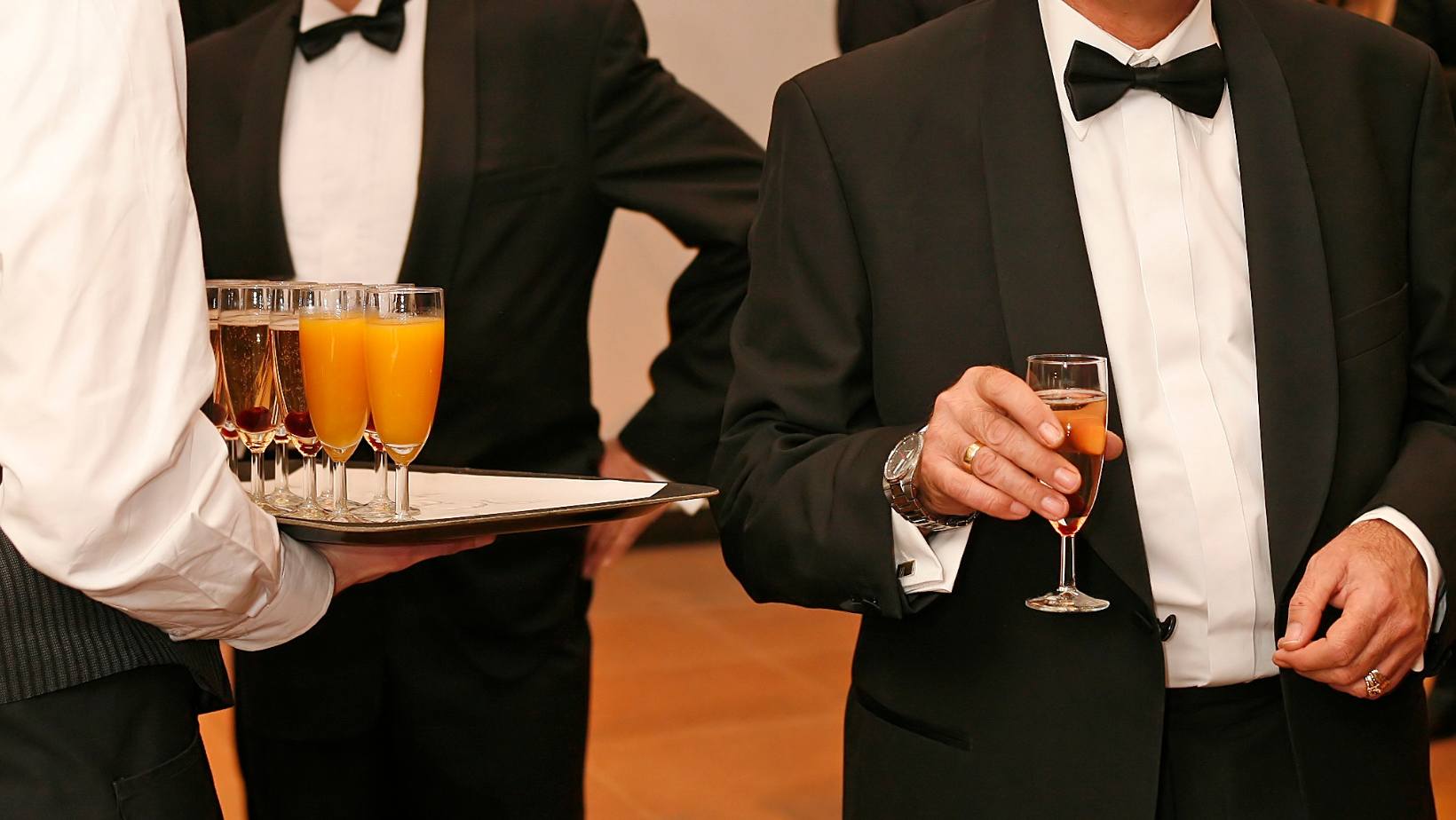 Confidence: Wear What Makes You Feel Good
The most important aspect of your work Christmas party outfit is that it makes you feel confident and comfortable. After all, confidence is the best accessory you can wear! Whether you're rocking a sequined dress or a dapper suit or something more casual, if you feel good in it, it'll reflect in your demeanour and interactions throughout the evening
Secret Santa Gifting Glam: Coordinate with Colleagues
If your office is organising a Secret Santa gift exchange? Then why not coordinate your outfit with your gift? For instance, if you're giving a cosy blanket as your gift, you can incorporate similar colours into your outfit or just wear something to match the wrapping paper you've used. This can be a fun way to engage with your colleagues and show off your creative side.
Reindeer-Approved Attitude: Spread the Joy
Lastly, remember that your outfit isn't just about looking good; it's about spreading the Christmas joy! Embrace the festive spirit with a smile, positive attitude, and a willingness to engage with your co-workers. Whether you're having a Bath Christmas party, a Cardiff office Christmas party or letting loose somewhere else altogether, the focus should always be on fun. After all, the best accessory you can wear is your infectious enthusiasm for the season!
Wrapping Up Christmas Party Dress Codes
Your work Christmas party dress code is all about finding the right balance between fun and professionalism. From black tie to ugly Christmas jumpers, there's a huge range of options that allow you to express your personal style while adhering to the occasion's tone or theme. So go ahead and channel your festive spirit and have some fun with your style. Now you know what to wear for a work Christmas party, go and sleigh with your gorgeously festive look. May your outfit be as merry and bright as your Christmas is!