We're not quite sure how, but it's somehow approaching the festive season once again! And yes, you guessed right - it's time to get cracking and plan an unforgettable festive celebration! Whether you're looking for office Christmas parties or you're arranging a get together with family or friends, there's one question that pops up without fail each and every year, and that's "When should the party actually start?". In all honesty, it's a tricky one, as there's really no right or wrong answer. However, what we will say is that it's important to choose a starting time to suit your guests - you want everyone to get fully involved in that festive merriment after all!
If you're unsure how to work out the perfect start time for your event, then don't worry! In this blog post, we'll discuss all the factors and considerations to bear in mind when it comes to planning. We've got you covered with all our top tips and tricks to make your Christmas party a merry and memorable one - however you're celebrating!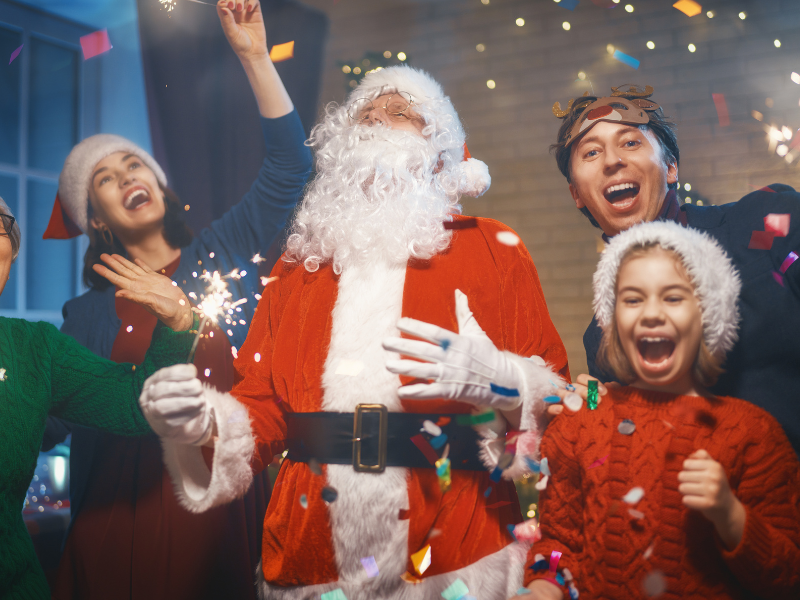 1. Consider the Nature of the Event
The kind of Christmas party you're putting together has a big impact on when it should start. Whether it's a company bash, a get-together with friends, or a festive family affair you're planning, the ideal start time really depends on who will be there. Is it a laid-back evening with just your co-workers from the same department, or is it a big company-wide shindig? Are you inviting colleagues to bring their loved ones, including the little ones, for a work-related celebration? We've got you covered! Below, we've shared our expert insights on each of these scenarios to help you find the perfect start time for your Christmas party.
Departmental Celebration
If you'll be enjoying the festivities with your department this year at work, then there's a number of options to consider. You could either go for a festive lunch, dinner or shared Christmas party night. You may be able to get sign off from your manager for a slightly extended lunch period during work hours if this is a favourable option, or alternatively you may like to go for an evening meal or social activity instead after work. We'd suggest going straight out after work if it's the latter, to save your colleagues having to go home and head back out again.
Another great option for a departmental group to enjoy could be an organised shared party night. You'll be able to have your own designated table for your department and the event will start at a set time (usually around 7pm), so you won't have the headache of having to estimate the start time!
Company Wide Event
If you're a large company hosting a massive event exclusively for employees, then we'd recommend opting for an evening event during the working week. You'll want maximum turnout, and if you host on a weekend, you risk employees having prior plans or commitments. The ideal time for an evening celebration to start in this instance would be around 7pm. Many employees will get ready at work and head out to the event from there.
Family Friendly Work Party:
If it's a family-friendly work event, it's best to start the party earlier to accommodate children. A start time of 3 or 4pm. works well in this case, allowing families to enjoy the festivities and still have enough time for the little ones to wind down before bedtime. We'd recommend hosting this kind of party at the weekend rather than after school, as children might be tired.
Club or Organisation Festive Celebration
Part of a club or organisation in your free time and you're looking to enjoy a bit of festive merriment with your group? Then a good idea would be to host the event either on a weekday evening or during the day or evening at the weekend. Your start time will depend on the theme of your event - will you be enjoying a lunch or dinner together, or taking part in a social activity. Also, consider the age of the people within the group. If there are elderly members, they might prefer for the event to take place during the daytime. So, plan accordingly and get ready for some jolly good times with your fantastic group of friends!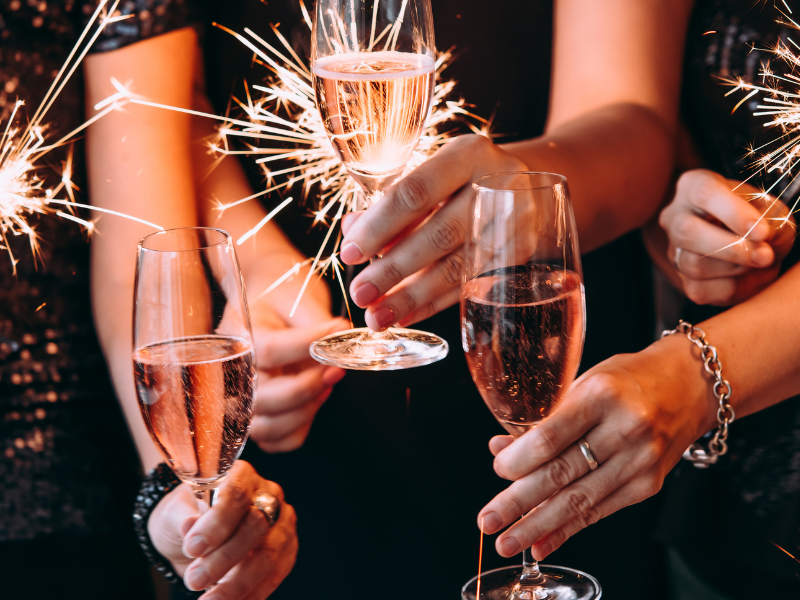 2. Workday or Weekend?
If you're hosting the party during the working week, it's best to schedule it after regular working hours. Starting at around 5 or 6 pm allows employees to wrap up their tasks for the day and transition into the party mood without feeling rushed or stressed. On weekends, you can be a bit more flexible with start times, but remember, not all employees may be able to attend at weekends. Consider the preferences and availability of your guests to determine a suitable start time.
3. Consider the Duration
Think about how long you want the party to last. If it's an after-work affair, a start time between 5 and 7 pm and lasting until around 9 or 10 pm is typically appropriate. For weekend events, you may opt for a later start time, such as 6 or 7 pm, and extend the party late into the evening. Consider the comfort and energy levels of your guests and plan accordingly. If the party is on a Friday or Saturday night, your guests may be inclined to keep the fun going into the early hours!
4. To Theme or Not To Theme?
To theme or not to theme, that's the joyful dilemma when it comes to planning a Brighton Christmas party (or wherever you're celebrating!). Themed parties can be an absolute blast, adding an extra sprinkle of excitement and creativity to the festivities. Whether you opt for an ugly festive jumper extravaganza, a magical winter wonderland, or a glamorous black and gold affair, a theme can bring the party to life and ignite interesting conversations. Now, when it comes to the best start time for a themed party, it all depends on the nature of the theme itself.
If you're hosting a snug Christmas movie session, then a late afternoon or evening start time would be ideal to make things feel all lovely and cosy. If you're choosing something that's a bit more active like a festive sports or games event, then we'd suggest opting for a late morning or afternoon start time; that way, there's time for everyone to grab some lunch or dinner afterwards! So if you're looking to plan an exciting themed event to excite your guests, then plan the perfect start time that goes hand in hand with your specific theme. In need of some themed party inspo? Then why not check out our top Christmas party ideas for a memorable bash!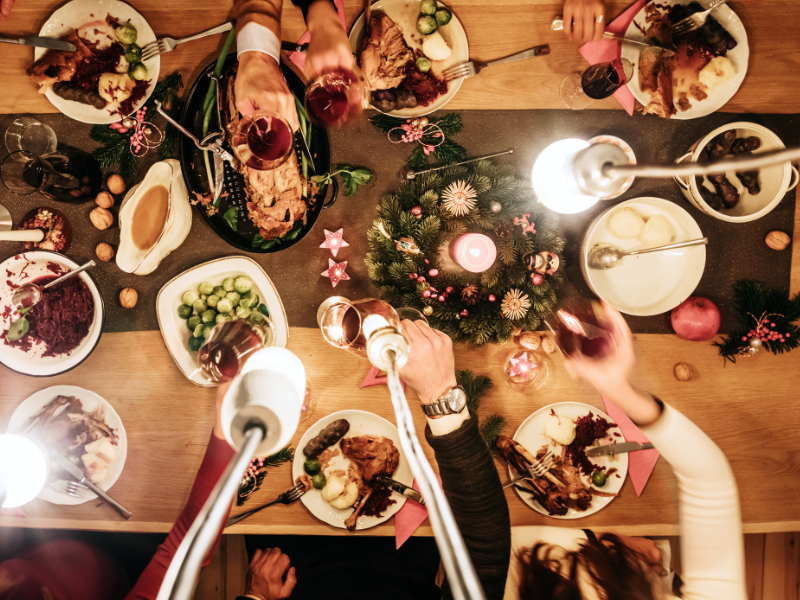 5. Meal or Appetisers?
If your Christmas party includes a sit-down meal, it's important to schedule the start time with that in mind. Give your guests ample time to arrive, mingle, and settle in before the meal is served. Starting the party approximately 30 minutes to an hour before the scheduled mealtime should allow for a relaxed and enjoyable experience. If your party centres around appetisers and finger foods, you have more flexibility with the start time, as guests can graze at their own pace throughout the event.
6. Survey the Guests
When you're unsure about the best time to start your Christmas party, why not ask your guests for their opinion? You can send out a fun poll or just have an informal chat to find out what works best for everyone. Not only will this boost attendance, but it also shows your guests that you care about their thoughts and want them to have a great time. After all, it's all about celebrating together and having fun!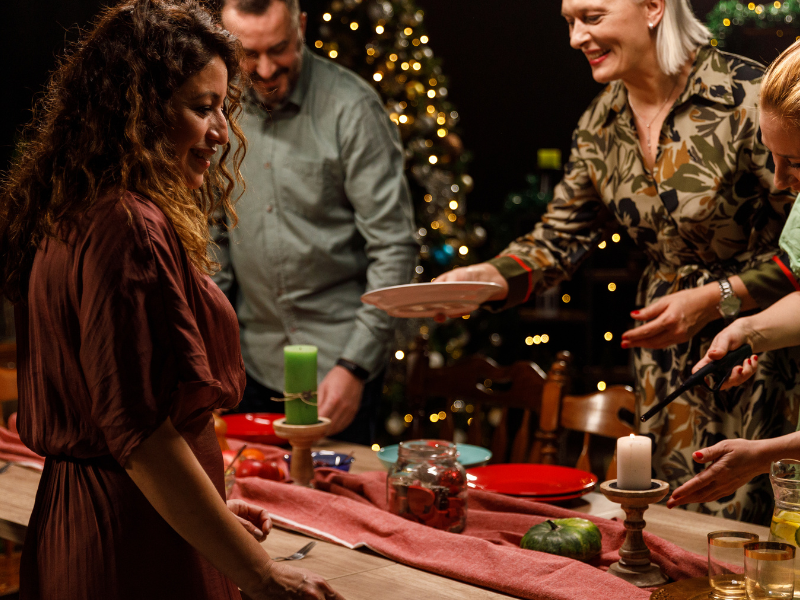 7. Allow for Setup Time
Lastly, make sure to factor in some setup time before the party kicks off in full swing! As the host, it's important to have everything ready and in place before your guests start pouring in. Give yourself plenty of time to set up those enchanting decorations, organise the delectable food and drinks, and take care of any last-minute details. With a bit of pre-party prep, you'll be all set to create a magical atmosphere that will dazzle your guests from the moment they arrive!
The Take Home Message
It's important to set the right tone for your Christmas party by choosing the ideal start time that works well for everyone attending. Take into account your guests' schedules and preferences, and aim for a balanced time that will make everyone happy. Whether you're planning a festive after-work gathering or an epic weekend extravaganza, your main focus should be creating a cosy and inviting atmosphere where everyone feels welcome to relax, have a good time, and celebrate the magic of the festive season together. So, get ready to deck the halls and spread some cheer - your guests won't want the party to end!
We wish you an unforgettable and well-timed Christmas party!
Looking For Christmas Party Inspiration?
We can't deny that the festive season will be upon us in no time, so why not start thinking about booking your Christmas celebration? We've got loads of incredible party nights that will be sure to delight, with everything from Southampton Christmas parties to a Leicester office Christmas party! We offer festive events in most of the UK's major cities, so you'll never be far from an amazing, Yuletide bash!