I generally think that the best bridal make-up is simply the most exquisitely polished version of how you usually look, and a recommended and talented make up artist can help you achieve this. You so deserve it!
The best wedding make-up should last as long as you do. I personally love airbrushing for this very reason. It's a lightweight foundation misted over the face which not only evens out the skin tone but also covers all minor blemishes and imperfections without the need for touch ups. You can read more about this on my blog.
Choosing and researching a make up artist If you're lucky, you can follow up a recommendation from a friend. To find an artist that's right for you, look at a good selection of the artists images (especially close ups) on his/her website (and read their testimonials) before contacting them for a trial, and also look at their social media sites. It will also help the make up artist if you share and discuss your make up and colour preferences, your skin type and importantly, whether you have any allergies or sensitivities to various products, all before your trial... A good make up artist should have already asked you this before the trial. Very often your wedding venue will have a list of mua's that they recommend. If you love natural pretty make-up, avoid a mua that has a portfolio full of dark smokey eyes and bright lips.
As you will be considering your budget as well as the artist, remember that you do get what you pay for, so look carefully at their images on their website and social media sites and also have a read of their testimonials. Steer away from any images of orange faces! I recommend a make up trial about 4 weeks beforehand and suggest to the bride to share Pinterest images of make up styles and colours that she likes. I ask my brides to wear a pale and plain t-shirt or shirt for the make-up trial, so that you can see how the make-up looks against a pale colour and take a picture of yourself in day light (with no flash) to see how it looks. Try to identify what it is you like about the make-up in the image and take into account that if you have ivory or very pale skin colour then the make-up of Kim Kardashian won't necessarily translate onto you. 4/5 months beforehand, really look at your diet/lifestyle/exercise regime as this will of course affect the health and glow of your skin which will assist to your wedding make up (and the health of your hair) looking great. You can read some top tips on
how to get in shape for your wedding
here. Check in with a beautician to chat about a skincare plan and possible facials, but preferably no facials in the last 2 weeks before your wedding.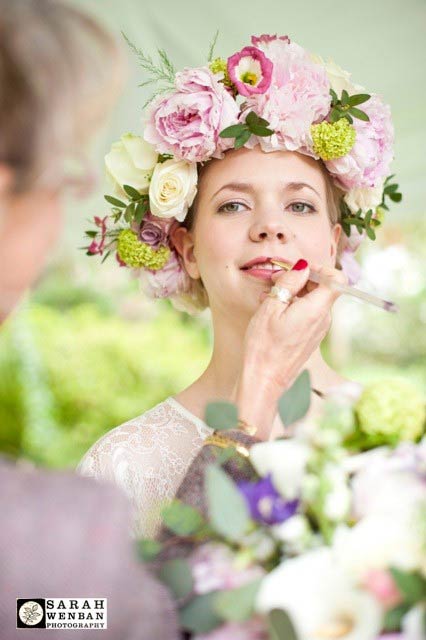 Styling your own Book yourself a make up lesson in one of the high street stores. Focus on the most important elements of your look, such as beautifully natural-looking skin, softly groomed brows and feathery lashes. If you get these basic factors right, the rest of your make-up will fall into place. If you've already found make up products that offer the perfect finish and match your skin tone exactly, don't change this for your wedding day, stay with the products you're happy with and those that you feel confident with and work for you. Definition yet softness look beautiful in photographs. Do watch the wonderful
Lisa Eldridge's video on Primers
as it answers all those questions about what to use and what to buy, it's excellent. Look for products labelled Long Wear/Long Lasting/Waterproof (and hopefully cruelty free; look for the little white rabbit label on the back of the product). Blend, blend blend! Do allow yourself 45 minutes of calm and peaceful time to do your own wedding make up (maybe with a glass of bubbly!) and remember eye liner always takes longer.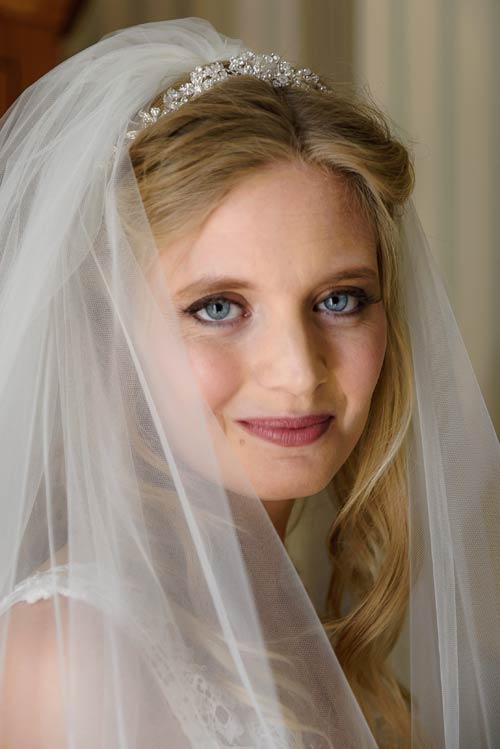 Skin Prep
Follow your regular morning beauty routine, followed by a lovely slow and gentle facial massage with your moisturiser, which is very calming and nourishing .
Primers & Foundation
Invest in a good and superior foundation (you do get what you pay for) and remember, it's not just about getting the right colour, it is also about getting the right formulation. Get samples from counters, take them home and wear them in daylight, all day until you find the one for you.
Apply in THIN layers, starting from the middle of the face and blend outwards using a foundation brush.
For concealers, look for a creamy one that will provide lasting wear to see you through your wedding day and night. It will be worth spending extra for the quality and remember it will last.
Take into account foundation colours will match if your having a spray tan.
One of the biggest mistakes women make is not blending in their foundation past their jawlines and down onto their necks and chest, If your face is five shades lighter than your body, it will ruin your photos. Also, make sure there aren't any harsh lines from foundation or contouring, or you'll look overdone instead of ethereal.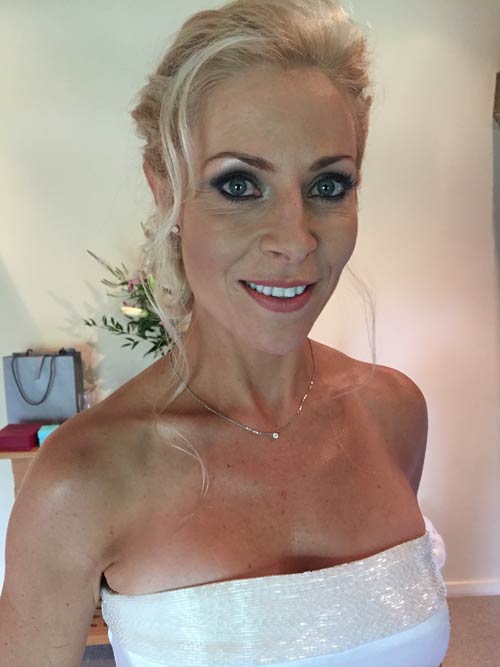 Blushers
For my cover girl bridal looks, I love creamy blushers applied lightly to the apple of cheeks and brush (or use the tips of fingers) and blend upward toward the temples. If you have oily skin, there are amazing silicone based waterproof liquid cheek stains which will give you the same effect.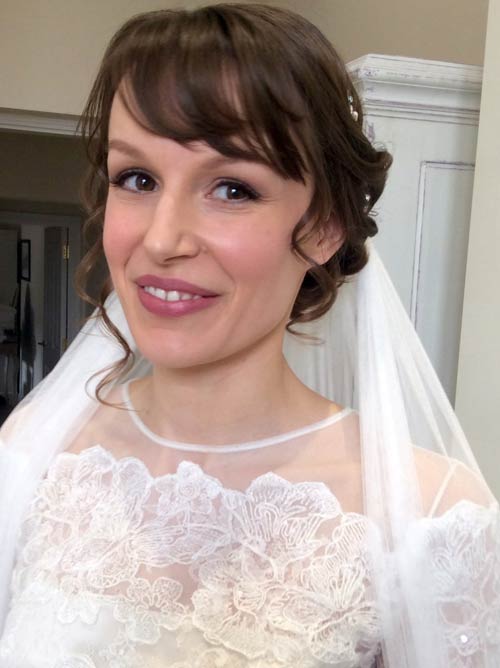 Eyes
Don't think that waterproof mascara is the only waterproof option for your eye make-up - there are waterproof eyeliners (pencil/liquid/gel), specific eyeshadow primers, eyeshadow paints/sticks/bases which all help towards creating an eye make-up look that once applied, won't budge!
Keep your eyeshadow colours light and fresh. That way, even if your eyes look sore or tired by the end of the day, they won't look dark and heavy.
Keep under the eye area eyeliner free if you know you are going to cry a lot and make sure you curl your eyelashes before applying black (which looks best on everyone), waterproof mascara.
Emphasize your eyes by brightening any darkness under them with corrector and concealer.
Use individual eyelashes – they're a brilliant way to make your eyes stand out and look far more subtle than a full strip and look fantastic in photographs. Go for differing lengths to create a really natural fluttery look and nestle them in between your natural lashes, many high street fashion stores are now also selling them.
Finish your make-up off with a highlighter shade on the browbone to make the eyes really pop. Go for a light matte shade, and pat onto the outer corner of the brow bone to subtly draw attention to this area of your face. I love to add a tiny dot of light, slight shimmer to the corners of the eyes.
Do check the amount of shine on your T zone (the area above your brows and down along the nose) and if you have that tendency to shine, then have some translucent or pressed matte powder ready to pat lightly into the selected areas, it will look better in photographs without a really shiny T zone! Keep it light, don't over powder.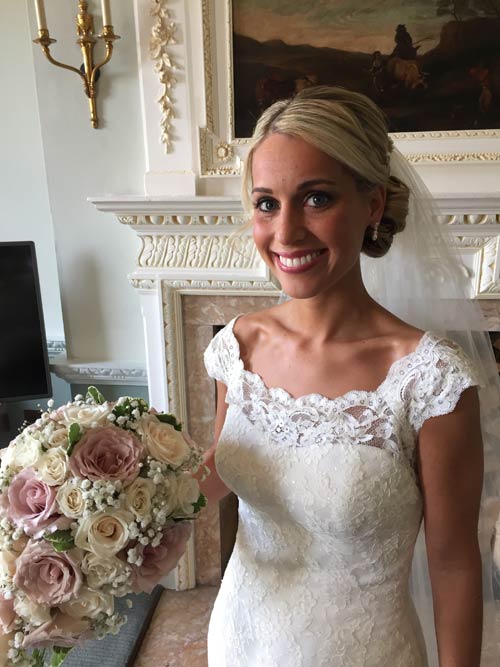 Lips
Try lots of different colours and tones, as a lipstick can look totally different on the lips as to how it does in the bullet. Try shades which compliments your blush - so if your blush is more of a coral tone, go for a more coral lipstick and the same applies for pink tones. If you love a strong lip colour, just remember that against a light coloured wedding dress, it will look brighter and more obvious, so try to keep the eyes softer and more natural.
Formulation wise, long lasting lipsticks are great for a wedding day, but make sure that they don't make the lips look and feel too dry. Also be wary of lip colours and tones that make your teeth look yellow (not a good look with a white wedding dress)!
For a natural look, softly line lips (with the same colour as the lipstick), then use the lip liner all over lips as a base, blot, followed by your chosen lipstick; this helps the lipstick to last.

Last but not least, please consider using cruelty free products, again,
Pinterest
will help with listings and choices.
Have a wonderful wedding day! Also, if we can help with the planning of your
hen weekend
, do reach out.
About Christina Jessel
I totally love my profession and have been in the Industry for over 20 years as a hair and make up artist working in Theatre (Royal Shakespeare Theatre, Starlight Express, La Cage aux Folles, 42nd Street), TV , Film (Pirates of the Carribean), Photo Shoots and Weddings.
In the last few years I have styled and enjoyed over 500 weddings. This year I'm very delighted to have been shortlisted for 'The Wedding Industry Awards', plus I've had my hair and make up work in issues of 'Harpers Bazaar', 'Tatler' and 'Wedding Ideas' magazines .
Currently my work is very varied, ranging from Glyndebourne Opera House (summer festival), Weddings, Proms, Vintage and Fashion/Music shoots.
Please contact me on :
07841 030022