Bridal bouquets - ideas and inspiration

We spend ages thinking about the dress and the shoes and the make-up but the one thing that we'll only be carrying for the day is something we tend to overlook as part of the wedding outfit – the flowers. They are just as important as anything else and need some serious planning. So to help you make the right choice for your big day, I've researched flowers and searched the internet for the best inspiration photos. The examples below are by all means, not the only options, but they were the most popular Google searches (according to my research) for wedding bouquets.
Psst! If you're smart and buy wedding flowers seasonally, you can maximise your floral budget and (sometimes) you can even get cheaper deals!
Popular bridal bouquet colour scheme ideas
Blue wedding flowers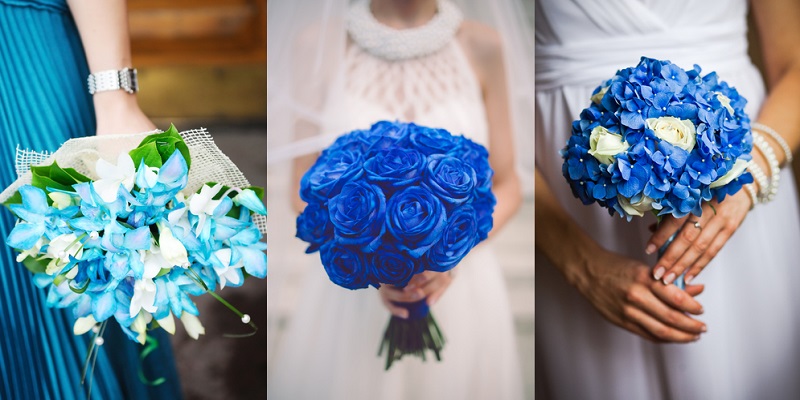 Probably one of the harder bouquet combinations to orchestrate, a blue bouquet will appeal to traditionalists who believe that "something blue" should not be left out of the wedding. In fact, it should take centre stage as one of the most prominent parts of the whole wedding outfit ensemble. Just remember show stopping blue flowers don't come cheap (for some reason blue is a hard to find colour) so if this is the option you're going for then be prepared to invest a little more.
Purple wedding flowers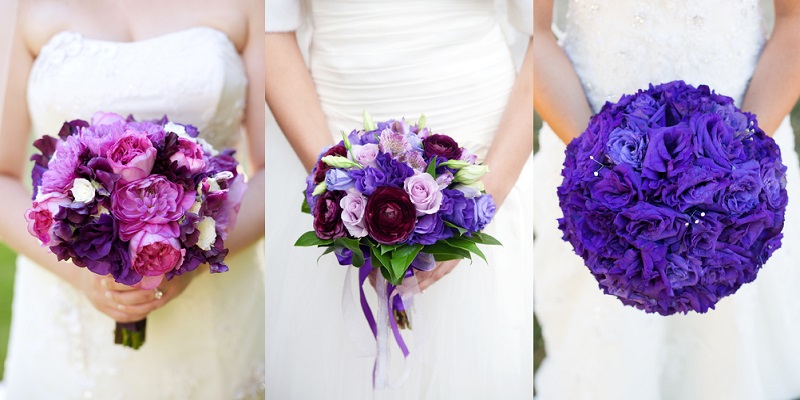 There's something deeply regal about the colour purple and the opulence it brings to an ensemble can't be ignored. This is the colour flower you pick when you want to make a big impact but you don't want to go for blue and you don't want to opt for pink. However, much like blue flowers purple flowers tend to be on the expensive side because of their vibrant hue. Purple flowers make for a great winter bouquet alternative to red roses.
White wedding flowers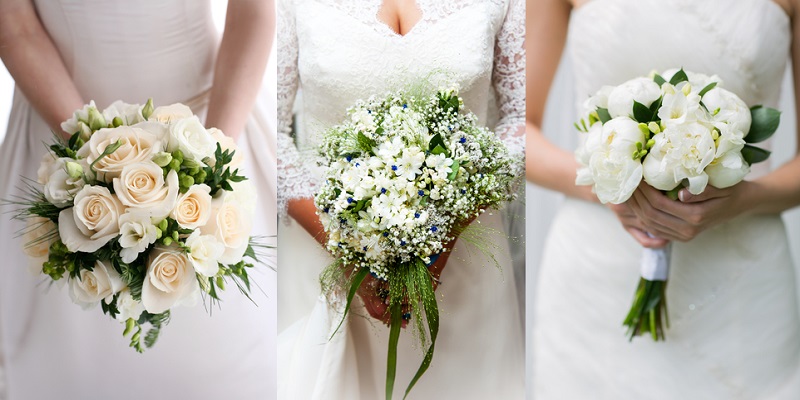 The most traditional floral colour scheme of them all, white is a good option if you're having a traditional wedding and want to keep things subtle and simple. Go for an abundance of roses and baby's breathe as well as any other traditional flourishing's you can think of from a classic wedding bouquet. Just remember to either just stick with completely white flowers or make them the dominate pieces in your bouquet. White is also one of the more budget friendly flower colours.
Pink wedding flowers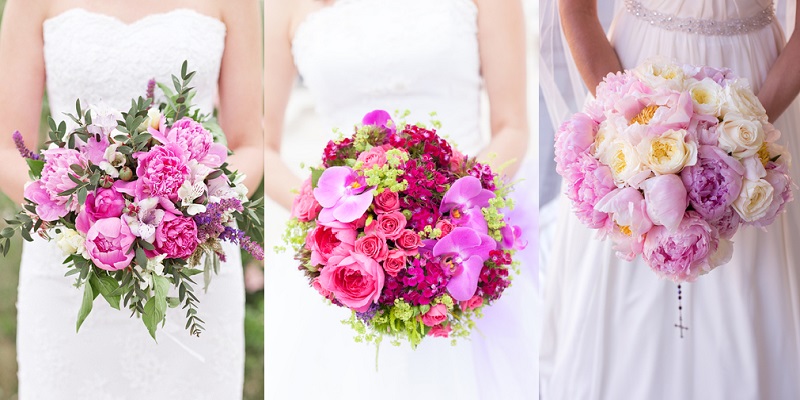 There is nothing is quite as girly as a pink bouquet. It's pretty, it's girly and it's the second most popular colour choice for wedding flowers (white came first.) The great thing about pink is the spectrum of impact you can get with the flowers. Because it comes in so many types of flowers, and so many vibrancies, it's also arguably the most versatile coloured flower options for a wedding bouquet. So whether you want to go for hot cerise or a sweet blush, pink is the colour choice for the bride marrying in the spring or summer.
Popular themed wedding bouquet ideas

I know there are lots of wedding themes and I know that if you're reading this, then you've probably stumbled across a few already. Naturally the flowers should always compliment the dress and form part of the overall wedding theme. So after looking into the search terms and chatting to a few people, below are the most popular themed wedding bouquet ideas.
Vintage wedding flowers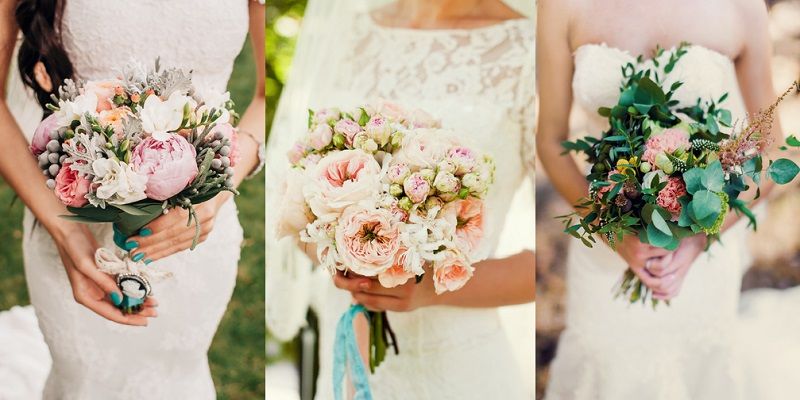 Leading the way by far, the vintage theme has cemented itself as a firm theme in the wedding industry. The bouquet for this theme should incorporate some classic bouquet flowers (roses, baby's breath) as well as some more modern flora and fauna choices. The flower colours should be muted and more on the pastel side to give off them 'Instagram filter' feel. Add a blue ribbon or a trinket (horseshoe, rolling pin, etc) to the bouquet to give it that extra nostalgic flair.
Rustic wedding flowers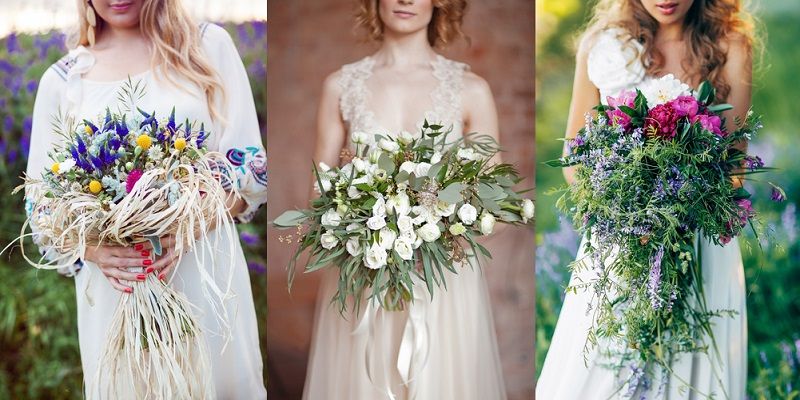 This bouquet should look like someone haphazardly pulled the flowers from the midst of a woodland somewhere, got some string, and tied it all together roughly to make a bouquet. The bouquet should look 'undone' but still stunning and appealing complex. Forest flowers are the way to go for this bouquet and plenty of green fauna to keep with the rustic theme.
Asian wedding flowers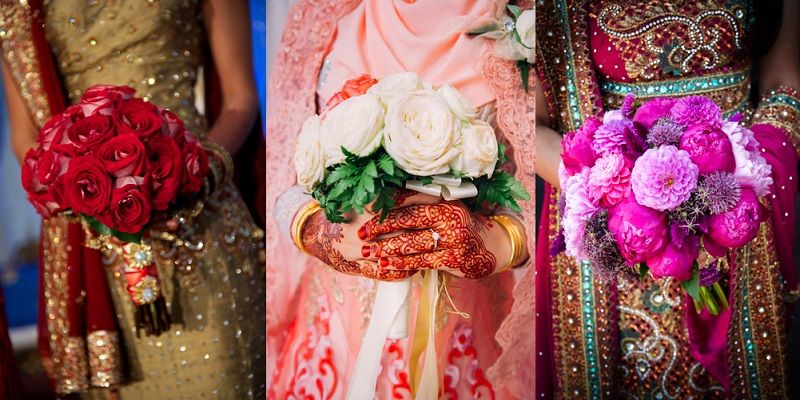 Because Asian weddings tend to be so colourful, the flowers tend to act as a 'colour amplifiers' for the actual dress rather than centrepieces themselves. This is why simple bouquets are chosen instead of complicated ones, so that all of the attention is diverted to the dress rather than the flowers. So because you're saving money by sticking to one palette, you can go all out on quality instead.
Modern wedding flowers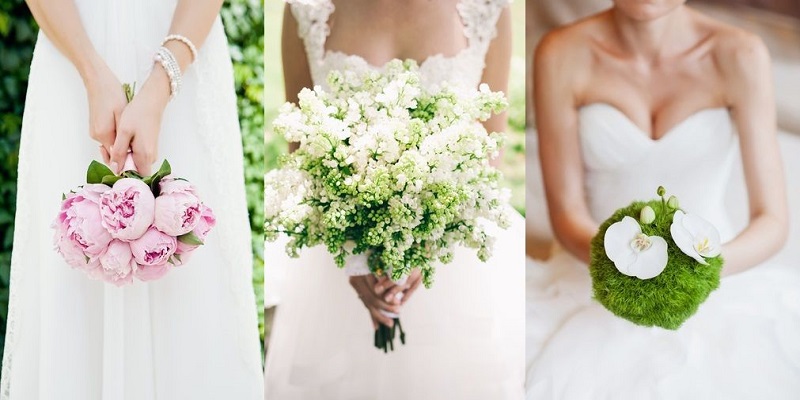 Sleek with minimal fuss, this is the choice for sophisticated brides who want beautiful simplicity to speak volumes instead of loud extravagance. To achieve this look opt for interestingly structured/textured bouquets with one type of coloured flower – that's the key factor. It's what makes it different from all the above bouquet styles. The greenery will act as a secondary colour, so having texture is important to make the bouquet 'pop' and make it look fresh and modern (as opposed to traditional.) On that note, try and avoid roses as a flower choice: they tend to lend themselves to the more traditional look.