Marie Antoinette once (allegedly) said "Let them eat cake" and whether she actually said it or not, we couldn't agree more because chances are you've dieted, exercised and denied yourself months before the big day. Now that the big day is drawing close, you can finally look forward to eating a delicious, decadent slice of wedding cake heaven that you've been daydreaming about.

Problem is there's so much choice out there! How do you pick which type of cake you want? What flavour? How big does it need to be? Do you even want cake? These are the questions that tend to crop up when you're planning and sampling before the wedding. So to help you decide and to help inspire you, we've taken to the internet, consulted bakers, wedding planners and asked a few soon-to-be brides in our office about amazing wedding cake ideas and what the favourite wedding cake styles are.


Traditional wedding cake ideas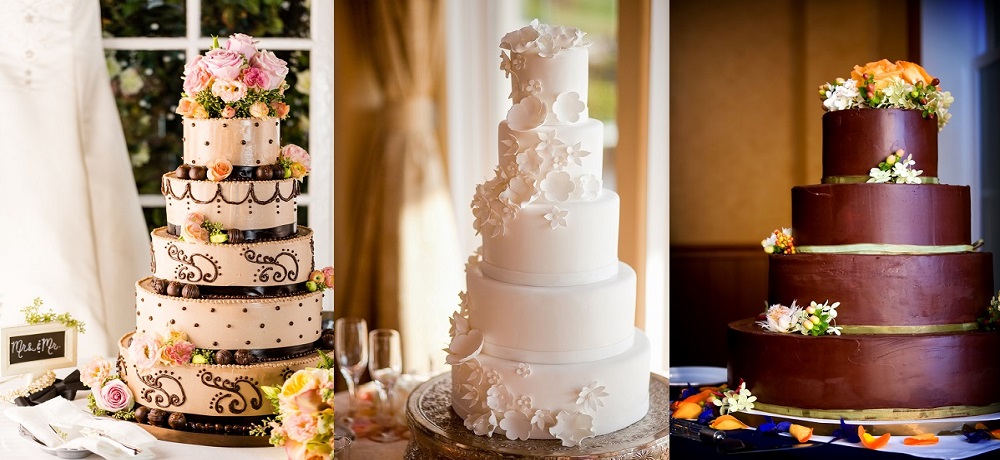 It would be wrong to start anywhere else but traditional. It's the cake we've all come to know and it's the cake we've all most likely tasted, at least once, in our lifetimes. A traditional wedding cake is normally starts with a minimum of three tiers going up, but it really depends on how tall and how big you want your cake to be. The cake is normally white to mimic a traditional white bridal dress and this is normally achieved by using a thin layer of icing. You can of course bend the rules a little bit by adding subtle changes to the design, like adding decorative chocolate flairs to the cake or by doing away with the white theme altogether and having a chocolate tiered cake. Tiny people on top is, contrary to popular belief, completely optional.


Rustic wedding cake ideas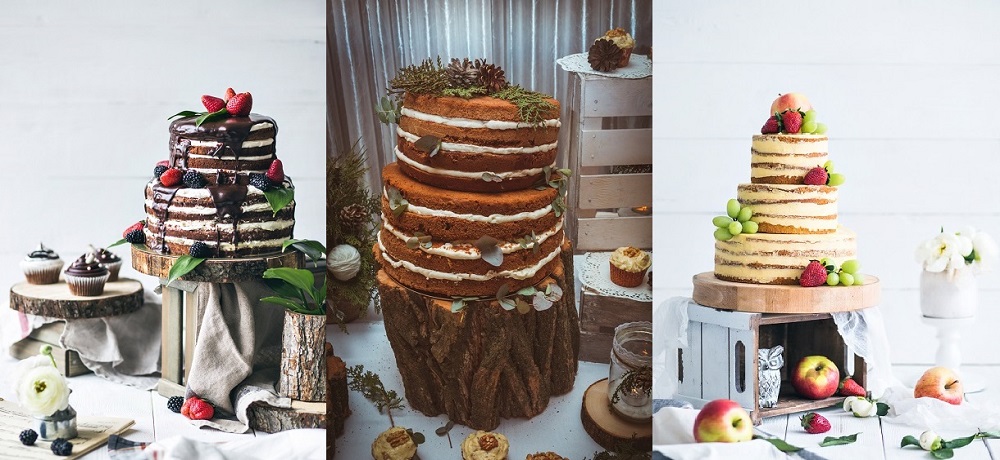 For all the nature loving, Etsy enthusiastic, hipster types out there, the rustic wedding cake has seen a huge boost in popularity over the years. What makes it different from the traditional cake? Well it's normally got an endearing slightly "undone" look to it. The cake should look like something that was handmade (even if it was made by professionals). The sponge is normally left exposed to achieve this look. Fruit or ferns/leaves are normally used in place of flowers (though flowers can be used) and for optimum rustic-ness serve on a wooden board or log.


Quirky wedding cake ideas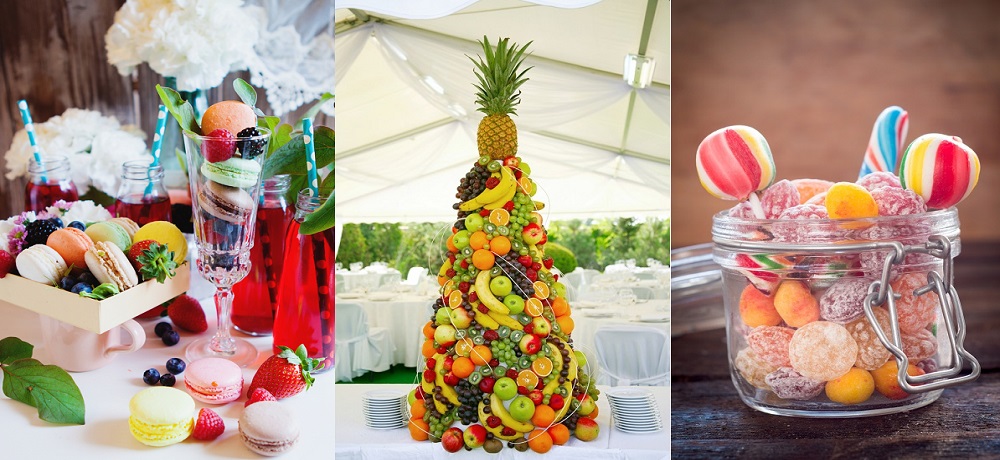 I've actually been to a two weddings that did away with the cake entirely. That's not to say they didn't have any treats for the guests to tuck into: they did. Once wedding decided to rent three vintage styled ice cream carts and guests got to queue and choose what flavour they wanted. The toppings and waffle cones more than made up for the lack of sponge, believe me! The other wedding gave us all Kilner jars and laid out a candy buffet for us. The result was a very Instagram worthy pick-a-mix table that had everyone feeling like kids again! So if you fancy being a bit different then remember the examples I gave you and take inspiration from the images above.


Pink wedding cake ideas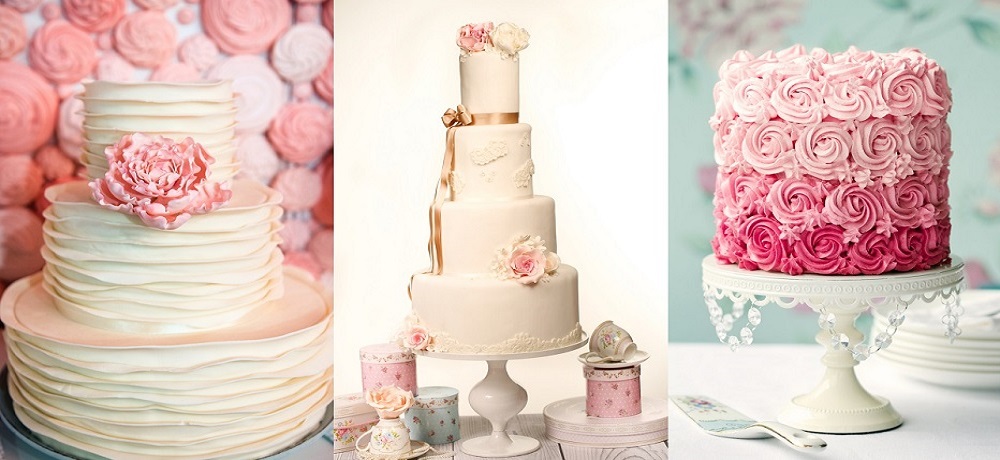 It's your big day and I know at least one grown up princess who can't wait to put on a girly pink themed wedding that would make even Barbie envious. This is the option for ladies who are unashamedly girly and want the day to look like a rose tinted wonderland. If this is what you want then go all the way or go home. Think Camellia flowers, pink and white roses, ribbons and more sparkle than you can shake out of a diamond shop. Because these cakes can be as pretty and as frilly as you like!


Minimalist wedding cake ideas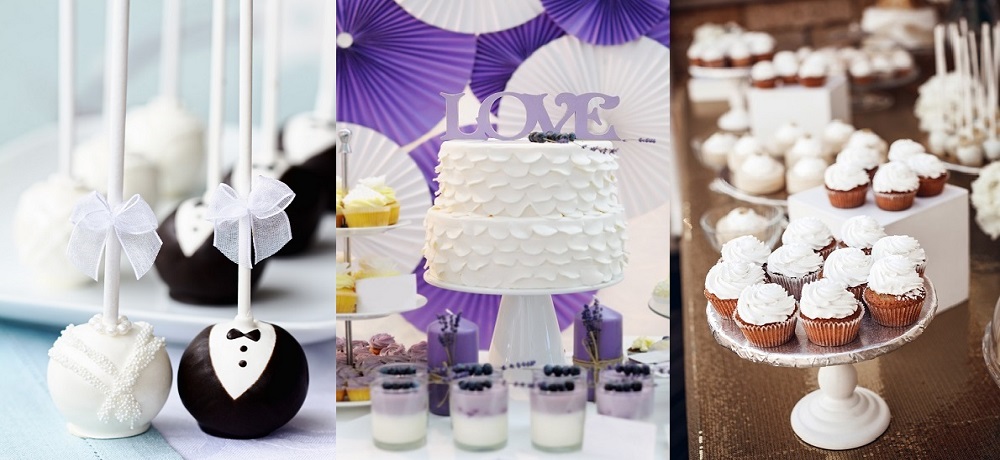 Modern, sleek with minimum fuss, this style of cake is all about simplistic, bold impact. The trick is to pick one colour scheme for this theme and run with it and much like the traditional wedding cake style - white is the most popular colour choice. The way to stop this style of cake from being boring is to put emphasis on texture and structure. Meaning that if you like this style, get a cake that's ruffled or covered in something that won't make it look flat (unless flat is what you want). Also consider maybe having cakes that aren't traditional cakes like cupcakes or cake pops.


Beach wedding cake ideas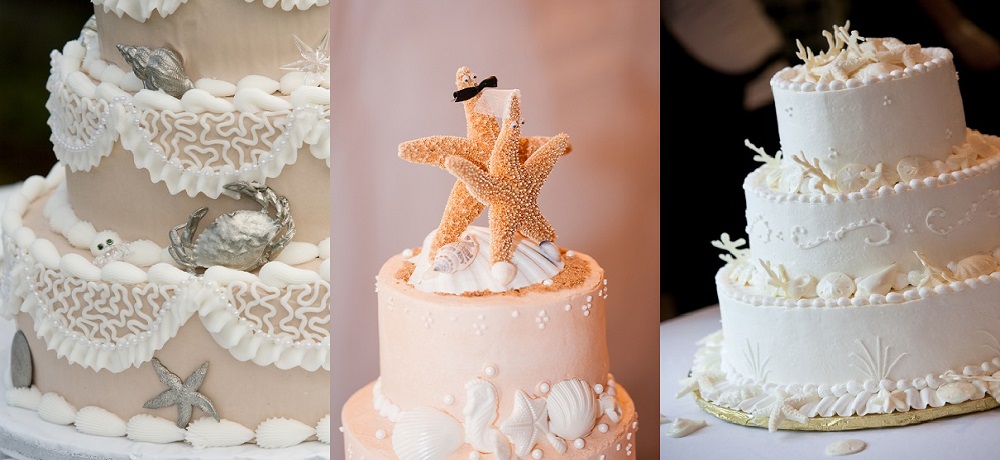 I know this seems like quite a specific theme but it came up so many times during the research phase that not including it would have been a crime. A beach wedding is quite an unusual venue and most people who have them tend to go full theme and have everything beach and ocean themed. The cake should be no different! Adding real shells for decorations seems a bit unhygienic and potentially hazardous to me, so just make sure you hire some really talented cake makers who are capable of crafting incredible sea decorations for your wedding cake! Also, don't forget to get in contact if you're planning your pre-nuptial party celebrations, whether that's a
hen do in Benidorm
or a
Brighton hen weekend
.