Helo, croeso i Gymru! (Hello and welcome to Wales!) This incredible country is known for many things, including rugby, Tom Jones, Welsh Rarebit and the national red dragon flag. But another thing Wales is famed for is its beautiful countryside, friendly locals and amazing cities!
One of the most unique things about Wales is the language, known as Cymraeg. Welsh is one of the oldest languages in Europe, and there are still a lot of people who speak it today! But don't worry, if you're planning a Wales stag do, you won't be expected to know any of the lingo, as English is the first language!
Why is Wales good for a stag do?
If you're looking for a country that boasts both incredible scenery and an unbeatable nightlife, then look no further than Wales for your stag do.
With its rolling hills, beautiful coastline and picturesque castles, Wales has been named one of the most beautiful countries in the world by Rough Guide (something that the Welsh already know!). But if you're more interested in what goes on after dark, then you'll be glad to know that this country also boasts some of the best pubs and clubs in the UK!
Which places are best for a Wales stag do?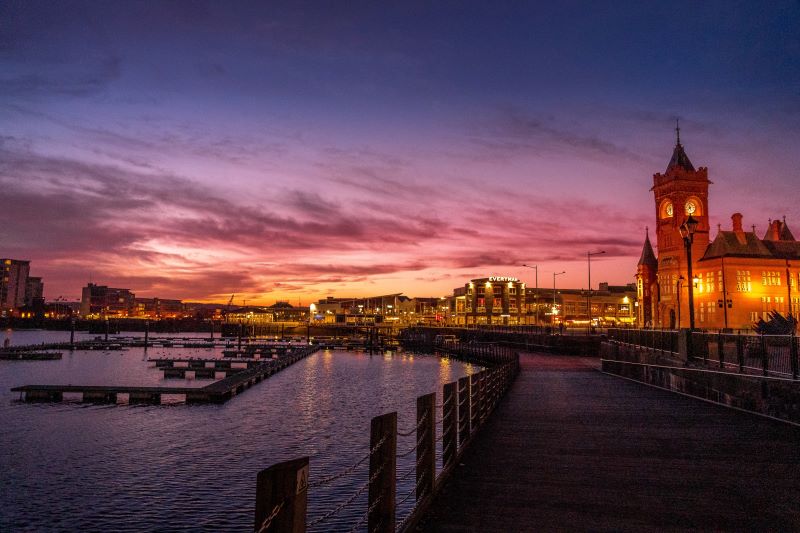 If you're looking for a city that's got it all, look no further than the buzzing Welsh capital of Cardiff. There's so much for stag groups to do here, and so much choice when it comes to activities. Cardiff's famed for many things, including rugby, The Principality Millennium Stadium and the oldest record store in the entire world, but there's so much more to it than this.
Your Cardiff stag weekend is one that's guaranteed to be packed with good times, which you'll be able to take as far as you like. This is a city that's got something for everyone - whether you're into live music, sports or just want to explore some of the best watering holes around! And when it comes to stag activities, there's loads on offer, with everything from paintballing and bubble football, to footgolf, beer tasting and one seriously good nightlife to saucy strippers who will be sure to spice things up!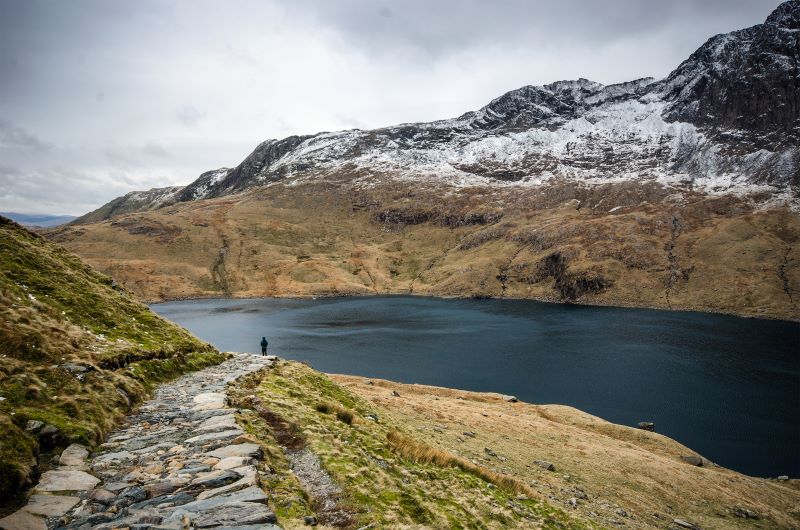 Snowdonia is definitely a destination for adrenaline junkies, as there's so many heart pounding activities that you'll be able to get stuck into here. With everything from exhilarating ziplines where you'll be able to reach speeds of up to 100mph, to the epic, three wheeled quarry kart experience. But that's not all, there's also paintballing, white water rafting, gorge walking and caverns to explore!
If you're looking for a wild night out and to tear up the town, then, Snowdonia won't be the destination for you. There's a couple of traditional pubs dotted around Snowdonia National Park that are great for quiet, cosy drinks. Otherwise, your best bet is to head to nearby Bangor, where there's loads of pubs and bars, along with a couple of nightclubs.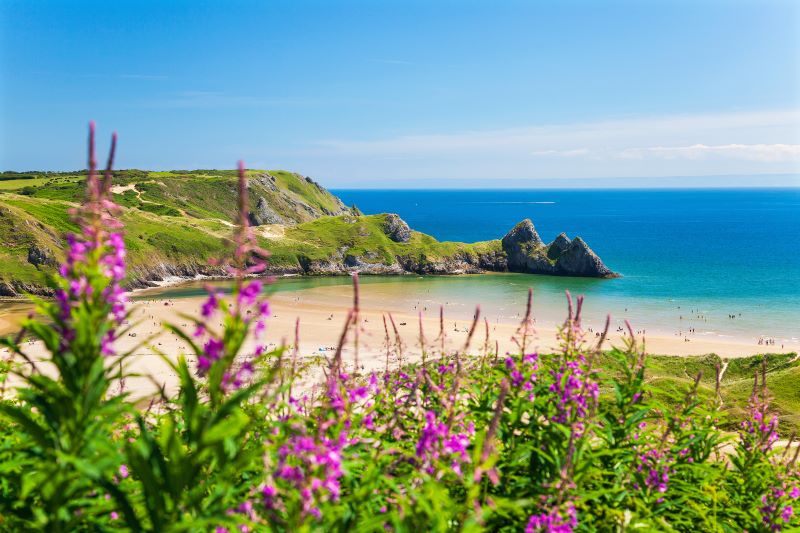 Swansea
Swansea stag do, here we come! Coastal destination Swansea is the second-largest city in Wales, and here, you'll be able to combine the thrills of adventure experiences by day with an unbeatable night out as the darkness falls.
There are plenty of things to see and do in Swansea if you're looking for something a little different from your standard stag do. Try surfing on the beach at Mumbles Head or scuba diving off Penclawdd. Or if you're feeling more adventurous, try your hand at coasteering along the coast or rock climbing in one of Swansea's many caves. As for evening shenanigans, head to the popular Wind Street where you'll be spoiled for choice with pubs and bars.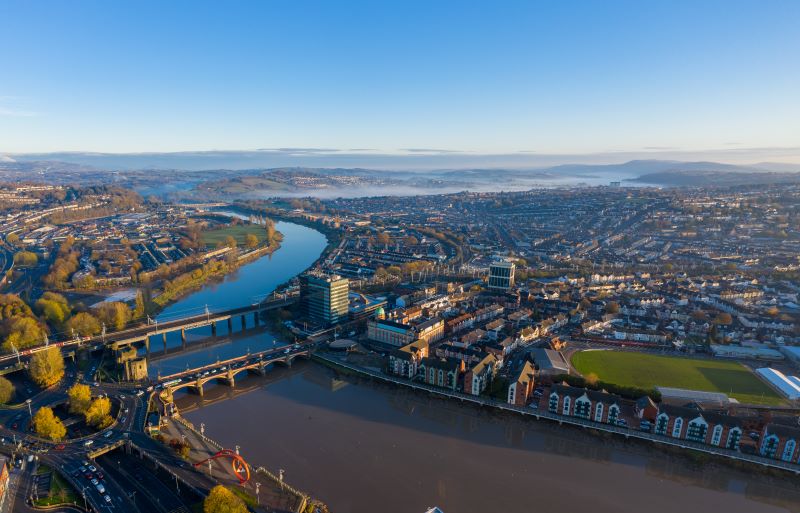 Newport
Newport's the third biggest city in Wales and is a great location for those groups looking for a destination that's rich in history and tradition. Whilst there's a great nightlife scene where you'll be able to sink a few pints at one of the many bars and head to a club afterwards, Newport's probably best geared towards those stags looking to take things at a slower pace.
It's a compact city, situated on the River Usk, and whilst you're here, be sure to check out Caerleon Roman Fortress and Baths and take in the sights of Newport Castle ruins (among the top attractions in this city). Do be aware that members of the public aren't allowed on the ruin walls or castle grounds, but you can have a look from the footpaths.
The top 10 stag do activities in Wales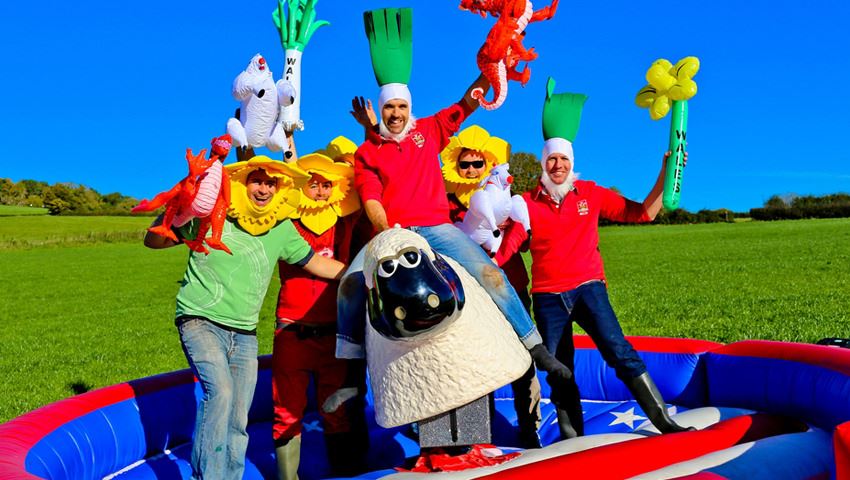 Hilariously daft and downright bonkers, these Welsh Games are the perfect activity to add to your stag itinerary. Available in rural Cardiff, you and the lads will get stuck into nine games which include the likes of Rugby Run, Sheep Shenanigans and Drunk Dragons, all of which are brilliant fun!
If paintballing's on your agenda for the Welsh stag do, then you're in luck, because we offer this classic activity in both Cardiff and Snowdonia. Whichever location you choose, you and your mates will battle it out and pelt each other with paint on an epic, outdoor course. 100 paintballs will be included for each player, along with all equipment and a safety briefing from an activity instructor.
3. Bubble Football & Zorb Games
Bubble football is shaping itself up to be quite the classic stag activity these days and for good reason too - it's brilliant fun and doesn't take itself too seriously. Can you think of any better way to have a laugh with the lads than by chucking on one of these inflatable zorbs over your top halves? You'll then be free to bounce and crash into other players and attempt to score a goal! You'll also get stuck into a series of silly games during your session, but who will come out victorious? Bubble football and zorb games are available in Cardiff.
If you're looking for some serious thrills, then Velocity in Snowdonia is the one. It's the world's fastest zip line we'll have you know, so not one for the faint of heart. You'll lay on your front for this one and will feel that adrenaline flood as you reach speeds of up to 100mph and fly 500m over Penrhyn Quarry. And yes, the views as you whizz along this zip line are absolutely breath-taking.
There's no better way to become acquainted with a new town or city than with a pub crawl! And if you're giving your mate a stag do in Cardiff, then ensure you get the group booked onto one of our offered guided or self-guided crawls. You'll discover some of the city's greatest places to sink some drinks along with the best places to party. So what are you waiting for? Make your night go from good to great with one of these pub crawls.
6. Strippers, Strip Dinners & Topless Waitresses
Ready to spice up your Cardiff stag do a notch with one of these naughty activities? These saucy experiences will be sure to equip you and the rest of the guys with a bit of eye candy and is the perfect, sexy surprise for the groom-to-be on his last weekend of freedom. We've got everything from drop dead gorgeous female strippers, to tantalising strip dinners and stunning topless waitresses. What's it gonna be?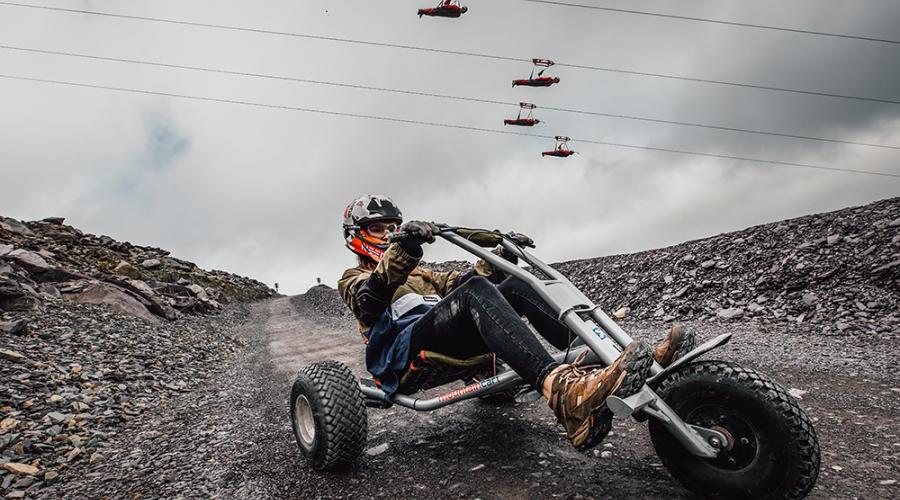 Got a need for speed? Then get you and the lads booked in for a session on these epic quarry karts at Snowdonia's Penrhyn Quarry! These speedy 3-wheelers are incredibly nippy and perfect for taking on this awesome 3km slate track. Here, you'll tackle all kinds of obstacles such as chicanes, banked corners and tunnels. You'll each get two runs each, and you'll start at a mega 1500 ft above sea level! This is the only mountain kart experience in the UK, so you'll know you'll have a blast with this one.
Those who are looking for an action packed sport will love a session of combat archery! Your stag group will be divided into two opposing teams and equipped with a bow and arrows. Combat archery is a combination of archery and dodgeball, so the aim of the game will be to fire arrows at the rival team. The arrows will of course feature a foam tip, so no one will be getting impaled any time soon.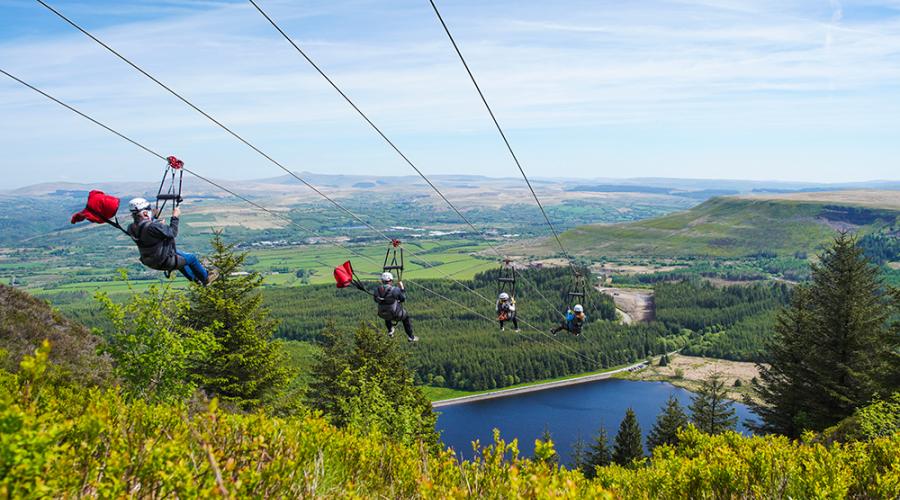 Unlike Velocity where you'll be laying on your front, Phoenix is the world's fastest, seated zip line. With this one, you'll take on two epic zip lines, where you'll reach speeds of up to 70mph! Plus, there's four zip lines located side by side, so you'll be able to race against your pals! For your first instalment, you'll whizz down Rhigos mountain and across the Llyn Fawr reservoir, before hopping on the second zip line, which will take you back to your starting point of Tower Colliery. Get set for some seriously jaw-dropping views of beautiful Snowdonia as you fly down this insane zip line route!
Looking for an adrenaline fix in the water? Then how about a session of white water rafting in Snowdonia? Here, you and the rest of the stags will take on these thrilling rapids, and will experience a 4km rapid adventure. You'll be accompanied by an expert instructor, who will guide you through this heart pounding activity. Situated in the stunning countryside, you'll head to Horseshoe Falls, one of the UK's top rafting rivers. There'll be twists and turns of all manners here, with rapid grades reaching level 4!
Nightlife in Wales
If you're looking for a decent night out during your stag do, then you'll be in luck with Wales. With great cities such as Cardiff, Swansea and Newport on offer, you'll be spoiled for choice when it comes to pubs, bars and clubs.
Cardiff is the capital city of Wales, and it's home to some of the liveliest nightlife in the country! You can start your evening at one of the many pubs or bars in the city centre before moving on to one of Cardiff's top nightclubs. There's loads of great areas on offer here, with something that will suit every group's style. Head to Westgate Street where you'll find loads of pubs, bars and restaurants - if you're here on a game day, the vibe is extra pumped! Alternatively, head to Pontcanna, the city's most stylish district where you'll find sophisticated places to dine such as Celtic fusion restaurants, along with microbreweries and great pubs.
If you want to party in Swansea, then you'll find plenty going on here every weekend! The central nightlife area revolves around bars and clubs on Castle Square and the neighbouring streets, which include Wind Street (also affectionately known as Wine Street), Princess Way and High Street. The nightlife also extends out onto Oxford Street and The Kingsway, or head to The Waterfront for a further selection of restaurants and bars.
Newport on the other hand, offers an eclectic mix of both traditional pubs and contemporary bars. All massive beer enthusiasts should head to Tiny Rebel on High Street, where there's a mega choice of beers available on tap (at least 20!). There's also a great choice of nightclubs, perfect for those stags looking to continue the good times and throw some shapes. The majority of the action takes place in central Newport around High Street and Cambrian Road.
Snowdonia, as we mentioned before, isn't the place to go if you're looking for a raucous night out. There are some great traditional pubs and restaurants dotted around the national park though if you're looking for a chilled one. Alternatively, Bangor is your nearest city for late night bars and clubs!
Eating out in Wales
Going for a meal in Wales is very much like going for a meal anywhere else in the UK. You'll find restaurants of all manners here, including Italian, Indian, Chinese, American and Celtic. You'll also find all your favourite fast food joints and well known chain restaurants in Wales too. If you're looking for traditional Welsh fare, then this country is famed for their Welsh Rarebit (think of a posh cheese on toast), Glamorgan sausage, Laverbread, Welsh Cake and Bara Birth (a speckled bread!).
Getting to Wales
There's multiple ways to reach Wales and the cities mentioned for your stag do. If you're looking to head to Cardiff, then you can catch a flight to Cardiff International Airport from Belfast and Edinburgh. Otherwise, there's excellent, national rail services to Wales or alternatively, jump on a coach or car share with your mates and hit the road!
Book your stag do in Wales today!
So there you have it; our handy guide to stag do's in Wales. It's a brilliant destination to celebrate your mate's last weekend as a single man, with plenty of great sights to see, activities to experience and nights out that will equip you all with memories for years to come! Why not take a browse of our top activities in Cardiff and Snowdonia and send an enquiry through today?