You've just found out that one of your besties is getting hitched - and you'll be helping to plan the hen do! Whilst there are plenty of brilliant ways to celebrate in the UK, why not make things extra special and plan a hen do abroad? We actually know just the place! Germany might not be your first thought for a destination hen do, but take a look below at why we think it's the place for you and your pals to let loose, party the weekend away and celebrate your friend's upcoming nuptials!
Why is Germany Good for a Hen Party?
Germany is the perfect place for any hen and her bridal party to celebrate, no matter the vibes you're going for for the weekend. With so many totally unique, vibrant and eclectic cities to explore and get lost in, you're totally spoilt for choice on options. Embrace a bit of the local culture by trying some Currywurst whilst sipping on a cold beer, tour the sights of some of the country's most famous cities, or sip on cocktails and dance the night away at one of the many cocktail bars or nightclubs that come alive once the sun goes down.
So, whether it's a party-packed, alcohol soaked weekend that you're looking for, or a more relaxed one that involves loads of food, walks through the Alexanderplatz in Berlin and soaking up the culture of any of Germany's historically rich cities, then this is the country to plan your bestie's hen weekend in!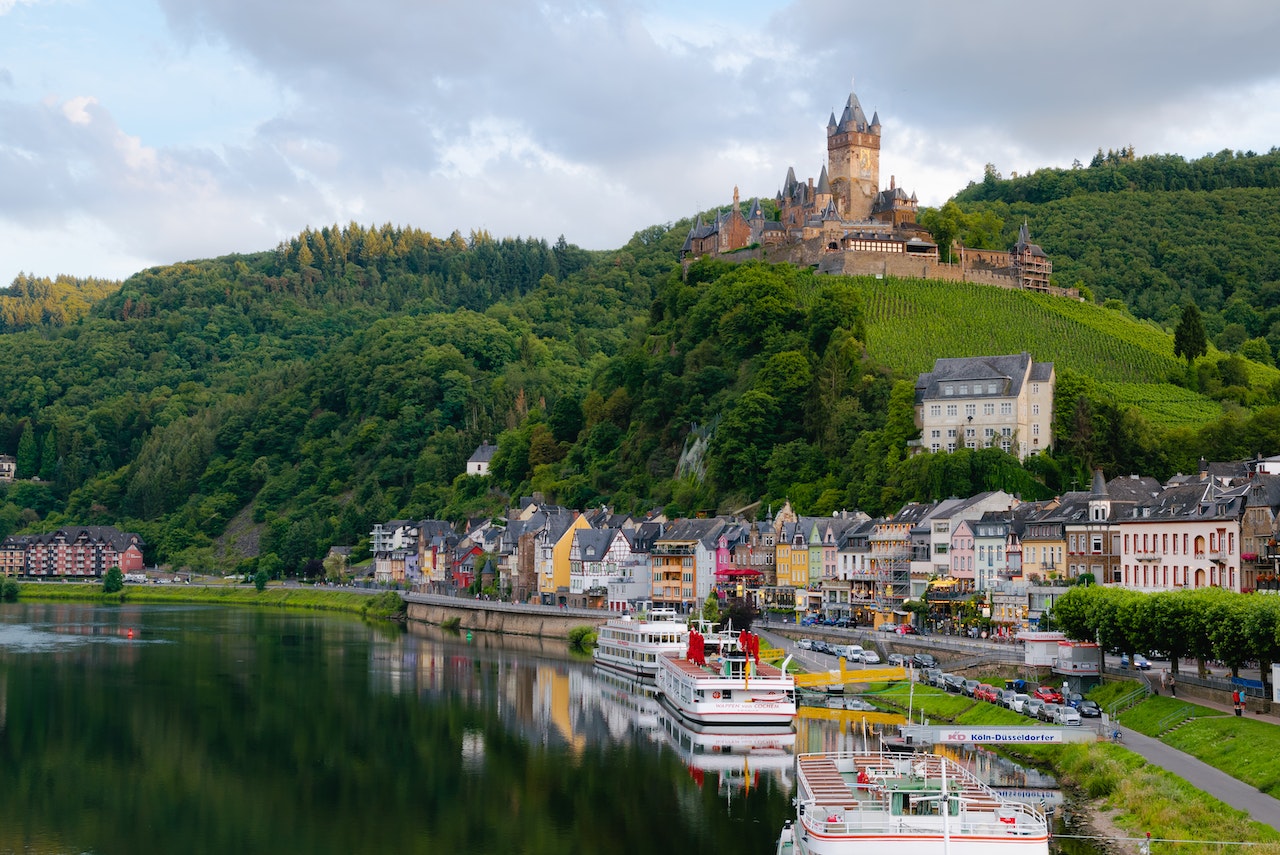 Top 10 Hen Party Ideas in Germany
Depending on where you're headed in Germany, there's a huge variety of activities perfect for any hen and her bridal party to get stuck into on your weekend of celebration. Check out our recommendations below for some of Germany's hottest experiences on offer.
1. Prosecco Bike
There's no better way to experience a truly unique tour of one of Germany's iconic and historic cities than on a Prosecco Bike. No hen party is complete without sipping on a few glasses of bubbly, and this way you can get to it in total style! Hop on board your bike, pop a bottle of Prosecco, and get pedalling. Your bike will be headed by a knowledgeable tour guide, who will of course remain sober throughout the experience, so you're totally free to kick back, enjoy a few glasses with the girls and experience a tour of either Berlin or Munich like no other! Prices for this experience start at £207 per group.
2. Beer Hall Visit
No trip to Germany would be complete without a visit to a Beer Hall. Step inside one of these beautifully historic and oh so iconic venues for a booze-filled afternoon, sipping beers from steins, ordering from waiters decked out in lederhosen and sampling some local German cuisine to boot. A Beer Hall visit is perfect for any bride that considers herself a foodie, is big on soaking up a bit of local culture, or anyone looking for a relaxed way to enjoy a few drinks to kick off the evening celebrations. A popular German attraction through and through, Beer Hall experiences are available in Berlin, Hamburg & Munich, each location providing their own unique twist on this classic bit of German culture and history. Prices start at £25 per person.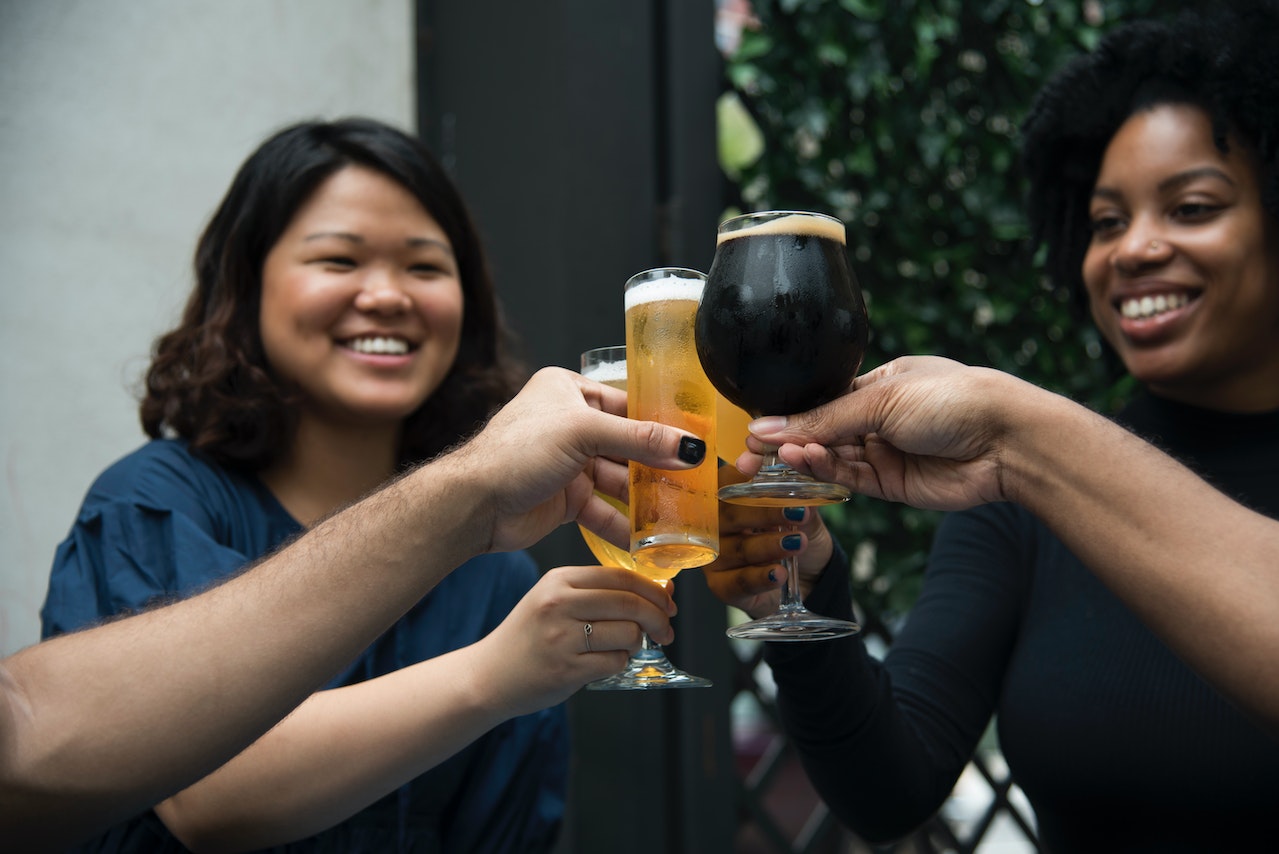 3. Afternoon Tea
There's nothing like kicking back in the lap of luxury and indulging in some delicious treats, is there? An Afternoon Tea is the perfect way to do exactly that, and to while away a few hours with your closest friends, heavenly food and drink, and a stunning view of the German skyline. Served to you on a classic, three tiered curate, your group will be treated to sandwiches, sweet treats and scones alike. Of course, no Afternoon Tea would be complete without the main event, would it? Sip on cups of a tea flavour of your choice whilst you all indulge in your tasty treats. An Afternoon Tea experience is perfect for any bride looking for a more laid back affair for her hen do in Munich or Berlin, and will all leave you feeling thoroughly pampered by the time it comes to an end! Prices for this experience start at £36 per person.
4. Escape Room
For any puzzle heads, riddle solvers and adventure lovers, we know that an Escape Room is always going to be a winning experience to book. Luckily, Germany has plenty of those on offer! Although the themes might differ from room to room, the premise is always the same: you'll be locked in a room for an hour, and you and your mates have got to hunt for all the clues necessary to solve the puzzles that will be essential to your escape! Available in Berlin, Munich and Hamburg, any bridal party looking to test their brains, team working skills, and maybe their friendship too(!) has got to check out an Escape Room experience. Prices begin at £31 per person for this experience.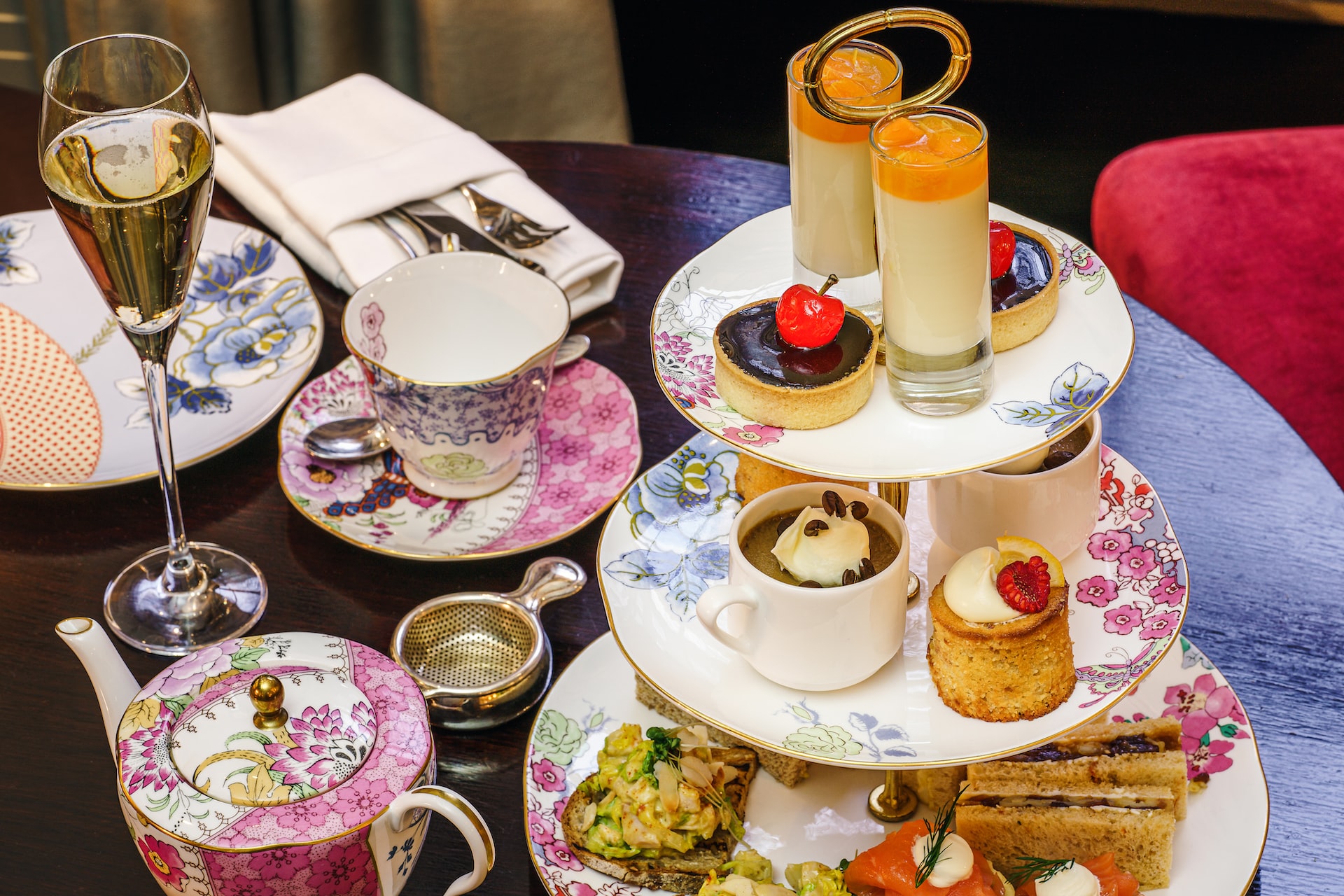 5. Ice Bar
An exclusive activity to Berlin only, a trip to the Ice Bar is one of the coolest (get it?) ways to celebrate your bestie's upcoming 'I Dos' on her hen weekend in Germany. You'll all be given gloves and a cosy, hooded coat to keep you toasty warm inside the incredible, icy bar. Your experience includes three complimentary drinks, which will be served to you in glasses carved from ice - it only seems fitting, after all! Truly an experience like no other, you'll end your night feeling warmed from the inside out from those tasty tipples, despite the chill in the air! This experience is £35 per person.
6. River Cruise
We're sure you're going to plan a hen do for your bestie filled with non stop fun, food and alcohol. However, if you're looking for an experience that will have everyone slowing their roll, just a touch, and relaxing the afternoon away, then a boat tour of Hamburg or Berlin might just be the perfect thing to book. Step outside of the hustle and bustle of either city and enjoy a tour of all the gorgeous sights from a totally different perspective! Usually lasting around an hour, some tours also offer the option of adding drinks packages, if you want to get the party vibes flowing nice and early! This ideal and chilled group activity starts at £546 per group.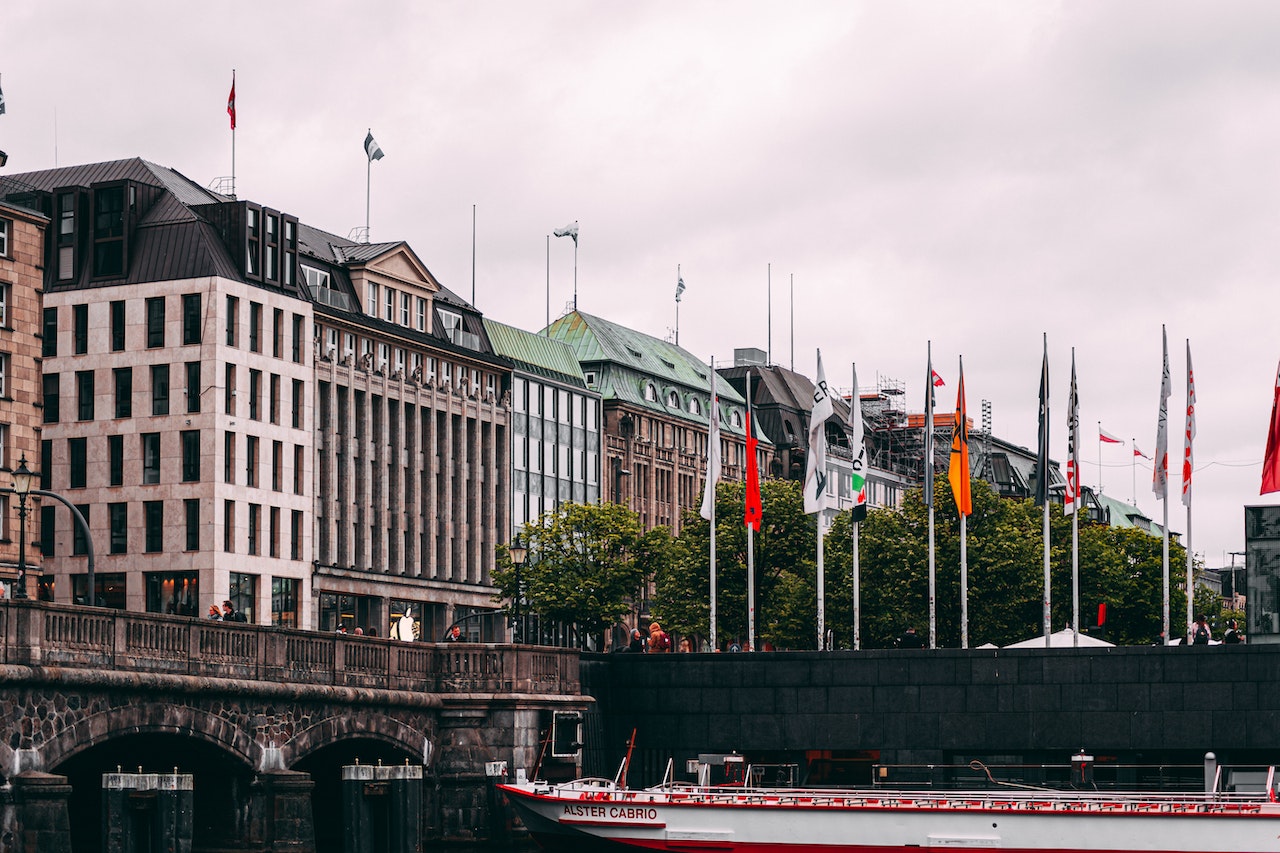 7. Spa Day
If what you've got in mind for a hen weekend consists of nothing but luxury, pampering and relaxation, might we suggest a Spa Day in Munich? A day relaxing and recuperating is the perfect, post-hangover treat after a heavy night out at one of Munich's many pubs, clubs and cocktail bars. You'll get a five-hour pass to one of the city's sleekest spas, where you can spend a day sweating it out in the sauna, taking a dip in the pool and indulging in all of the other fabulous facilities on offer. This day of sheer indulgence and pure hedonism is £60 per person.
8. Bar Crawl
A hen do really does have to include at least one night out, doesn't it? If you're looking for the hottest drinking spots in Berlin, Hamburg or Munich to visit, but can't quite make up your mind about where to go, then why not book a guided bar crawl? You'll be met by a friendly, funny and English-speaking guide, who will take you to each city's best bars and pubs, helpfully avoiding all of the tourist traps! Sample some of Germany's finest beers, wines and cocktails at each location, and get a good feel of your favourite spots that you can head back to on another night! Prices for this experience start at £15 per person - not bad at all!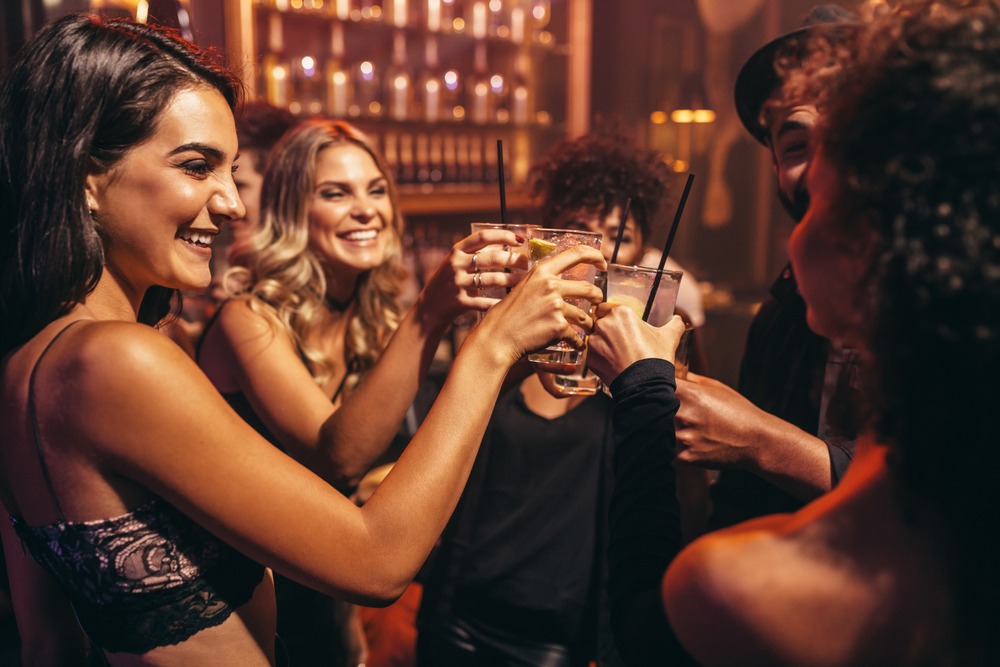 9. Outdoor Adventures
Anyone craving a bit of fresh air? If there are any adventure-loving brides, then an outdoor activity should definitely be on the list to make her hen do totally perfect. Berlin, Hamburg and Munich all offer a wide variety of exciting experiences for everybody to get stuck into. Any footie fans are sure to love the opportunity to bounce around in a zorb during Bubble Football. For anyone looking to catch some waves, why not try a white knuckle water-skiing experience in Hamburg? Then, for anyone really looking for a bit of adventure, nothing will get the adrenaline flowing and your heart pumping quite like a Roof Climbing and Flying Fox zip lining experience in Munich!
10. Male Stripper
We've saved a classic for the last of our recommendations! There's no better way to surprise your bestie during her weekend of fun, sun and booze in Munich than with a totally gorgeous male stripper. You gorgeous guy will arrive at a venue of choice and treat your group to a totally jaw-dropping and oh so sexy strip show lasting 15 minutes! Booking a surprise stripper for the bride is the perfect way to round off her hen weekend to remember, and will certainly leave your group with plenty of unforgettable memories of the weekend! This experience costs £283 per group.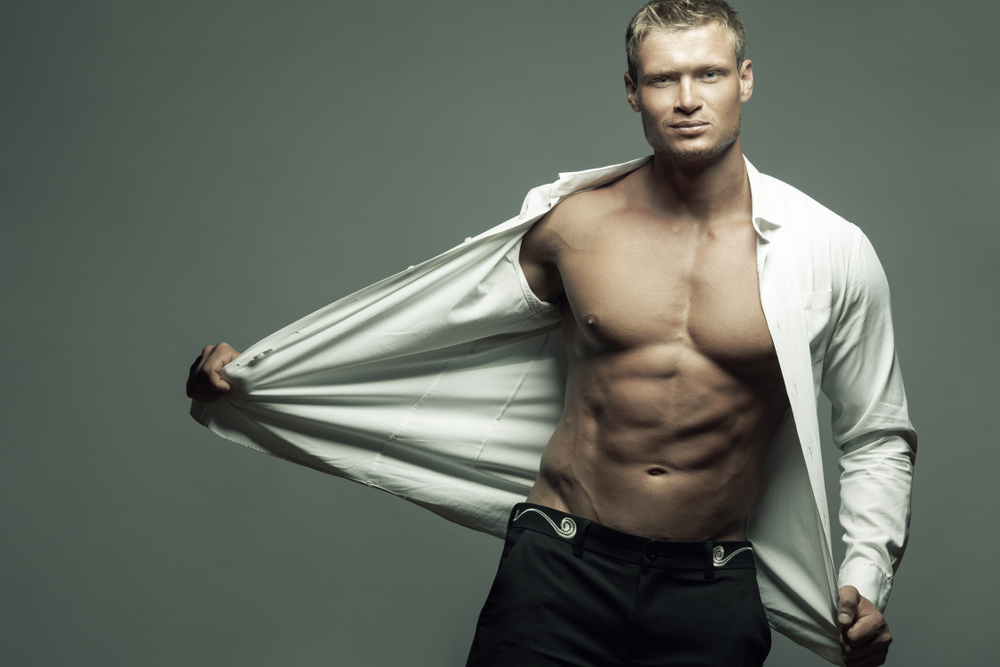 The Best Cities in Germany for a Hen Party
We're sure you'll have noticed, but each city in Germany certainly has plenty on offer for a hen weekend that's set to be full of thrills, fun and unadulterated joy. Fizzbox offer experiences in Berlin, Hamburg and Munich, and we think that each city has its own personal charm that might make you lean towards one more than the other when choosing it as your location for a hen weekend.
Berlin
Germany's largest city is notorious for many things: its rich history, its beautiful aesthetics and its near lethal nights out!
If it's culture and history that's on your mind as soon as you arrive, we can't blame you. Berlin was a pivotal place during both WW2 and the Cold War, and plenty of Landmarks in the city are a living testament to the rich history that remains the beating heart of this infamous city. No trip to Berlin would be complete without a visit to what remains of the Berlin Wall. This living symbol of hope and unity is littered with gorgeous pieces of graffiti that anyone could spend hours looking at. If that's not enough to satisfy your historical cravings, why not head over to the Brandenburg Gate? This stunning 18th century monument is one of Berlin's top attractions, and for good reason, we think.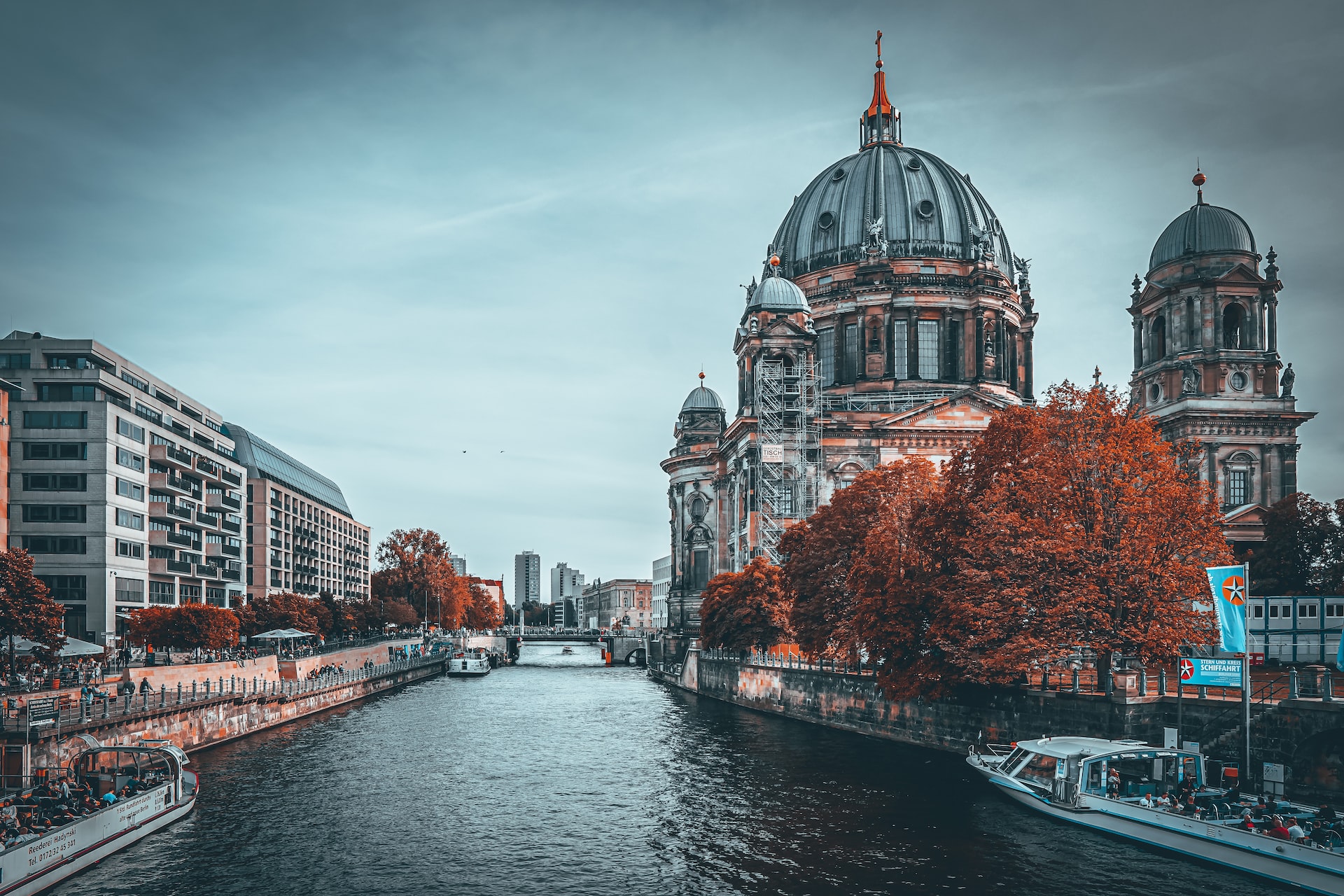 Once you've had your fill of history and culture, why not let your hair down a little? Wander through the bustling Hackescher Markt where you'll find plenty of food and drink spots to satiate your appetite. Berlin is famous for its many tasty food and drink options, but none more so than Currywurst, which is a definite must to try if you never have before! If you have something a bit more eclectic in mind, why not head to Kreuzburg? This gorgeous and quirky area of Berlin is overflowing with independent bars, cafes and restaurants galore, mostly set up by the local community of immigrants, bringing a beautiful mix of different cultures and cuisines to this already diverse city.
When looking for activities to get stuck into with your pals, why not try something a little outside the norm? Give yourselves a good scare at the Berlin Dungeons as you're told horrifying tales ranging from ancient to modern history, complete with live actors ready to jump out and scare you at a moment's notice! Or, you can always get your heart pumping as you zoom up the Panoramapunkt - Europe's fastest lift! It might be a little daunting at first, but we promise there's a stunning view of the city waiting for you at the top where you and your besties can take plenty of selfies in celebration.
Hamburg
If there's one word we would use to describe Hamburg, it would be this: beautiful! Germany's second largest city might not be your first choice for a hen weekend away, but its hidden quirks and gems of local hotspots might just surprise you! Think Berlin but on a slightly smaller scale, you'll enjoy a weekend of wandering across beautiful bridges that arch over the river, marvelling at the stunning architecture of all the buildings and - hopefully - soaking up some sun.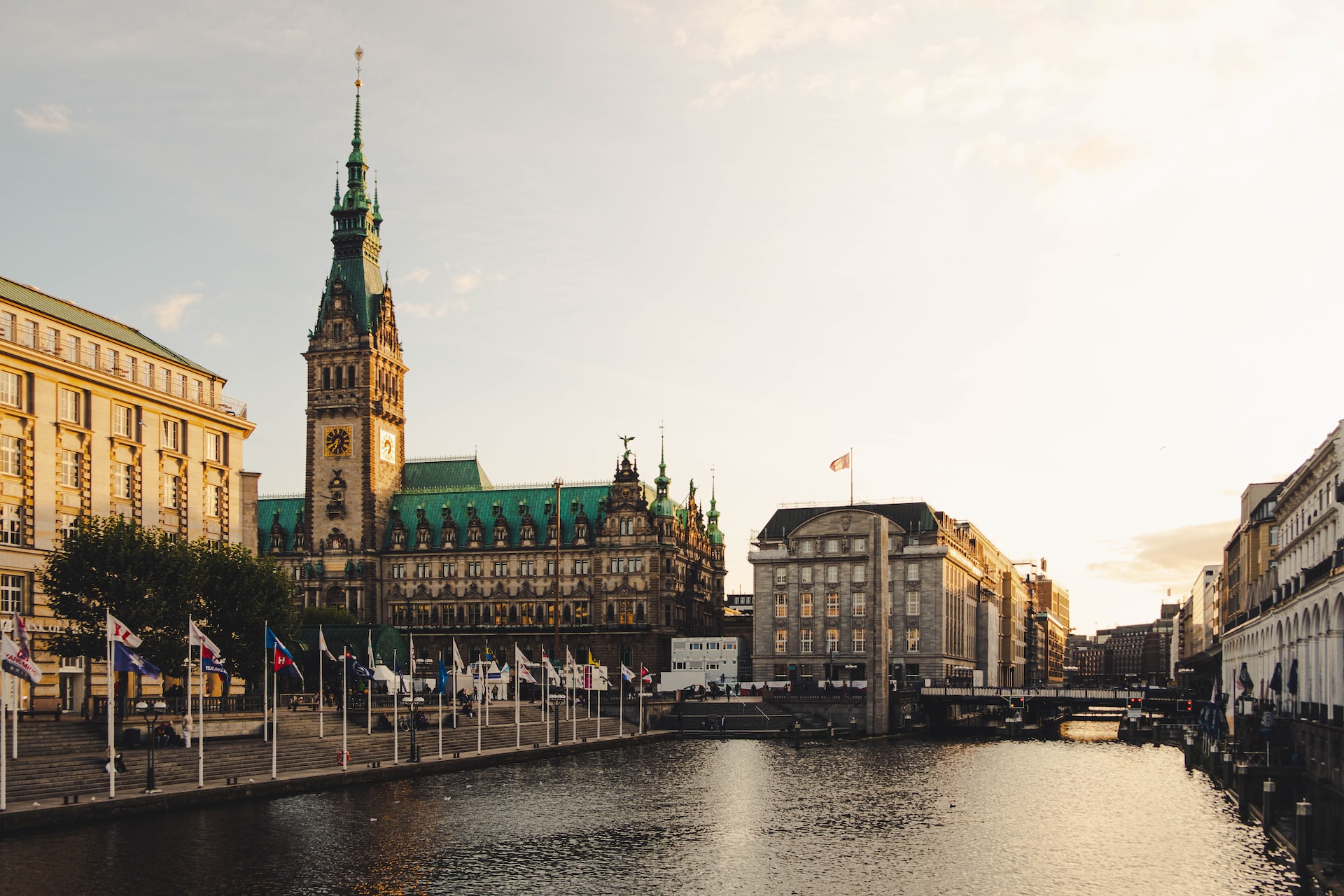 Besides taking in the sights, there's also plenty of fun activities to get stuck into in Hamburg. Pass an afternoon marvelling at the Miniatur Wunderland - think teeny tiny models of some of the world's most iconic sights. Keep the relaxed vibes going and embrace your inner kid with a visit to Hamburg's zoo, the Tierpark Hagenbeck. The park boasts a huge variety of animals, from giraffes to impalas, sharks to spiders, with an aquarium taking up over half of the space!
Munich
Ah, Munich! The home of Oktoberfest boasts being the second most visited city in Germany, and for good reason. The huge array of markets, beer halls and other activities are sure to keep you and your pals busy on your hen weekend away. The motto of the city is 'Munich loves you', and you'll definitely feel it in everything you do there.
Much like Hamburg and Berlin, there's no shortage of beautiful sights to take in in Munich. However, if you're looking for some fun and exciting things to do in the Bavarian city, they've got you covered for that as well. Food and drink are really at the heart of most activities in Munich, so why not try out a pretzel making lesson? You'll head to a local bakery in Munich and find out all there is to know about creating this traditional, Bavarian treat.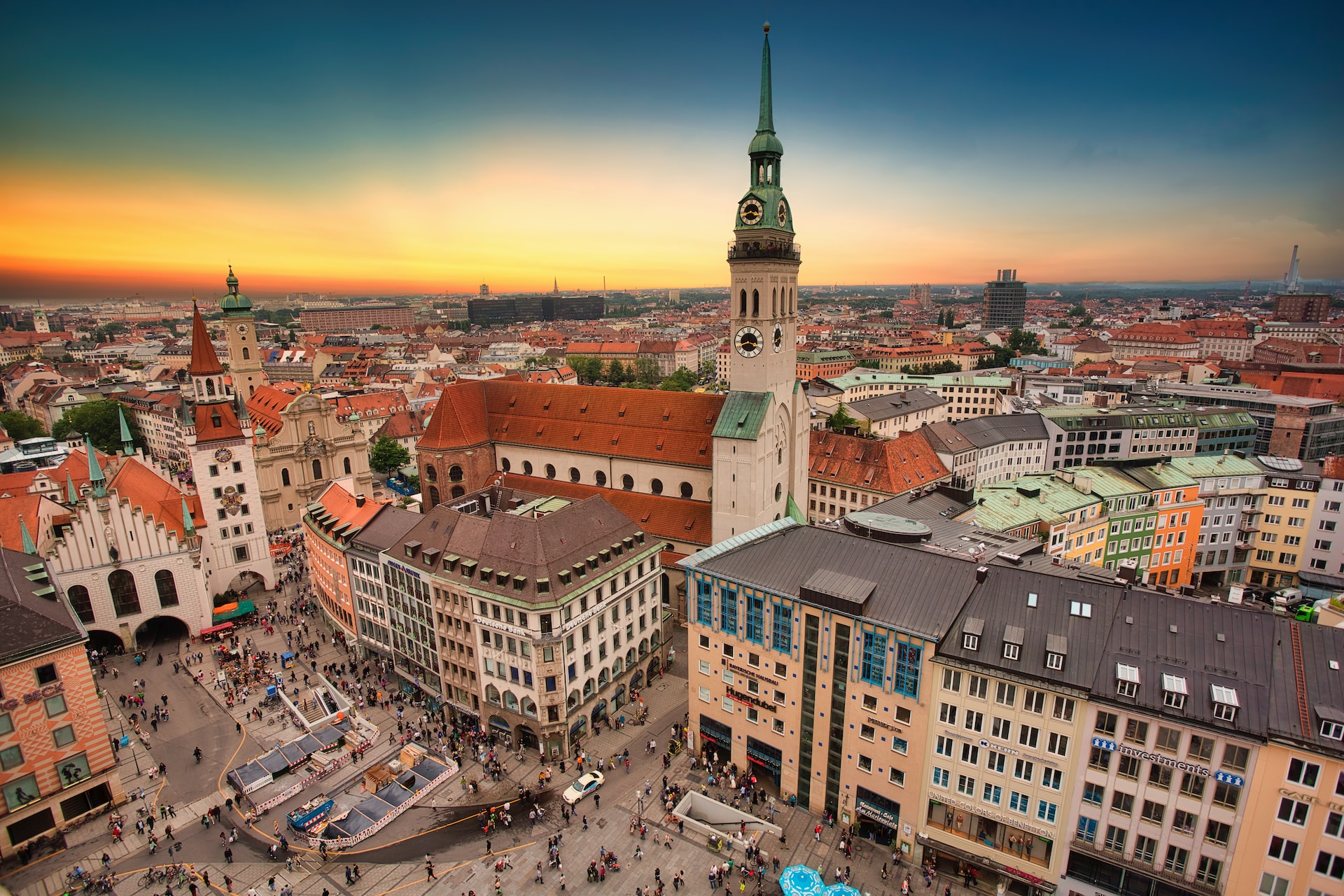 Cocktail Making
Sticking to the food and drink theme, we know that a cocktail making masterclass would go down a right treat with any group of pals, but especially a hen party! There's plenty of places to try this out, but you'll spend time with a dedicated mixologist that will guide you in becoming a master of mixing, muddling and stirring your own cocktails in no time.
If it's something more chilled you're looking for, we totally get that! All those late, alcohol soaked nights partying mean that you might want to spend your downtime in the day doing something a little more chilled. In that case, why not head to the English Garden in the centre of the city? You'll never find a place more zen to wander around with a coffee, or sit and have a picnic with your pals. You could also try out the Juristische Bibliothek located in Munich's town hall for a change of scenery. Certifiably one of the most beautiful libraries you'll have ever laid eyes on, you'll be left feeling like you've stepped into a fairytale after a visit here.
Hen Do Nightlife in Germany
Each city in Germany is totally overflowing with fabulous hotspots to head to to grab a drink. Whether you're looking for a casual cocktail in a cool bar or pub with the girls, or looking for the hottest clubs to head to, there's something for everyone to enjoy.
Berlin
Berlin has a ton of fantastic pubs, clubs and bars on offer for you to enjoy during your hen weekend there. However, we thought we'd single out one particular spot that might pique your interest.
You may have heard of this infamous club in Berlin before, but essentially, Berghain is so famous that no one knows what goes on inside! Located between Kreuzberg and Friedrichshain, you'll have to queue up to only potentially enjoy the reward of getting inside this oh so exclusive nightclub.
You're let in entirely based on vibes alone, but there are a few tips that people who have gotten in before have given: make sure to wear dark colours, and don't have your phones out, especially if you're taking selfies. Even if you follow these guidelines, there's no guarantee you'll make it inside, but finding out the mystery of what it's like inside is definitely worth trying in our book!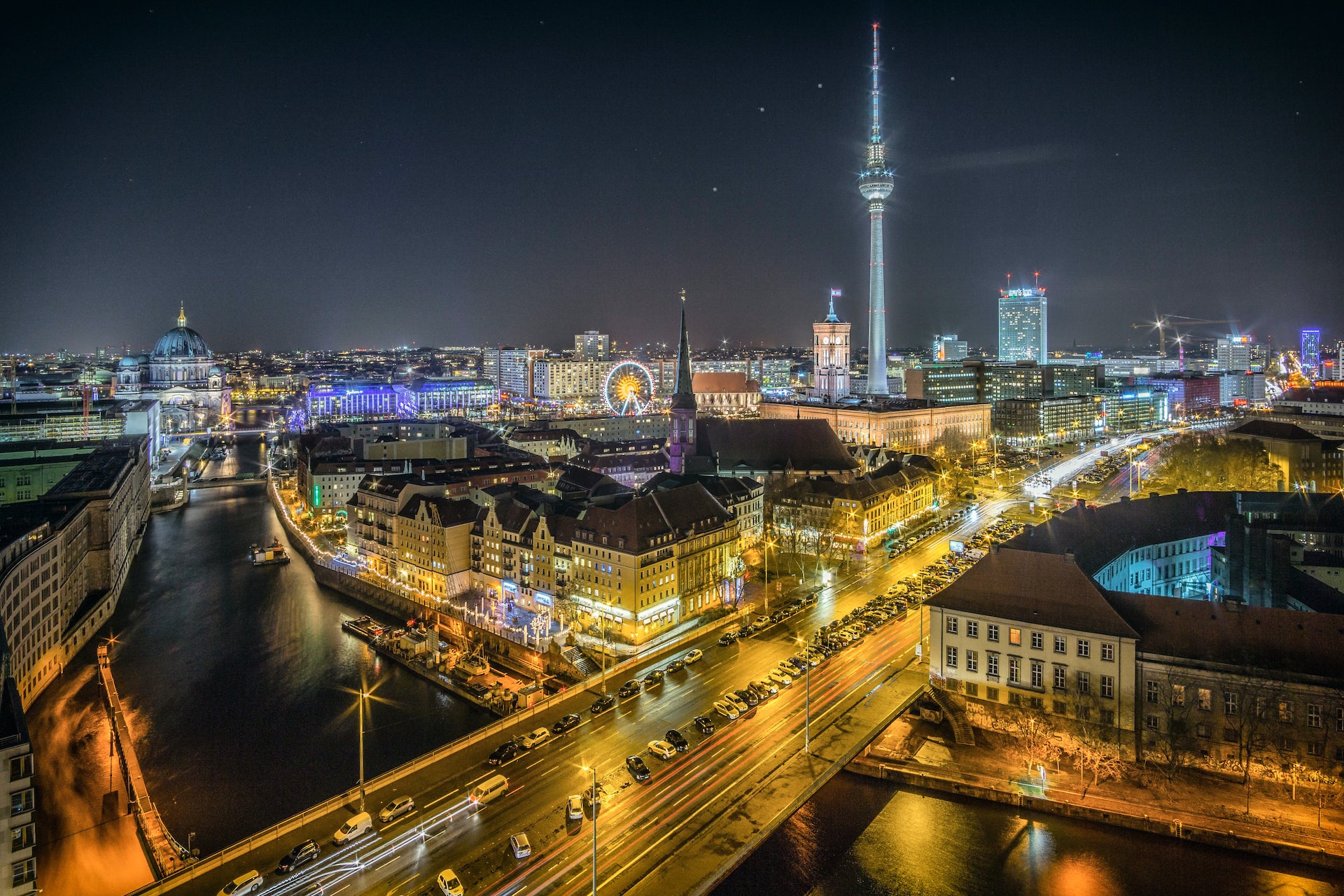 Munich
As it's the home of Oktoberfest, it's obvious that Munich is going to have a fabulous nightlife to go alongside its boozy reputation! Beer gardens and beer halls cover the city aplenty for a place to stop and grab a stein during the day or night, but the city is also filled with enough bars and clubs to satiate any other cravings you might have.
We've found that the area around Münchener Freiheit in Schwabing is the perfect place to head if you're looking for a night out. There, you'll find innumerable jazz clubs, contemporary bars and clubs you can spend your whole night dipping in and out of. For any group looking for a queer-friendly scene, there's also plenty of gay clubs around the Glockenbachviertel area as well.
Hamburg
We'd be remiss to not tell you about some of the brilliant nightlife in Hamburg, wouldn't we? Well, you'll definitely have to check out the infamous Fischmarkt - we promise it's not quite like it sounds! From March to November every year, the local fish market keeps the party going once all local clubs have closed for the night, hosting live bands and DJs to keep the party going into the wee small hours. When you're there, you'll definitely have to try Fischbrötchen, Hamburg's answer to Berlin's Currywurst.
If you're feeling a little racy, why not head over to St Pauli? It's Hamburg's red light district, filled with plenty of naughty stuff, but this unique and quirky area of the city also holds plenty of cool and contemporary clubs, bars and food spots to check out, too.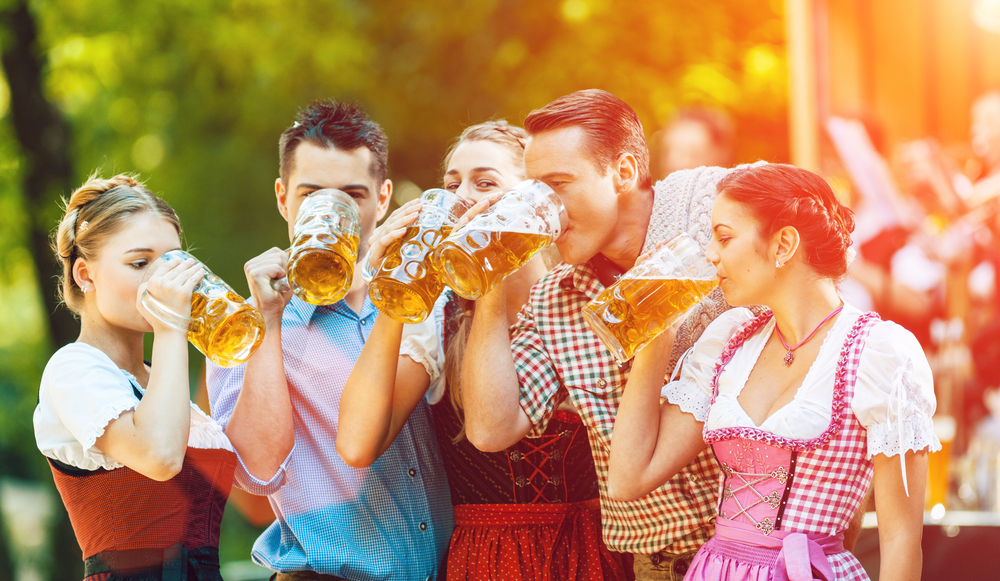 Eating Out in Germany
Whatever you're getting up to on your German hen do extravaganza, you'd be remiss not to try out some of the stunning local cuisine. Berlin, Hamburg & Munich are all overflowing with classic chain restaurants and independent spots alike, but we think the best thing to satisfy your cravings is some traditional German food.
Everyone's heard of Bratwurst, right? These smoked sausages are considered to be the cornerstone of German cuisine, so much so that there's even a museum dedicated to them! You may also have heard of Currywurst, which is a grilled sausage totally smothered in a mix of curry powder and ketchup. Don't knock it until you've tried it! This is one of Germany's most beloved street food snacks, and is often served with chips.
If you're looking for something more substantial to order at a restaurant, might we suggest Schnitzel? Now, we know The Sound of Music might have convinced you that this is actually an Austrian delicacy, but that's Wiener Schnitzel (i.e., veal schnitzel)! In Germany, schnitzel is often made from pork or turkey, and is as totally tasty as its Austrian counterpart.
Of course, the only drink to have alongside your traditionally German meal has got to be a beer! The country is famous for it - holding its annual Oktoberfest in Munich every year, where people from all over the world come to try out all the different kinds of beer, and then stumble back to their hotels at the end of the night!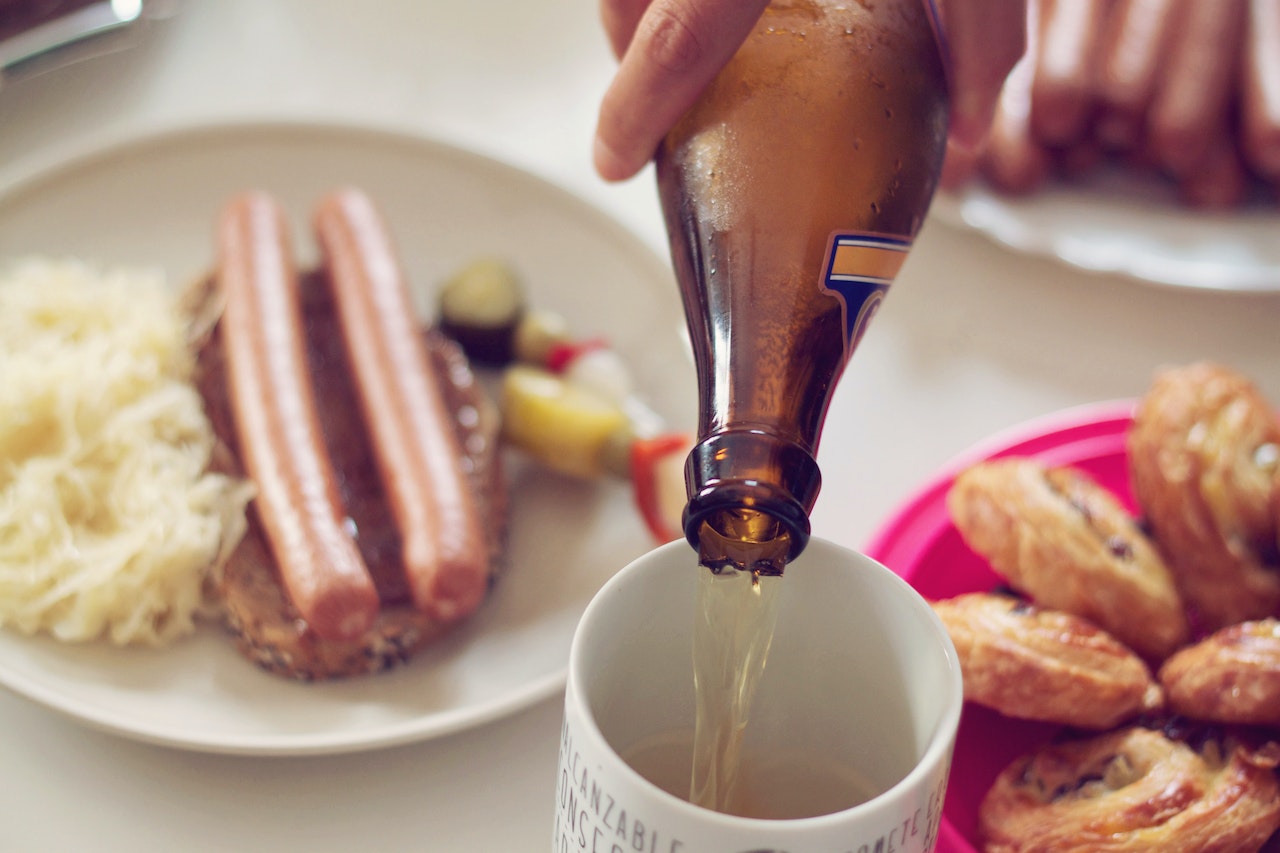 Getting to Germany
Already thinking about your travel arrangements? Fear not - Germany is a well connected place, travelwise. A flight clocks in at just under two hours for anywhere you're headed. Each of the delightful cities have their own airports as well: Berlin Brandenburg Airport, Munich Airport and Hamburg Airport, all with plenty of flight options with numerous airlines.
Book Your Hen Party in Germany Today
So, Germany's starting to sound like a pretty great place to head to for a hen party, right? With so many different cities to head to, a huge variety of activities and experiences, and perfect for whatever vibe you're going for, you really can't go wrong. Booking a hen do abroad is a great, extra special treat for your bestie who's about the head up the aisle, and there's no better place to head to than Germany, in our books!
Check out our full activity listings for Berlin, Hamburg & Munich to help create that extra special weekend of fun, frolics and total joy for your group of gal pals. Whatever you're after, Fizzbox has always got you covered.