If you're planning a stag do abroad, you'll want to consider Croatia – it's ideal for those who want the whole package: great food, epic nightlife and plenty of activities, all at a price that's easy on the bank balance. This destination is growing in popularity and is shaping up to become one of the hottest new stag do locations around. This amazing country situated in the Adriatic Sea has so much to offer groups looking to celebrate a stag do in style - from some of the most stunning beaches and beautiful scenery around, to unique architecture, unforgettable city breaks and more, this is sure to be a weekend for the history books.
Why is Croatia Great for a Stag Do?
Croatia's got everything you and your mates could ever want in a stag do destination. From the most incredible beaches in Europe, to top-notch nightlife, great food and affordable beer, Croatia has it all. And if you want somewhere that combines all these things with majestic scenery, then look no further than this brilliant destination.
The Best Cities in Croatia for a Stag Do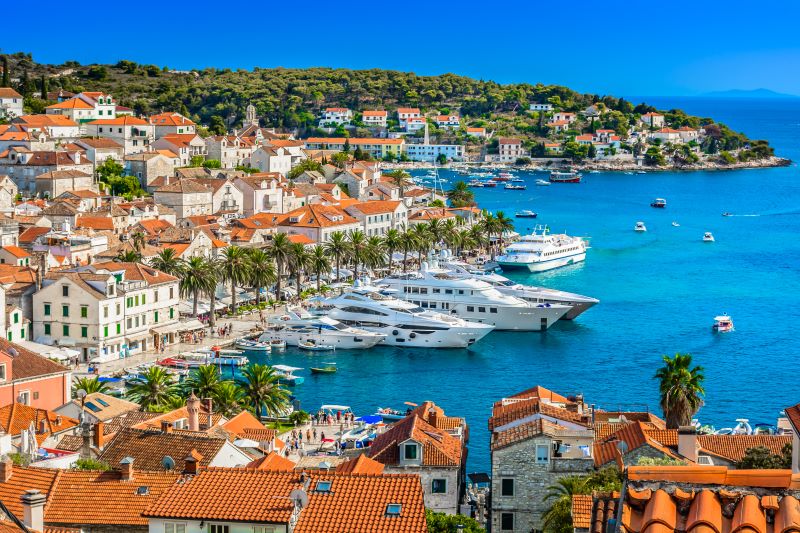 Hvar isn't just a stag do, it's an adventure! The weather's hot, the sea is blue and the drinks are cheap. What more do you need to know? If you're looking for a stag do that offers something for everyone then Hvar might just be your dream destination. This beautiful Croatian island has plenty of action packed activities, along with an electric nightlife with loads of party bars that will be pumping all night long. When it comes to stag do activities, you'll find plenty to do here both in the day and as darkness falls. How about sailing trips, quad biking, sea kayaking and even skydiving (although not for the faint of heart!) as the evening comes around, why not opt for one of the guided bar crawls, beach parties or dining experiences!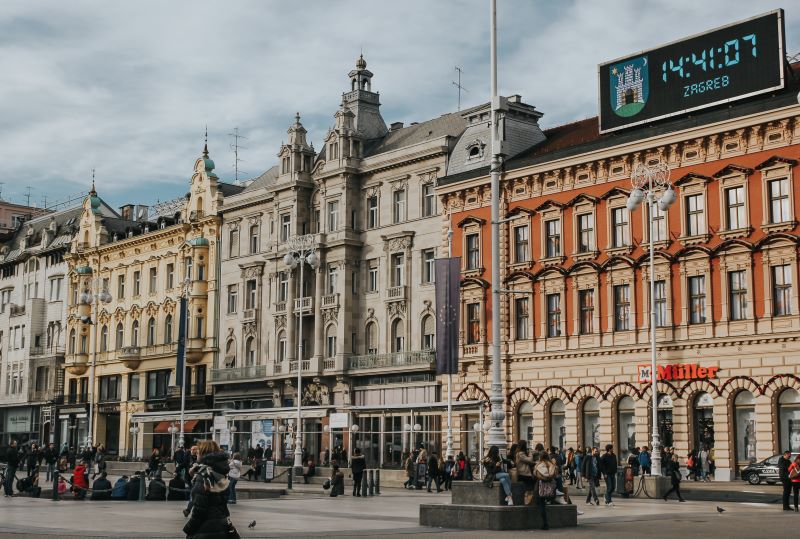 Zagreb
Zagreb is the capital of Croatia and the country's largest city, which is very quickly becoming the go to party destination. With its buzzing nightlife, beautiful architecture and amazing scenery all around, it's no wonder that stag groups are choosing Zagreb as their destination of choice. This city is easily explored on foot or bike, and there's loads of great sights to see during your visit here. Take a wander around the grand squares, museums and galleries. Alternatively, if that's not your thing (you're on a stag do, so possibly not!) you may like to take advantage of the many water activities on offer - the city is famed for many of its waterside locations.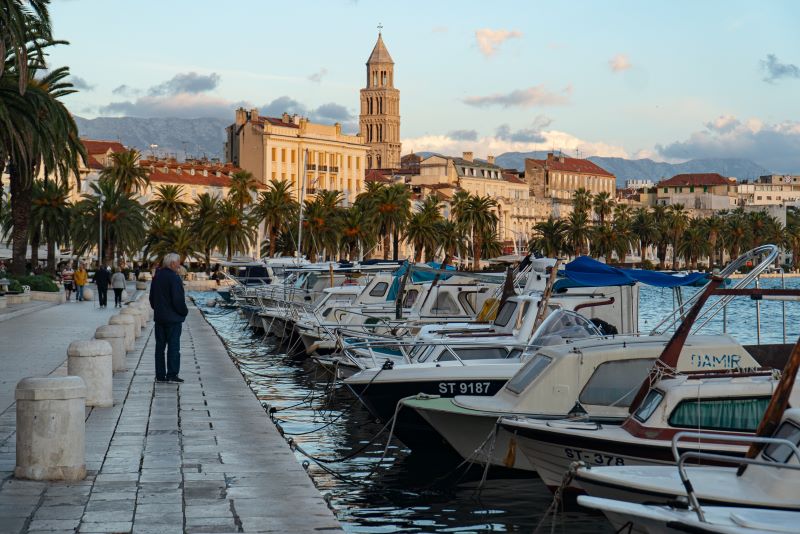 Split
Split is Croatia's second largest city and offers a wild party atmosphere for anyone looking for a seriously epic stag weekend. The city is home to one of the most beautiful beaches in Europe, the famous Diocletian's Palace and a host of other historical sites. There are also plenty of bars and clubs where you can take part in some serious partying. The nightlife here is second to none and will have you throwing shapes until the sun comes up!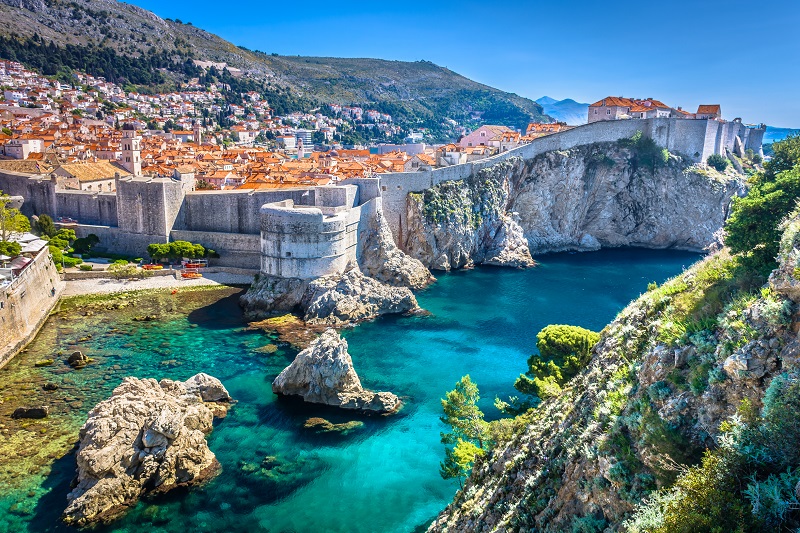 Dubrovnik
Dubrovnik, Croatia is the perfect place for a stag do. It's beautiful, but not too beautiful—it's got a little bit of grit to it that's refreshing, and it has just enough history to feel like you're doing something cool without being too stuffy or boring. You can wander through the old town, where you'll see ancient churches and fortresses and take in some of the most beautiful views you've ever seen in your life. Then you can head down to the beach and get your drink on with some beachside barbecuing. Or maybe you want to check out some clubs? No problem! There are plenty of bars where you can dance all night long with beautiful women from all over the world.
The Top 10 Stag Do Activities in Croatia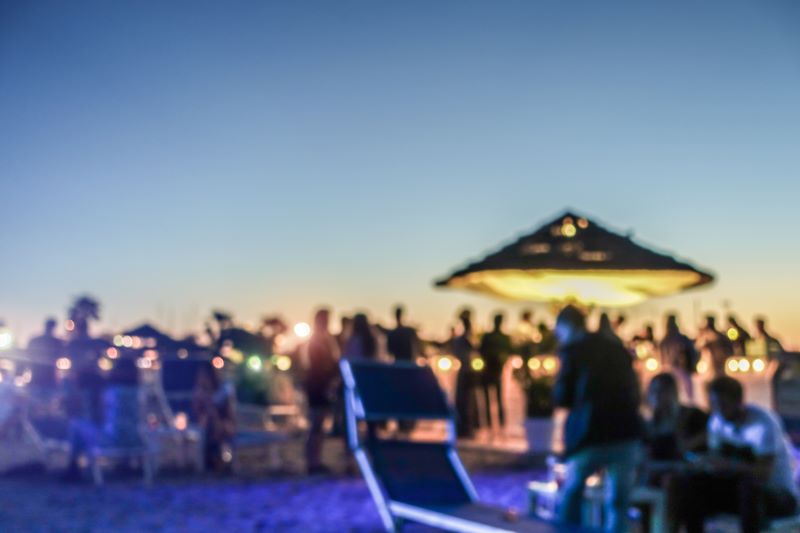 Why party anywhere else when you and the rest of the lads can celebrate the stag weekend on one of Hvar's stunning beaches? Here the atmosphere is lively and the tunes will be pumping! Not only will you be able to throw shapes till the small hours, but you'll join other like minded party revellers looking for the ultimate night out. Some of our beach party offerings in Hvar will even include your own private table and drinks too, so what are you waiting for?
Paintballing is always a winner when it comes to a stag do, and if you're celebrating in Croatia, you won't have to miss out on this stag weekend staple activity! If you're a group looking for some more adrenaline-fuelled activities for your stag party, then paintballing is the perfect choice. You'll be armed with all the necessary equipment and safety gear, along with 100 paintballs each for your session. A safety briefing will also be provided. You'll then make your way to the battlezone, where you'll find unique challenges and obstacles that will keep your senses on high alert. Ready to pelt your mates with colourful balls? We reckon so!
Quad biking is a brilliant choice for any stag that's a bit of a petrol head! You and your mates will hop on the beastly vehicles and go tearing across the countryside. The stags will get to experience the thrill of driving at high speeds through rough terrain. This is great fun and perfect for anyone who wants to live life on the edge! The adrenaline rush will be incredible, and you'll absolutely love every minute of it!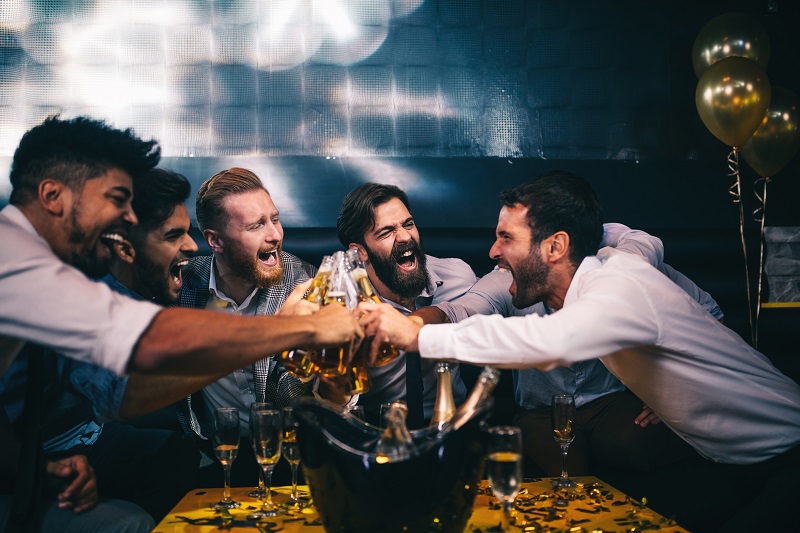 Nothing says stag do like a pub crawl, so why should your celebration in Croatia be any different? With these experiences, you and the rest of the stags will tour around some of Hvar's best watering holes with a friendly English speaking guide, who will give you a taste of the wild nightlife in this top location. Some of these pub crawls will even include a VIP table reservation at one of the venues, along with shots too! These pub crawls will generally last between 4-5 hours depending on your chosen pub crawl, so that will be your big night out sorted!
Get ready for some zorb themed chaos with a bubble football experience in Hvar! Whether you're a firm fan of the beautiful game (or not), this activity is sure to be a hit with you and the rest of the stags alike. You'll chuck giant inflatable zorbs on your top halves and run around like absolute madmen as you bounce, bump and crash into each other. Great for a laugh and letting off some steam, bubble football is without a doubt one of our top activities for a stag do in Croatia!
Sure, he's insisted that he doesn't want a stripper for the stag do and that he wants to keep things sedate. But you can't send him off into married life without enjoying some sexy sights on his big weekend, right? So here you go, treat him to a sensual striptease from one of these gorgeous exotic dancers and give him the memories that will last a lifetime!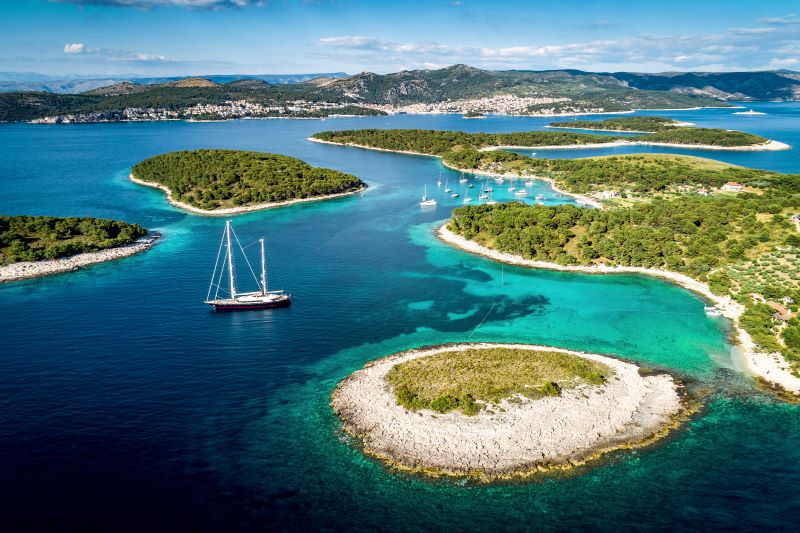 If you're looking for a way to get out on the water and enjoy some of the best views in Hvar, look no further than a boat trip. The crystal-clear waters of the Adriatic Sea make for an unforgettable experience that you'll remember for years to come. From speed boats for those seeking some high speed thrills to calming sailing trips onboard your very own private yachts, there will be something here to quite literally float everyone's boat.
The battle archery stag experience is the perfect activity for you and your friends! This epic game combines all the fun of archery and dodgeball and will see you and your mates split into teams and go against each other for one seriously fun session.
You'll have to use your best aim to try and knock down your opponents with foam-tipped arrows - expect a whole load of adrenaline whilst you're at it! Battle archery is a great way to test your skill and reflexes, but also show off your competitive spirit on the big stag weekend!
You're going to need to get a decent meal or two planned for your trip to Hvar, so why not take a look at some of our brilliant dining options and take the hassle out of meal planning? We've got loads of great options for you and your group, whether you're looking for traditional Croatian, or just fancy getting stuck into a juicy slab of steak!
Calling all adrenaline junkies, this one's for you! Sky diving is a unique stag do experience, and something that's certainly going to give him the biggest thrill of his life. The look on his face is going to be absolutely priceless when you reveal what's in store for him! Everyone who's sky diving will be given an extensive safety briefing from a professional and given the correct gear to wear and then you'll hop on a plane, ready for the main event. Each person will be sky diving with an experienced professional, so you'll be in safe hands for this amazing experience!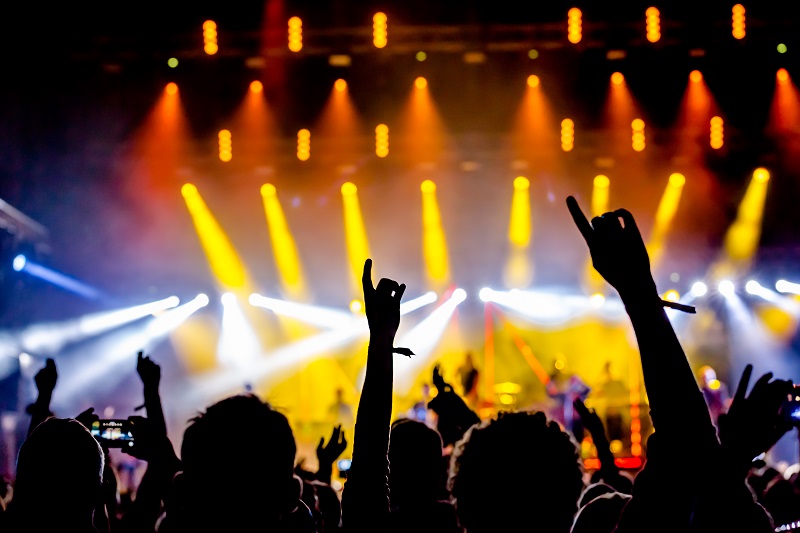 Nightlife in Croatia
Croatia is a country with a unique nightlife. Whether you're looking for something that will suit your stag group, or just want to have a good time in general, you'll be spoilt for choice with a trip to this great country.
Zagreb has some of the best clubs in Europe, and the clubs here are always packed with beautiful locals and tourists alike. If it's a beach party you're after, then Hvar should be top of your list. The island has some incredible beaches with white sands and clear water that are perfect for all-night parties. Other evening options in Hvar include private pub crawls, restaurants or how about a private stripper and lap dance experience?
If you're venturing to Split for the stag do, head to Old Town and Riva Harbour and enjoy some drinks at the harbourside. If you want to take things into the small hours, you'll want to head outside of the Old Town, where you'll find an array of nightclubs.
Dubrovnik might be best known for its bar scene, but for anyone who wants to keep the party going, there are a few nightclubs dotted around, but less choice than Zagrab. But don't be disappointed, because these clubs are usually big and offer a truly unique experience in some of the city's most interesting bits of architecture - one club is housed in an angular, 16th century fortress!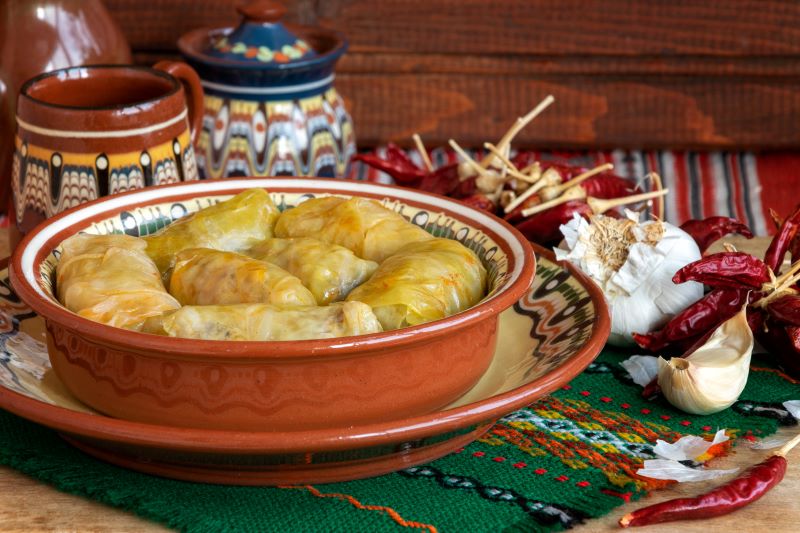 Eating Out in Croatia
If you're looking for a culinary adventure in Croatia, you won't be disappointed. Croatian food is heavily influenced by its geography and history, as well as the influences of neighboring countries like Italy and Hungary. There are many traditional dishes that have been around for hundreds of years, including piroška (a sweet pie stuffed with meats or vegetables), jota (a soup made with beans), and kulen (a cured sausage).
You can also find some unique local specialties that have evolved over time but are still very much a part of daily life. One such example is kremšnite—a pastry filled with custard that's baked in a wood-fired oven.
Don't worry if you're a fussy eater or not into trying new foods, as you'll also find plenty of fast food joints in and around Hvar and the rest of this country which include burgers and fries. You'll also find other restaurant genres such as Italian, Indian and Asian.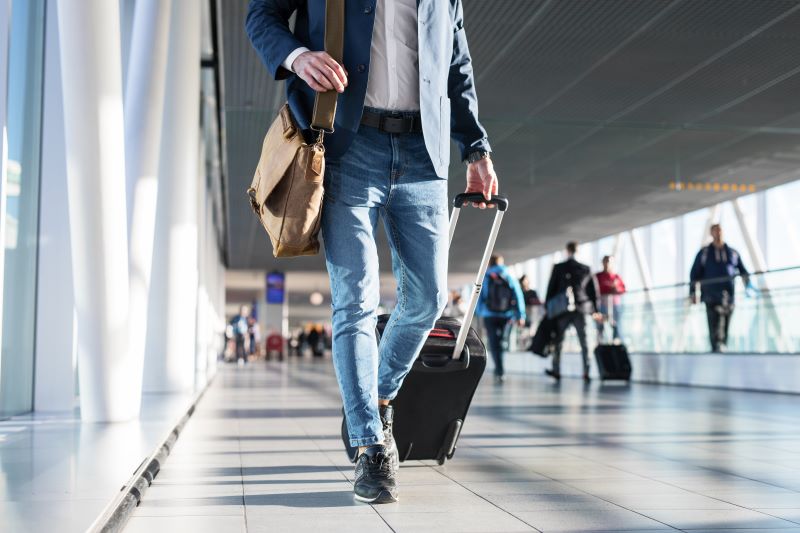 Getting to Croatia
If you're looking to head to one of the great cities in Croatia that we've mentioned, then you'll be able to grab a flight! That's right—you can take off from the UK and land in Croatia within two hours and 40 minutes to five hours, depending on your chosen departure and arrival city.
Flights are available from most major UK airports, including those in London, Manchester, Glasgow and Bristol.
Book Your Stag Do In Croatia Today!
Ready to get the ball rolling? Then why not take a look at the great activities and experiences we offer in Croatia, and send an enquiry through now?