Brunch fever is sweeping across the UK faster than you can say "smashed avocado," with new hotspots popping up left, right and centre. Bottomless brunch is the ultimate weekend treat. The chance to stuff your face with bacon, eggs and more while sipping on endless cocktails, prosecco, beer or soft drinks. In Manchester, this culinary craze has reached new heights, and we're here to guide you through the very best bottomless brunches the city has to offer. So, grab your brunch squad and prepare to embark on a mouth-watering adventure of the best bottomless brunches in Manchester. Bottoms up!
Duration: 2 hours
Drinks: Cocktails
Food: Sharing stack
Price: From £29.95 per person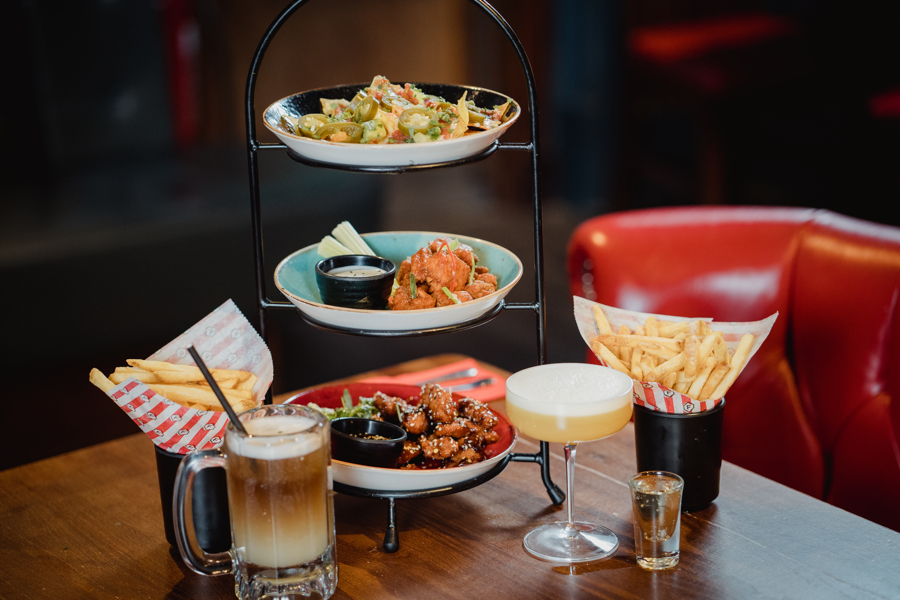 In the mood for an epic get-together with your besties? Look no further than a bottomless brunch bash at TGI Fridays! With restaurants at Royal Exchange and the Trafford Centre and more, this American restaurant is a great place for a two-hour adventure packed with pure gastronomic joy! The staff at TGI Fridays are your go-to squad for fun, friendliness, and instant party vibes, ensuring your glass is never less than overflowing! And speaking of drinks, there's a medley to keep your spirits soaring, from cocktails and prosecco to pilsner, and even some non-alcoholic options. But there's more to bottomless brunch than just the drinks! You also get to handpick three tantalising dishes from TGI's scrumptious menu to construct a towering feast to share with your crew, complete with a generous serving of crispy fries for each one. It's the perfect culinary counterpart to your drinks.
Duration: 4 hours
Drinks: Mimosas & prosecco
Food: Burgers
Price: From £47.50 per person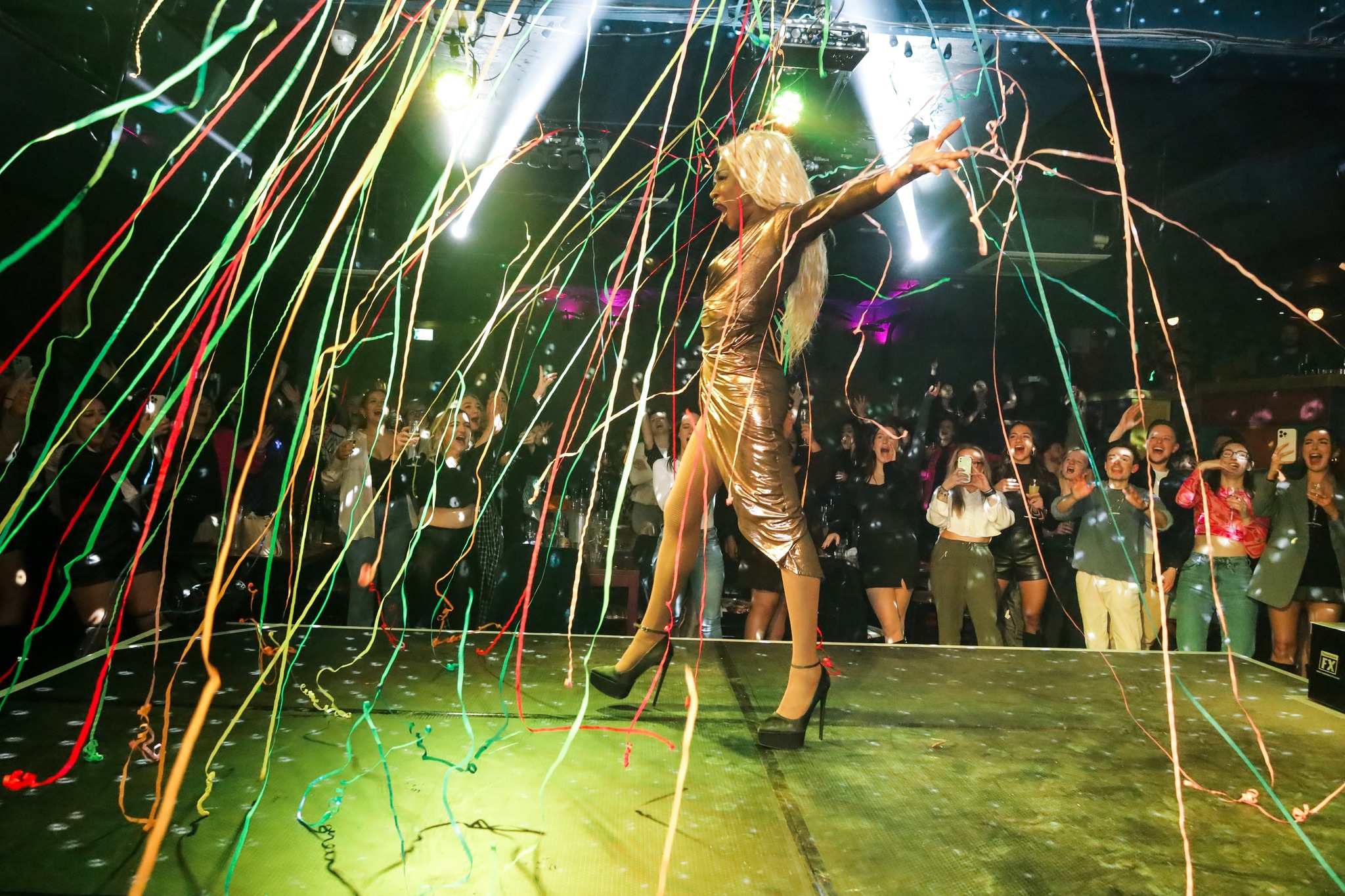 This four hour drag-tastic extravaganza will begin as you take a seat and indulge in one of the dishes from the delicious brunch menu that includes a range of burgers including meaty and veggie options. Sit back, relax and chat with your friends as you also enjoy your 90 minutes of totally bottomless mimosas and prosecco. After brunch, it's time for the real show to begin! Your afternoon will be led by some of the city's finest drag talent who will treat you to a number of fantastic performances. Think lip sync battles, dance-offs and other fun games that you can get involved in, too! Although the performances will come to an end, the fun doesn't have to! A live DJ will take over from the queens and you can drag your besties up onto the dance floor to dance the rest of the afternoon away.
Duration: 2 hours
Drinks: Cocktails
Food: 1 brunch dish each
Price: From £37.50 per person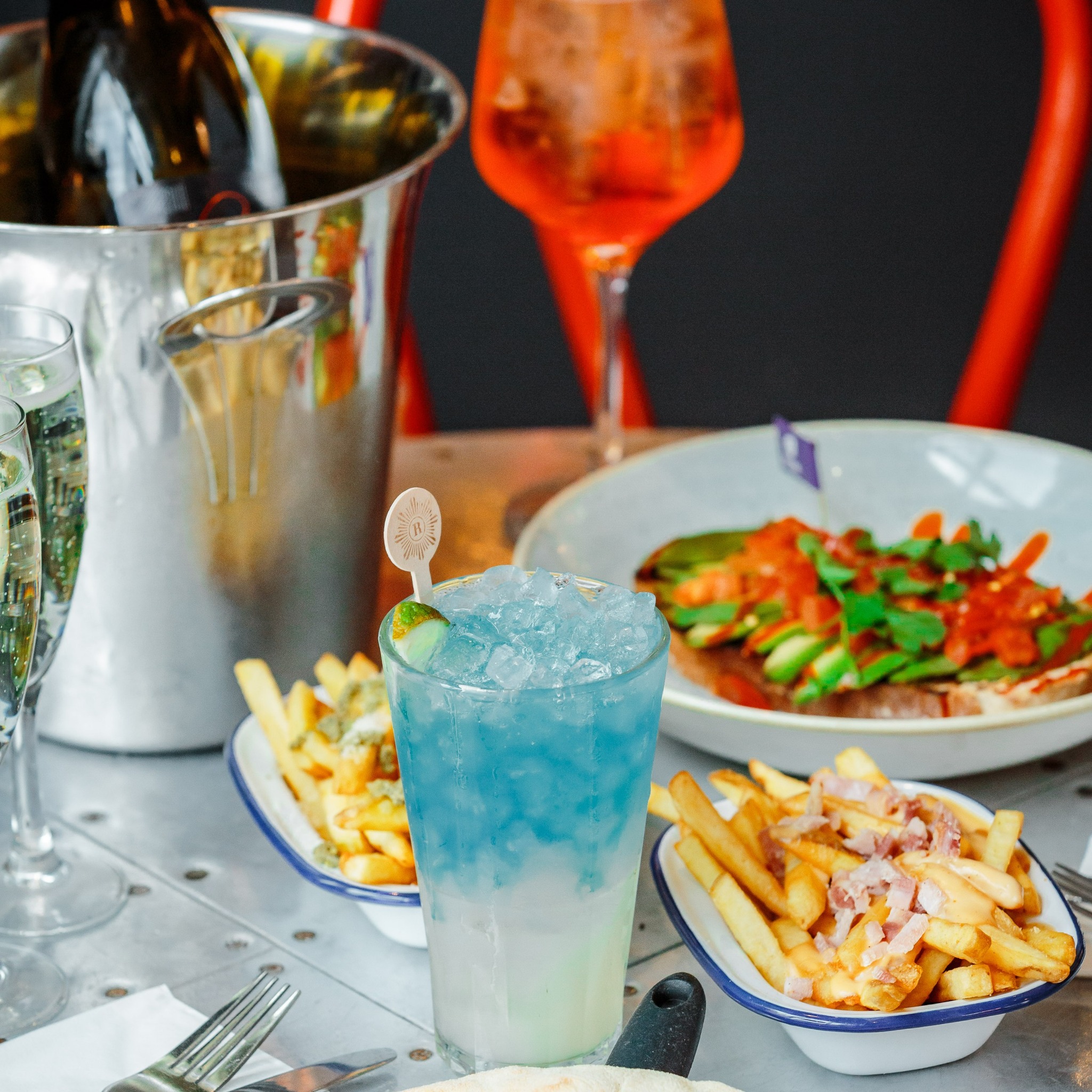 Round up your pals and enjoy a boozy adventure at Revolution, with bars in Deansgate, Parsonage Gardens and Oxford Road. Step into this oasis filled with all your brunch favourites and drinks served up by Revs' friendly, lively and skilled staff. You'll have a two-hour window to fully indulge in this iconic bottomless brunch. Savour endless glasses of prosecco, experiment with cocktails you've never tried before or stay cool with Revs' bottomless selection of soft drinks. You'll also get to select a brunch dish from Revs' extensive, fresh, and contemporary menu to accompany your unlimited drinks. After all, you've got to satisfy your hunger! Keep it classic with heavenly blueberry and banana pancakes or opt for something savoury like their classic margherita pizza. The tempting menu also includes grills, waffles, avocado and poached eggs, burgers and more. You're spoilt for choice.
Duration: 4 hours
Drinks: Rum punch
Food: Starter & main
Price: From £47.95 per person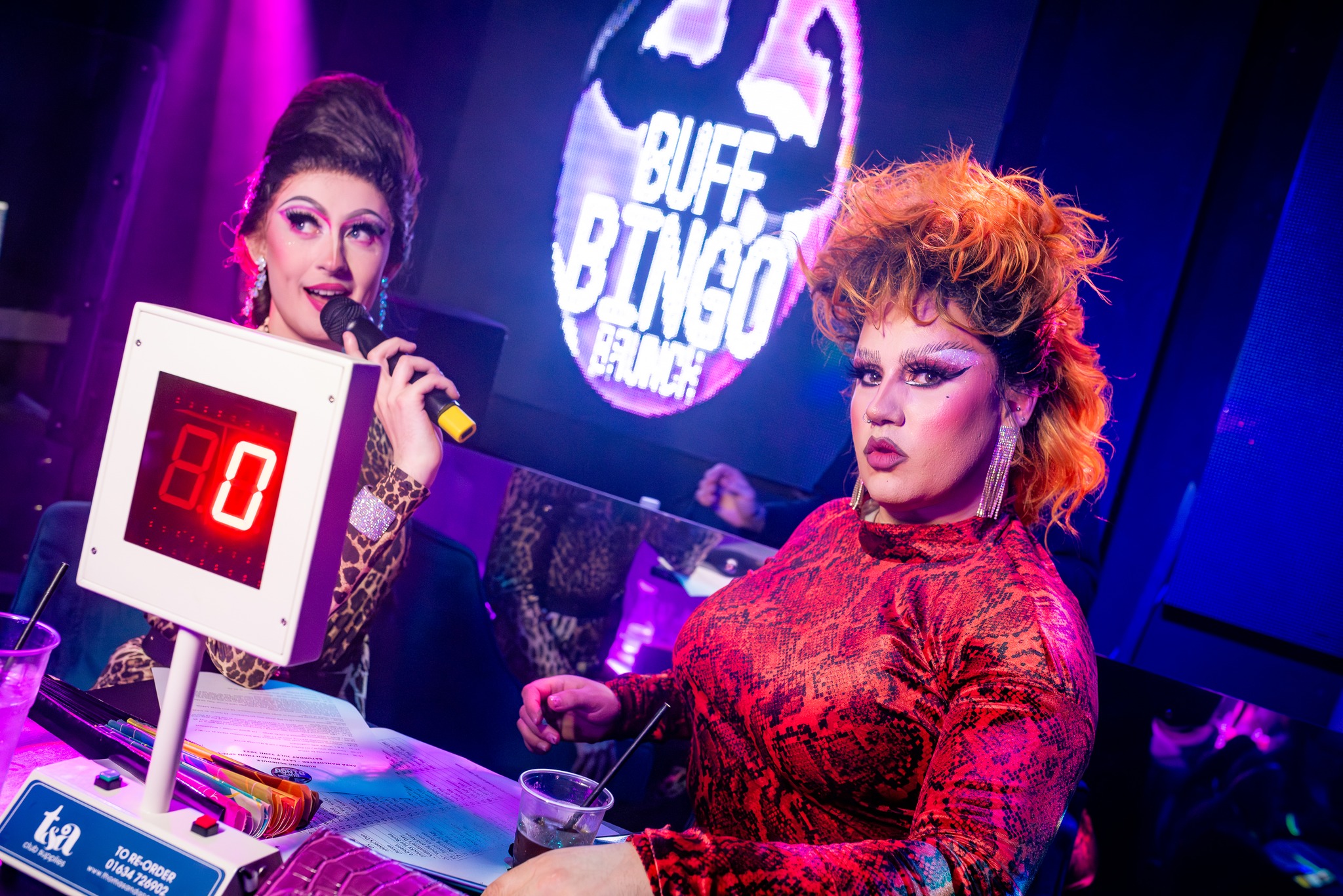 Dive headfirst into the vibrant heart of Manchester for an unforgettable afternoon of drag extravagance, scrumptious brunch, and endless entertainment! Gather your besties, dress to impress, and head to Manchester's epic bottomless brunch. Inside, choose from a diverse menu of mouth-watering dishes, setting the stage for your unforgettable experience. Enjoy a generous 90 minutes of bottomless drinks, served by captivating topless waiters. Plus, a jug of Havana rum punch keeps the party spirits high. Now, get ready for the main event! Hosted by the fabulous Miss Anna Phylactic and HRH Lill, your afternoon features show-stopping performances, lip-sync battles, and lively games. Don't forget bingo, where you can win fabulous prizes! Keep an eye on those rolling balls for a full house. And the fun doesn't end there! Hit the dance floor with your friends, dancing to your favourite tunes from the resident DJ.
Duration: 4 hours
Drinks: Mimosas & prosecco
Food: Starter & main
Price: From £47.95 per person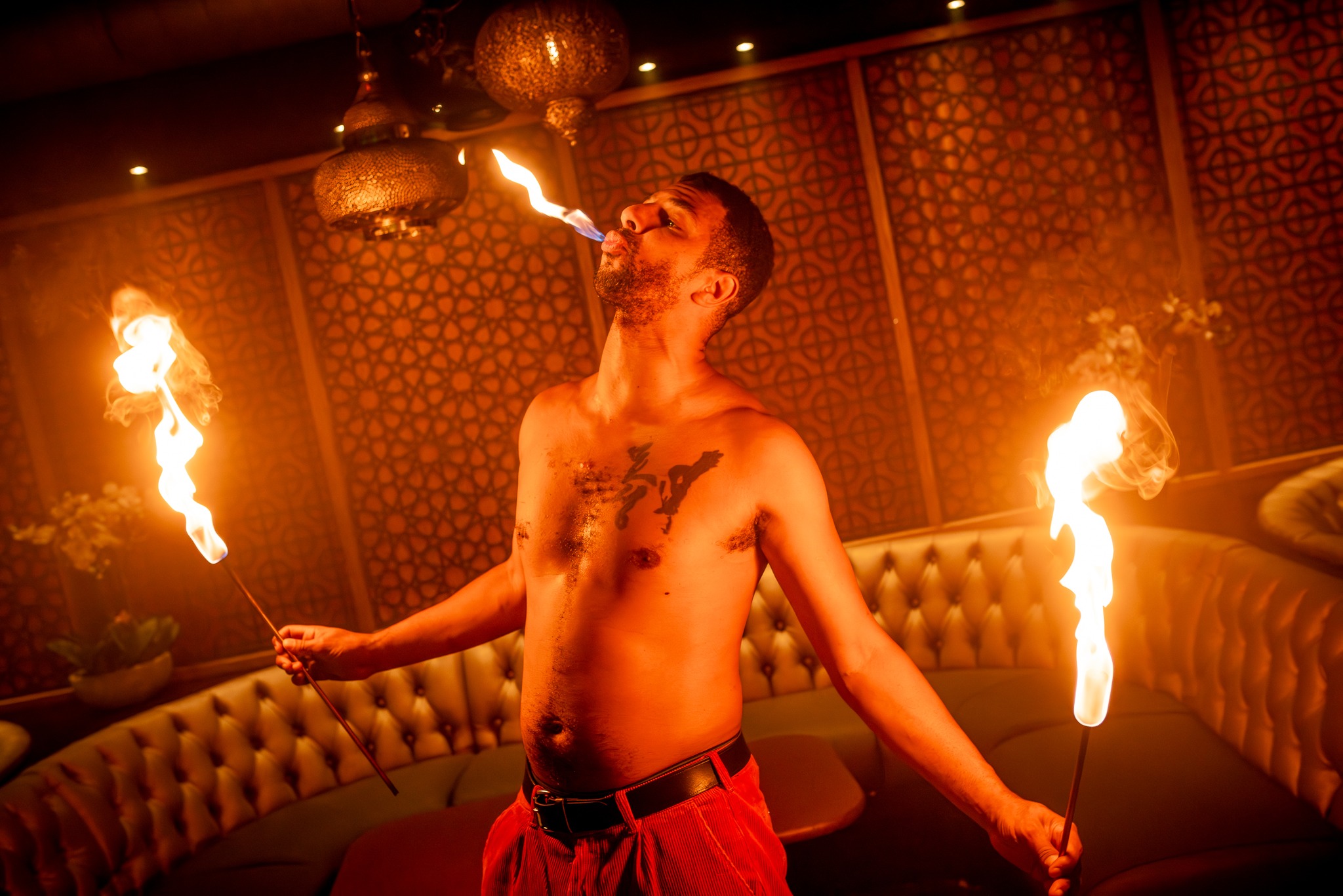 Prepare for a very cheeky brunch with this Boy Toy-themed experience. This four-hour party brunch kicks off with a mouthwatering brunch, where you can choose a starter and main course from a diverse menu. Start sipping on your bottomless drinks, with 90 minutes of unlimited mimosas or prosecco to fuel the fun! The entertainment begins with a charismatic local drag legend hosting the show. Expect laughter, witty banter and dazzling performances that'll have you and your friends begging for more. Then your drag host will introduce the main event: the boy toy strippers. Brace yourselves for a jaw-droppingly sexy performance featuring hunky performers and mind-blowing acrobatics. These sexy male strippers will give you plenty of eye candy and lots of laughs. This bottomless brunch in Manchester is perfect for a cheeky hen do or birthday party with close friends.
Duration: 4 hours
Drinks: Mimosas & fizz
Food: Starter & main
Price: From £47.95 per person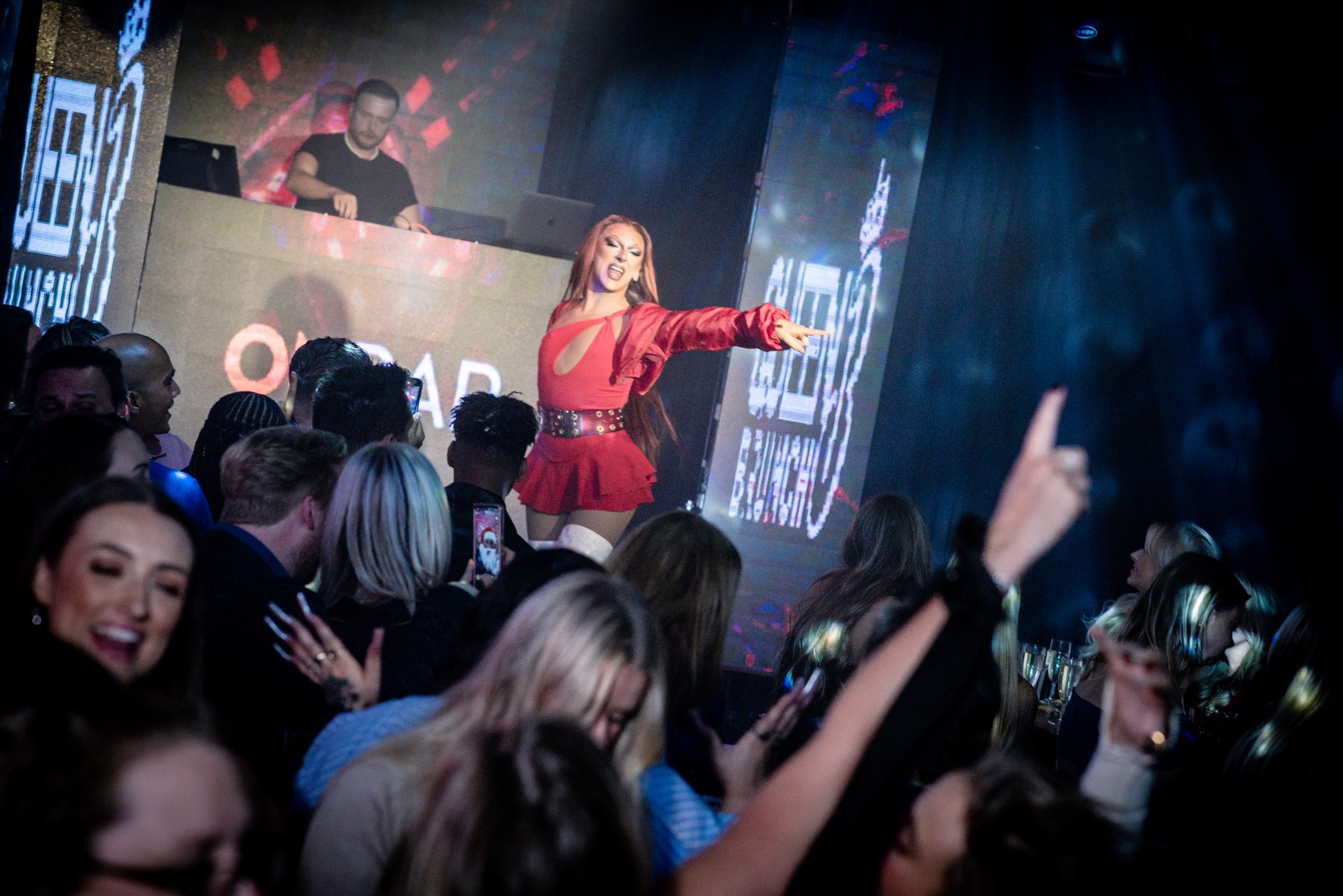 This brunch is the ultimate homage to R&B royalty, Miss Sasha Fierce, with a sensational bottomless brunch in the heart of this vibrant city. Kick start your brunch adventure with 90 minutes of unlimited bubbles and mimosas, perfect for sipping and giggling with your besties as you enjoy a starter and a main course from the brunch menu. Your afternoon will be a delightful blend of tasty food, 90-minutes of fizz and dazzling entertainment by drag queen performers channelling the iconic Beyoncé Knowles. Get ready to hit the dance floor and bust out the moves to Queen Bey's legendary hits like Single Ladies, Who Run the World, Halo and many more! And the excitement keeps going as the in-house DJ keeps the party vibes alive with a playlist of top tracks once the drag queen performances finish. If you're a Queen B fan, you won't want to miss this one!
Duration: 4 hours
Drinks: Mimosas & fizz
Food: Starter & main
Price: From £47.95 per person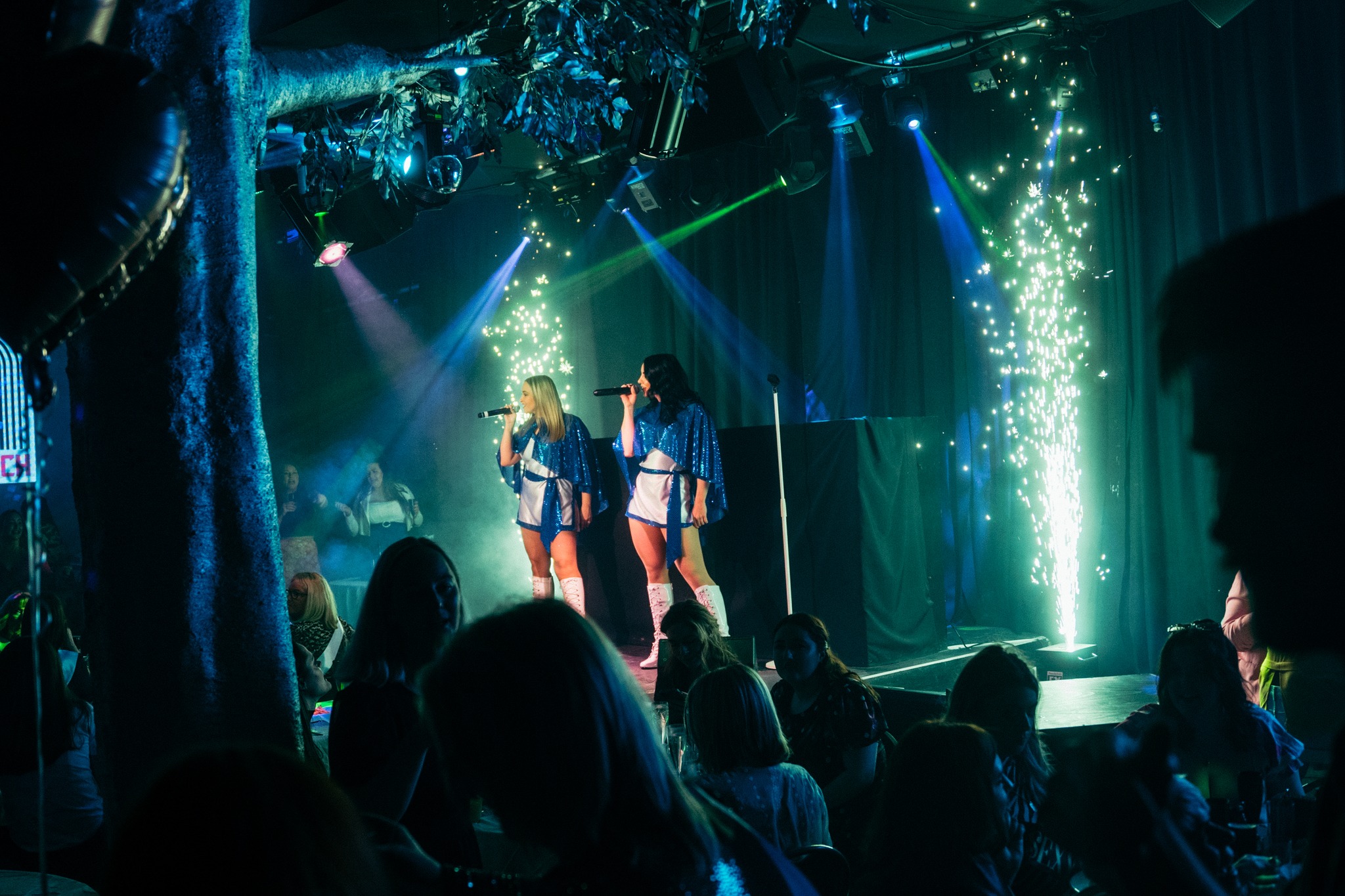 Gather your Dancing Queens and don your best flares for a boozy afternoon celebrating the Swedish supergroup. Your bottomless brunch adventure starts with a generous 90-minute offering of endless bubbles and mimosas. As brunch is served, the entertainment begins. Prepare to be dazzled by the sleek performances of the I Believe in Angels ABBA tribute duo. Immerse yourself in the magic of the music of the band and the film Mamma Mia as dance with your closest companions to ABBA's iconic hits. But the party doesn't cease there! The remainder of your experience will be hosted by the incomparable drag queen, Miss Blair, who'll grace you with her iconic acts and host entertaining games for you and your entourage. An in-house DJ will keep the vibes electric with a selection of ABBA hits and party tunes that'll transport you back in time.
Duration: 4 hours
Drinks: Mimosas & prosecco
Food: Starter & main
Price: From £47.95 per person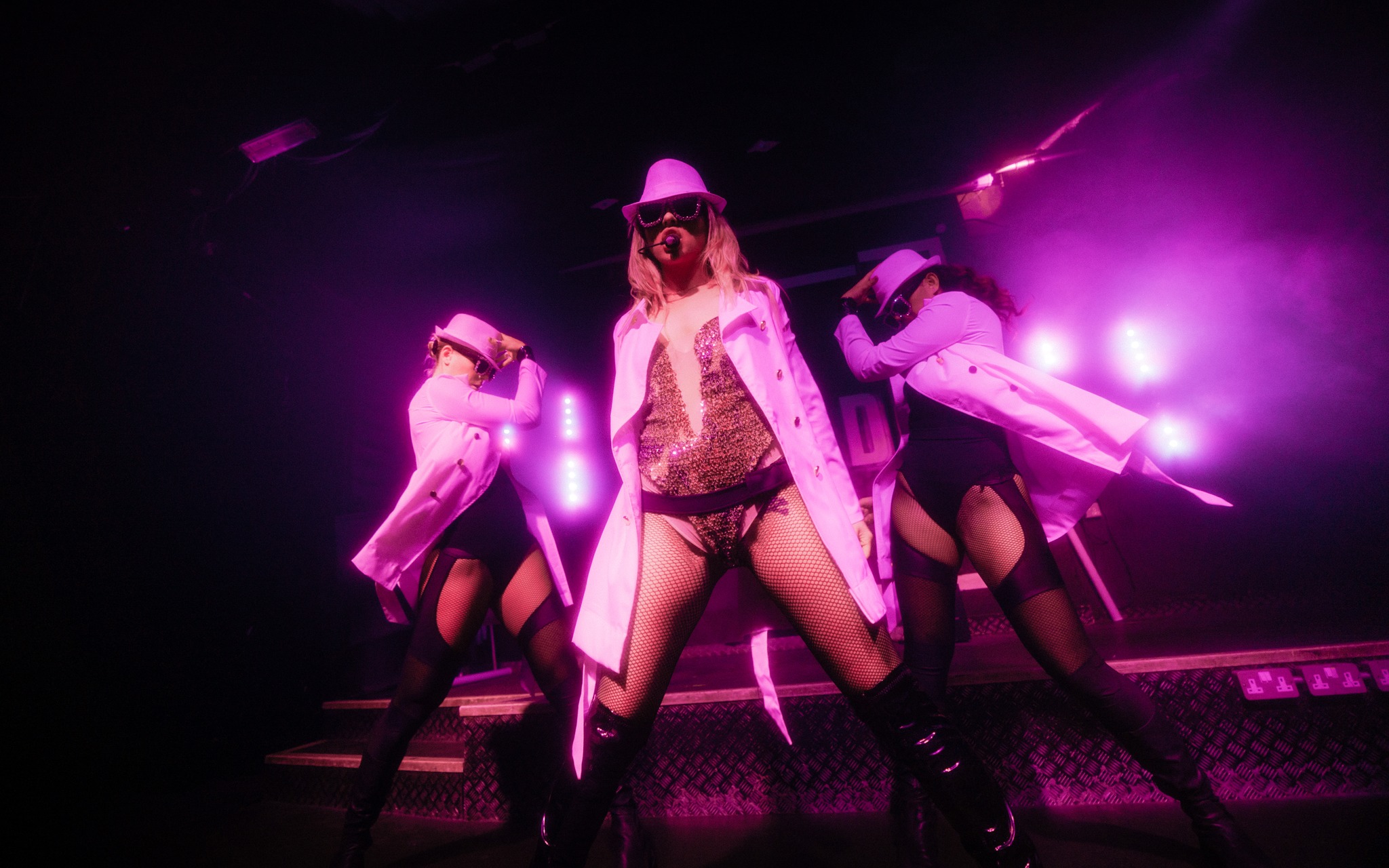 This Manchester bottomless brunch is all about Britney b*tch! Dress up in your favourite 90s-style clothes and enjoy an afternoon of the Princess of Pop's greatest hits with the extra bonus of brunch and unlimited booze or soft drinks! Lean back and unwind as prosecco and mimosas flow for 90 minutes, while you and your crew savour dishes from the diverse brunch menu with a range of meaty, veggie and vegan options. Next, it's time for the main event as tribute act, Absolute Britney performs her exciting show. You'll be wondering if you're actually watching the real deal! The rest of your brunch will be a whirlwind of fun and games hosted by drag queen extraordinaire, Miss Blair, and her special guests! Don't forget to pull your friends onto the dance floor, as a live DJ will spin Britney's classics and a medley of other party tunes. You'll be screaming Gimme more!
Duration: 3 hours
Drinks: Cocktails, prosecco & beer
Food: Burgers & wraps
Price: From £44.99 per person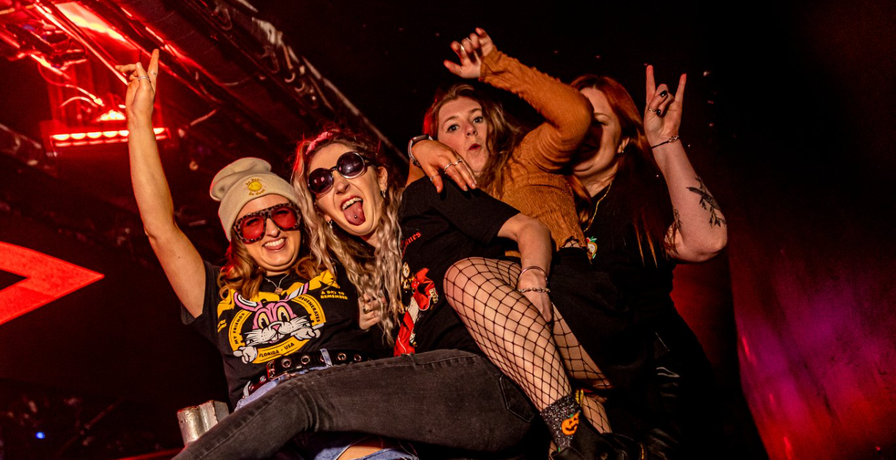 Sugar, we're going down to The Brunch Club for an emo-themed bottomless brunch that sees you dress all in black with lashings of black eyeliner! This brunch is jam-packed with teen angst throwback hits from Green Day, My Chemical Romance, Blink 182, Panic! At The Disco, Paramore, Fall Out Boy, Sum 41 and many more. This three-hour party takes place at a nightclub in the city centre, such as Impossible, where you'll enjoy one full hour of bottomless cocktails, beer, prosecco or soft drinks. You'll also tuck into a brunch dish from the temping menu that includes burgers and wraps with something for everyone. Fancy dress is highly recommended! What will you wear? After your brunch and drinks, the DJ will pump out the best emo hits from the 2000s, injecting loads of nostalgic fun into your afternoon as you throw your best shapes on the dance floor.
Duration: 4 hours
Drinks: Bubbles
Food: Starter & main
Price: From £47.95 per person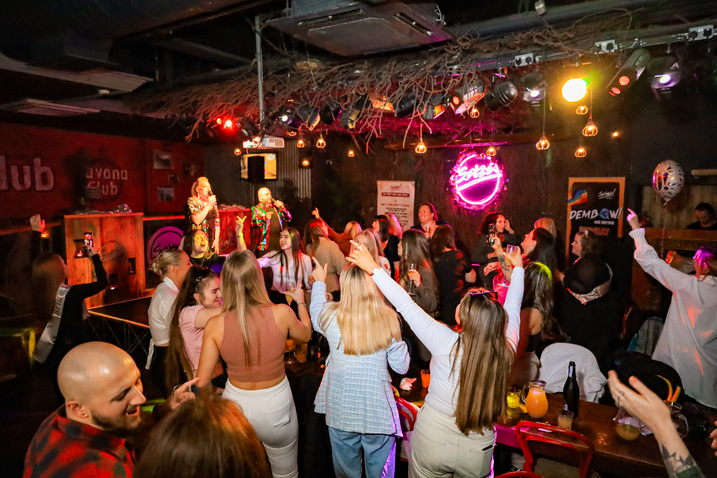 Have the time of your life with your musical-loving friends at this bottomless brunch, courtesy of Fabulous Beyond Productions. You'll be welcomed with 90 minutes of bottomless drinks and a mouth-watering choice of dishes from the brunch menu. Raise your glass to your friends and favourite show tunes. It won't stay empty for long! Then, get ready for the main event as Donna Marie, Gavin Sheppard and Louise Halliday take the stage, delivering dazzling performances from beloved musicals. You won't just be a spectator. There'll be song sheets, big screen lyrics and props to help you fully immerse yourself and sing along to your heart's content. From the hits of Mamma Mia, Dirty Dancing, The Sound of Music and many more iconic productions, you're guaranteed to have an amazing afternoon. After the performances, it's time to hit the dance floor as the resident DJ takes over, spinning more iconic show tunes and party hits for everyone to groove to.
Duration: 4 hours
Drinks: Cocktails and prosecco
Food: Starter & main
Price: From £47.95 per person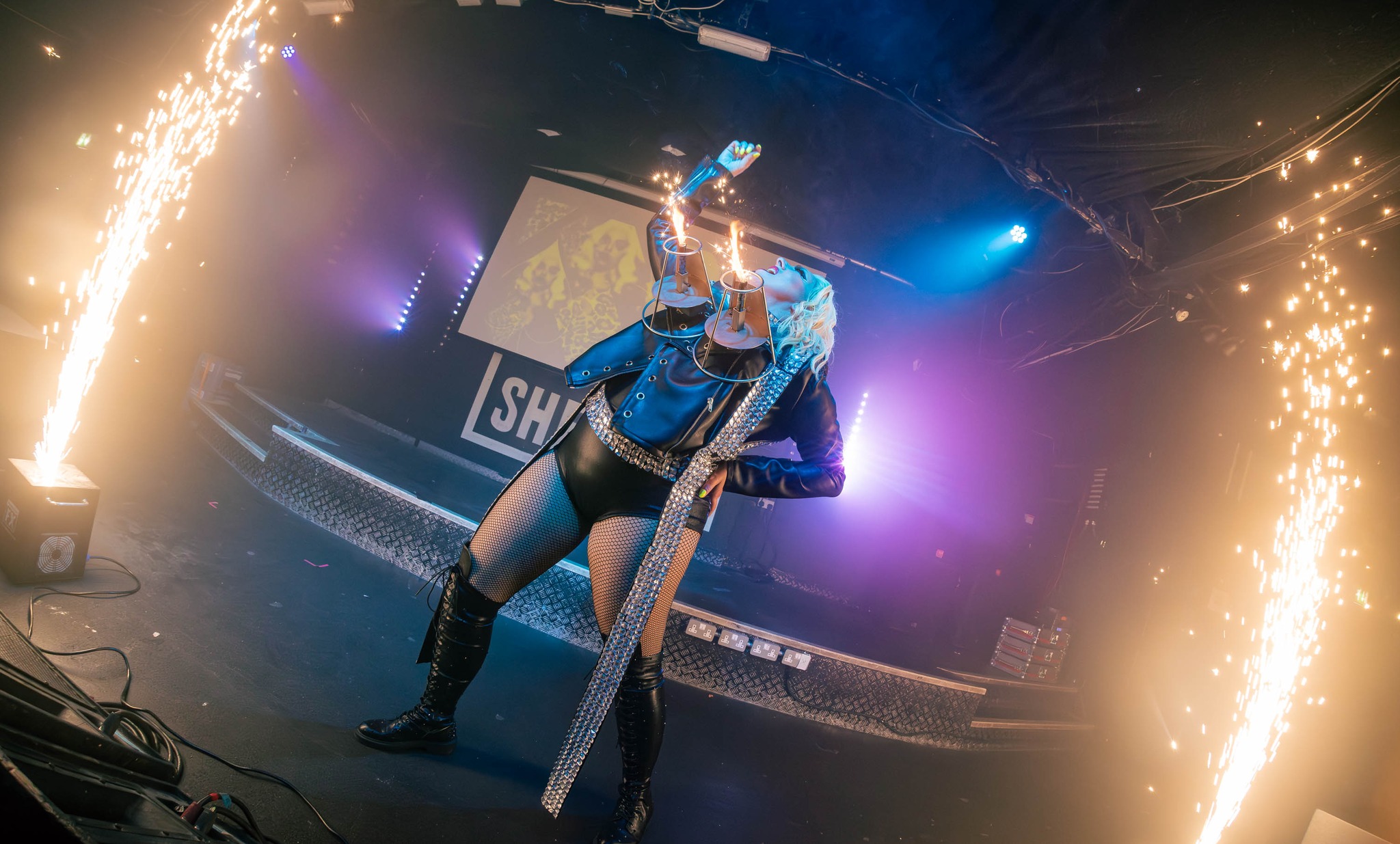 Unleash your Applause at this fabulous Lady Gaga themed bottomless brunch. Round up your friends, don your most Instagram-worthy outfits (meat dress, anyone?), and venture into the vibrant heart of the city where you'll be dazzled by incredible Gaga tribute acts and sensational drag queens. Once you're comfortably seated, dive into a yummy brunch menu, accompanied by a generous 90 minutes of bottomless drinks. Keep the brunch vibes flowing with endless mimosas or opt for the classic choice of bottomless prosecco. After your brunch, witness Miss Lady Gaga, one of the UK's premier Gaga impersonators, delivering jaw-dropping performances and paying homage to the pop queen. Enjoy captivating drag performances, epic lip sync battles and more, hosted by the fabulous Narcissa Nightshade and her glamorous guests. The queens will even entice you onto the dance floor, so get ready to groove to Gaga's hits such as Bad Romance, Born THis Way, Poke Face, Telephone and more, spun by the DJ.
Which Venues Do Bottomless Brunch in Manchester?
In Manchester, the bottomless brunch scene is as diverse as the city itself, offering a huge number of venues to suit your brunch desires, whether you're in the mood for swanky sophistication or laid-back casual vibes. For those who crave the finer things in life, the swanky hotels in Manchester are where you want to be. Picture yourself sipping on endless bubbles in elegant surroundings, with plush seating and impeccable service. These venues turn brunch into a luxurious affair, offering gourmet dishes and top-notch drinks.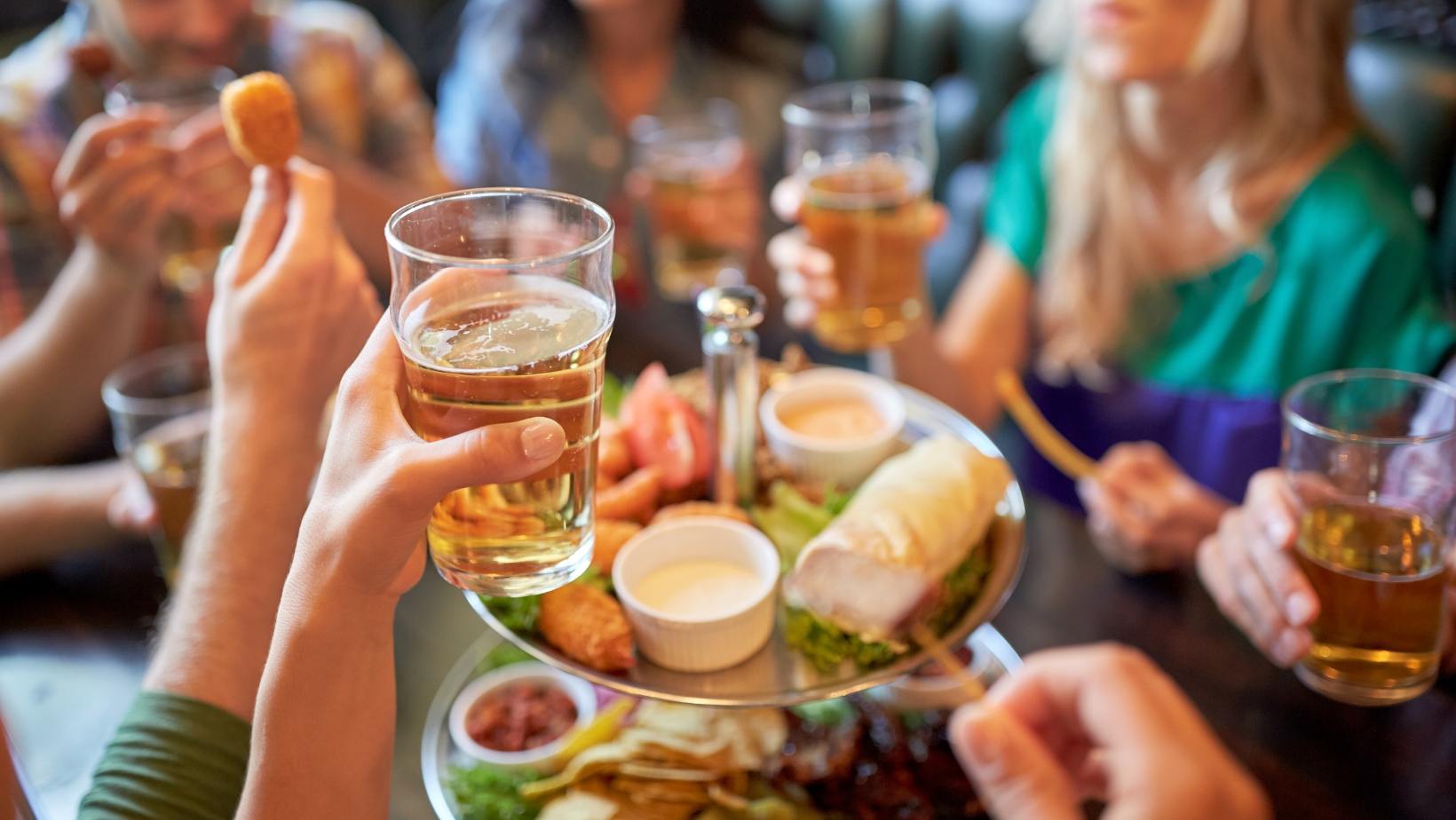 If you're after a relaxed and cosy ambiance, the city's restaurants have got you covered. From charming bistros to trendy eateries, you can enjoy a leisurely brunch while savouring delicious food and sipping on bottomless drinks. It's the perfect setting for catching up with friends or treating yourself to a special weekend treat. Now, let's talk about bars. They're the heart and soul of the Manchester bottomless brunch scene. Whether you're into chic rooftop bars with stunning skyline views or quirky, hidden gems with a unique atmosphere, you'll find a place to raise your brunch game. It's all about delicious cocktails, great music and an unforgettable time.
And for those who want to take the brunch party to the next level, Manchester's nightclubs are in on the action too. Dance the afternoon away to the beats of top DJs while enjoying your bottomless drinks and bites. It's the ultimate brunch-meets-party experience. The best bottomless brunch in Manchester can be as fancy or as casual as you like. So, grab your crew and embark on a brunch adventure that suits your mood and style. The options are endless, just like those drink refills!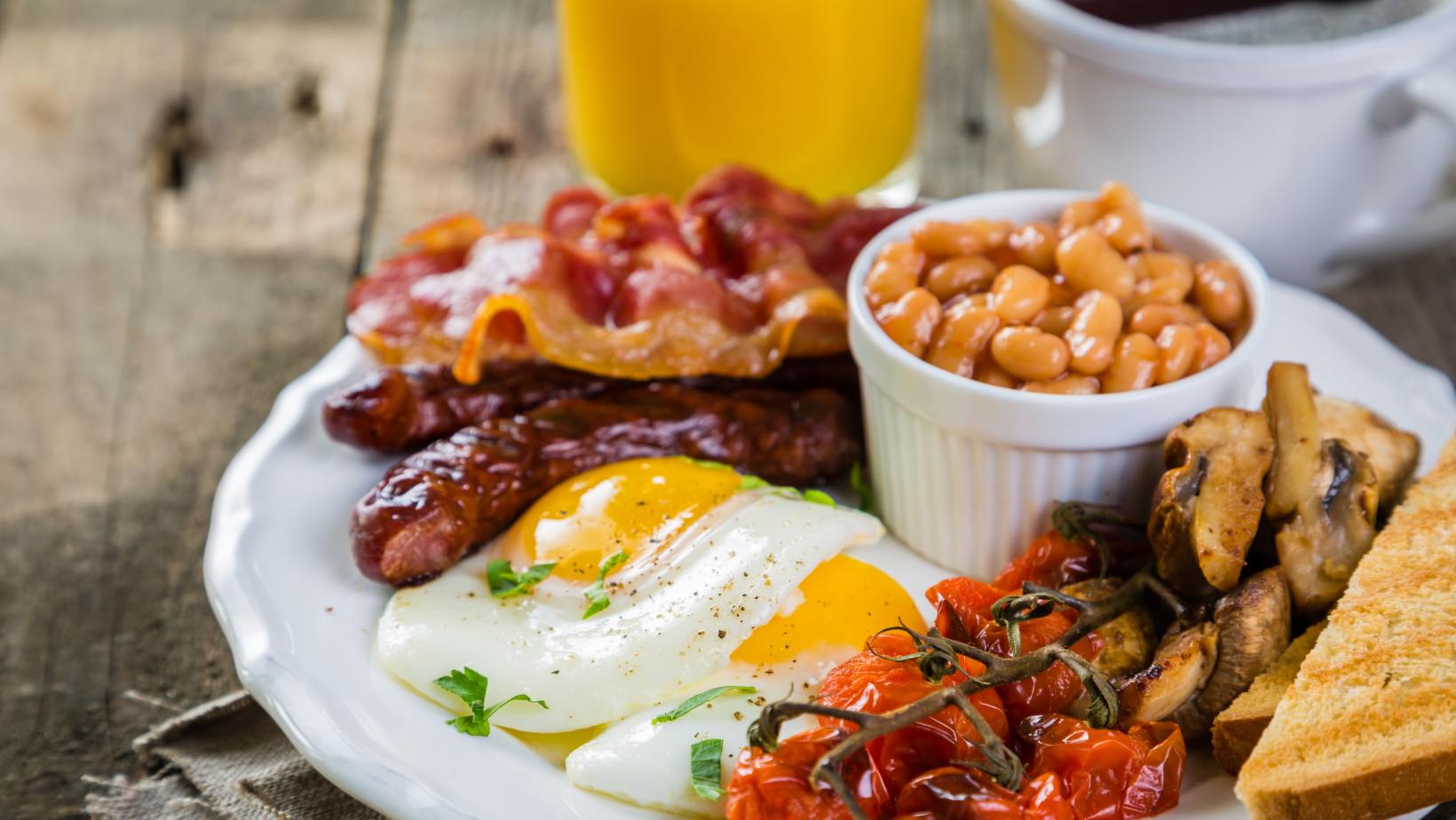 What Occasion is a Manchester Bottomless Brunch Good For?
Simply put, bottomless brunches in Manchester are experiences that are great fun for absolutely any reason under the sun! Whether you're celebrating a hen party, a stag do, a birthday bash, a romantic day out for two or just looking for some quality fun with friends, bottomless brunch has got your back, and here's why:
Hen Parties: It's no surprise that this daytime treat is mega popular with brides-to-be and their fierce squads! Bottomless brunch is the perfect pre-wedding celebration. Just imagine you and your girls dressed to the nines, sipping bottomless prosecco and dancing to your favourite tunes with a DJ spinning the decks. You can even book a bottomless brunch with live entertainment such as drag queens, tribute acts and male strippers! The excitement is palpable, and the memories will be unforgettable.
Stag Dos: Gentlemen, it's your turn to shine! Instead of the typical pub crawl, why not kick off your stag do with a bang at a bottomless brunch? Unlimited booze, mouth-watering brunch dishes and live entertainment is the ultimate recipe for a legendary stag do when you really fancy a day drinking sesh with a difference.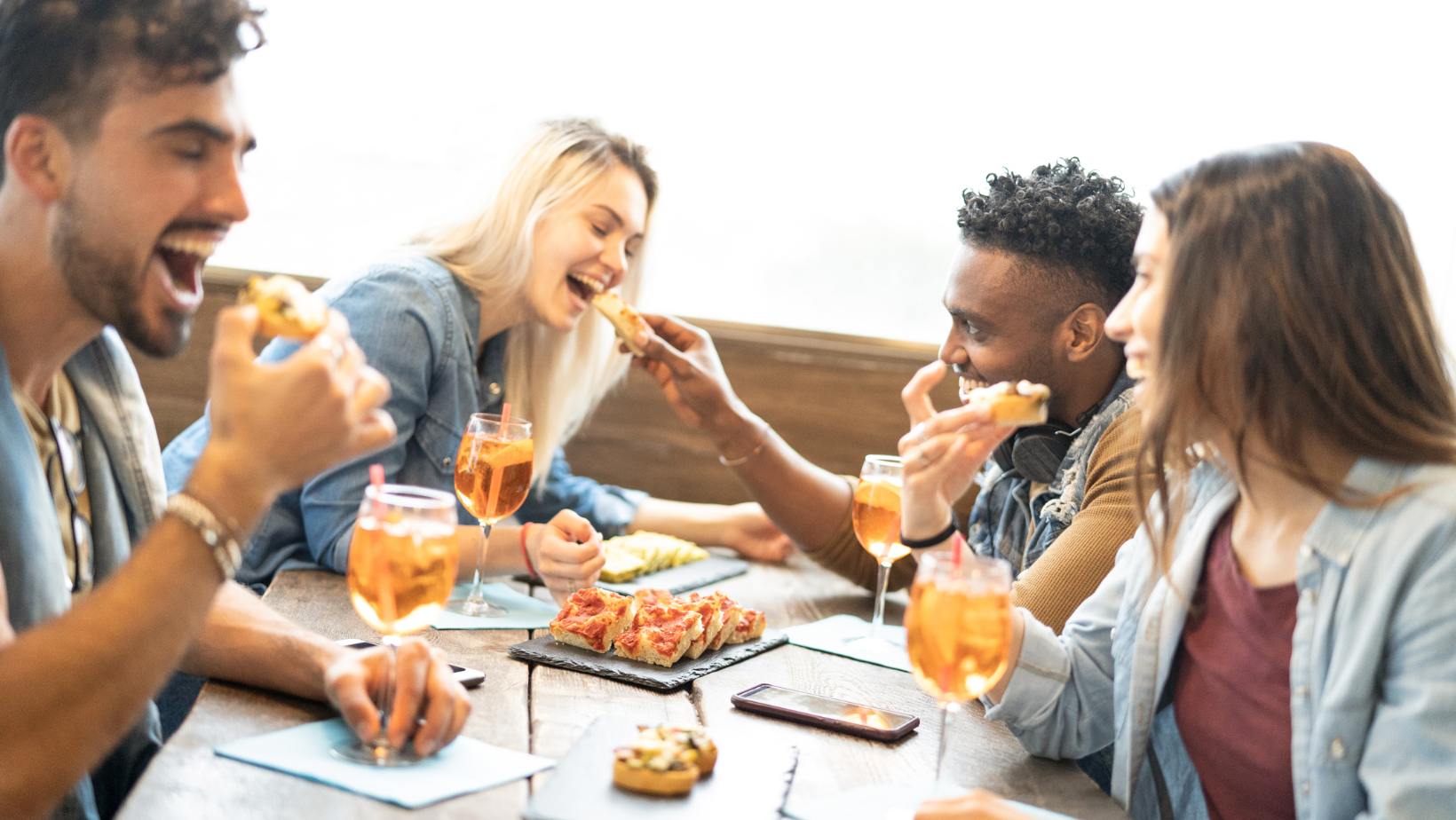 Birthdays: Alternatively, another trip around the sun calls for a special celebration, and what better way to do it than with bottomless brunch? You'll be treated like royalty with your choice of brunch dish, while your glass remains magically topped up. Blow out your candles and toast to another fabulous year with your favourite people by your side.
Treat a Loved One: Are you looking to impress that special someone with a romantic day out? Bottomless brunch has all the ingredients for a memorable date: delectable food, free-flowing drinks, and a charming atmosphere. It's a sure-fire way to win hearts and maybe even plan your future brunch dates. It's also a great way to treat a loved one and show your appreciation for someone special. It's a thoughtful way to say "I love you" or "thank you" with a side of brunch and bubbly. The smile on their face will be worth every penny.
Fun Days Out: Whether it's a reunion, a long-overdue catch-up, or just an excuse to have a blast with your pals, bottomless brunch has you covered for fun days out with your mates. With a diverse range of themes like Beyoncé, Britney, 90s, 80s and ABBA, you can relive your favourite eras while clinking glasses and letting your hair down. In conclusion, the beauty of bottomless brunch is its versatility. It doesn't need a specific reason to be enjoyed. Any day can turn into a celebration when you're indulging in endless alcohol, enjoying tasty dishes and dancing to your heart's content.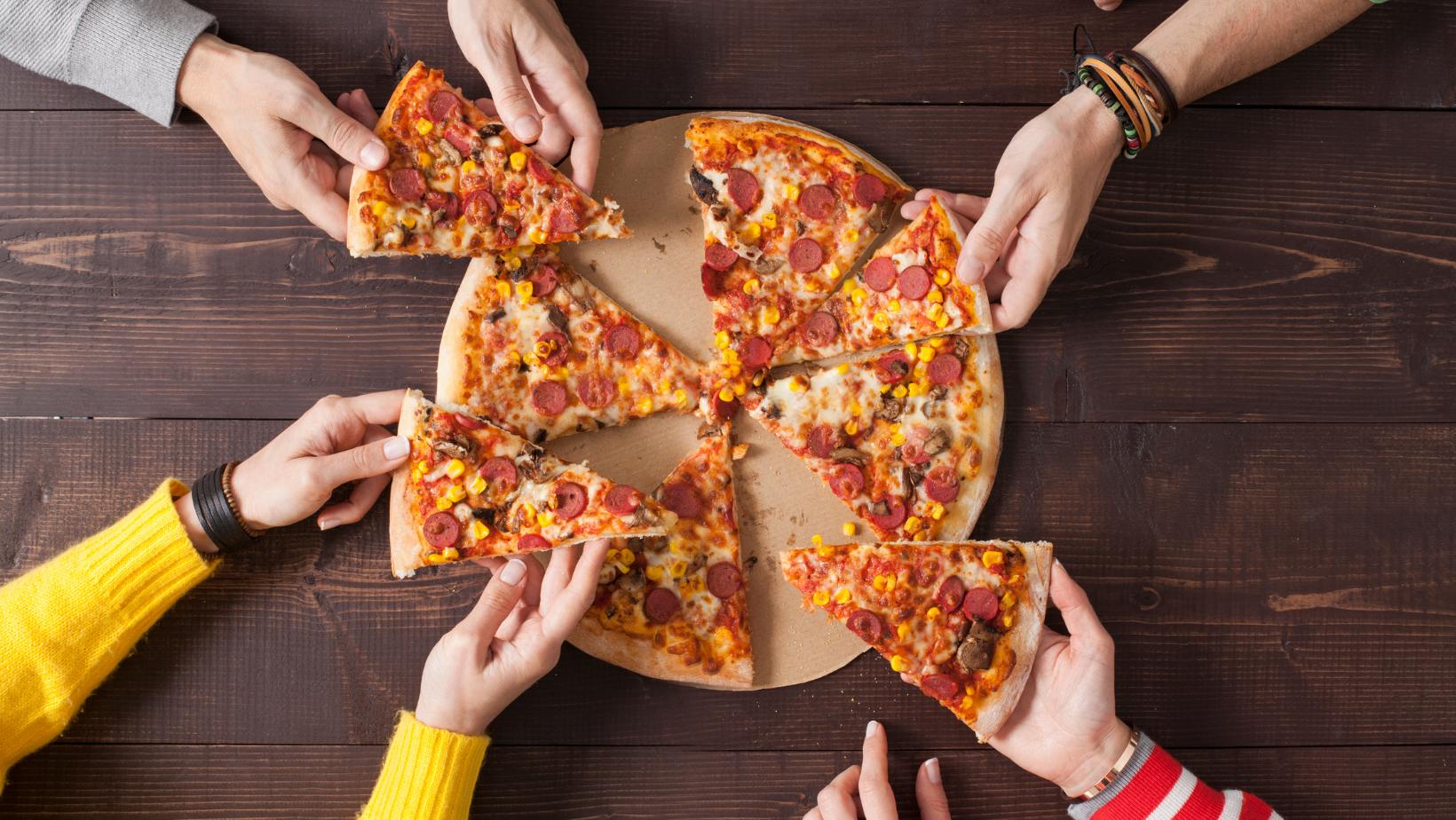 Brunch for Any Occasion: This activity always keeps the party spirits high, while the brunch menu caters to every craving, from classic eggs Benedict to vegan delights, meaty full English breakfasts and sweet pancake stacks. And the fun doesn't stop there. Many bottomless brunch venues in Manchester go the extra mile by offering live entertainment. Imagine grooving to your favourite tunes or being wowed by talented performers while sipping on your bottomless drinks. It's like a mini-festival right at your brunch table. So, there you have it; bottomless brunch in Manchester is your go-to solution for any and every occasion. Cheers to that!
Arrange Your Boozy Brunch in Manchester
So, there you have it; our rundown of the top bottomless brunches in Manchester. Without a doubt, bottomless brunch is the most fun meal of the week! Just imagine a gloriously sunny weekend morning, and you find yourself indulging in a late breakfast that seamlessly transforms into an epic day-drinking session. It's official, we're a nation of bottomless and boozy brunch lovers, and we're absolutely revelling in it! So, why not book your bottomless brunch adventure today? Check out our full listings for bottomless brunch in Manchester now and find the perfect brunch for your group, whatever the occasion.