Our lips are getting a lot of attention recently, with The Red Lippy Project taking place last Friday (you might have seen us all (guys included) on our
Facebook page
raising money for Cervical Cancer Screening by donning the best red lippy we could get our hands on) and now it's the main event today, with it being National Kissing Day!
My plans for the day consist of setting up a £1 Kissing Booth and watching the tumbleweed roll on by, but a better way to make sure you're set for the occasion (and can keep the love flowing) is with all the lip-inspired goodies you can get, showing that it doesn't just end with some lipstick.
Below are some of Fizzbox's favourites:
At the Office…
Who knows, you might have an office crush and today might be your chance… Or you just want to dress up your desk and make things look a bit more exciting. Either way, here are a few ideas:
Lips Pencil Toppers - £3.00 (ASOS)
First off, a pair of little lippy office delights from ASOS is this lips pencil or pen topper. You don't want your pen to dry out or your pencil to be lipless do you? Of course not – and seeing as you're probably shopping with ASOS most weekends or even weekdays (aren't we all) you might as well throw this £3 treat into your cart.
Lips Paper Clips - £3.50 (ASOS)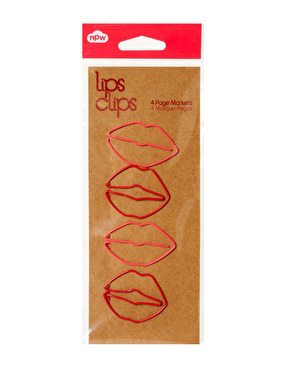 The same goes for these lips paper clips – the only problem with them is that I feel they've completely missed a trick by not calling them Paper Lips or Paper cLIPS… right?
Post-It Lips Shaped Notes - £2.26 (Staples)
So you've got your pencil topper, your paper cLIPS (I'm coining that) are holding your important documents together but wait, you just need to note something down really quick. Forget about those boring yellow squares, because now you can some great pink lip-shaped Post-It Notes.
At Home…
I'm not sure what your other half will think about this, but if you fancy dotting a few kisses throughout your interior design, these are probably the boldest ways to do it:
Lip Telephone £15-£100 (Various Outlets)
If you have a home office this could be just the thing for it – and it could even be something you've always wanted but have always forgotten to get… so let National Kissing Day be your reminder. Available in many different versions such as the classic, iconic red all the way to a pair of crystallised lips as found
here
.
Lip-Shaped Sofa £400+ (Various Outlets)
If you're prepared to buy one of these, then you definitely are going all-out for National Kissing Day! Your front-room (do you really think he'd let you put it in there?) or spare room will be looking like a movie-set with a pouting sofa ready to swallow you up. Like the lip phone, you can get these from so many places and they all vary in price… just make sure it hasn't got bad breath!
In Fashion...
H! Bag by Henry Holland (Now reduced to just £14)
Still in stock and saving you £11 from its original price is this absolute steal from Henry Holland. A striking bag that is perfect to add a burst of colour and playfulness to any outfit… or if you're not that daring, as a relatively cheap little choice to keep in reserve for a fancy dress party (if you love this as an everyday item, I DID NOT mean to be harsh by saying it would work for fancy dress… I'm a guy, what do I know).
Lips Necklace - £5.99 (New Look)
If you're searching for something a little more low key than a loud pink bag or a huge red lipped sofa, then this is probably going to be the accessory for you as this little pair of lips to hang around your neck is perfect for any day, not just tomorrow – as it isn't as much of a statement as others but still looks great!
Aaaaaaaaand that about rounds it up for all the lips you can cover yourself, your house and your office in – so which of them will you choose – and who will you be kissing today? (Please come to my kissing booth located right in the centre of Brighton… thanks).