Wedding receptions are becoming more expensive an lavish by the year. What can make them extra special and appealing to the guests is a bar on site. Dancing and romance is all well and good but if you can't get good drinks what is the point!
These bars are often laid on by special caterers, but they are often limited by what they can bring and if you are after cocktail connoisseur they might not have what you want. Therefore, there is usually only a small selection of drinks they will be able to make. But if you have the right ingredients you will be surprised by how many drinks you can actually squeeze out of them. You don't need a man juggling 12 different bottles for a high quality cocktail.
So if you want to be prepared and demand the drink you want at a wedding, then read our guide so that no matter what the caterer brings you will get what you want. All of these use three or less components!
Gin Based Cocktails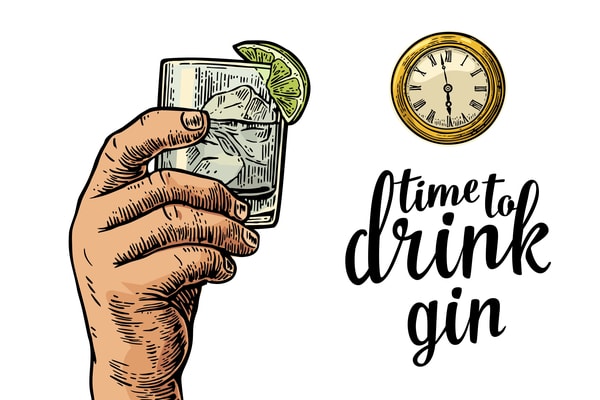 Martini
Made famous by Bond, James Bond, the Martini is perhaps the most famous cocktail made with Gin. Its two parts gin, one part vermouth and a lemon twist (or olive). This was not always the case though as traditionally it would use equal parts vermouth. This is too strong for the modern palette. If you are wondering why Bond asks for a dry Martini specifically, it is because he wants French Vermouth as opposed to Italian Vermouth which is sweet.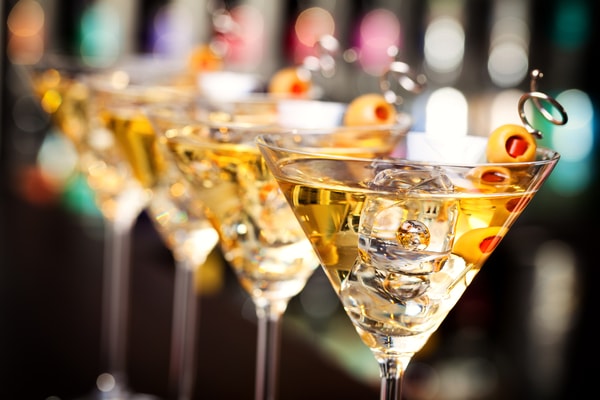 Green Ghost
As well as having a kick ass name, this cocktail is also super easy to make. It originates from the golden era of cocktails when it was included in the 1937 book Café Royal Cocktail book by JB Hurrell. It is known for its beautiful colour and the punch it packs despite its pretty appearance. Its a simple recipe involves gin, green chartreuse and half an ounce of fresh lime juice.
Negroni
This classic is equal amounts of gin and Campari with sweet Vermouth, which as we now know is Italian. Hence its awesome sounding name. This is the recipe for the original and authentic cocktail but there are a million variations if you are feeling adventurous. Using different brands of gin and ampari will change the flavour drastically so beware!
Whiskey Based Cocktails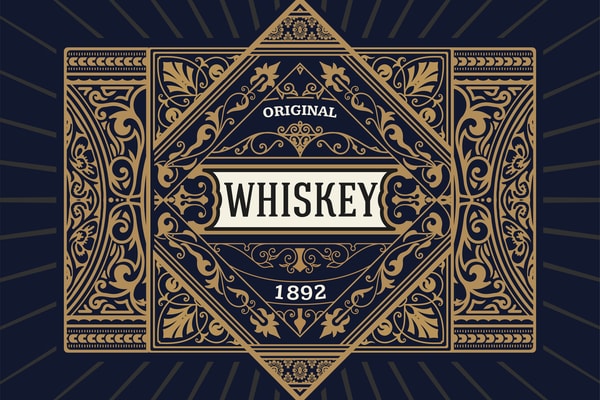 Old Fashioned
The grandpa of cocktails, the old fashioned is an American cultural antique, harking back to before Abraham Lincoln's presidency. It may be literally 'old fashioned' but its longevity proves its staying power is down to its simplistic brilliance. Just whiskey, sugar and bitters makes this classic. Any barman worth his salt will know it.
Manhattan
The Manhattan is named after the Manhattan Club in New York City, where it was invented during a party for Presidential nominee Samuel J Tilden. That's the 1870' people! It is like drinking time and history itself! If you choose to put scotch whiskey instead of bourbon then it will technically become a Rob Roy.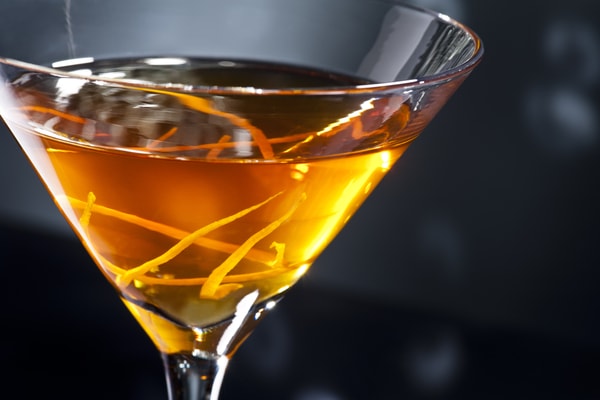 Moto Guzzi
This may sound Italian but it actually originates in Boston, USA. Named after a famous Italian motorcycle brand, the colour of the drink resembles the leather, oil and petrol that is synonymous with the biker lifestyle. It can be made with only two ingredients meaning a monkey could do it, but you probably paid for a special bar at the wedding reception so just make sure he uses a Whiskey like Jim Bean and Italian Vermouth.
Rum Based Cocktails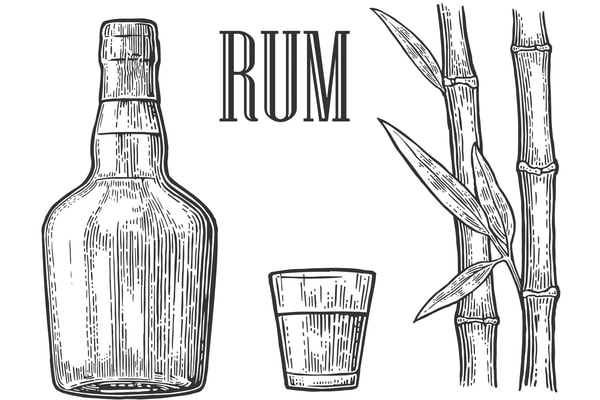 Daquiris
Daquiris are experiencing an incredible surge in popularity in the last few years. But most will be heavily flavoured or enhanced with fruit. While we love this, the original is still the best of the bunch. It is so simple it gives it a minimalist beauty and taste to match. Make sure you use light rum for the alcohol to keep the colour and less bite before adding the lime juice and sugar.
Cuba Libre
Often maligned for being simply rum and coke, if made right, it is so much more than that. Making sure you get the best ingredients makes any cocktail and the Cuba Libre is no different. But at its core it is rum, coke and squeezed lime. Yum!
Mojito
It was recently revealed that the Mojito is the UK's favourite cocktail, and it's easy to see why. This Cuban classic is best drunk in Cuba itself because of their locality to the best sugar in the world. The main difference between this and the daquiris is the mint which adds a unique freshness which makes this drink iconic.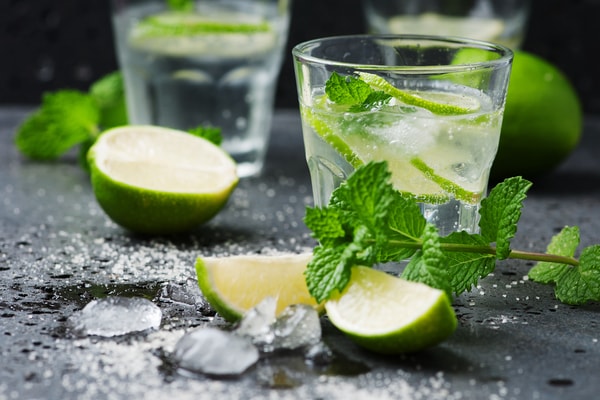 Caipirinha
Caipirinha are a taste of the Copacabana beach and carnival of Brazil. The cousin of the daquiris the because it uses Brazilian rum called Cachaça. Unlike most cocktails it also leaves a large chunk of lime inside the glass that will give it a fresh edge to refresh you by the pool, sea or (more likely in the UK) a pub!
Vodka Based Cocktails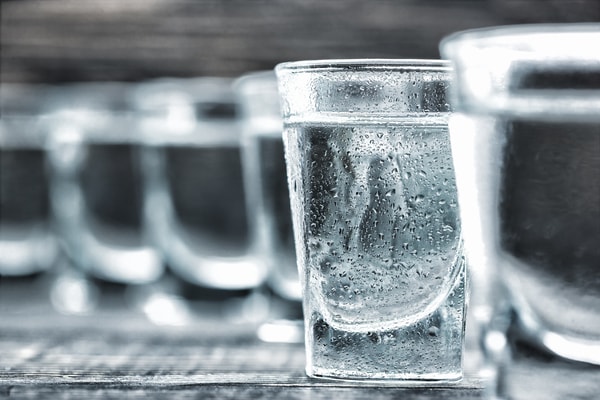 Moscow Mule
Vodka was not always the most popular spirit behind the bar. In the 40's it had a real image problem and was exotic in all the wrong ways. The owners of the Smirnoff brand at the time Heublein therefore teamed up with the Bull Tavern in Hollywood as a PR idea to promote Vodka. The combination of vodka, ginger beer, and lime juice was a hit with the Hollywood crowd and thanks to people imitating them the Moscow Mule quickly became popular off the back of the promotion drive. It is now a great choice if you want to add a bit of LA lifestyle into your wedding reception.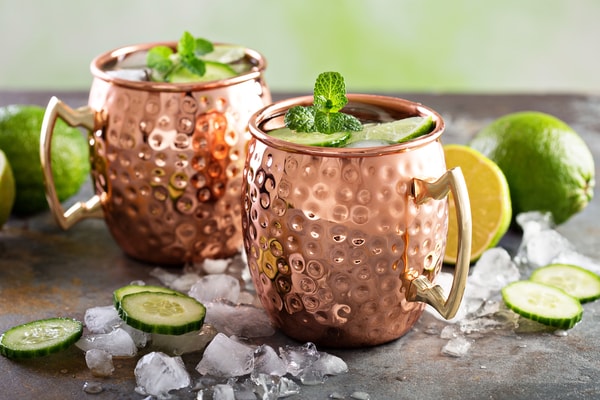 Great Gatsby
Nothing says cocktails like the Great Gatsby. The famous book by F Scott Fitzgerald became a classic for all lovers of the party lifestyles of the roaring 20's. It also spawned a name for a vodka based cocktail by Highland Bar and Grill. Vodka is mixed with Lillet Blanc apertitif and grapefruit juice to create a beautiful and moreish drink that is perfect for any celebration.
Tequila Based Cocktails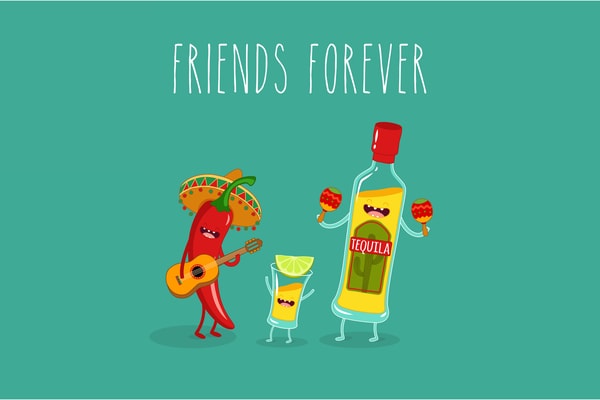 Margarita
The king of tequila drinks! It encapsulates all the good things about the golden state of California and its sunny outlook on life. It is also perfect to go with the corn chips and guacamole that is so prevalent in the area thanks to Mexican influence. It is made of 60ml Tequila , 30ml of Coinbreau and lime juice. For extra special service dowse the glass's rim in salt and a wedge of lime.
Tequila Sunrise
If you want your drinks to come with a more rock'nroll kick then the Tequila Sunrise is perfect and it is only three ingredients! It was popular with The Rolling Stones in their pirme tours around America and The Eagles who even went as faras writing a song named after the drink. To get the classic sunrise effect in the glass the key is to not stir. Tequila is followed by orange juice and then grenadine. When the grenadine drops to the bottom of the glass you get the two tone yellow and orange combination the drink is famous for.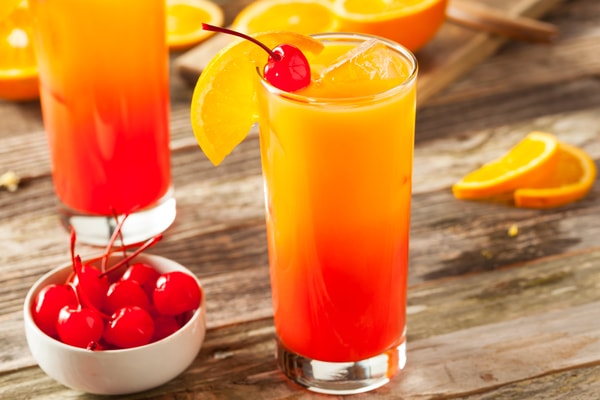 El Nino
This Hispanic classic is perfect for a wedding which is much more romantically focused. While it can be made simply with tequila, strawberry and sugar syrup, to make it extra special El Nino has been known to include rosewater and rose petals as a garnish. This gives it a unique scent and presentation. Perfect for an extravagant wedding that has a flexible bar!
If you're in the process of working out your London hen do, then don't hesitate to get in contact, cocktail making is by far the most popular option and we have a number of venues available.