We have previously written on what to write in a wedding guest book, however sometimes it can be fun to divert from the traditional book and opt for something a bit more pretty. A wishing tree can look incredibly elegant, while also allowing people to write short and sweet messages for the bride and groom.
They can come in all shapes and sizes, therefore if you're considering getting one for your wedding, we have written up some key points you will need to consider before purchasing one...
The history of this wedding tradition begun in the Netherlands, as a beautiful and imaginative way to pass on a sweet message in an artistic manner. It also allowed for other guests to read the messages, rather than having to sift through a book.


Where Can I Purchase These?
Most of these are designed with either wood, cardboard or metal, normally in a rustic style, however I strongly recommend choosing one that matches the style and format of your wedding.
Below is a wooden rustic style wishing tree, with the message sections in the shape of a heart, which I think is a nice touch. Also, at £19.64, it is a very decent price.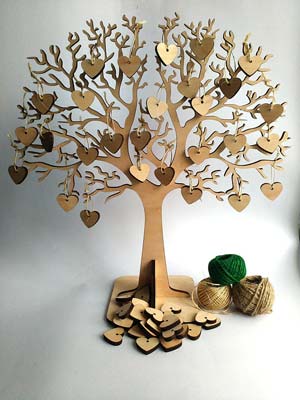 Another option is this slightly more expensive white Manzanita wedding tree, available for £28.50. The branches are flexible, but you should still be careful to not break the tree. This option is often connected with a crystal design.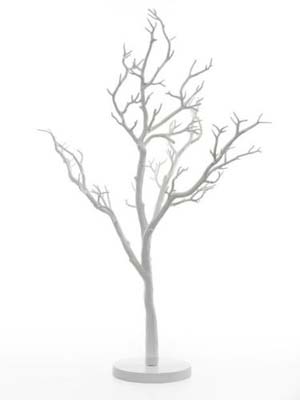 How Do I Make A DIY Wish Tree?
While you can purchase one, it can be just as fun to make one yourself. Instead of opting for a crafted design, all you really need is some branches with plenty of twigs coming off. You should then spray paint (or hand paint) the branches with two layers of either silver, white or gold (silver looks best in my opinion). You should then have the paper notes in a contrasting colour to make them stand out. Most people opt for a silver branch with golden paper. You can source the branches or small tree that are most pertinent for this from a florist, who will be able to offer advice on the topic, or at least recommend something sturdy.
Another DIY option is to use an actual plant or a tree. My recommendation would be to avoid these options. With plants, the branches tend to be quite weak and will often snap off. When people use a tree outside, it seems like a nice idea, but a lot of the messages tend to blow away or fall off.



Size Matters
It is very important to consider the number of guests before purchasing or making a wish tree. If you have over 100 guests attending then you will need room for a fair amount of messages. While some people will double up with their partners or family members, you still want to plan for more rather than less, so the tree doesn't become congested or people don't fail to leave a message.
Alternative Wishing Trees
Not all of these have to be a simple tree, some of my favourite designs have really stood out and become a focal talking point of a wedding, with people stating how they want it at theirs. One option is to have a washing line hanging up and then people to peg their messages up, or alternatively to use bunting. Some have used a pin-up board and I've seen a primary teacher use a white board from her school.

One of my favourites was what my big sister did. We went round to each attendee and took a photo with a polaroid camera, then we handed glued the picture into a book and got them to write a message alongside the photo.


These wishing trees aren't just limited to weddings however, you can also use them for your
hen party
. My big sister also had a small wishing tree at her
London hen do
. However, she made each person write a short funny story of them two as friends and then read it out later in the evening over prosecco's.