Albufeira is situated on the southern tip of Portugal in a popular tourist region called the Algarve. The town is actually closer to Africa than it is to the UK, so as you can imagine, it benefits from year round sunshine and high temperatures. It's location on the coast makes it a perfect place for beach lovers and Portugal is a more cost-effective alternative to destinations like Marbella or Ibiza.
The Algarve itself is home to some of the best beaches in the world and a **hen weekend in Albufeira** will be able to enjoy some of the best. To make sure you know which ones are best to visit we have found five beaches close enough to Albufeira and listed them here so there are no excuses not to visit...
Praia des Pescadores
Praia da Oura
Praia da Falesia
Praia Olhos de Agua
Praia da Gale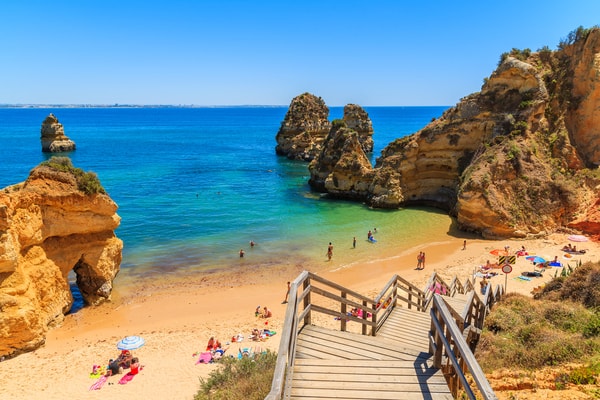 This is the main beach in Albufeira and translates as Fisherman's Beach. Before the modern marina was built it was from this beach that local fisherman would head out and return on trips into the Atlantic. With a long expanse of golden sand this is the hub of beach life in Albufeira. The beach is served with best amenities from umbrellas and chairs, to bars and restaurants that line it.
You can also try your hand at some of the many sports on offer. Dive around in the sand with some volleyball or if you are more of an adrenaline seeker then you can **have a go para sailing** behind one of the many speedboats that whizz around this coastline.
Praia da Oura is situated a short distance to the east of Albufeira old town. It is not as large as Albufeira's main beach, but boasts just as many bars and cafes along its strip. Oura is the perfect choice for a group who want to stay in Albufeira but want a bit more of a relaxing beach experience. Oura is not as hectic as Pescadores and can be a nice change of pace from the **party scene in Albufeira**. It has an almost cove like quality and is surrounded by the sandy rocks and cliffs that this part of the world is famous for.
Praia de Falesia is a huge 6km beach of perfect sand and gentle rolling waves. It stretches all the way from the town of Vilamoura in the east to Olhos de Agua village. It is just a 15-minute drive from Albufeira and is a great choice for those looking for a more empty beach experience. The sandy red cliffs back the beach and while there might not be the number of amenities you get in more centrally located beaches the serenity and quiet more than makes up for it. There will be no issue finding a spot to lay down you towel.
Olhos de Agua is a small village to the east of Albufeira. It is an example of the old Portugal before the tourists show up. Fisherman tend their nets and boats right on the beach and you can really see how the world revolved around the sea in the Algarve before the hotels. This quaint beach would be perfect for a hen do wanting a break from the party and some time by the sea without the crowds. The small size of the beach means everything you need is just a small walk away.
Head west from Albufeira and you will find some of the best beaches in Europe, let alone the Algarve. Praia da Gael is one of these. The beach can be broken into two halves, east and west. The western side is a large and open expanse of sand where you can lie down and relax next to the Atlantic Ocean. The eastern side is narrower and has the iconic rock formations that the Algarve is famous for. This is great for exploring and walking amongst natural beauty. Praia de Gale also offers plenty of extracurriculars like surfing and jet skiing. Going a bit further to Praia da Gale from Albufeira will give you everything you need from a beach and plenty of room to enjoy it.