So, you've been asked the big question and have the rock to prove it, but now it's your turn to do the proposing. Yep, that's right, it's time to propose to your best gals!
Of course, we don't mean in a romantic way. Lots of brides choose to have a bit of fun and go the extra mile. Although they'll, of course, love watch you marry the man of your dreams, there are a whole host of responsibilities that they'll need to consider. Think toilet trips,
hen party
organising and keeping the rest of the guests in check, to name a few!
We think for all the support bridesmaids give us, it's nice to make a fuss of your best girls before you ask them to be a part of your big day.
Bu,t if you're lacking in inspo, fear not, because we've put together some of the cutest ways to pop the question.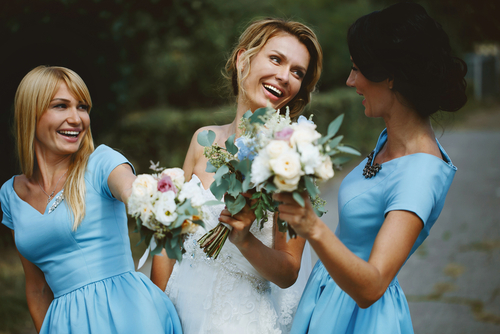 Ok, so you'll need a little extra time on your hands to pull this one off (but it's totally worth it!) You might want to keep this one just for your maid of honour otherwise it could get expensive and tough to organise. However, if you do manage to do this for more than one maid, kudos to you!
Start off noting down memorable times in your friendship. Perhaps that night out for your 21st birthday still has you both in stitches, or maybe she's seen you through a particularly hard time. Try to include a mixture of funny stories and ones where she's been your rock.
You'll need to make the stories fit with places around your house, garden, or wherever you're planning your hunt, so try to keep them simple. At the end of the hunt you can leave a present or a little card asking the question.
Going the extra aisle…:
If you really want to get some serious brownie points you can make this hunt more interactive by driving around to places you both know. This is great if you grew up together You can visit your old school or the houses you grew up in for a real trip down memory lane.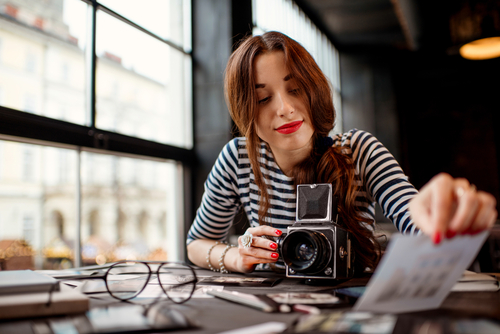 A video


You don't need to have the best editing skills or be a photography whizz to make a video asking your bridesmaids to be a part of your big day. Simply grab your phone and a few mates or your other half and you're all set.

The main thing with a video is that it really is the thought that counts. If you do happen to be a vlogger by night, it's great if your video looks the part, but even if your cam work is shaky and the lighting isn't Insta-worthy, you can still create a little piece of history that your bridesmaids can treasure forever.

Some ideas we love include a hilarious rap if you fancy yourself as the next Nicki Minaj, or a good old sing-song if that's more your bag. Don't forget, if you'd prefer to do something more low key, even a touching message recorded in a setting personal to you is a sweet gesture.

Going the extra aisle… : Don't forget to film her reaction…you never know, it could end up going viral!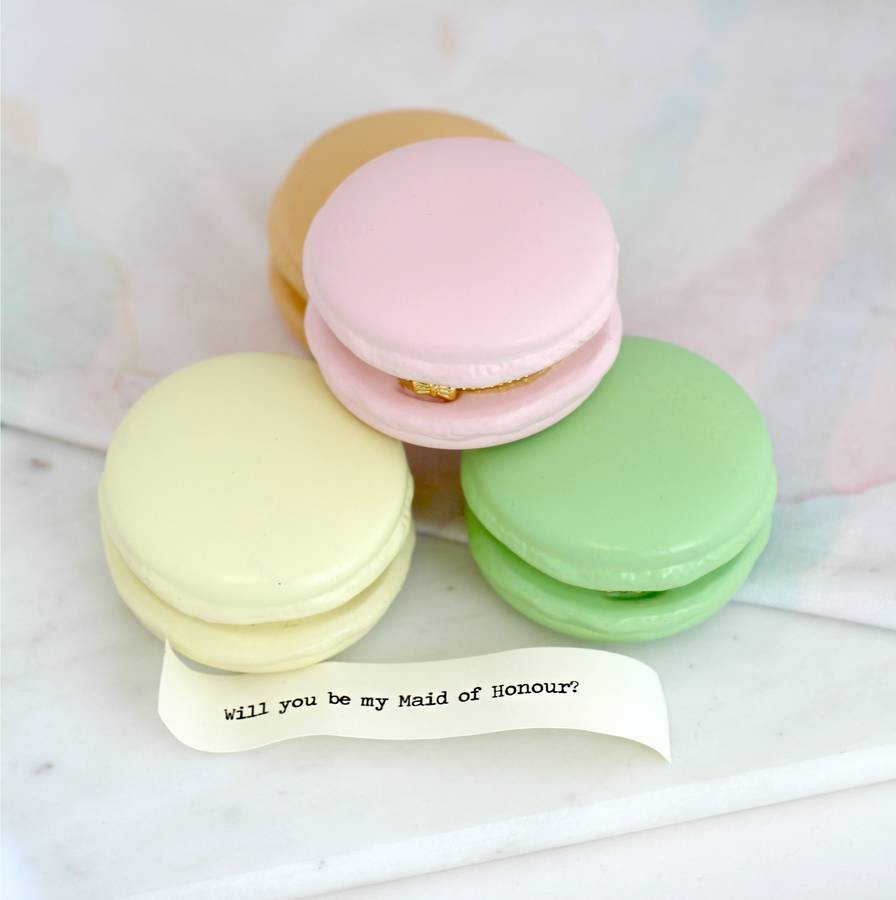 A Personalised Keepsafe


These are the kind of gifts that Pinterest was made for. Getting a cute, personalised present asking you to take part in your best friend's big day is always a winner. A necklace or adorable trinket box makes a cute item to store in a memory box.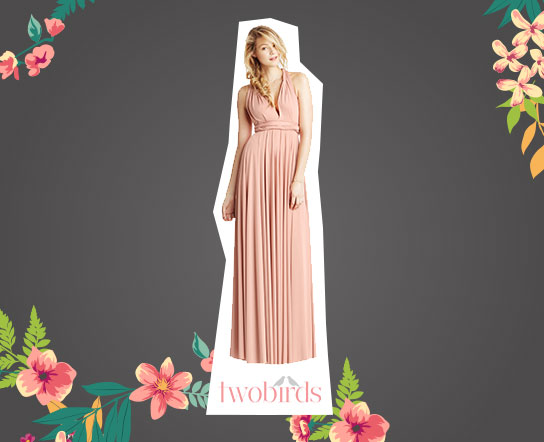 Get Them Ultra-Gorgeous Bridesmaid's Dresses


It might not be the easiest thing to buy in advance, but giving your besties cards with pictures of the bridesmaids dresses you've chosen for them asking them to be a part of your big day is a thoughtful way to get them excited about being a part of it. Plus, it will show them they won't have to wear a hideous dress!

We LOVE the dresses over at Two Birds Bridesmaids. Not only are they super stylish, but they can also be worn again. Goodbye money wasting, hello multi-functional bargain!




Chief Bridesmaid Proposal Cards
There are loads of super cute bridesmaid proposal cards available. Depending on you and your bestie, you can choose the mood and pick something that really says something about your friendship.


Humour


If you're not into soppy sentiments, then humour is always a good option. Who could say no to a card that makes them giggle? From 'someone has to buy the inflatable penis' and 'I promise not to make you wear an ugly dress', these simple yet effective designs are sure to put a smile on your best friend's face.
Bold and Beautiful


If you want something a little more sophisticated, chose a card that has some gorgeous floral illustrations. These ones can be personalised with your chief bridesmaid's name and will have big, bold flowers framing your sentiment.


Digital Cards


If you're feeling eco-conscious and want to save some money, you can download a digital PDF card. This can be sent to your chief bridesmaid via email, to her phone or laptop. These are ideal for last minute proposals and as a way to save the trees.


Goody Boxes
If you want to up the ante, then why not create goody box or bag that shows your chief bridesmaid how much she means to you? You could create your own, using an old box and filling it with shredded tissue paper. You could then include small gifts such as candles, face masks, hair accessories and bubble bath. Think about items that are going to pamper her – she'll need them after helping organise the hen do!


Alternatively, if you don't have time to make your own, these cute goody boxes are sure to be a hit!


Jewellery
Who doesn't like some cute jewellery? Whether it's personalised with her name, has her birth stone or is just a delicate piece of silver that she can wear on her wrist, chief bridesmaid proposal jewellery is bound to be a winner. In the spring and summer months, a piece of pressed flower jewellery is sweet and sophisticated option.


Wine or Bubbly
If there's one way to a girl's heart, then it's through alcohol. A simple bottle of her favourite red or a bottle of bubbly always goes down a treat. She won't say no!
The next step is to plan your hen weekend, so whether it's a
Brighton hen do
or a
hen weekend in Liverpool
, make sure to get in contact and we will do our best to help arrange it all.