There's no better way to satisfy your need for speed than with a fast and furious session of go karting in London! Unleash your inner speed demon as you take on speedy straights and hairpin bends, going head to head with your friends, family or workmates. There's nothing quite like the rush you get when you fly past that finish line, is there? Whether you're looking for activities for a birthday, team jolly, London hen party or stag do in London, go karting is a sure-fire winner! But what area of the big smoke has the best tracks? Where can you reach the highest speeds? Which tracks offer the best value for money? Let us break it all down with our top pics of the 5 best places for go karting in London.
1. TeamSport
· Address: 3 Herringham Road, Greenwich Peninsula, London, SE7 8NJ
· Track length: 800m
· Price: From £39 per person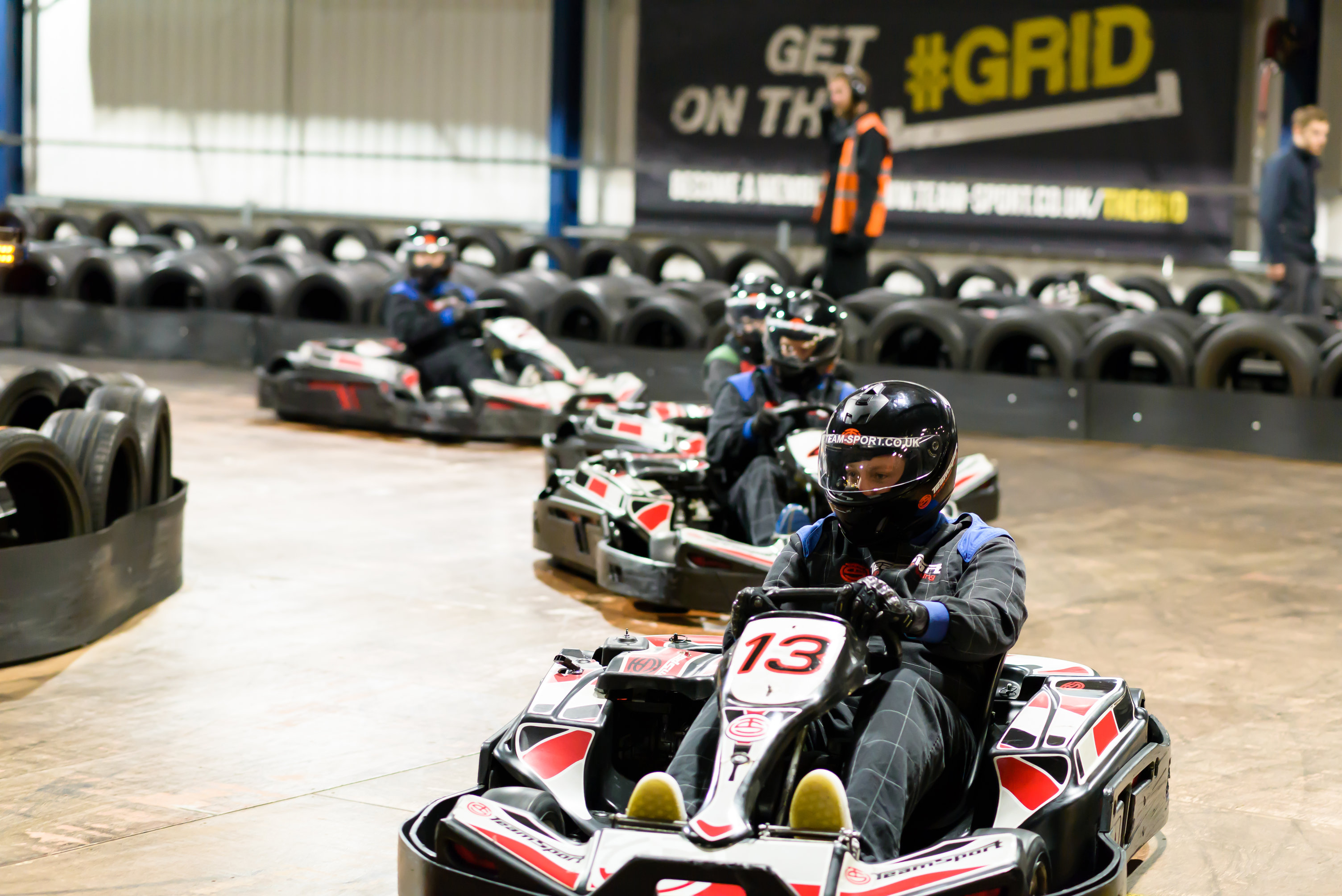 Put that pedal to the metal as you go head to head across this 800m, multi-level, indoor track on the banks of the River Thames. Each of you will jump into a 200cc Biz Evo 3 go kart to reach speeds of up to 40mph. These top spec karts are light and easy to handle so it doesn't matter if you're an experienced karter or can't even drive a car! Will you take on their Open Endurance Race? This non-stop, Le Mans-style event sees your team compete against other groups to see who can complete the greatest number of laps before the time runs out.
You better hurry if you want to be crowned London go karting champs! Alternatively, you could give their Open Timed Race a bash. You won't be racing as a team this time. Now it's time to go head to head against your friends, family or workmates as you race against each other to achieve the fastest lap time. The average lap time at this track is currently 52 seconds. Reckon you've got what it takes to set a new record? TeamSport also have tracks at Tower Bridge, Edmonton, Acton and Mitcham.
2. Capital Karts
· Address: Unit 1, Rippleside, London, IG11 0RJ
· Track length: 1,050m
· Price: From £50 per person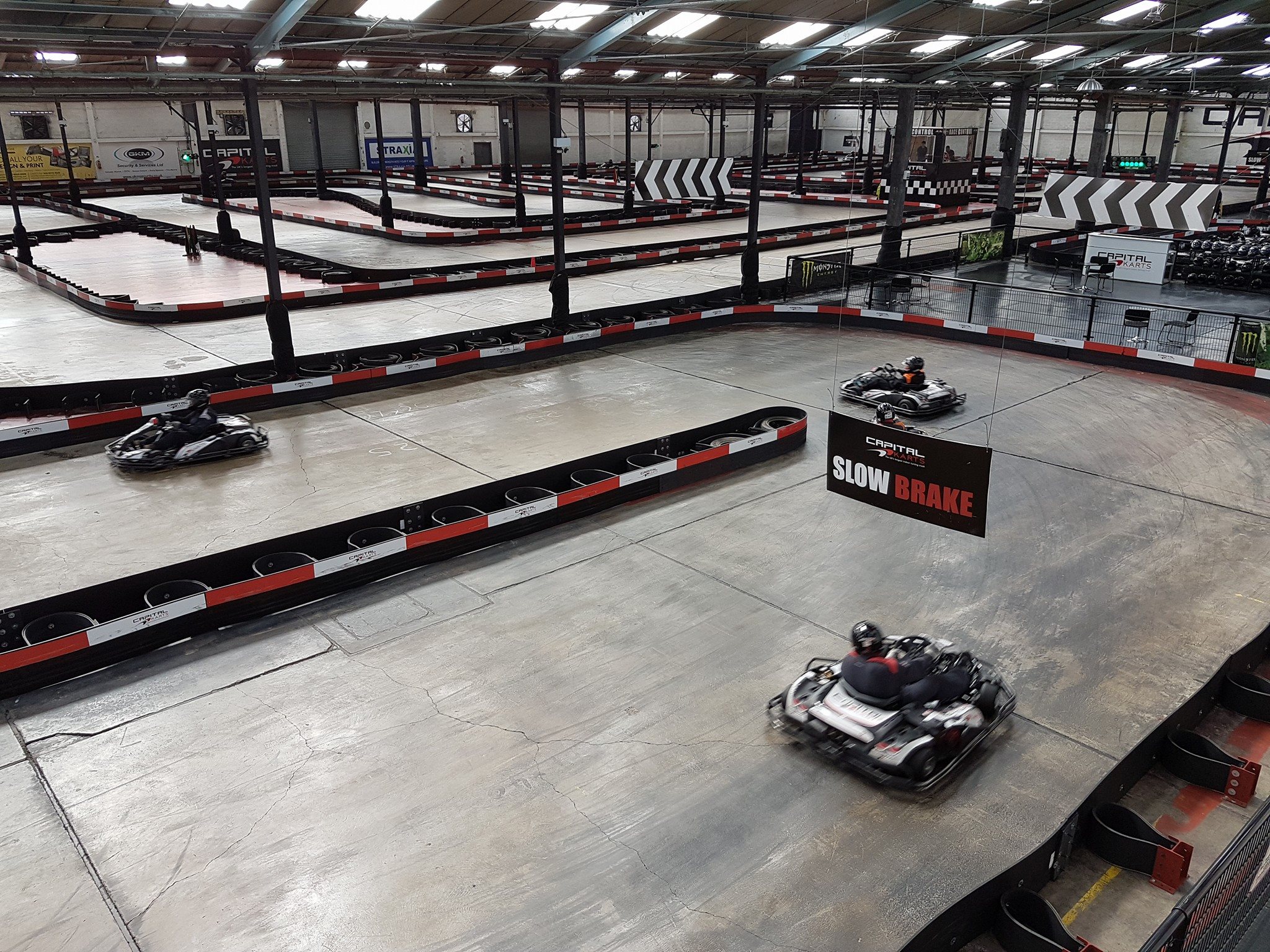 At a whopping 1,050m, this is the longest indoor go karting track in the UK. It's around three times the length of a standard indoor circuit and has a surface area bigger than Wembley! It also boasts 20 hair-raising corners and an 80m main straight where you can pick up speed and burn some serious rubber! Feel that adrenaline charging through your veins as you race against each against each other in RiMO Alpha 270cc karts, reaching speeds of up to 45mph. Get ready to unleash your inner Lewis Hamilton or Vin Diesel as you get competitive and race to win.
Go karting in London helps you to finally find out who the best driver in your group is as you take part in your very own Grand Prix at Capital Karts. You'll all have a 15-minute practice to get used to the track and the karts as well as to determine your grid starting positions. Then it's time for an epic 35-minute race. There's a trophy presentation for the three quickest drivers so you better bring your A-game, guys and girls!
3. Revolution Karting
· Address: The Arches, 422-424 Burdett Road, London, E3 4AA
· Track length: 750m
· Price: From £45 per person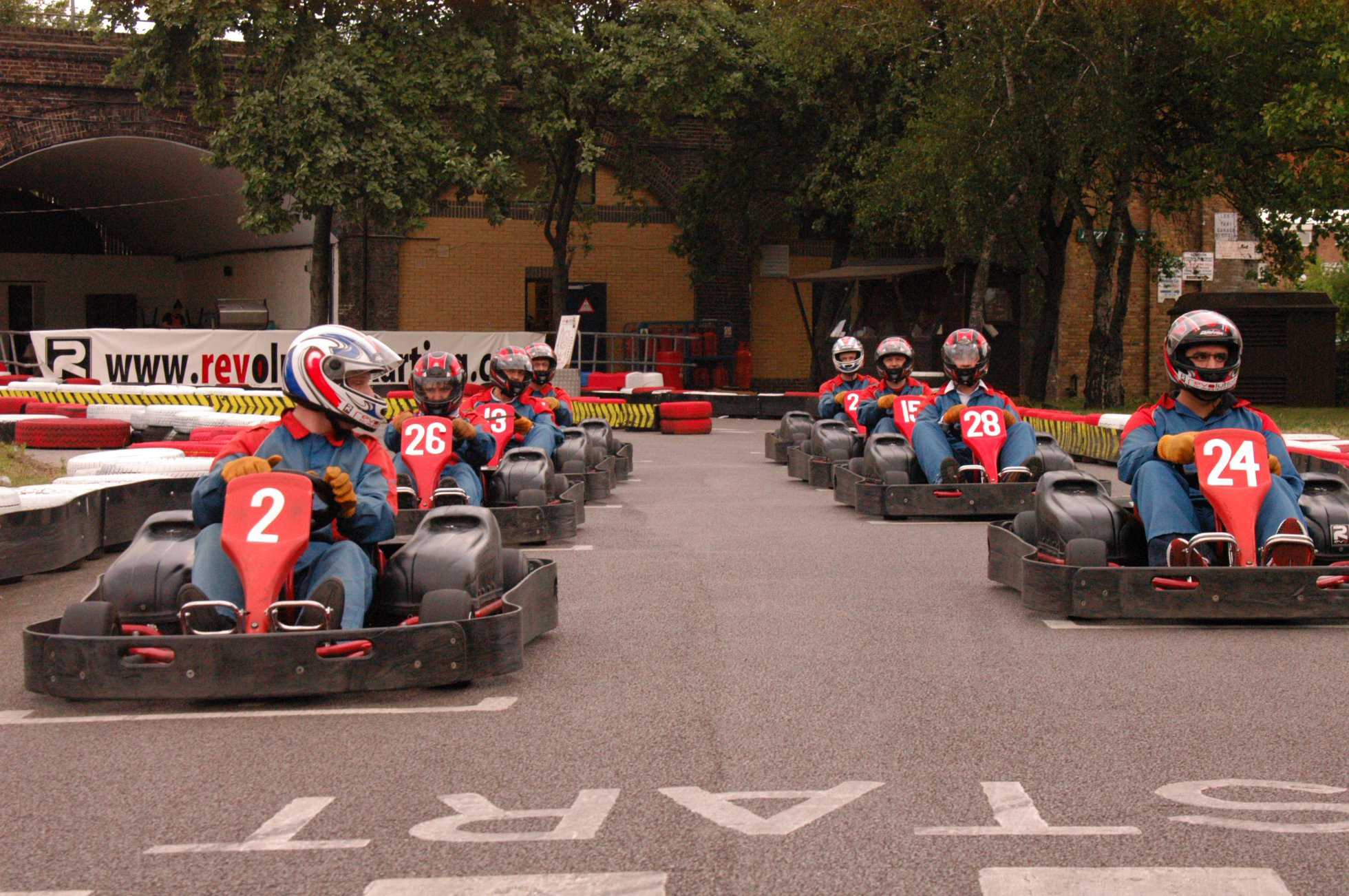 This top 750m outdoor track is located in Mile End on the Central Line, just a couple of tube stops from Canary Wharf and Liverpool Street. One of the fastest tracks in central London, you'll hit speeds in excess of 45mph in custom-built, Bowman electric karts. Not only are these better for the environment (yay!) but they also offer super speedy acceleration and mean that heavier drivers aren't left behind like they can be with some petrol engines.
You can choose to take part in an Open Race where you'll go head to head against the clock or a Grand Prix where you'll race against each other in heats. The best drivers will advance to the final, nail-biting race. As with all the London go karting experiences in our hotlist, a friendly instructor will guide your session, showing you how to drive the karts and conducting a safety briefing as well as getting you kitted out in those race suits and helmets.
4. Queens
· Address: 17 Queensway, Bayswater, London, W2 4QP
· Track length: 1,000m
· Price: From £35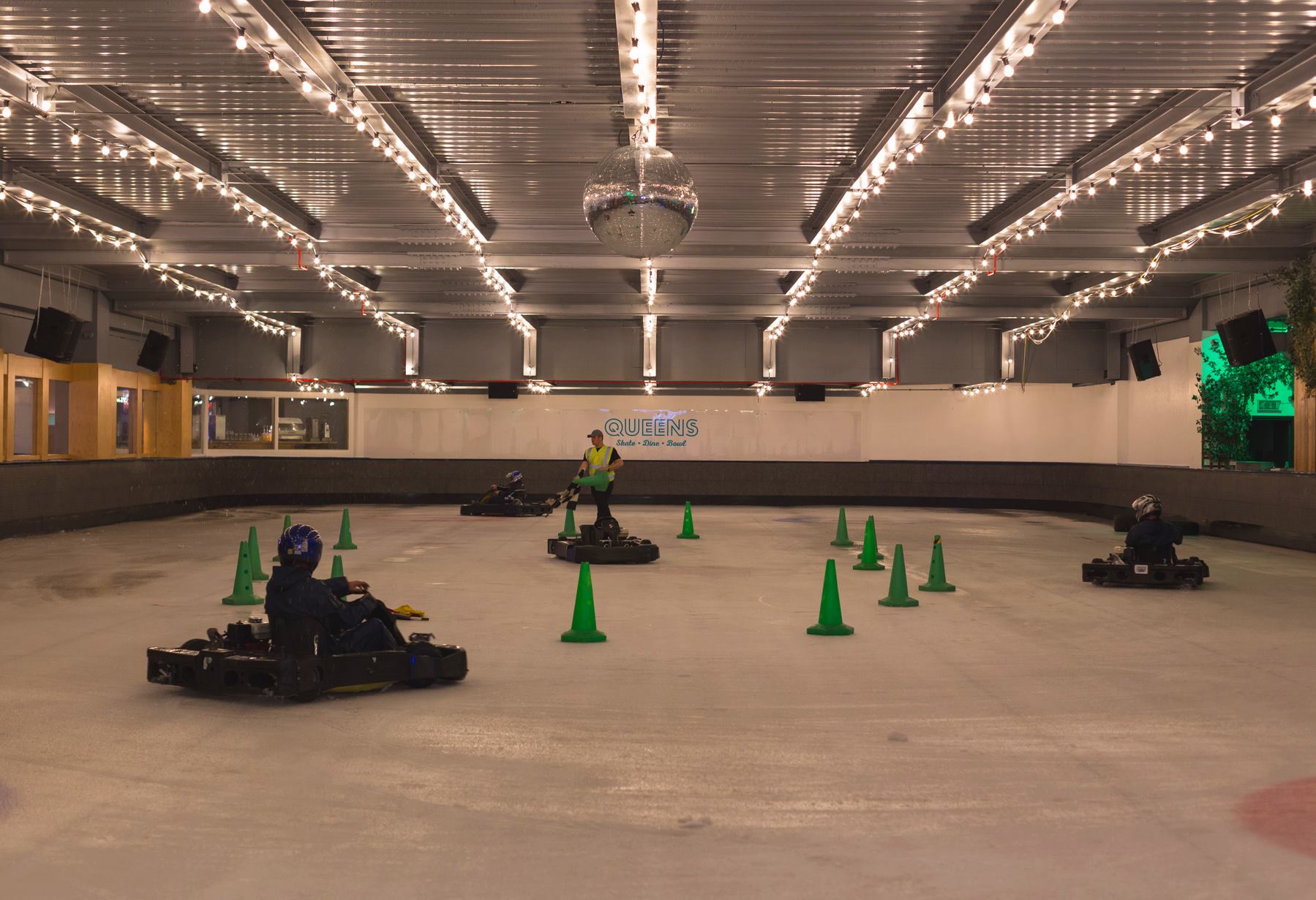 Fancy a London go karting session with a difference? Try your hand at ice karting where you'll race go karts across a jumbo ice rink. Think ice skating meets go karting or James Bond gliding his Aston Martin V12 Vanquish across a glacier combined with a bit of Fast and Furious-style drifting! The ice rink offers less friction than a regular go kart track so you can enjoy an almost weightless-feeling racing experience. Of course, you won't go quite as fast on this slippery surface but can still expect to reach speeds of around 20mph.
You'll get a full safety briefing before you're kitted out and ready to hit the ice. Each of you will get two fast and furious 10-minute sessions on the track where you'll race against each other, injecting loads of competitive spirit and that all-important banter to your fun day out. Fancy your chances at winning a position on the podium? At Queens, you can also try your hand at ice skating, curling or bowling before/after tucking into some food or drink at the onsite restaurant and bar.
5. TRAQ
· Address: Jessops Way, Croydon, Greater London, CR0 4TS
· Track length: 1,200m
· Price: From £35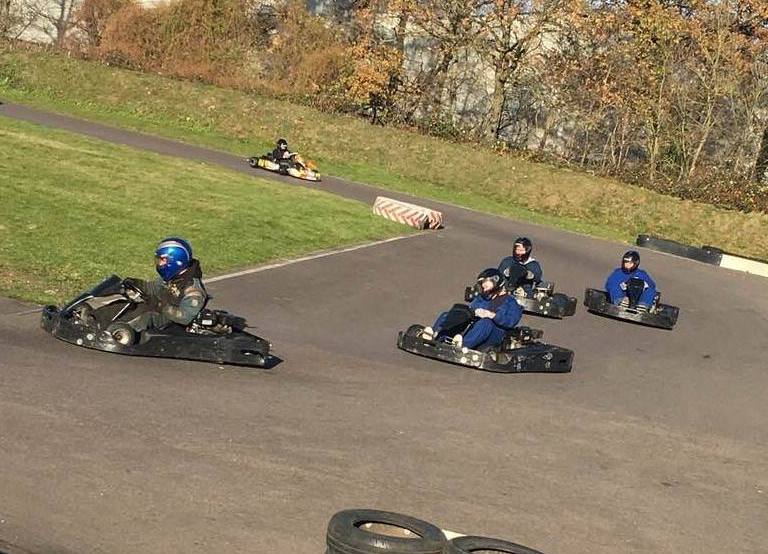 Do you fancy venturing out of the city centre to let loose with an outdoor go karting experience in London? TRAQ in Croydon, Greater London, is always a popular choice for a fun and frenzied day out. They offer a no-frills Arrive and Drive session where you can go head to head against your mates over 15, 30 or 60-minute sessions. They also offer Endurance Races where you'll need to work as a team to beat your opponents on the track and (hopefully!) leave them in your dust!
One of their most popular events has to be the Grand Prix. You'll get used to the karts with a practice of four heats followed by two semi-final races and a final race. The winner will get a trophy and bubbly plus those lifelong bragging rights (or at least for the rest of the day!) so expect things to get seriously competitive as you take on every twist, turn and straight section of this exciting track.
What next?
Whatever the occasion, you just can't beat the thrill of racing round a track in a speedy go kart. If our top five have got you itching to get behind the wheel, check out our full range of listings for Go Karting in London now.