What's your favourite cocktail? Is it a Daquiri, perhaps a Pina Colada or even a Tom Collins? Whatever your favourite, cocktails are a brilliant way to celebrate a special occasion and a cocktail making class is the perfect way to bring everyone together. Feel sophisticated as you sip on deliciously sweet cocktails decorated to perfection that you've made! Celebrate in Cambridge and get creative in a cocktail making class for your celebration. You may be an expert at drinking cocktails but let's see just how good you are at making them, and with so many great cocktail bars it can be hard to know where to start. So, here's a quick guide to the 5 best cocktail making classes in Cambridge.
1- Las Iguanas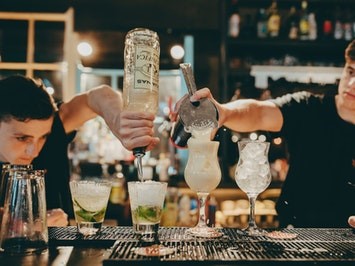 · Make two gin cocktails
· 90-minute session
· Tapas and welcome drink
· Fun games
· From £30pp
Let your ginspirations flow at Las Iguanas in Cambridge with a Gin Masterclass. Located in Quayside by the River Cam, this cocktail bar is in a central and picturesque location, perfect for sipping cocktails. This is the cocktail making class for all the gin lovers out there. Taste and create new flavours with Las Iguanas' tropical flavoured gin and be inspired by the flavours of South America. This venue is full of Latin American décor with an easy vibe and relaxed atmosphere, idyllic for cocktail drinking. This tropical ambiance is carried throughout the venue's food and, of course, its cocktails. You can tuck into a selection of delicious tapas while you drink the cocktails you've just learnt how to make.
This cocktail making class in Cambridge is great for big groups making it the perfect cocktail activity for a hen party or birthday. You'll be welcomed in with delicious cocktails and can enjoy even more with your tapas. You'll be taught all about the history of gin plus, to keep everyone entertained, there'll be cocktail making games and competitions. So, get celebrating with the quintessentially British spirit, gin!
2- Revolution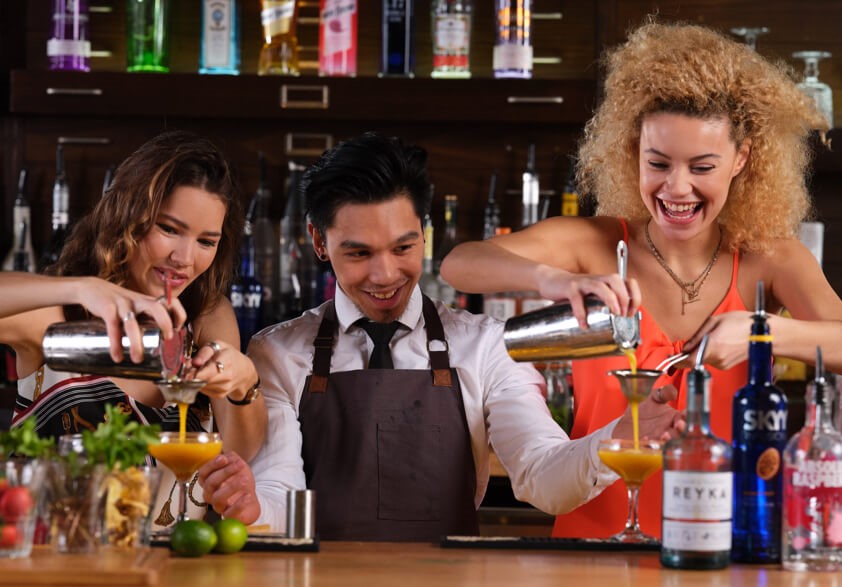 · Three cocktails
· 90-minute session
· Welcome drink
· Fun games and giveaways
· From £25pp
If you're looking for a cocktail bar that will provide the party, Revs is the place! Revolution in Cambridge is in an easy to get to, central location and close to even more bars and restaurants. Located on Downing Street, you won't need to worry about traipsing to the edges of the city. Shake up your celebrations in Cambridge with cocktail making in Revolution. Prepare to mix, muddle and shake things up as you're let loose on the bar and learn from the experts just how to make that perfect party cocktail. Learn the tricks of the trade from Revolution's dedicated mixologists and taste some delicious samples.
On arrival, you'll be welcomed with a cocktail before you take on the challenge of making your own. Later you'll be able to see which one of you has the natural talent in cocktail making when you put your skills to the test in fun games and giveaways, so get your mixing skills at the ready. Revolution doesn't simply teach you how to make the cocktails, you'll also be wowed by a performance of their famous flavour train!
3- All Bar One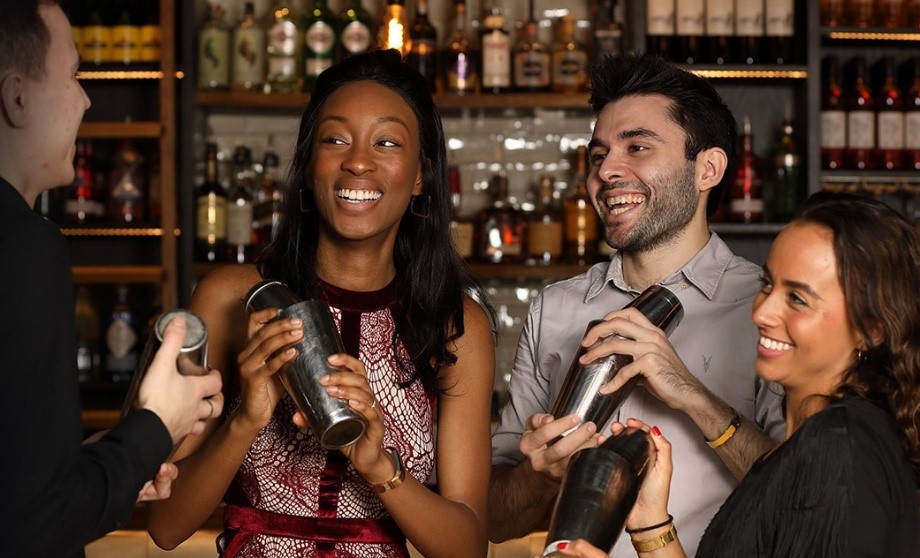 · Make three cocktails
· Learn cocktail history
· Professional bartender
· Learn how to make crowd pleasing cocktails
· From £25pp
All Bar One is a sophisticated cocktail bar located in central Cambridge on St Andrew's Street. Make cocktails to a professional standard in All Bar One. This cocktail bar offers a sophisticated cocktail masterclass in Cambridge with the opportunity to craft some of your own cocktails. Learn the history behind these wonderful party drinks and, of course, sip away. Whether you prefer a fresh and fruity cocktail or an Espresso Martini, you can tailor your own cocktail class to suit your taste. So, get ready to get those taste buds tingling and those hands muddling up some brilliant drinks.
4- Hidden Rooms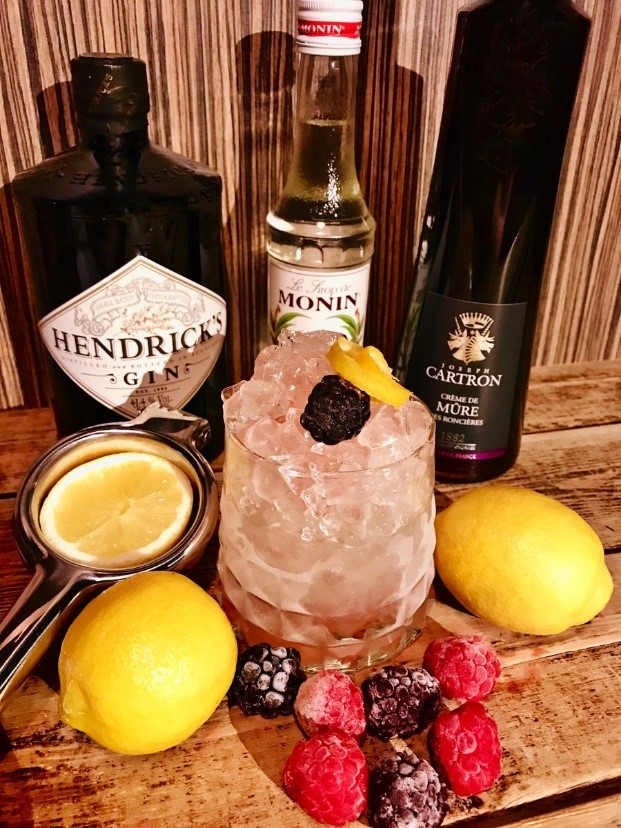 · Central and historic location
· 1-2 hours
· Tailored class
· Professional mixologist
· From £30pp
Hidden Rooms is a cocktail bar and lounge known for its creative drinks. Located in the basement of Victorian era Roman Baths, this cocktail bar offers a bespoke experience in a unique location. Located on Jesus Laine, this chic cocktail bar in the heart of the city offers cocktail classes in Cambridge suited to entertain your guests and give you a delightful evening full of cocktails. Welcome to cocktail heaven where you'll have the chance to make drinks just like the expert mixologists. The cocktail masterclass at Hidden Rooms is two hours long and has a variety of professional concoctions for you to learn how to make. You could be mixing up anything from an Old Fashioned to an Espresso Martini. Depending on what cocktail class you choose, you could be making between two and five delicious cocktails. Tailor your cocktail class to your tastes and get mixing!
5- De Luca Cucina & Bar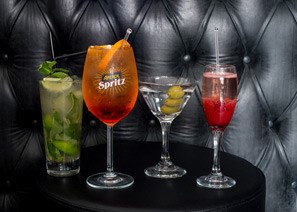 · Make three cocktails
· Stylish cocktail bar
· Private bar
· Professional bartender
· From £30pp
De Luca in Cambridge is a stylish cocktail bar in the centre of the city on Regent Street with cocktail making classes that take you through the steps of making some of the most popular cocktails around. If you love an Aperol Spritz or perhaps a Mojito, then De Luca is the perfect place for your cocktail celebration. Make cocktails to a professional standard with the guidance of the experienced bartenders behind a private cocktail bar that you'll have all to yourselves for two-three hours. Treat yourself to canapés to add to your sophisticated cocktail celebration at De Luna.
What's next?
So, where will you choose to put your mixology skills to the test? Whether you're in search of a sophisticated night full of chic, Instagram worthy cocktails or simply a laugh with your friends, there's a cocktail bar in Cambridge that's perfect for your celebration. Head to a cocktail masterclass in Cambridge for your birthday, stag or hen party and start mixing your favourite concoctions.