Wedding photographers are a must-have for your big day, so we decided to ask a number of them the common questions they receive, what type of questions people should be asking and how you can decipher whether you've found someone who is top quality. I've collated all this information in the following questions below which we recommend asking any potential wedding photographer before paying up.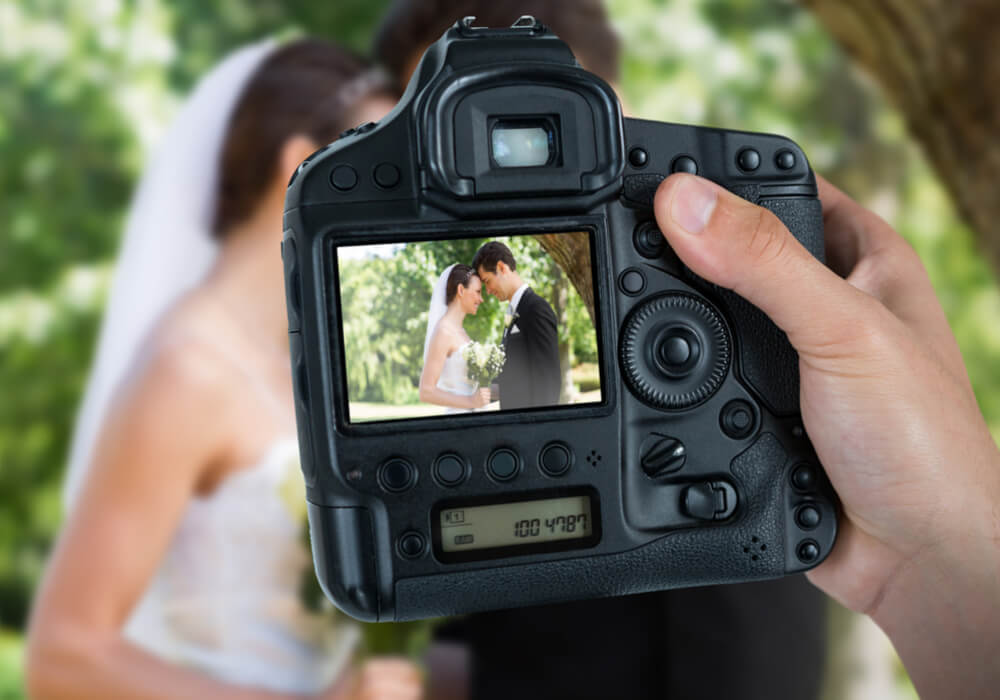 Beforehand
Are you available for my wedding date?
Do you have or will you need an assistant?
If you have an assistant, how much extra will this cost me?
Will you be handling the photography? If not, can I meet the person beforehand?
Would you be able to incorporate my ideas into your shots?
Background Checks

How long have you been doing this job for?
Do you have any testimonials?
Have you done photography for weddings before?
Have you ever been to and shot at this venue before?
How many weddings or events will you be doing over the same weekend?
Do you have insurance in place?
How would you, or others, describe your style of photography?
Package Options

In regards to our wedding plans, have you done many with the same theme / style etc?
What happens if you are ill on the day? Do you have a replacement?
What if the camera breaks on the day? Do you have a spare?
How long is my session? How much would it cost me if I wanted you to stay for longer?
How many photos should I expect back from you?
How long will I have to wait after the wedding before getting the final shots?
How will you be sending me the images?
How do you schedule a wedding day out?
Do you tend to opt for colour or black/white?
If the venue is 'X' miles away, will you charge extra for transport?
How long beforehand will you turn up?
If you have set packages, can I customise the package at all to suit what I'm after?
Is re-touching and colour adjustments included within the package?
What happens if it rains or we have bad weather? Do you tend to have a plan B if this happens?
Extra Questions

What type of equipment do you use?
What would you need from me before the wedding?
How long beforehand will you require them?
Have you ever worked with anyone else involved in my wedding? Think florist, planner, videographer etc.
Is it ok for other people to take photos while you are, or would you prefer them not to?
Will the flash being on make a difference in this?
What is your policy regarding either cancellation or refunds?
When will you be sending me the contract? This one is essential — if they don't send you a contract then don't use them!

Following asking them all these questions, you need to ask yourself whether you felt this was the right person to handle the photography on such an important day. Did they turn up to your meeting on time? Are their examples close to what you are after or are they quite different? How many example reviews and former customers do they have? Have they listened, accepted and worked on each question you have asked, or have they battled them? These are all hugely important questions to consider before making a commitment.
How Much Are The People In Your List?
We have listed the best photographers in the entire country, while we are not affiliated with any of them, therefore this is a pure recommendation based on respect for their services. In this regard, it is understandable if you question how much they cost, however the vast majority are in-line with your average pricing. If some are a bit higher then it is probably because they are worth it! You have to consider your budget, but this is a once in a life time experience and you want a true professional to capture the moment, so it is worth spending a few extra pennies.
You might also want to consider getting a photographer for your
hen do
. Certainly, this isn't cheap, but it is an increasingly popular consideration when booking the
London hen weekend
.