Being a bride-to-be can be an expensive business and here at Fizzbox we know when you're wedding planning there's plenty to fork out for-the flowers, the cake and the bridesmaid dresses, and that's not to mention your dream venue and feeding 100 plus guests.

Being on a budget doesn't have to mean cutting corners and compromising on the little details though. Simple things such as your wedding invites can be made DIY style to keep costs down-plus creating your own gives them a personal touch-saving money and having creative control over your big day-what's not to love?!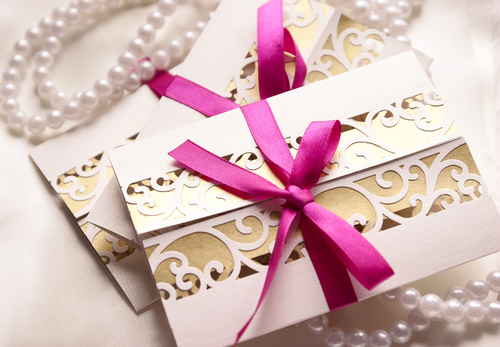 Step 1-Plan, plan and plan some more!

Before you go all art attack, there's a few things you'll need to consider, so it's worth sitting down with your other half and going through all the stuff you want to include. Separate your list in to the basics that you'll need and put the rest in to your wants.
The basics should obviously include the date, time, location and your names, as well as menu options if applicable.

The wants should include things you would like on your invites such as images, your font style and any borders or decorations-if you're feeling uninspired you can check out the holy grail of wedding planning Pinterest for pretty ideas. Don't forget you can be as creative as you like with this-an invite doesn't have to be just a rectangular square of card-it could be audio or a scroll-the choice is yours!

Next, you'll want to think about the cost and the time involved. Generally the idea of making your own invites is to keep your spend down, so try to choose materials that won't cost the earth. Obviously if you're not paying someone else to make them for you don't underestimate the time involved-it's a commitment so set aside a couple of hours each weekend until they need to be sent out-it's always better to overestimate the time needed rather than having a last minute panic!

If you have some pretty good bridesmaids (or an offer of prosecco and a takeaway to sweeten them up) you could even ask for help with this if you're on limited time. The easiest way to keep consistency with multiple people creating them is to assign each person a little job-for example, the first person writes the details on, then passes the card to the next person who adds a bow, etc.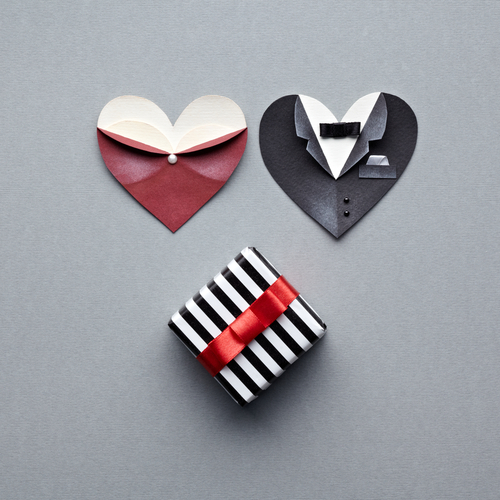 Step 2-Gather your materials

By now you'll probably have some idea of what invite style you'd like-it's always a nice idea if you know your wedding colours or theme for the invites to give a nod to them in some way so your guests have a little idea of what to expect and ideas about dress code/style/ colour themes.

You'll firstly want to start with the card-there are plenty of craft shops you can get different colours from. You'll also want access to a high quality printer if you plan to print things to go on to your invite-be sure to do a test print once you're happy with your design to see how it comes out before committing to the whole lot.

If you plan to go with the trend of the moment and create your own handmade invites, think about textures-3d invites with embellishments always look more luxe and pricey than they are. Some of our favourite decorations include chic ribbons, press on flowers and pearly beading.

Don't forget the best bit about doing a DIY job on your invites though-personalisation! If you're known to your friends as a quirky couple, be sure to add fun touches and nods to your personalities-after all, your big day is about celebrating your relationship!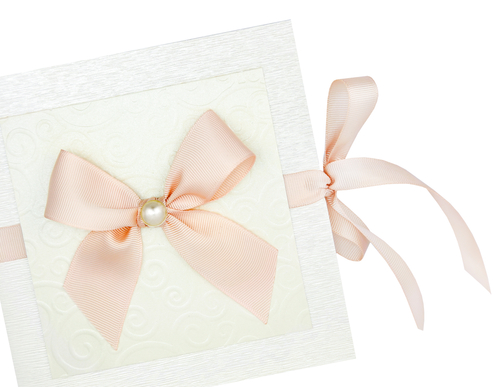 Step 3-Get creative

Now it's time to start channelling your inner artist. Think about the things you'll need to get sticking and cutting before you start-there's nothing worse than pouring on your glitter and going to get snap happy and realising you don't have any scissors!
If you're printing your invites-think about what your font says-swirly elegant fonts in a script style are generally favoured for weddings for a romantic vibe, but these are your invites so you're free to do whatever takes your fancy!

If you are adding flower corsages or textures to your invite, think about how they will last- it's all well and good sticking something down with a pritt stick while it's drying on your desk, but it'll need to be a little more robust to ensure it stays put if you're posting them rather than hand delivering.

Don't worry about them all looking a little different if you're creating them by hand-it's part of the beauty of making them yourself. Invest in some gel pens (yes, the scented ones do still exist!) if you're hand writing them and be sure to print any pictures in high quality where possible.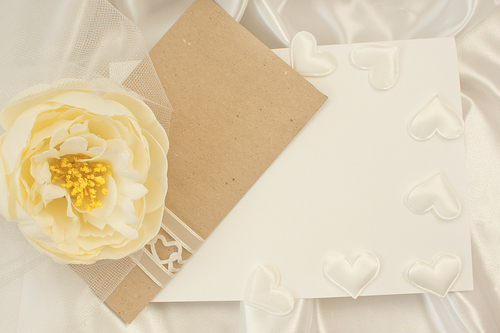 Step 4-The finishing touches

Check your invites-the good thing about creating them by hand is that if you've forgotten a little detail, generally you can add things or cover over things here and there with minimal cost, effort and fuss.

Make sure the important details are spelled correctly and that your writing is legible-we all start with our best writing and then things tend to go awry after the tenth time! It's worth also making sure you've given guests a clear way to RSVP-an email address is often the easiest way to track responses and ensure you don't lose anything.

Once you're happy with your masterpiece, don't forget about the way it's packaged. Sure, a plain white envelope does the job, but if you really want to go the extra mile, consider whether you want to send it in a little box, or whether you want to include an finishing touches like confetti or glitter-be sure not to go too overboard with this, as there's nothing more annoying than hoovering your carpet after you've opened a card when someone got a little over zealous with the sparkles!Now all that's left to do is patiently wait to see who's coming to the party of the year-obvs they'd be mad to turn it down!

Check out more pretty wedding ideas on our Pinterest and Instagram pages.