Christmas Party Statistics 2023
Christmas really is the most wonderful time of the year, and for good reason too! Whether you love the indulgent, delicious food, the quality time with loved ones, the amazing Christmas party nights, or all of the above, it's a season where we can all let our hair down and have some fun! But have you ever wondered about the statistics behind the Christmas party season?
We've got loads of fascinating and surprising facts about Christmas parties that you might not know - from the most popular Christmas party destinations to trending themes, we've got plenty! In this blog, we'll dive straight into the world of Christmas statistics and uncover some interesting insights about this beloved holiday. So, grab a cup of hot cocoa, cosy up by the fire, and get ready to learn some fun facts about Christmas parties!
What's The Most Booked Christmas Destination in The UK?
We offer loads of great Christmas party packages in the UK, which are available in all the major cities! However, it's London that's undoubtedly the most popular and the most booked destination - this city accounts for 15% of all UK Christmas party bookings, which is a lot when you think about how many Christmas parties happen every year in the UK! To break things down even further, there's around 1300 searches on Google for London Christmas Parties alone every month!
And It's not just a great place for groups living in and around the city to celebrate, but also for those from other areas who are really looking to make an occasion of it! The city is renowned for its festive atmosphere, with stunning Christmas lights, markets, and of course, loads of Christmas party venues and places to celebrate! Whether you're after a traditional Christmas dinner, an immersive experience or just an all out party, then you'll find it here in London, which offers something to cater for all tastes and budgets. With so much to see and do, it's no wonder that London is the go-to destination for those looking to celebrate the Christmas season in style.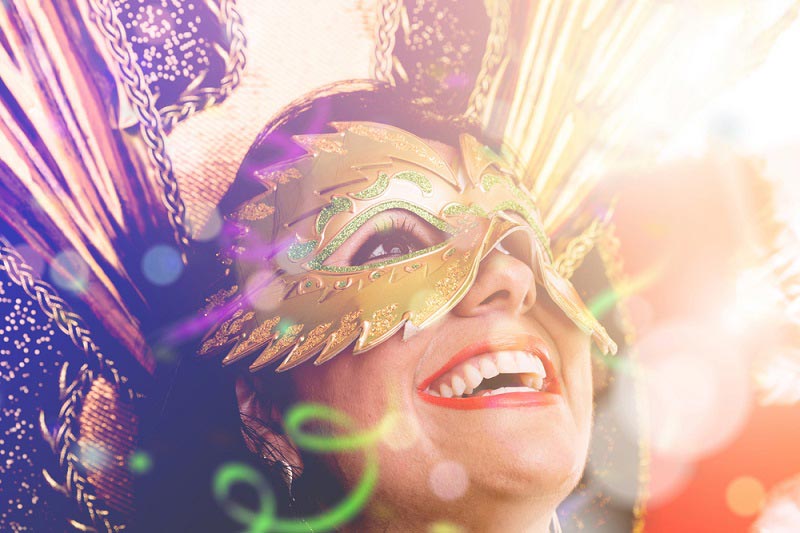 What Christmas Party Themes Are Trending For 2023?
If you're looking to go all out for your festive celebration this year, then how about opting for a themed Christmas party night? We've got loads of themes to choose from and you can bet that these nights will provide your group with a truly unforgettable evening! Just like at our more traditional Christmas parties, you'll be able to indulge in tasty food and enjoy some great entertainment, but expect it with a difference!
These events will normally include impressive themed scenery, meet and greet actors, contemporary twists on festive food and themed entertainment - you'll definitely feel like you've been transported to another world with one of our themed nights! And if you're wondering what's hot for Xmas 2023, then we've rounded up the biggest festive trends below.
Trending Themes:
- Disco
- Masquerade ball
- Proud cabaret
- Carnivale
- Circus
Growth From Last Year
Searches for Christmas based terms are 104% up from 2022. This indicates that interest in festive parties have returned and the earlier market suggests that people are feeling more confident post Covid. At last, it feels like things have finally returned to normal and that groups can finally look forward to an unforgettable Christmas celebration without the fear of a 'lockdown'.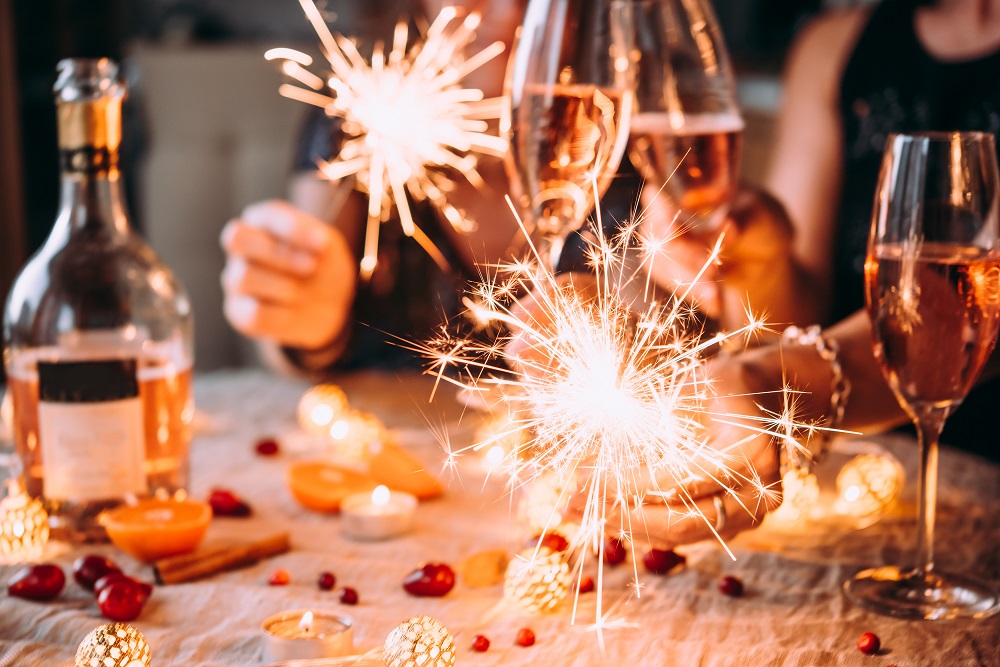 Shared Vs Exclusive
There's two types of different parties that groups can attend and these are shared and exclusive Christmas party nights. If you're unsure about what the difference is between the two, then let us break it down for you.
Shared Christmas Parties
As you may have guessed from the name, a shared Christmas party is exactly that - shared! This type of festive celebration brings together groups of people from different companies, clubs, organisations and groups to celebrate the best time of the year!
Typically, these events are held at larger venues, such as hotels or conference centres, and will include a delicious meal, along with some top entertainment which will be sure to get everyone in the holiday spirit. Minimum numbers for shared events are generally very low, making them appealing to small and medium sized groups who are looking for an extravagant, festive spectacle!
They're also affordable, offering groups excellent value for money, plus, all the hard work is left to the event organisers at the venue. So all you'll have to do is turn up on the night and get ready to party! These festive events are a great way to meet new people, network with other businesses or just have a blast with your friends or colleagues at the end of another long, working year.
Exclusive Christmas Parties
Exclusive Christmas parties are private events that are tailored to a specific company or group of people. These parties are generally held at a dedicated venue, such as a restaurant or hotel, and offer a bespoke experience that is unique to the group. These events can include a wide range of activities and entertainment, from live music and DJs to interactive games and performances. Guests will be provided with a delicious meal and drinks, as well as a variety of festive decorations and themes. Exclusive Christmas parties offer a more intimate and personalised experience, allowing medium to larger groups the chance to celebrate with those that work under the same company or organisation.
And now the stats! Shared parties make up a whopping 92% of all Christmas party bookings, so it's clear that these festive events are the most popular with groups and companies in the UK! We can only attribute their popularity down to their affordability, their wide availability, the brilliant choice of themes and their low requirement for minimum numbers.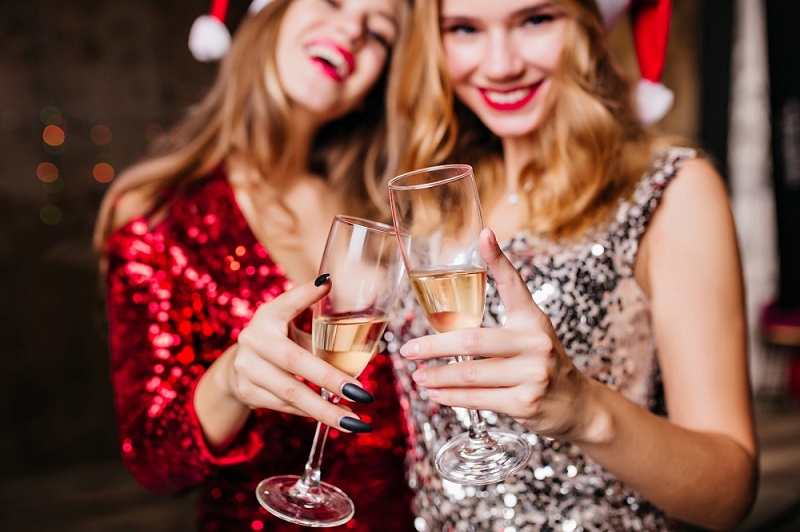 What Are Average Group Numbers For Christmas Parties?
The average group size for shared party nights are around 16 people, however many venues offering shared parties will take lower group numbers than that - we found that most of our shared party providers require a minimum of just 8 guests to enjoy their Christmas events. Lower minimum numbers will always be the case to book, as you'll be sharing the space with other groups and companies. Venues will always aim to provide groups with their own tables, however it may be the case that smaller groups will be required to share their tables with other smaller groups.
As for exclusive events, higher group numbers are required for these parties. Many exclusive parties have an average group size of 50+, but it's wise to remember that these types of celebrations will typically cost much more, as you'll be paying for private hire of the room or venue, along with everything else such as food, drink, entertainment, theming, decorations and any extra bespoke elements that you'd like to include.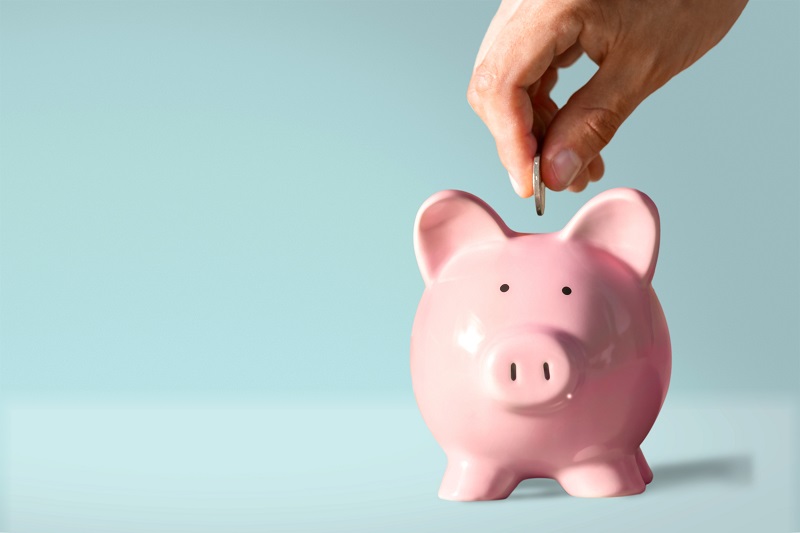 What's The Average Price of an Office Christmas Party?
The cost of a Christmas party in the UK can vary greatly depending on the type of party and your chosen location. Shared Christmas parties, which are held at larger venues and include multiple groups, can cost anywhere from £30 to £100+ per person, depending on the venue, package and the location.
Exclusive Christmas parties, which are tailored to a specific group, can range from £50 to £200 per person, and again will all depend on the venue, what's included, and the catering involved. We found that the average spend on an office Christmas party was £812.56 in 2022 and that the most expensive location to have a Christmas party was London (no surprises there!) while the lowest costs were observed in Dartford.
Ready To Book Your Shared Christmas Party Night?
We've got loads of fantastic shared Christmas party nights available up and down the country, with something to cater for every group's tastes and budgets! So why not take a browse and see what takes your fancy?