I'm a big fan of make-up: I pretty much wear it every day. I love its magical ability to transform your face and enhance your beauty. From a little bit of mascara to a full blown, fully made up, cosmetic extravaganza! Make-up is here to stay, and it should be part of every ladies life arsenal (even if it's just a tinted lip balm!)
Speaking of make-up and everyday cosmetic arsenal, I was so excited when Fizzbox teamed up with the lovely babes at Benefit cosmetics to create the **Benefit Beauty and Bubbles Package**: I really like the Benefit brand. So much so I wrote a blog post for them a while back .
Fizzbox and Benefit? Why did you team up?
Well because as a hen party provider we believe that our lovely customers deserve a variety of different hen party activities and packages — high quality activities. So it was a no brainer to team up with a well known and international brand like Benefit. Plus they share our idea that life should be fun and fabulous!
Now, I could tell you more about the package itself (and I will!) but words don't really do the package justice! So instead, I'm going to let the below video introduce the package to you…
That looks amazing! What do we get again?
Glass of bubbly on arrival (one per person)
Private space for your party (max. 20 people)
Make up master class
£30 redeemable gift card (one per person)
A free Benefit goody bag (one per person)
Choice of a mini manicure or faux blow
The freedom to decorate the space and play games!
As part of the package you also get...
1 night accommodation in a 5* London hotel
Two Course Meal (including a glass of bubbly - one per person)
Saturday Nightclub Entry
£30 redeemable voucher?! Tell me more!
When you book this package, you get a £30 voucher you can use to buy products in the store. You also get a goody bag filled with exciting Benefit products to try as well. So you're getting the chance to go home with a lot of complimentary Benefit beauty goodies! 
If I had the voucher I would spend it on...
1st item - Watt's up! Highlighter stick - £24.50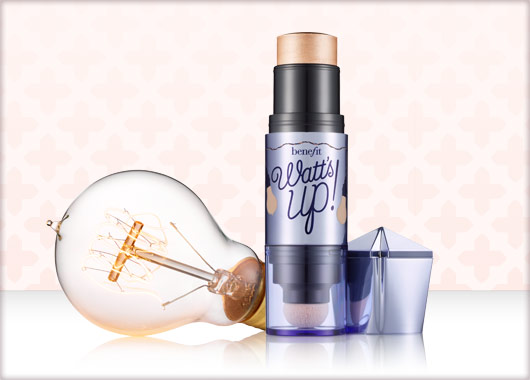 I love this highlighter: it's great for girls with olive and tanned complexions because it's a yellow/golden based highlighter rather than a pink/pearlescent one. So it doesn't give that ashy/grey effect when I apply it on my face (being olive skinned and all.) The stick makes it perfect for commuters and convenience lovers like me, because you can just swipe it across your cheekbones, the bridge of your nose, and blend (it even comes with a cute, spongy blender end!)
2nd item - Hoola Bronzer - £23.50
I'm naturally tanned but I love anything that enhances my natural skin tone. Because I'm not gonna lie, the U.K. weather tends to drain even my olive skin of it's glow sometimes (I swear it's something about the cold here!) So to help me feeling like a bronzed goddess all year round, I buy this god sent bronzer and gently dust it on my face, neck and décolletage. Plus I love the soft, little, teal brush it comes with (even though I tend to use my own bronzer brush.)
Total spend
£48 - £30 voucher = £18 for two full sized benefit products!
Which I'm sure you'll agree is an absolute bargain!
Where is it again?
The package is exclusive to Fizzbox and is only bookable in London. The Benefit pamper part of the package takes place in the Benefit flagship store on Carnaby Street.
How do I book?
To book the package call one of our expert party planners on 01273 225 075. If you want to find out some more infomation about the package before calling then
**click here
** and remember ladies, we love seeing your hen party photos! So if you book this package then please share your photos with us on the
Fizzbox Facebook page
!
Enjoy and have fun! (I'm so jealous!) x